Product name :AccuzolTM Total RNA Extraction Reagent Tissues, cultured cells, blood samples
Catalog Number :K-3090
Quantity :100 extractions
Price :300 Eur
Pay now with :
Supplier :Bioneer

AccuZol™ is a ready-to-use reagent for the isolation of total RNA from various sample materials.
A monophasic solution of phenol and guanidine-salt inhibits RNase activity, and so the reagent maintains integrity of the RNA during sample homogenization or lysis.
AccuZol™ allows you to extract high-yield total RNA with small quantities of starting materials.
Features and Benefits

Simplicity
AccuZol™ minimize the steps handle hazardous reagents so that RNase/DNase contamination keeps to a minimum.

Experiment Time
The procedure for total RNA isolation can be completed in 1 hour.

Sample Source
Tissues and cultured cells originated from human, animals, plant, and bacteria, or blood samples.

Easy Phase Separation
Green colored reagent is useful to distinguish between organic phase and aqueous phase.

Application
cDNA synthesis, RT-PCR, Real-time RT-PCR, Northern/dot blot analysis, RNase protection assays, Molecular cloning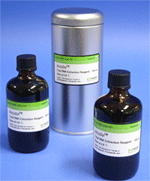 [Related Products]AccuzolTM Total RNA Extraction Reagent Tissues, cultured cells, blood samples
Filter:
(Type enter to validate)
| Cat_Number | Product name | Supplier | Quantity | Price | Tech | More |
| --- | --- | --- | --- | --- | --- | --- |
| K-3090 | AccuzolTM Total RNA Extraction Reagent Tissues, cultured cells, blood samples | Bioneer | 100 extractions | 300€ | | Pub |
| K-3032 | AccuPrep Genomic DNA Extraction Kit Whole human blood, lymphocytes, mammalian tissues, cultured cells | Bioneer | 100 extractions | 248€ | | Pub |
| K-3090 | AccuzolTM Total RNA Extraction Reagent | Bioneer | 100 extractions | 237€ | | Pub |
| M1563 | Astra Blue 6GLL, Stain for oligo and polysaccharides such as cellulose in plant tissues. Has also been used for analysis of human mast cells from tissues or blood samples, 25g | MarkerGene | | 192€ | | Pub |
| P-1018-050 | FitAmp Blood and Cultured Cell DNA Extraction Kit | EpigenTek | 50 samples | 201.6€ | | Pub |
| P-1018-050 |  FitAmp Blood and Cultured Cell DNA Extraction Kit (50 samples) | EpigenTek | | 201.6€ | | Pub |
| P-1018-100 | FitAmp Blood and Cultured Cell DNA Extraction Kit | EpigenTek | 100 samples | 318.15€ | | Pub |
| P-1018-100 |  FitAmp Blood and Cultured Cell DNA Extraction Kit (100 samples) | EpigenTek | | 318.15€ | | Pub |
| K-3070 | Blood RNA PrepMate™ | Bioneer | 100 extractions | 397€ | | Pub |
| K2014005 | Total RNA Extraction Kit | Biochain | 1 kit | 295€ | | Pub |
| M1045 | MarkerGeneTM Live Cell Glutathione Transferase Activity Kit, Measures glutathione transferase activity in live cells, tissues or cell lysate samples, 1 kit | MarkerGene | | 249€ | | Pub |
| [301-C] | DirectPCR Lysis Reagent (cell) | Viagen | cultured cells (50 ml) | 152.25€ | | Pub |
| [302-C] | DirectPCR Lysis Reagent (cell) | Viagen | cultured cells (100 ml) | 215.25€ | | Pub |
| 11-330 | Direct-zol RNA MiniPrep No TRI-Reagent | Genesee | 50 Preps/Unit | 199€ | | Pub |
| 8001-100 | EZLys(TM) Bacterial Protein Extraction Reagent | Biovision | 100 ml | 116€ | | Pub |
| 8001-500 | EZLys™ Bacterial Protein Extraction Reagent | Biovision | 500 ml | 225.5€ | | Pub |
| A-5010-A8 | Teflon Rack  (for the use in RNA extraction) | Bioneer | 1 | 0€ | | Pub |
| AR0106 | Western Blotting Related Reagent Cytoplasmic & Nuclear Extraction Kit | Boster biotechnology | 1kit | 120.75€ | | Pub |
| AR0106 | Western Blotting Related Reagent Cytoplasmic & Nuclear Extraction Kit | Bouster Immunoleader | 1kit | 97.65€ | | Pub |
| AR0106 | Western Blotting Related Reagent, Cytoplasmic & Nuclear Extraction Kit | Boster biotechnology | 1kit | 96.6€ | | Pub |
| cAP-0024 | Human Cord Blood CD34+ Cells Derived Endothelial Cells | AngoiPro | 1.00 flask | 570€ | | Pub |
| HR-406 | Human Ovary Total RNA | Zyagen | 50µg | 170€ | | Pub |
| IC05-0810-100ml | Chicken Red Blood Cells, Packed 5% 100ml | Innovative Research INC | 100ml | 257€ | | Pub |
| IC05-0810-15ml | Chicken Red Blood Cells, Packed 5% 15ml | Innovative Research INC | 15ml | 175€ | | Pub |
| IC05-0810-30ml | Chicken Red Blood Cells, Packed 5% 30ml | Innovative Research INC | 30ml | 207€ | | Pub |
| IC05-0910-100ml | Guinea Pig Red Blood Cells 100ml | Innovative Research INC | 100ml | 552€ | | Pub |
| IC05-0910-10ml | Guinea Pig Red Blood Cells 10ml | Innovative Research INC | 10ml | 158€ | | Pub |
| IC05-0910-25ml | Guinea Pig Red Blood Cells 25ml | Innovative Research INC | 25ml | 248€ | | Pub |
| IC05-0910-50ml | Guinea Pig Red Blood Cells 50ml | Innovative Research INC | 50ml | 339€ | | Pub |
| IC05-0990-100ml | Turkey Red Blood Cells 5% 100ml | Innovative Research INC | 100ml | 240€ | | Pub |
| IC05-0990-15ml | Turkey Red Blood Cells 5% 15ml | Innovative Research INC | 15ml | 142€ | | Pub |
| IC05-0990-30ml | Turkey Red Blood Cells 5% 30ml | Innovative Research INC | 30ml | 175€ | | Pub |
| IC05-0990-50ml | Turkey Red Blood Cells 5% 50ml | Innovative Research INC | 50ml | 192€ | | Pub |
| IC05-3054-100ml | Mouse Red Blood Cells 100ml | Innovative Research INC | 100ml | 552€ | | Pub |
| IC05-3054-10ml | Mouse Red Blood Cells 10ml | Innovative Research INC | 10ml | 158€ | | Pub |
| IC05-3054-25ml | Mouse Red Blood Cells 25ml | Innovative Research INC | 25ml | 248€ | | Pub |
| IC05-3054-50ml | Mouse Red Blood Cells 50ml | Innovative Research INC | 50ml | 339€ | | Pub |
| IC05-3061-100ml | Rat Red Blood Cells 100ml | Innovative Research INC | 100ml | 552€ | | Pub |
| IC05-3061-10ml | Rat Red Blood Cells 10ml | Innovative Research INC | 10ml | 158€ | | Pub |
| IC05-3061-25ml | Rat Red Blood Cells 25ml | Innovative Research INC | 25ml | 248€ | | Pub |
| IC05-3061-50ml | Rat Red Blood Cells 50ml | Innovative Research INC | 50ml | 339€ | | Pub |
| IC05-3070-100ml | Canine Red Blood Cells 100ml | Innovative Research INC | 100ml | 552€ | | Pub |
| IC05-3070-10ml | Canine Red Blood Cells 10ml | Innovative Research INC | 10ml | 158€ | | Pub |
| IC05-3070-25ml | Canine Red Blood Cells 25ml | Innovative Research INC | 25ml | 248€ | | Pub |
| IC05-3070-50ml | Canine Red Blood Cells 50ml | Innovative Research INC | 50ml | 339€ | | Pub |
| IC10-0090-100ml | Porcine Red Blood Cells, Packed 10% 100ml | Innovative Research INC | 100ml | 257€ | | Pub |
| IC10-0090-15ml | Porcine Red Blood Cells, Packed 10% 15ml | Innovative Research INC | 15ml | 175€ | | Pub |
| IC10-0090-30ml | Porcine Red Blood Cells, Packed 10% 30ml | Innovative Research INC | 30ml | 192€ | | Pub |
| IC10-0210-100ml | Sheep Red Blood Cells, Packed 10% 100ml | Innovative Research INC | 100ml | 257€ | | Pub |
| IC10-0210-15ml | Sheep Red Blood Cells, Packed 10% 15ml | Innovative Research INC | 15ml | 175€ | | Pub |
| IC10-0210-30ml | Sheep Red Blood Cells, Packed 10% 30ml | Innovative Research INC | 30ml | 192€ | | Pub |
| IC10-0410-100ml | Bovine Red Blood Cells, Packed 10% 100ml | Innovative Research INC | 100ml | 257€ | | Pub |
| IC10-0410-15ml | Bovine Red Blood Cells, Packed 10% 15ml | Innovative Research INC | 15ml | 175€ | | Pub |
| IC10-0410-30ml | Bovine Red Blood Cells, Packed 10% 30ml | Innovative Research INC | 30ml | 192€ | | Pub |
| IC10-0510-100ml | Rabbit Red Blood Cells 100ml | Innovative Research INC | 100ml | 404€ | | Pub |
| IC10-0510-10ml | Rabbit Red Blood Cells 10ml | Innovative Research INC | 10ml | 151€ | | Pub |
| IC10-0510-25ml | Rabbit Red Blood Cells 25ml | Innovative Research INC | 25ml | 207€ | | Pub |
| IC10-0510-30ml | Rabbit Red Blood Cells 30ml | Innovative Research INC | 30ml | 240€ | | Pub |
| IC100-0110-100ml | Horse Red Blood Cells, Packed 100% 100ml | Innovative Research INC | 100ml | 257€ | | Pub |
| IC100-0110-15ml | Horse Red Blood Cells, Packed 100% 15ml | Innovative Research INC | 15ml | 175€ | | Pub |
| IC100-0110-30ml | Horse Red Blood Cells, Packed 100% 30ml | Innovative Research INC | 30ml | 192€ | | Pub |
| IC100-0210-100ml | Sheep Red Blood Cells, Packed 100% 100ml | Innovative Research INC | 100ml | 257€ | | Pub |
| IC100-0210-15ml | Sheep Red Blood Cells, Packed 100% 15ml | Innovative Research INC | 15ml | 175€ | | Pub |
| IC100-0210-30ml | Sheep Red Blood Cells, Packed 100% 30ml | Innovative Research INC | 30ml | 192€ | | Pub |
| IC100-0410-100ml | Bovine Red Blood Cells, Packed 100% 100ml | Innovative Research INC | 100ml | 257€ | | Pub |
| IC100-0410-15ml | Bovine Red Blood Cells, Packed 100% 15ml | Innovative Research INC | 15ml | 175€ | | Pub |
| IC100-0410-30ml | Bovine Red Blood Cells, Packed 100% 30ml | Innovative Research INC | 30ml | 192€ | | Pub |
| IPLA-WB3-Unit | Human Red Blood Cells Unit | Innovative Research INC | 1 Unit | 462€ | | Pub |
| K-3033 | AccuPrep Viral RNA Extraction Kit | Bioneer | 100 extractions | 290€ | | Pub |
| K-3033 | AccuPrep Viral RNA Extraction Kit Serum, plasma, CSF, urine | Bioneer | 100 extractions | 386€ | | Pub |
| K-3060 | Viral RNA PrepMate™ | Bioneer | 100 extractions | 305€ | | Pub |
| K-3080 | Tissue RNA PrepMate™ | Bioneer | 100 extractions | 397€ | | Pub |
| M1352 | MarkerGene™ â Galactosidase Staining Kit, used to monitor and detect enzyme activity in stably or transiently transfected cells or transgenic tissues using X Gal, 1 kit | MarkerGene | | 240€ | | Pub |
| MD-14-0490 | Rabbit Anti-Human Red Blood Cells Antibodies | Ray Biotech | 50 mg | 650€ | | Pub |
| NB-0001 | MiRNA Northern Blot Assay Kit | Signosis 2011 | For 2 miRNA probes, each for monitoring 14 RNA samples; or 6 miRNA probes, each for 2 samples | 340€ | | Pub |
| OP-0006-100 | EpiQuik Total Histone Extraction Kit | EpigenTek | 100 extractions | 187.95€ | | Pub |
| OP-0006-100 |  EpiQuik Total Histone Extraction Kit (100 extractions) | EpigenTek | | 187.95€ | | Pub |
| R1234127-50 | Total RNA Human Adult Normal Tissue Heart Atrium (right) | Biochain | 50 µg | 146€ | | Pub |
| R1235218A-10 | Total RNA - Human Tumor Tissue Melanoma | Biochain | 10 | 290€ | | Pub |
| SL100489-CaS | Transfection Reagents and Kits, GenJet™ DNA In Vitro Tranfection Reagent for Ca Ski was pre optimized for most efficiently transfecting Ca Ski cells. | Signagen | 1 ml | 231.368€ | | Pub |
| BAH64-0050 | Reagent grade heat shock BSA powder, 50gm | Equitech | | 206€ | | Pub |
| BAH64-0100 | Reagent grade heat shock BSA powder, 100gm | Equitech | | 258€ | | Pub |
| BAH64-0500 | Reagent grade heat shock BSA powder, 500gm | Equitech | | 336€ | | Pub |
| BRT3800 | Bluing Reagent | Scy tek | 1 Gal. | 175€ | | Pub |
| BRT500 | Bluing Reagent | Scy tek | 500 ml | 73€ | | Pub |
| BRT999 | Bluing Reagent | Scy tek | 1000 ml | 84€ | | Pub |
| FMS-1 | Fontana-Masson Stain Kit (For Argentaffin Cells and Melanin) | Scy tek | 1 kit(s) | 187€ | | Pub |
| FMS-2 | Fontana-Masson Stain Kit (For Argentaffin Cells and Melanin) | Scy tek | 100 Slides | 100€ | | Pub |
| HTH100 | Human-to-Human Blocking Reagent | Scy tek | 100 ml | 211€ | | Pub |
| MTM008 | Mouse-to-Mouse Blocking Reagent | Scy tek | 8 ml | 76€ | | Pub |
| MTM015 | Mouse-to-Mouse Blocking Reagent | Scy tek | 15 ml | 84€ | | Pub |
| MTM125 | Mouse-to-Mouse Blocking Reagent | Scy tek | 125 ml | 306€ | | Pub |
| MTM500 | Mouse-to-Mouse Blocking Reagent | Scy tek | 500 ml | 683€ | | Pub |
| RTR008 | Rabbit-to-Rabbit Blocking Reagent | Scy tek | 8 ml | 76€ | | Pub |
| RTR015 | Rabbit-to-Rabbit Blocking Reagent | Scy tek | 15 ml | 84€ | | Pub |
| RTR125 | Rabbit-to-Rabbit Blocking Reagent | Scy tek | 125 ml | 306€ | | Pub |
| RTR500 | Rabbit-to-Rabbit Blocking Reagent | Scy tek | 500 ml | 683€ | | Pub |
| TM1125 | TMB Soluble Reagent (Standard Sensitivity) | Scy tek | 125 ml | 76€ | | Pub |
| TM1500 | TMB Soluble Reagent (Standard Sensitivity) | Scy tek | 500 ml | 108€ | | Pub |
| TM1999 | TMB Soluble Reagent (Standard Sensitivity) | Scy tek | 1000 ml | 147€ | | Pub |
| TM4125 | TMB Soluble Reagent (High Sensitivity) | Scy tek | 125 ml | 80€ | | Pub |
| TM4500 | TMB Soluble Reagent (High Sensitivity) | Scy tek | 500 ml | 115€ | | Pub |
| TM4999 | TMB Soluble Reagent (High Sensitivity) | Scy tek | 1000 ml | 162€ | | Pub |
| TMA125 | TMB Soluble Reagent (Aqueous) | Scy tek | 125 ml | 92€ | | Pub |
| TMA500 | TMB Soluble Reagent (Aqueous) | Scy tek | 500 ml | 139€ | | Pub |
| TMA999 | TMB Soluble Reagent (Aqueous) | Scy tek | 1000 ml | 195€ | | Pub |
| TMP125 | TMB Precipitating Reagent (For Membranes) | Scy tek | 125 ml | 76€ | | Pub |
| TMP500 | TMB Precipitating Reagent (For Membranes) | Scy tek | 500 ml | 120€ | | Pub |
| TMP999 | TMB Precipitating Reagent (For Membranes) | Scy tek | 1000 ml | 172€ | | Pub |
| 000050A | Luciferase RNAi | ABM Goods | 250ul | 621€ | | Pub |
| 010-14531 | Anti C Reactive Protein Anti Human C Reactive Protein (CRP) monoclonal antibody is produced by hybridoma clone 409 being established by fusing myeloma cells NS 1 and spleen cells of BALB c mice which | B-Bridge | 1mg | 800.1€ | | Pub |
| 02-060 | RNase H (E. coli), recombinant (100 units ìg) | B-Bridge | 1000 units | 136.5€ | | Pub |
| 02-060 | RNase H (E. coli), recombinant (100 units ìg) RNase H (E. coli), recombinant (100 units ìg) | B-Bridge | 1000 units | 100.8€ | | Pub |
| 02-060 | RNase H (E. coli), recombinant (100 units μg) | B-Bridge | 1000 units | 154.875€ | | Pub |
| 02-060-5 | RNase H (E. coli), recombinant (100 units ìg) | B-Bridge | 5 X 1000 U | 353.85€ | | Pub |
| 02-060-5 | RNase H (E. coli), recombinant (100 units ìg) RNase H (E. coli), recombinant (100 units ìg) | B-Bridge | 5 X 1000 U | 353.85€ | | Pub |
| 02-060-5 | RNase H (E. coli), recombinant (100 units μg) | B-Bridge | 5 X 1000 U | 410.812€ | | Pub |
| 021-A | anti HSV (II) gB IgG1 (monoclonal) Produced against a HSV (II) infected cells. | Virogen | 1 mg | 1328€ | | Pub |
| 023-A | anti HCMV IE pp65 IgG1 (monoclonal) Produced against a HCMV infected cells. | Virogen | 100 µg | 280€ | | Pub |
| 024-A | anti HCMV gB IgG1 (monoclonal) Produced against a HCMV infected cells. | Virogen | 100 µg | 280€ | | Pub |
| 03-001 | Epidermal Growth Factor (EGF), human, active EGF is a polypeptide growth hormone which plays an important role in the regulation of growth, proliferation, and differentiation of a wide range of cells | B-Bridge | 50 ug | 120.75€ | | Pub |
| 03-001-5 | Epidermal Growth Factor (EGF), human, active EGF is a polypeptide growth hormone which plays an important role in the regulation of growth, proliferation, and differentiation of a wide range of cells | B-Bridge | 5 x 50 ug | 404.25€ | | Pub |
| 0801024 | SUPPORT REAGENTS Scrubbed Nylon Fibers, 20 grams | Zeptometrix | 1 | 0€ | | Pub |
| 10-172 | RNase AWAY 250ml | Genesee | | 66€ | | Pub |
| 10-173 | RNase Free 1 Liter Surface Decontaminant | Genesee | 1 Bottle/Unit | 77€ | | Pub |
| 1001-1000 | Annexin V FITC Reagent | Biovision | 1000 assays | 945.5€ | | Pub |
| 1001-1000 | Annexin V FITC Reagent1000 assays | Biovision | 1000 assays | 891€ | | Pub |
| 1001-200 | Annexin V FITC Reagent | Biovision | 200 assays | 315.5€ | | Pub |
| 1001-200 | Annexin V FITC Reagent200 assays | Biovision | 200 assays | 325€ | | Pub |
| 1002-1000 | Annexin V Cy3 Reagent | Biovision | 1000 assays | 945.5€ | | Pub |
| 1002-1000 | Annexin V Cy3 Reagent1000 assays | Biovision | 1000 assays | 891€ | | Pub |
| 1002-200 | Annexin V Cy3 Reagent | Biovision | 200 assays | 315.5€ | | Pub |
| 1002-200 | Annexin V Cy3 Reagent200 assays | Biovision | 200 assays | 325€ | | Pub |
| 1003-100 | Annexin V-Biotin Reagent | Biovision | 100 μg | 318€ | | Pub |
| 1003-100 | Annexin V Biotin Reagent | Biovision | 100 ug | 405.405€ | | Pub |
| 1003-100 | Annexin V Biotin Reagent100 ug (400 assays) | Biovision | 100 ug (400 assays) | 306€ | | Pub |
| 1003-1000 | Annexin V Biotin Reagent | Biovision | 1 mg | 1985€ | | Pub |
| 1003-1000 | Annexin V Biotin Reagent1 mg (4000 assays) | Biovision | 1 mg (4000 assays) | 2073€ | | Pub |
| 1004-1000 | Annexin V EGFP Reagent | Biovision | 1000 assays | 945.5€ | | Pub |
| 1004-1000 | Annexin V EGFP Reagent1000 assays | Biovision | 1000 assays | 891€ | | Pub |
| 1004-200 | Annexin V EGFP Reagent | Biovision | 200 assays | 315.5€ | | Pub |
| 1004-200 | Annexin V EGFP Reagent200 assays | Biovision | 200 assays | 325€ | | Pub |
| 1005-100 | Annexin V Unlabeled Reagent100 ug | Biovision | 100 ug | 230€ | | Pub |
| 1005-1000 | Annexin V Unlabeled Reagent1 mg | Biovision | 1 mg | 1413€ | | Pub |
| 1005-5000 | Annexin V Unlabeled Reagent5 mg | Biovision | 5 mg | 4689€ | | Pub |
| 100602 | baculoQUANT COMPLETE All-in-one virus extraction & titration kit | OET | 100 reactions | 0€ | | Pub |
| 1013-1000 | Annexin V Cy5 Reagent | Biovision | 1000 assays | 945.5€ | | Pub |
| 1013-1000 | Annexin V Cy5 Reagent1000 assays | Biovision | 1000 assays | 937€ | | Pub |
| 1013-200 | Annexin V Cy5 Reagent | Biovision | 200 assays | 315.5€ | | Pub |
| 1013-200 | Annexin V Cy5 Reagent200 assays | Biovision | 200 assays | 325.08€ | | Pub |
| 1014-1000 | Annexin V PE Reagent | Biovision | 1000 assays | 945.5€ | | Pub |
| 1014-1000 | Annexin V PE Reagent1000 assays | Biovision | 1000 assays | 937€ | | Pub |
| 1014-200 | Annexin V PE Reagent | Biovision | 200 assays | 315.5€ | | Pub |
| 1014-200 | Annexin V PE Reagent200 assays | Biovision | 200 assays | 325€ | | Pub |
| 1015-1000 | Annexin V PE Cy5 Reagent | Biovision | 1000 assays | 945.5€ | | Pub |
| 1015-1000 | Annexin V PE Cy5 Reagent1000 assays | Biovision | 1000 assays | 984€ | | Pub |
| 1015-200 | Annexin V PE Cy5 Reagent | Biovision | 200 assays | 342.5€ | | Pub |
| 1015-200 | Annexin V PE Cy5 Reagent200 assays | Biovision | 200 assays | 352€ | | Pub |
| 102164 | REASTAIN® Quick Diff Kit Ready to use kit for differential staining of cellular elements in peripheral blood smears | Reagena | 3x 500 ml | 150€ | | Pub |
| 126-10183 | Goat Anti- ABCE1 RNase L, (N Terminus) Antibodies | Ray Biotech | 100 μg | 257€ | | Pub |
| 132-A | anti A1, A2 human blood antigen IgM | Virogen | 100 µg | 280€ | | Pub |
| 133-13611 | Macrophage Colony Stimulating Factor (M CSF), Human, recombinant Macrophage colony stimulating factor, or M CSF, is a secreted cytokine which influences hemopoietic stem cells to differentiate into ma | B-Bridge | 10 ug | 520.8€ | | Pub |
| 133-A | anti A1, A2, A3 human blood antigen IgM | Virogen | 1 mg | 1328€ | | Pub |
| 134-A | anti B human blood antigen IgM Clone Z5H 2 | Virogen | 100 ug/vial | 225€ | | Pub |
| 135-A | anti AB human blood antigen IgM | Virogen | 1 mg | 1328€ | | Pub |
| 137-13614 | Macrophage Colony Stimulating Factor (M CSF), Human, recombinant Macrophage colony stimulating factor, or M CSF, is a secreted cytokine which influences hemopoietic stem cells to differentiate into m | B-Bridge | 1 mg | 0€ | | Pub |
| 139-A | Blood Group Antibodies anti-A1, A2 human blood antigen IgM , Clone 87-G | Virogen | 100ug/vial | 216€ | | Pub |
| 140-A | anti B human blood group antigen IgM Clone 89 F | Virogen | 100 ug/vial | 225€ | | Pub |
| 141-A | anti H n ab human blood antigen IgM Clone 86 M | Virogen | 1 mg | 1233€ | | Pub |
| 142-A | anti H ab human blood antigen IgM | Virogen | 1 mg | 1328€ | | Pub |
| 143-A | anti H inh human blood antigen IgM Clone 97 I | Virogen | 100 ug/vial | 225€ | | Pub |
| 144-A | anti M human blood antigen IgM | Virogen | 100 µg | 280€ | | Pub |
| 145-A | anti N human blood antigen Ig2b | Virogen | 1 mg | 1328€ | | Pub |
| 17141 | LPS Extraction Kit | Intron | 100 Rxn. | 288€ | | Pub |
| 1750 | Human IgG (total) ELISA Kit, 96 tests, Quantitative | Alpha Diagnostics | 1 kit | 603€ | | Pub |
| 1J02C2 | Troponin I test card, serum and whole blood, Cardiac markers | Bosbio | 500 tests | 815€ | | Pub |
| 1M01S4 | Fecal Occult Blood test strip, Cancer markers | Bosbio | 500 tests | 439€ | | Pub |
| 20-783-71341 | MOUSE ANTI HUMAN CD173 - BLOOD GROUP H TYPE 2 Monoclonal | GenWay | 0.2 mg | 530.25€ | | Pub |
| 21600 | MESG *Phosphate assay reagent* | AAT Bioquest | 5 mg | 108€ | | Pub |
| 22128 | glial cells missing homolog 2 antibody Source Rabbit Polyconal Ab Species Human Application WB | SignalWay Antibody S.A.B | 100ul | 329€ | | Pub |
| 22719 | Blood Group Lewis a antibody Source Rabbit Polyconal Ab Species Human Application WB | SignalWay Antibody S.A.B | 100ul | 329€ | | Pub |
| 228-10612-1 | Recombinant HBsAg adr [from CHO cells] Proteins | Ray Biotech | 20 | 147€ | | Pub |
| 228-10612-2 | Recombinant HBsAg adr [from CHO cells] Proteins | Ray Biotech | 100 | 205€ | | Pub |
| 228-10612-3 | Recombinant HBsAg adr [from CHO cells] Proteins | Ray Biotech | 1mg | 865€ | | Pub |
| 228-10704-1 | Recombinant Human HGF [from CHO cells] Proteins | Ray Biotech | 2 | 147€ | | Pub |
| 228-10704-2 | Recombinant Human HGF [from CHO cells] Proteins | Ray Biotech | 10 | 205€ | | Pub |
| 228-10704-3 | Recombinant Human HGF [from CHO cells] Proteins | Ray Biotech | 1mg | 0€ | | Pub |
| 228-10933-3 | Recombinant Human IL-4 [from CHO cells] Proteins | Ray Biotech | 1mg | 0€ | | Pub |
| 228-10941-3 | Recombinant Human IL-6 (IL-6) [from CHO cells] Proteins | Ray Biotech | 1mg | 0€ | | Pub |
| 228-10986-1 | Recombinant Canine ApoJ Clusterin [from HEK cells] Proteins | Ray Biotech | 2 | 205€ | | Pub |
| 228-10986-2 | Recombinant Canine ApoJ Clusterin [from HEK cells] Proteins | Ray Biotech | 10 | 292€ | | Pub |
| 228-10986-3 | Recombinant Canine ApoJ Clusterin [from HEK cells] Proteins | Ray Biotech | 1mg | 0€ | | Pub |
| 228-11175-2 | Recombinant Human OPG TNFRSF11b [from Hi-5 cells] Proteins | Ray Biotech | 10 | 205€ | | Pub |
| 228-11175-3 | Recombinant Human OPG TNFRSF11b [from Hi-5 cells] Proteins | Ray Biotech | 100 | 1244€ | | Pub |
| 228-11222-1 | Recombinant Human PEDF [from HEK cells] Proteins | Ray Biotech | 2 | 147€ | | Pub |
| 228-11222-2 | Recombinant Human PEDF [from HEK cells] Proteins | Ray Biotech | 10 | 205€ | | Pub |
| 228-11222-3 | Recombinant Human PEDF [from HEK cells] Proteins | Ray Biotech | 100 | 1172€ | | Pub |
| 228-11354-1 | Recombinant Human RAGE AGER [from HEK cells] Proteins | Ray Biotech | 2 | 147€ | | Pub |
| 228-11354-2 | Recombinant Human RAGE AGER [from HEK cells] Proteins | Ray Biotech | 10 | 205€ | | Pub |
| 228-11354-3 | Recombinant Human RAGE AGER [from HEK cells] Proteins | Ray Biotech | 100 | 1031€ | | Pub |
| 228-11547-3 | Recombinant Human THPO [from CHO cells] Proteins | Ray Biotech | 1mg | 0€ | | Pub |
| 228-11623-1 | Recombinant Human VEGF VEGFA [from CHO cells] Proteins | Ray Biotech | 2 | 147€ | | Pub |
| 228-11623-2 | Recombinant Human VEGF VEGFA [from CHO cells] Proteins | Ray Biotech | 10 | 205€ | | Pub |
| 228-11623-3 | Recombinant Human VEGF VEGFA [from CHO cells] Proteins | Ray Biotech | 1mg | 0€ | | Pub |
| 22900 | Cell Meter™ Fluorimetric Intracellular Total ROS Activity Assay Kit*Green Fluorescence* | AAT Bioquest | 1 kit | 202€ | | Pub |
| 22901 | Cell Meter™ Fluorimetric Intracellular Total ROS Activity Assay Kit*Orange Fluorescence* | AAT Bioquest | 1 kit | 215€ | | Pub |
| 28-119BX | 100ml Biotix Reagent Reservoir Bulk, SBS Footprint | Genesee | 100 Reservoirs/Unit | 113€ | | Pub |
| 28-125BX | 50ml Biotix Reagent Reservoir Bulk, SBS Footprint | Genesee | 100 Reservoirs/Unit | 108€ | | Pub |
| 28-125DB | 50ml Reagent Reservoir, Biodeg Sterile, Bulk | Genesee | 100 Reservoirs/Unit | 147€ | | Pub |
| 291-58601 | Alkaline Phospatase (ALP) Assay Alkaline Phosphatase (ALP) is distributed in a variety of tissues such as liver, bone, and small intestine in animals. The change of the enzyme activity in tissues is a | B-Bridge | 900 tests | 233.1€ | | Pub |
| 291-59201 | GLP 1 ELISA Kit, Rat Glucagon like peptide 1 (GLP 1) is an incretin hormone, which is synthesized in intestinal endocrine cells. This peptide is known to increase insulin secretion by glucose stimulat | B-Bridge | 96 assays | 1040.55€ | | Pub |
| 292-60601 | GLP 2 ELISA Kit, Rat Proglucagon is processed to GLP1 and GLP2 in intestinal L cells. It is reported that GLP 2 is a neurotransmitter involved in the regulation of food intake. The kit is able to meas | B-Bridge | 96 wells | 1040.55€ | | Pub |
| 295-57401 | C Peptide ELISA Kit, Rat Insulin C peptide (InsC peptide) is derived from proinsulin by processing in vivo, and released into blood in almost equal molarity to insulin. By measurement of InsC peptide | B-Bridge | 96 tests | 1040.55€ | | Pub |
| 297-57101 | Glucagon ELISA KIT, Rat Glucagon is known as a hormone secreted from the pancreas and intestines. This kit aims at measurement of rat Glucagon peptide secreted from pancreatic a cells by competitive f | B-Bridge | 96 tests | 1040.55€ | | Pub |
| 297-57601 | Leptin ELISA Kit, Rat Leptin, secreted from fatty cells, is known as a hormone controlling body fat by suppresssion of eating and increase of energy metabolism. It is reported, however, that expressio | B-Bridge | 96 tests | 841.05€ | | Pub |
| 298-65701 | Glucose Assay With the LabAssay Glucose Assay, when a sample is mixed with the Choromogen Reagent, the alpha form of glucose in the sample is converted to beta form by mutarotase. beta DGlucose is oxi | B-Bridge | 1,000 tests | 346.5€ | | Pub |
| 300101 | baculoFECTIN transfection reagent | OET | 150 | 122€ | | Pub |
| 300102 | baculoFECTIN transfection reagent | OET | 1 ml | 460€ | | Pub |
| 308-31901 | Anti beta3 AR Human, Polyclonal Antibody The neurotransmitter hormone adrenaline (epinephrine, adrenalin) plays a central role in the mammalian stress response, increasing heart rate, raising blood pr | B-Bridge | 100 UG | 680.4€ | | Pub |
| 3450-048-IK | Directed In Vivo Angiogenesis Assay Inhibition Kit | Trevigen | 48 samples | 611€ | | Pub |
| 3456-096-K | Cultrex 96 Well Laminin I Cell Invasion Assay | Trevigen | 96 samples | 401€ | | Pub |
| 3457-096-K | Cultrex 96 Well Collagen I Cell Invasion Assay | Trevigen | 96 samples | 401€ | | Pub |
| 3458-096-K | Cultrex 96 Well Collagen IV Cell Invasion Assay | Trevigen | 96 samples | 401€ | | Pub |
| 3465-024-K | Cultrex 24 Well Cell Migration Assay | Trevigen | 24 samples | 369€ | | Pub |
| 3465-096-K | Cultrex 96 Well Cell Migration Assay | Trevigen | 96 samples | 354€ | | Pub |
| 3500-096-K | Cultrex96 Well 3D BME Cell Invasion Assay | Trevigen | 96 samples | 338€ | | Pub |
| 4040-100-FK | E. coli Fpg. FLARE Kit | Trevigen | 75 samples | 382€ | | Pub |
| 4040-100-FM | E. coli Fpg FLARE Module | Trevigen | >100 Samples | 357€ | | Pub |
| 4045-01K-FK | E. coli Endonuclease III FLARE Kit | Trevigen | >75 Samples | 382€ | | Pub |
| 4045-01K-FM | E. coli Endonuclease III FLARE Module | Trevigen | >100 Samples | 357€ | | Pub |
| 4055-100-FK | T4 PDG FLARE Kit[DISCONTINUED] | Trevigen | 75 samples | 401€ | | Pub |
| 4055-100-FM | T4 PDG FLARE Module[DISCONTINUED] | Trevigen | >100 Samples | 374€ | | Pub |
| 41-2005 | Blue biopsy cassettes, square cells, 500 pieces pack | Biologix | 1000 pieces/case | 126€ | | Pub |
| 4100-100-FK | S. pombe UVDE FLARE Kit | Trevigen | 75 samples | 382€ | | Pub |
| 4100-100-FM | S. pombe UVDE FLARE Module | Trevigen | >100 Samples | 357€ | | Pub |
| 4130-100-FK | hoGG1 FLARE Kit | Trevigen | 75 samples | 382€ | | Pub |
| 4130-100-FM | hoGG1 FLARE Module | Trevigen | 100 Samples | 357€ | | Pub |
| 4130-500-EB | hoGG1 Enzyme & Buffer | Trevigen | 500 samples | 781€ | | Pub |
| 42-651 | Competent Cells for CloningGC5 Competent Cells, pUC19 | Genesee | 10 x 50ul/Unit | 134€ | | Pub |
| 42-652 | Competent Cells for CloningGC5 Competent Cells, pUC19 | Genesee | 20 x 50ul/Unit | 231€ | | Pub |
| 42-653 | Competent Cells for CloningGC5 Competent Cells, pUC19 | Genesee | 75 x 50ul/Unit | 704€ | | Pub |
| 42-654 | Competent Cells for Cloning GC5 Competent Cells, pUC19 D | Genesee | 5 x 200ul/Unit | 221€ | | Pub |
| 42-654 | Competent Cells for CloningGC5 Competent Cells, pUC19 | Genesee | 5 x 200ul/Unit | 200€ | | Pub |
| 42-655 | Competent Cells for CloningGC5 Competent Cells, pUC19 | Genesee | 1 Plate of 96 x 20ul/Unit | 181€ | | Pub |
| 420050 | JETQUICK Gel Extraction Spin Kit 50 | Genomed | | 86€ | | Pub |
| 4250-050-ESK | CometAssay Electrophoresis Starter Kit (includes CometAssay Kit, Control Cells & ES) | Trevigen | - | 2112€ | | Pub |
| 4250-050-K | CometAssay Kit | Trevigen | 50 Samples | 269€ | | Pub |
| 4252-040-K | CometAssay HT Sample Kit | Trevigen | 40 samples | 269€ | | Pub |
| 4253-096-K | CometAssay Kit 96 wells | Trevigen | 96 samples | 269€ | | Pub |
| 4256-010-CC | CometAssay Control Cells | Trevigen | 10 assays | 177€ | | Pub |
| 4257-010-NC | Neutral CometAssay Control Cells | Trevigen | 10 assays | 177€ | | Pub |
| 4370-096-K | 8 oxo dG Elisa Kit | Trevigen | 96 samples | 866.25€ | | Pub |
| 4380-096-K | 8-oxo-dG Elisa Kit | Trevigen | 96 samples | 903€ | | Pub |
| 4380-192-K | 8-oxo-dG Elisa Kit | Trevigen | 2 x 96 samples | 1215€ | | Pub |
| 4520-096-K | PARP in vivo Pharmacodynamic Assay 2nd Generation | Trevigen | 96 Samples | 1269€ | | Pub |
| 4674-250-01 | Cell Permeabilization Reagent | Trevigen | 250 ul | 182.7€ | | Pub |
| 4676-096-K | Universal Chemiluminescent PARP Assay Kit w Histone Coated Strip wells | Trevigen | 96 Samples | 484€ | | Pub |
| 4677-096-K | Universal Colorimetric PARP Assay Kit w Histone Coated Strip Wells | Trevigen | 96 Samples | 484€ | | Pub |
| 4700-096-K | Tankyrase 1 Colorimetric Activity Assay | Trevigen | 96 samples | 996€ | | Pub |
| 4700-192-K | Tankyrase 1 Colorimetric Activity Assay | Trevigen | 192 samples | 1342€ | | Pub |
| 4701-096-K | Tankyrase 1 Chemiluminescent Activity Assay | Trevigen | 96 samples | 996€ | | Pub |
| 4701-192-K | Tankyrase 1 Chemiluminescent Activity Assay | Trevigen | 192 samples | 1342€ | | Pub |
| 4815-30-K | TumorTACS Kit | Trevigen | 30 Samples | 391€ | | Pub |
| 4822-96-K | TiterTACS Colorimetric Kit | Trevigen | 96 Samples | 401€ | | Pub |
| 4827-30-K | CardioTACS Kit | Trevigen | 30 Samples | 391€ | | Pub |
| 4828-30-AC | TACS.XL Antibody Module | Trevigen | 30 Samples | 157€ | | Pub |
| 4828-30-BC | TACS Blue Label Detection Module | Trevigen | 30 Samples | 118€ | | Pub |
| 4828-30-BK | TACS.XL Blue Labeling Kit | Trevigen | 30 Samples | 391€ | | Pub |
| 4828-30-DC | TACS.XL DAB Detection Module | Trevigen | 30 Samples | 118€ | | Pub |
| 4828-30-DK | TACS.XL DAB Kit | Trevigen | 30 Samples | 391€ | | Pub |
| 4828-30-K | TACS.XL Kit | Trevigen | 30 Samples | 338€ | | Pub |
| 4828-30-N | TACS.XL Nuclease Module | Trevigen | 15 Samples | 99€ | | Pub |
| 4828-30-R | TACS.XL Replenisher Kit | Trevigen | 30 Samples | 304€ | | Pub |
| 4829-30-K | DermaTACS Kit | Trevigen | 30 Samples | 391€ | | Pub |
| 4830-01-K | Annexin V FITC Kit | Trevigen | 100 Samples | 347€ | | Pub |
| 4835-01-K | Annexin V Biotin Kit | Trevigen | 100 Samples | 382€ | | Pub |
| 4850-20-ET | Apoptotic DNA Laddering Kit, EtBr | Trevigen | 20 Samples | 235€ | | Pub |
| 4850-20-GD | Genomic DNA Isolation Kit | Trevigen | 20 Samples | 186€ | | Pub |
| 5000-001-01 | Rat Mesenchymal Cells | Trevigen | 1 vial | 630€ | | Pub |
| 502-A | anti CD4 T helper cells | Virogen | 100 µg | 280€ | | Pub |
| 503-A | anti CD5 All T cells | Virogen | 100 µg | 280€ | | Pub |
| 504-A | anti CD7 All T cells Recognition human CD7 antigen Clone ICO 87 | Virogen | 100 ug/vial | 225€ | | Pub |
| 505-A | anti CD8 T cytotoxic supressor cells | Virogen | 1 mg | 1328€ | | Pub |
| 507-A | anti CD16 NK cells, monocytes, granulocytes | Virogen | 100 µg | 280€ | | Pub |
| 513-A | anti CD34 Hematopoietic precursor cells | Virogen | 100 µg | 280€ | | Pub |
| 514-A | anti CD38 Hematopoietic precursors, thymocytes, activated T cells, plasma cells Recognition human CD38 antigen Clone ICO 20 | Virogen | 1 mg | 1233€ | | Pub |
| 516-A | anti CD45 RA B cells, T cells, NK cells Recognition human CD45 RA antigen Clone ICO 166 | Virogen | 1 mg | 1233€ | | Pub |
| 518-A | anti Transferrin receptor on activated T B , cells Recognition human CD71 antigen Clone ICO 92 | Virogen | 100 ug/vial | 225€ | | Pub |
| 522-A | anti IgM Heavy chain expressed on B cells | Virogen | 1 mg | 1328€ | | Pub |
| 6001 | Chemical Phosphorylation Reagent I (CPR I) | AAT Bioquest | 1 g | 436€ | | Pub |
| 600100 | Sf9 insect cells | OET | 1x10e7 cells | 245€ | | Pub |
| 600101 | Sf21 insect cells | OET | 1x10e7 cells | 245€ | | Pub |
| 600102 | superSf9-1 insect cells | OET | 1x10e7 cells | 706€ | | Pub |
| 600103 | superSf9-2 insect cells | OET | 1x10e7 cells | 706€ | | Pub |
| 600104 | superSf9-3 insect cells | OET | 1x10e7 cells | 706€ | | Pub |
| 60405 | AP-1 Reporter – HEK293 Cell Line (JNK signaling pathway) | BPS Bioscience | 1.5 x 10^6 cells | 2598€ | | Pub |
| 60406 | SRE Reporter - HEK293 Cell Line (ERK Pathway) | BPS Bioscience | 1.5 x 10^6 cells | 2598€ | | Pub |
| 60501 | Wnt Signaling Pathway TCF LEF reporter-HEK293 stable cell line | BPS Bioscience | 1.5x10(6) cells | 6420€ | | Pub |
| 60503 | RARalpha Reporter Cell Line | BPS Bioscience | ~2x10(6) cells | 8240€ | | Pub |
| 60510 | JAK pathway ISRE reporter cell line | BPS Bioscience | 1.5x10(6) cells | 6420€ | | Pub |
| 60513 | Nrf antioxidant pathway ARE reporter cell line | BPS Bioscience | 1.5x10(6) cells | 6420€ | | Pub |
| 6053 | CCDA SUPPLEMENT (CAMPYLOBACTER BLOOD FREE) | Condalab | Box of 10 vials for 500 ml/each | 109€ | | Pub |
| 60650 | NF kB reporter (Luc) HEK293 Cell line | BPS Bioscience | 2 X 10(6) cells | 2598€ | | Pub |
| 60652 | Notch reporter cell line Cell Line Host: HEK293 | BPS Bioscience | 1.5 x 10^6 cells | 6420€ | | Pub |
| A-5030 | Fully Automated Nucleic Acid Extraction System ExiPrep 16 Plus | Bioneer | 1 | 15409€ | | Pub |
| AA0097 | Obesity (Human) Quantitative Antibody Array 1 is a multiplex antibody array for the quantitative measurement of 10 human adipokines in 8-10 samples. | Abnova | 16 Arrays/Slide | 754€ | | Pub |
| AA0098 | Obesity (Human) Quantitative Antibody Array 2 is a multiplex antibody array for the quantitative measurement of 4 human adipokines in 8-10 samples. | Abnova | 16 Arrays/Slide | 429€ | | Pub |
| AA0099 | Angiogenesis (Human) Quantitative Antibody Array 1 is a multiplex antibody array for the quantitative measurement of 10 human angiogenic factors in 8-10 samples. | Abnova | 16 Arrays/Slide | 754€ | | Pub |
| AA0100 | Angiogenesis (Human) Quantitative Antibody Array 2 is a multiplex antibody array for the quantitative measurement of 30 human angiogenic factors in 8-10 samples. | Abnova | 16 Arrays/Slide | 1416€ | | Pub |
| AA0101 | Angiogenesis (Human) Quantitative Antibody Array 3 is a multiplex antibody array for the quantitative measurement of 30 human angiogenic factors in 8-10 samples. | Abnova | 16 Arrays/Slide | 1416€ | | Pub |
| AA0102 | Chemokine (Human) Quantitative Antibody Array 1 is a multiplex antibody array for the quantitative measurement of 40 human chemokines in 8-10 samples. | Abnova | 16 Arrays/Slide | 1764€ | | Pub |
| AA0103 | Cytokine (Human) Quantitative Antibody Array 1 is a multiplex antibody array for the quantitative measurement of 20 human cytokines in 8-10 samples. | Abnova | 16 Arrays/Slide | 1068€ | | Pub |
| AA0104 | Cytokine (Human) Quantitative Antibody Array 2 is a multiplex antibody array for the quantitative measurement of 20 human cytokines in 8-10 samples. | Abnova | 16 Arrays/Slide | 1068€ | | Pub |
| AA0105 | Cytokine (Human) Quantitative Antibody Array 4 is a multiplex antibody array for the quantitative measurement of 40 human cytokines in 8-10 samples. | Abnova | 16 Arrays/Slide | 1764€ | | Pub |
| AA0106 | Cytokine (Human) Quantitative Antibody Array 5 is a multiplex antibody array for the quantitative measurement of 40 human cytokines in 8-10 samples. | Abnova | 16 Arrays/Slide | 1764€ | | Pub |
| AA0107 | Cytokine (Human) Quantitative Antibody Array 6 is a multiplex antibody array for the quantitative measurement of 40 human cytokines in 8-10 samples. | Abnova | 16 Arrays/Slide | 1764€ | | Pub |
| AA0108 | Growth Factor (Human) Quantitative Antibody Array 1 is a multiplex antibody array for the quantitative measurement of 40 human growth factors in 8-10 samples. | Abnova | 16 Arrays/Slide | 1764€ | | Pub |
| AA0109 | IGF-1R Signaling (Human) Quantitative Antibody Array 1 is a multiplex antibody array for the quantitative measurement of 10 human cytokines in 8-10 samples. | Abnova | 16 Arrays/Slide | 754€ | | Pub |
| AA0110 | Inflammation (Human) Quantitative Antibody Array 1 is a multiplex antibody array for the quantitative measurement of 10 human cytokines in 8-10 samples. | Abnova | 16 Arrays/Slide | 754€ | | Pub |
| AA0111 | Inflammation (Human) Quantitative Antibody Array 2 is a multiplex antibody array for the quantitative measurement of 10 human cytokines in 8-10 samples. | Abnova | 16 Arrays/Slide | 754€ | | Pub |
| AA0112 | Inflammation (Human) Quantitative Antibody Array 3 is a multiplex antibody array for the quantitative measurement of 40 human cytokines in 8-10 samples. | Abnova | 16 Arrays/Slide | 1764€ | | Pub |
| AA0113 | Ig Isotype (Human) Quantitative Antibody Array is a multiplex antibody array for the quantitative measurement of 8 human immunoglubin sub-types in 8-10 samples. | Abnova | 16 Arrays/Slide | 638€ | | Pub |
| AA0114 | MMP (Human) Quantitative Antibody Array 1 is a multiplex antibody array for the quantitative measurement of 10 human MMPs in 8-10 samples. | Abnova | 16 Arrays/Slide | 754€ | | Pub |
| AA0115 | Receptor (Human) Quantitative Antibody Array 1 is a multiplex antibody array for the quantitative measurement of 40 human cytokines in 8-10 samples. | Abnova | 16 Arrays/Slide | 1764€ | | Pub |
| AA0116 | Th1 Th2 (Human) Quantitative Antibody Array 1 is a multiplex antibody array for the quantitative measurement of 10 human cytokines in 8-10 samples. | Abnova | 16 Arrays/Slide | 754€ | | Pub |
| AA0117 | Th17 (Human) Quantitative Antibody Array 1 is a multiplex antibody array for the quantitative measurement of 20 human Th1, Th2, and Th17 cytokines in 8-10 samples. | Abnova | 16 Arrays/Slide | 1068€ | | Pub |
| AA0118 | Chemokine (Mouse) Quantitative Antibody Array 1 is a multiplex antibody array for the quantitative measurement of 25 mouse chemokines in 8-10 samples. | Abnova | 16 Arrays/Slide | 1416€ | | Pub |
| AA0119 | Cytokine (Mouse) Quantitative Antibody Array 1 is a multiplex antibody array for the quantitative measurement of 20 mouse cytokines in 8-10 samples. | Abnova | 16 Arrays/Slide | 1068€ | | Pub |
| AA0120 | Cytokine (Mouse) Quantitative Antibody Array 2 is a multiplex antibody array for the quantitative measurement of 20 mouse cytokines in 8-10 samples. | Abnova | 16 Arrays/Slide | 1068€ | | Pub |
| AA0121 | Cytokine (Mouse) Quantitative Antibody Array 3 is a multiplex antibody array for the quantitative measurement of 20 mouse cytokines in 8-10 samples. | Abnova | 16 Arrays/Slide | 1068€ | | Pub |
| AA0122 | Cytokine (Mouse) Quantitative Antibody Array 4 is a multiplex antibody array for the quantitative measurement of 40 mouse cytokines in 8-10 samples. | Abnova | 16 Arrays/Slide | 1764€ | | Pub |
| AA0123 | Cytokine (Mouse) Quantitative Antibody Array 5 is a multiplex antibody array for the quantitative measurement of 40 mouse cytokines in 8-10 samples. | Abnova | 16 Arrays/Slide | 1764€ | | Pub |
| AA0124 | Cytokine (Mouse) Quantitative Antibody Array 6 is a multiplex antibody array for the quantitative measurement of 40 mouse cytokines in 8-10 samples. | Abnova | 16 Arrays/Slide | 1764€ | | Pub |
| AA0125 | Inflammation (Mouse) Quantitative Antibody Array 1 is a multiplex antibody array for the quantitative measurement of 40 mouse cytokines in 8-10 samples. | Abnova | 16 Arrays/Slide | 1764€ | | Pub |
| AA0126 | IL (Mouse) Quantitative Antibody Array 1 is a multiplex antibody array for the quantitative measurement of 20 mouse cytokines in 8-10 samples. | Abnova | 16 Arrays/Slide | 1068€ | | Pub |
| AA0127 | IL (Mouse) Quantitative Antibody Array 2 is a multiplex antibody array for the quantitative measurement of 10 mouse cytokines in 8-10 samples. | Abnova | 16 Arrays/Slide | 754€ | | Pub |
| AA0128 | Th17 (Mouse) Quantitative Antibody Array 1 is a multiplex antibody array for the quantitative measurement of 20 mouse Th1, Th2, and Th17 cytokines in 8-10 samples. | Abnova | 16 Arrays/Slide | 1068€ | | Pub |
| AA0129 | Cytokine (Pig) Quantitative Antibody Array 1 is a multiplex antibody array for the quantitative measurement of 10 pig cytokines in 8-10 samples. | Abnova | 16 Arrays/Slide | 754€ | | Pub |
| AA0130 | Cytokine (Rat) Quantitative Antibody Array 1 is a multiplex antibody array for the quantitative measurement of 10 rat cytokines in 8-10 samples. | Abnova | 16 Arrays/Slide | 754€ | | Pub |
| AA0131 | Cytokine (Rat) Quantitative Antibody Array 2 is a multiplex antibody array for the quantitative measurement of 10 rat cytokines in 8-10 samples. | Abnova | 16 Arrays/Slide | 754€ | | Pub |
| AA0132 | Cytokine (Rat) Quantitative Antibody Array 3 is a multiplex antibody array for the quantitative measurement of 27 rat cytokines in 8-10 samples. | Abnova | 16 Arrays/Slide | 1416€ | | Pub |
| AA0133 | Inflammation (Rat) Quantitative Antibody Array 1 is a multiplex antibody array for the quantitative measurement of 10 rat cytokines in 8-10 samples. | Abnova | 16 Arrays/Slide | 754€ | | Pub |
| AN1002368 | NycoPrep™ 1.077, for isolation of Human Mononuclear Cells, contains Nycodenz™ & NaCl, Cell Separation Media | Accurate | 4 X 250 ml. | 292.95€ | | Pub |
| AR0001 | IHC Related Reagent APES | Boster biotechnology | 10ml | 185.85€ | | Pub |
| AR0003 | IHC Related Reagent Poly-l-lysine | Boster biotechnology | 10ml | 79.8€ | | Pub |
| AR0003 | IHC Related Reagent Poly-l-lysine | Boster biotechnology | 10ml | 93.45€ | | Pub |
| AR0005 | IHC Related Reagent Haematoxylin | Boster biotechnology | 12ml | 66.15€ | | Pub |
| AR0005 | IHC Related Reagent Haematoxylin | Boster biotechnology | 12ml | 73.5€ | | Pub |
| AR0008 | IHC Related Reagent Nuclear Fast Red | Boster biotechnology | 12ml | 66.15€ | | Pub |
| AR0008 | IHC Related Reagent Nuclear Fast Red | Boster biotechnology | 12ml | 73.5€ | | Pub |
| AR0024 | IHC Related Reagent Citrate buffer | Boster biotechnology | 2000ml/pouch | 55.65€ | | Pub |
| AR0024 | IHC Related Reagent Citrate buffer | Boster biotechnology | 2000ml/pouch | 56.7€ | | Pub |
| AR0030 | IHC Related Reagent PBS Buffer | Boster biotechnology | 2000ml/pouch | 55.65€ | | Pub |
| AR0030 | IHC Related Reagent PBS Buffer | Boster biotechnology | 2000ml/pouch | 56.7€ | | Pub |
| AR0056 | Assistant Reagent Proteinase K | Bouster Immunoleader | 5ml | 133.35€ | | Pub |
| AR0056 | Assistant Reagent, Proteinase K | Boster biotechnology | 5ml | 132.3€ | | Pub |
| AR0131 | Western Blotting Related Reagent SDS-PAGE Loading Buffer (2 | Bouster Immunoleader | 6ml | 61.95€ | | Pub |
| BAH64-0050 | Reagent grade heat shock BSA powder, 50gm | Equitech | 50gm | 279.3€ | | Pub |
| BAH64-0100 | Reagent grade heat shock BSA powder, 100gm | Equitech | 100gm | 341.25€ | | Pub |
| BAH64-0500 | Reagent grade heat shock BSA powder, 500gm | Equitech | 500gm | 433.65€ | | Pub |
| BAH64-1000 | Reagent grade heat shock BSA powder, 1KG | Equitech | 1KG | 649.95€ | | Pub |
| BB24-AU-CE | Homogenizer for 24 samples in microcentrifuge tubes. Large enclosure to help reduce noise and active cooling to maintain 4C interior temperature. Includes starter kit of beads, scoops and tubes. Up | Next Advence | | 4850€ | | Pub |
| BB50-DX-CE | Bullet Blender 50-DX homogenizer, CE certified, for up to 8 samples in 50 mL tubes, with air cooling and noise insulation. | Next Advence | | 3831€ | | Pub |
| BB50AU-CE | Homogenizer for 8 samples in 50mL tubes. Large enclosure to help reduce noise and active cooling to maintain 4C interior temperature. Includes starter kit of beads, scoops and tubes. Upgraded elect | Next Advence | | 4985€ | | Pub |
| BBX24-CE | Bullet Blender homogenizer, CE certified, for up to 24 tissue cell samples in snap cap microcentrifuge tubes. | Next Advence | | 2502€ | | Pub |
| BBX24-CE | Homogenizer for 24 samples in microcentrifuge tubes. Includes starter kit of beads, scoops and tubes. Upgraded electronics and CE certification. | Next Advence | | 2684€ | | Pub |
| BBX24B-CE | Bullet Blender homogenizer, CE certified, with air cooling, for up to 24 samples in snap cap microcentrifuge tubes. | Next Advence | | 3093€ | | Pub |
| BBX24BW-CE | Bullet Blender homogenizer, CE certified, with air cooling, for up to 24 samples in screw cap microcentrifuge tubes. | Next Advence | | 2912€ | | Pub |
| BBX24W-CE | Bullet Blender homogenizer, CE certified, for up to 24 tissue cell samples in screw cap microcentrifuge tubes. | Next Advence | | 2502€ | | Pub |
| BBY24M-CE | Bullet Blender Storm. homogenizer, CE certified, with air cooling, for up to 24 samples in snap cap microcentrifuge tubes. | Next Advence | | 3594€ | | Pub |
| BBY24M-CE | Homogenizer for 24 samples in microcentrifuge tubes. More powerful motor for tough samples. Includes starter kit of beads, scoops and tubes. Air Cooling to prevent heat loading during homogenizatio | Next Advence | | 3594€ | | Pub |
| BC00016 | Multiple organ diseased tissues, 54 cases 54 cores, replaced by MC541 | US Biomax | | 160€ | | Pub |
| BC07015 | Multiple type kidney cancer tissue array with normal tissues, 71 cases 72 cores, replacing BC07012 | US Biomax | | 231€ | | Pub |
| BC10021 | Cervix carcinoma (combination of margin and normal tissues) tissue array, 64 cases 72 cores | US Biomax | | 231€ | | Pub |
| BL241 | Bladder cancer tissue array with self matching normal adjacent tissues, 10 cases 24 cores | US Biomax | | 88€ | | Pub |
| BL243 | Bladder cancer tissue array with normal tissues from autopsy, 12 cases 24 cores with stage and grade data | US Biomax | | 100€ | | Pub |
| BL481 | Bladder cancer tissue array with unmatched normal adjacent tissues, 48 cases 48 cores, with stage and grade data | US Biomax | | 189€ | | Pub |
| BO241 | Bone and cartilage cancer tissue array with unmatched normal adjacent tissues, 12 cases 24 cores | US Biomax | | 88€ | | Pub |
| BQ042A-EALD | ENZYMATIC ASSAY KITS (CHEMISTRY AUTOANALYZER), LIVER DISEASES: Total Bile Acids (TBA) (Enzymatic Cycling) Kit | Bioquant | 430 tests | 483€ | | Pub |
| BQ077T | Cardiolipin Total Ab | Bioquant | 96/kit | 378€ | | Pub |
| BQ007B-CR | Bilirubin, Total, 4 x 120 ml | Bioquant | 480/kit | 255€ | | Pub |
| BQ007C-CR | Bilirubin, Direct & Total, 4 x 120 ml | Bioquant | 480/kit | 255€ | | Pub |
| BQ009A-CR | Blood Urea Nitrogen (BUN), Color Endpoint, 66 tests | Bioquant | 66/kit | 170€ | | Pub |
| BQ009B-CR | Blood Urea Nitrogen (BUN), Color Endpoint, 132 tests | Bioquant | 132/kit | 227€ | | Pub |
| BQ009C-CR | Blood Urea Nitrogen (BUN), Kinetic, 20 x 12 ml | Bioquant | 240/kit | 255€ | | Pub |
| BQ009D-CR | Blood Urea Nitrogen (BUN), Kinetic, 8 x 50 ml | Bioquant | 400/kit | 356€ | | Pub |
| BQ009E-CR | Blood Urea Nitrogen (BUN), Liquid, 5 x 25 ml + 5 x 5 ml | Bioquant | 150/kit | 227€ | | Pub |
| BQ028CR | Total Protein, 4 x 120 ml | Bioquant | 480/kit | 156€ | | Pub |
| BQ042A-EALD | LIVER DISEASES Total Bile Acids (TBA) (Enzymatic Cycling) Kit | Bioquant | 430 Tests / Kit | 514€ | | Pub |
| BQ045CR | Total Lipid, 4 x 120 ml | Bioquant | 480/kit | 241€ | | Pub |
| BQ092A-EALD | LIVER DISEASES Total Bile Acids (TBA) (Colorimetric) Kit | Bioquant | 600 Tests / Kit | 501€ | | Pub |
| BR01015 | Multiple organ, normal tissue array, 8 normal tissues, 160 cases 160 cores, replacing BR01011 | US Biomax | | 278€ | | Pub |
| BR1921 | High density breast invasive ductal and lobular carcinoma tissue array with normal tissues, grading and staging data,192 cases 192 cores | US Biomax | | 456€ | | Pub |
| BR241 | Breast cancer test tissue array with self matched or unmatched normal adjacent tissues, 6 cases 24 cores. | US Biomax | | 88€ | | Pub |
| BR242 | Multiple breast cancer test tissue array with unmatched normal adjacent tissues, 12 cases 24 cores, replaced by BR244 | US Biomax | | 88€ | | Pub |
| BR244 | Breast cancer tissue array with adjacent normal tissues, with TNM and grade info, 12 cases 24 cores, replaced by BR245 | US Biomax | | 88€ | | Pub |
| BR482 | Multiple breast cancer tissue array with normal tissues from autopsy, 24 cases 48 cores, with stage and grade info | US Biomax | | 160€ | | Pub |
| BR483 | Multiple breast cancer tissue array with normal tissues from autopsy, with TNM, 48 cases 48 cores | US Biomax | | 160€ | | Pub |
| BR811 | Breast cancer tissue array with normal tissues from autopsy, 80 cases 80 cores, with grade and stage data | US Biomax | | 231€ | | Pub |
| BR812 | Breast cancer tissue array with normal tissues from autopsy, 40 cases 80 cores, with TNM data | US Biomax | | 231€ | | Pub |
| BR961 | Breast cancer array with normal and other non malignant breast tissues, with AR, ER, PR, Her 2 (neu) IHC results, 48 cases 96 cores, replaced by BR962 | US Biomax | | 0€ | | Pub |
| BR962 | Breast cancer array with normal and other non malignant breast tissues, with AR, ER, PR, Her 2 (neu) IHC results, 48 cases 96 cores, replacing BR961, BR701 | US Biomax | | 231€ | | Pub |
| BRC961 | Breast cancer array with normal and other non malignant breast tissues, non overlapping with BRC962, with AR ER PR Her 2(neu) IHC results, 48 cases 96 cores | US Biomax | | 225€ | | Pub |
| BUF031A | 10x ELISA WASH BUFFER, Product Type Accessory Reagent, Specificity 10x ELISA WASH BUFFER, Target Species , Host N A, Format Concentrate, Isotypes , Applications E, Clone | AbD Serotec | 100 ml | 106€ | | Pub |
| BUF036A | 10X PHOSPHATE BUFFERED SALINE, Product Type Accessory Reagent, Specificity 10X PHOSPHATE BUFFERED SALINE, Target Species , Host N A, Format Concentrate, Isotypes , Applications IY, Clone | AbD Serotec | 1 LITRE | 266€ | | Pub |
| BUF058C | PERMANENT AQUEOUS MOUNTING MEDIUM , Product Type Accessory Reagent, Specificity AQUEOUS MOUNTING MEDIUM, Target Species , Host N A, Format Ready To Use, Isotypes , Applications C, P, Clone | AbD Serotec | 250 ml | 544.95€ | | Pub |
| BUF058C | PERMANENT AQUEOUS MOUNTING MEDIUM-ACCESSORY REAGENT | AbD Serotec | 250 ml | 643.65€ | | Pub |
| CAN-TE-250 | Testosterone – Total ELISA Human Serum 96 Wells Kit | DBC | 1 kit | 176€ | | Pub |
| cAP-0001 | Human Umbilical Vein Endothelial Cells | AngoiPro | 1.00 flask | 206€ | | Pub |
| cAP-0001GFP | GFP Expressing Human Umbilical Vein Endothelial Cells | AngoiPro | 1.00 flask | 414€ | | Pub |
| cAP-0001GFP-Mitochon | Mitochondria GFP Tag Human Umbilical Vein Endothelial Cells | AngoiPro | 1.00 flask | 570€ | | Pub |
| cAP-0001GFP-PM | Plasma Membrane GFP Tag Human Umbilical Vein Endothelial Cells | AngoiPro | 1.00 flask | 570€ | | Pub |
| cAP-0001RFP | RFP Expressing Human Umbilical Vein Endothelial Cells | AngoiPro | 1.00 flask | 414€ | | Pub |
| cAP-0002 | Human Brain Microvascular Endothelial Cells | AngoiPro | 1.00 flask | 570€ | | Pub |
| cAP-0002GFP | GFP Expressing Human Brain Microvascular Endothelial Cells | AngoiPro | 1.00 flask | 830€ | | Pub |
| cAP-0003 | Human Dermal Lymphatic Microvascular Endothelial Cells | AngoiPro | 1.00 flask | 570€ | | Pub |
| cAP-0003GFP | GFP Expressing Human Dermal Lymphatic Microvascular Endothelial Cells | AngoiPro | 1.00 flask | 830€ | | Pub |
| cAP-0004 | Human Glomerular Microvascular Endothelial Cells | AngoiPro | 1.00 flask | 570€ | | Pub |
| cAP-0004GFP | GFP Expressing Human Glomerular Microvascular Endothelial Cells | AngoiPro | 1.00 flask | 830€ | | Pub |
| cAP-0004RFP | RFP Expressing Human Glomerular Microvascular Endothelial Cells | AngoiPro | 1.00 flask | 830€ | | Pub |
| cAP-0005 | Human Dermal Microvascular Endothelial Cells | AngoiPro | 1.00 flask | 570€ | | Pub |
| cAP-0006 | Human Aortic Artery Endothelial Cells | AngoiPro | 1.00 flask | 570€ | | Pub |
| cAP-0006GFP | GFP Expressing Human Aortic Artery Endothelial Cells | AngoiPro | 1.00 flask | 830€ | | Pub |
| cAP-0007 | Human Coronary Artery Endothelial Cells | AngoiPro | 1.00 flask | 570€ | | Pub |
| cAP-0007GFP | GFP Expressing Human Coronary Artery Endothelial Cells | AngoiPro | 1.00 flask | 830€ | | Pub |
| cAP-0009 | Human Pancreatic Microvascular Endothelial Cells | AngoiPro | 1.00 flask | 570€ | | Pub |
| cAP-0010 | Human Retinal Microvascular Endothelial Cells | AngoiPro | 1.00 flask | 570€ | | Pub |
| cAP-0010GFP | GFP Expressing Human Retinal Microvascular Endothelial Cells | AngoiPro | 1.00 flask | 830€ | | Pub |
| cAP-0010RFP | RFP Expressing Human Retinal Microvascular Endothelial Cells | AngoiPro | 1.00 flask | 830€ | | Pub |
| cAP-0011 | Human Synovial Microvascular Endothelial Cells | AngoiPro | 1.00 flask | 570€ | | Pub |
| cAP-0012 | Human Liver Sinusoidal Microvascular Endothelial Cells | AngoiPro | 1.00 flask | 570€ | | Pub |
| cAP-0012GFP | GFP Expressing Human Liver Sinusoidal Microvascular Endothelial Cells | AngoiPro | 1.00 flask | 830€ | | Pub |
| cAP-0012RFP | RFP Expressing Human Liver Sinusoidal Microvascular Endothelial Cells | AngoiPro | 1.00 flask | 830€ | | Pub |
| cAP-0013 | Human Tonsil Microvascular Endothelial Cells | AngoiPro | 1.00 flask | 570€ | | Pub |
| cAP-0014 | Human Prostate Microvascular Endothelial Cells | AngoiPro | 1.00 flask | 570€ | | Pub |
| cAP-0015 | Human Ovarian Microvascular Endothelial Cells | AngoiPro | 1.00 flask | 570€ | | Pub |
| cAP-0016 | Human Small Intestine Microvascular Endothelial Cells | AngoiPro | 1.00 flask | 570€ | | Pub |
| cAP-0017 | Human Large Intestine Microvascular Endothelial Cells | AngoiPro | 1.00 flask | 570€ | | Pub |
| cAP-0018 | Human Internal Mammary Artery Endothelial Cells | AngoiPro | 1.00 flask | 570€ | | Pub |
| cAP-0018GFP | GFP Expressing Human Internal Mammary Artery Endothelial Cells | AngoiPro | 1.00 flask | 830€ | | Pub |
| cAP-0019 | Human Saphenous Vein Endothelial Cells | AngoiPro | 1.00 flask | 570€ | | Pub |
| cAP-0019GFP | GFP Expressing Human Saphenous Vein Endothelial Cells | AngoiPro | 1.00 flask | 830€ | | Pub |
| cAP-0019RFP | RFP Expressing Human Saphenous Vein Endothelial Cells | AngoiPro | 1.00 flask | 830€ | | Pub |
| cAP-0020 | Human Iliac Artery Endothelial Cells | AngoiPro | 1.00 flask | 570€ | | Pub |
| cAP-0021 | Human Cardiac Microvascular Endothelial Cells | AngoiPro | 1.00 flask | 570€ | | Pub |
| cAP-0022 | Human Bladder Microvascular Endothelial Cells | AngoiPro | 1.00 flask | 570€ | | Pub |
| cAP-0023 | Human Uterine Microvascular Endothelial Cells | AngoiPro | 1.00 flask | 570€ | | Pub |
| cAP-10 | Custom RFP Labeling of Cells | AngoiPro | 2.00 flask | 1038€ | | Pub |
| cAP-11 | Custom GFP Labeling of Cells | AngoiPro | 2.00 flask | 1038€ | | Pub |
| cAP-m0002 | Mouse Brain Microvascular Endothelial Cells | AngoiPro | 1.00 flask | 570€ | | Pub |
| cAP-m0002GFP | GFP Expressing Mouse Brain Microvascular Endothelial Cells | AngoiPro | 1.00 flask | 674€ | | Pub |
| CO1921 | High density colon cancer tissue array with normal tissues, 192 cases 192 cores | US Biomax | | 456€ | | Pub |
| CO484 | Colon cancer tissue array with normal tissues with TNM and grade, 48 cases 48 cores | US Biomax | | 189€ | | Pub |
| CO484a | Colon cancer tissue array with adjacent normal tissues, including TNM, clinical stage and pathology grade, 48 cases 48 cores, replacing CO484; ihc Anti-Actin confirmed | US Biomax | | 210€ | | Pub |
| CO811 | Colon cancer tissue array with normal tissues from autopsy, with TNM data, 80 cases 80 cores | US Biomax | | 231€ | | Pub |
| CR2081 | High density cervix cancer tissue array with normal tissues, with stage and grade info, 104 cases 208 cores | US Biomax | | 456€ | | Pub |
| CR2082 | High density cervical cancer tissue array with normal tissues, with stage and grade info, 69 cases 208 cores | US Biomax | | 456€ | | Pub |
| CR242 | Multiple cervix cancer test tissue array with self matching or unmatched normal adjacent tissues, 22 cases 24 cores | US Biomax | | 88€ | | Pub |
| CR481 | Cervical cancer tissue array with normal adjacent tissues, 24 cases 48 cores, with grade and stage data | US Biomax | | 160€ | | Pub |
| CR482 | Multiple cervix cancer tissue array with 4 normal tissues control from autopsy, 24 cases 48 cores, with grade and stage data | US Biomax | | 160€ | | Pub |
| CR811 | Cervical cancer tissue array with normal tissues from autopsy, 40 cases 80 cores, with grade and TNM data | US Biomax | | 231€ | | Pub |
| CSB-EL007355DO | Dog Receptor-binding cancer antigen expressed on SiSo cells(EBAG9) ELISA kit SpeciesDog | Cusabio | 96T | 913€ | | Pub |
| CTTX-050 | Cytotoxicity Control Reagent (Saponin) | Bioassays | (50mg) | 85.2€ | | Pub |
| D0006 | DNA Visualizer Extraction Kit | Abnova | 1 Kit | 296€ | | Pub |
| DF302 | Large DNA Fragments Extraction Kit[DISCONTINUED] | Geneaid | 300 preps/kit LD Buffer x 10 ml | 0€ | | Pub |
| DS-MB-01157 | Mouse Anti-Human Dendritic Cells | Ray Biotech | 200 | 604€ | | Pub |
| DS-MB-01158 | Rat Anti-Mouse Dendritic Interdig. Cells Antibodies | Ray Biotech | 2 ml | 485€ | | Pub |
| DS-MB-01204 | Mouse Anti-Human Endothelial Cells Antibodies | Ray Biotech | 0.5 ml | 766€ | | Pub |
| DS-MB-01205 | Mouse Anti-Pig Endothelial Cells Antibodies | Ray Biotech | 2 ml | 452€ | | Pub |
| DS-MB-01207 | Rat Anti-Human Endothelial Cells Antibodies | Ray Biotech | 0.1 mg | 650€ | | Pub |
| DS-MB-01211 | Mouse Anti-Human Endothelial Cells (Vein Assoc. Ag.) Antibodies | Ray Biotech | 0.5 ml | 361€ | | Pub |
| DS-MB-01337 | Mouse Anti-Human Follicular Dendritic Cells | Ray Biotech | 200 | 1045€ | | Pub |
| DS-MB-01338 | Mouse Anti-Human Follicular Dendritic Cells | Ray Biotech | 200 | 604€ | | Pub |
| DS-MB-01401 | Mouse Anti-Rat Granulocytes Erythroid Cells Antibodies | Ray Biotech | 2 ml | 650€ | | Pub |
| DS-MB-01981 | Mouse Anti-Mouse NC1.1 (Natural Cytotoxic cells) [+FITC] Antibodies | Ray Biotech | 0.1 mg | 205€ | | Pub |
| DS-MB-01982 | Mouse Anti-Mouse NC1.1 (Natural Cytotoxic cells) Antibodies | Ray Biotech | 1 mg | 865€ | | Pub |
| DS-MB-02226 | Mouse Anti-Rat Reticulum Cells | Ray Biotech | 0.25 mL | 566€ | | Pub |
| DS-MB-02227 | Mouse Anti-Rat Reticulum Cells | Ray Biotech | 250 | 566€ | | Pub |
| DS-MB-02269 | Rat Anti-Rat RT6.1 (Peripheral T Cells) | Ray Biotech | 2 mL | 317€ | | Pub |
| DS-MB-02270 | Rat Anti-Rat RT6.2 (Peripheral T Cells) | Ray Biotech | 2 mL | 317€ | | Pub |
| DS-MB-02350 | Rat Anti-Porcine SWC6 Null Cells | Ray Biotech | 2 mL | 604€ | | Pub |
| DS-MB-03292 | Mouse Anti-Human Fibroblasts Epithelial cells Antibodies | Ray Biotech | 25 | 180€ | | Pub |
| DS-MB-03293 | Mouse Anti-Human Fibroblasts Epithelial cells [+RPE] Antibodies | Ray Biotech | 25 TESTS | 223€ | | Pub |
| DS-MB-03294 | Mouse Anti-Human Follicular Dendritic Cells | Ray Biotech | 25 | 213€ | | Pub |
| DS-MB-03294 | Mouse Anti-Human Follicular Dendritic Cells Antibodies | Ray Biotech | 25 | 155€ | | Pub |
| DS-MB-03457 | Mouse Anti-Mouse Natural Cytotoxic cells (NC1.1), FITC-labeled | Ray Biotech | 25 | 251€ | | Pub |
| ELH-PSAtotal-001 | Human PSA-total ELISA ELISA | Ray Biotech | One 96-Well Strip Microplate Kit | 362€ | | Pub |
| ER-14-0073 | Goat Anti-Human ABCE1 RNAse L inhibitor, (C Terminus) Antibodies | Ray Biotech | 100 μg | 353€ | | Pub |
| ER-14-1228 | Goat Anti-Human RNASEN Drosha, (internal region) Antibodies | Ray Biotech | 100 μg | 353€ | | Pub |
| ES481 | Esophageal cancer tissue array with matched or unmatched normal adjacent tissues (18 cases 48 cores) with stage and grade info; ihc Anti-Actin confirmed | US Biomax | | 210€ | | Pub |
| ES482 | Multiple esophagus cancer tissue array with unmatched normal adjacent tissues, 48 cases 48 cores, with grade and stage data | US Biomax | | 160€ | | Pub |
| ES811 | Esophageal cancer tissue array with normal tissues from autopsy, 40 cases 80 cores, plus grade and stage information | US Biomax | | 231€ | | Pub |
| FD-230 | Cat Tissue cDNA, Adult Tissues Spinal cord*[DISCONTINUED] | Zyagen | 30 reactions | 429€ | | Pub |
| FD-801 | Cat Tissue cDNA, Adult Tissues Heart | Zyagen | 30 reactions | 294€ | | Pub |
| FDA901 | FDA Standard Frozen Tissue Array, for therapeutic and diagnostic antibody validation for FDA approval, total 30 organs, 3 individual donors per organ, spanning two frozen tissue microarray slides.; ih | US Biomax | | 1438€ | | Pub |
| FDA901-1 | FDA Standard Frozen Tissue Array, for therapeutic and diagnostic antibody validation for FDA approval, total 30 organs, 3 individual donors per organ. (slide one); ihc Anti-Actin confirmed | US Biomax | | 858€ | | Pub |
| FDA901-2 | FDA Standard Frozen Tissue Array, for therapeutic and diagnostic antibody validation for FDA approval, total 30 organs, 3 individual donors per organ. (slide two); ihc Anti-Actin confirmed | US Biomax | | 858€ | | Pub |
| FDA902a | FDA Standard Frozen Tissue Array, for therapeutic and diagnostic antibody validation for FDA approval, total 30 organs, 3 individual donors per organ, spanning two frozen tissue microarray slides, rep | US Biomax | | 1206€ | | Pub |
| FFE301 | Human normal fetal frozen tissue array, total of 15 major organs from one case, 15 organs 30 cores, replaced by FFE302 | US Biomax | | 199€ | | Pub |
| G073 | RNAifectin | ABM Goods | 1ml | 161.7€ | | Pub |
| Cat_Number | Product name | Supplier | Quantity | Price | PDF | Pub |