Product name :AtpB | beta subunit of ATP synthase (100 ul)
Catalog Number :AS05085
Quantity :100 ul
Price :342 Eur
Pay now with :
Supplier :Agrisera
RODUCT INFORMATION

ATP synthase is the universal enzyme that synthesizes ATP from ADP and phosphate using the energy stored in a transmembrane ion gradient.
immunogen
KLH-conjugated synthetic peptide derived from available plant, algal (chloroplastic and mitochondrial) and animal and bacterial sequences of beta subunits of F-type ATP synthases, including Arabidopsis thaliana chloroplastic ATP synthase subunit beta AtCg00480 and Arabidopsis thaliana mitochondrial ATP synthase subunit beta-1 At5g08670 as well as Chlamydomonas reinhardtii P06541 and A8IQU3
antibody format
rabbit;
polyclonal;
serum;
lyophilized

- for reconstitution add 100 µl of sterile water

storage
store lyophilized/reconstituted at -20°C; once reconstituted make aliquots to avoid repeated freeze-thaw cycles. Please, remember to spin tubes briefly prior to opening them to avoid any losses that might occur from lyophilized material adhering to the cap or sides of the tubes.
tested applications
(IF), (WB), Blue Native-PAGE

additional information
the anti-AtpB antibody will detect the mitochondrial form of the F1 ATP synthase subcomplex, as well as the chloroplastic CF1 Atp Synthase, and most known bacterial F-type Atp Synthases. Peptide used for antibody production is located in a beta sheet, which is partly exposed near the surface of the AtpB protein.
Anti-AtpB antibody was used as a loading control in Chlamydomonas reinhardtii
APPLICATION INFORMATION
recommended dilution
1:100 (IF), 1: 2000 - 1: 5 000 with standard ECL (WB), 1: 5000 (BN-PAGE)
expected | apparent MW
53.9 kDa (Arabidopsis thaliana), 51.7 kDa (Synechocystis PCC 6803), 53.7 kDa (Spinacia oleracea)
confirmed reactivity
Arabidopsis thaliana, Bacillus cereus, Chlamydomonas reinhardtii, Hordeum vulgare, Glycine max, Lycopersicum esulentum, Oryza sp. (roots, leafs, pollen), Nicotiana bentamiana, Nicotiana tabacum, Populus sp., Spinacia oleracea, Zea mays
Animal tissues from: cow, chicken, pig, rat, salmon, seal, Locusta migratoria
predicted reactivity
dicots, including Vitis vinifera, and monocots, algae, cyanobacteria, marine diatoms, Acinetobacter baumannii, Clostridium sp., bacteria including E.coli K-12, Yrsinia sp.
not reactive in
archeal V-type ATP synthase
additional information
Blue Native gel electrophoresis (BN-PAGE) has been performed on samples solubilized with digitonin (4:1) and loaded at 100 µg/well. Gel thickness was 2 mm with 4.5-16 % gradient.
Antibody is recognizing mitochondrial form of AtpB Subota el. al (2011).
This antibody can be used as a loading control for bacteria, Bacillus cereus.

selected references
Teng et al. (2013). Mitochondrial Genes of Dinoflagellates Are Transcribed by a Nuclear-Encoded Single-Subunit RNA Polymerase. PLOS ONE, June 2013. (immuofluorescence)
Rasala et al. (2013). Expanding the spectral palette of fluorescent proteins for the green microalga Chlamydomonas reinhardtii. Plant J. March 23.
Heinnickel et al. (2013). Novel thylakoid membrane greencut protein cpld38 impacts accumulation of the cytochrome b6f complex and associated regulatory processes. J. Biol. Chem. Jan 9.
application example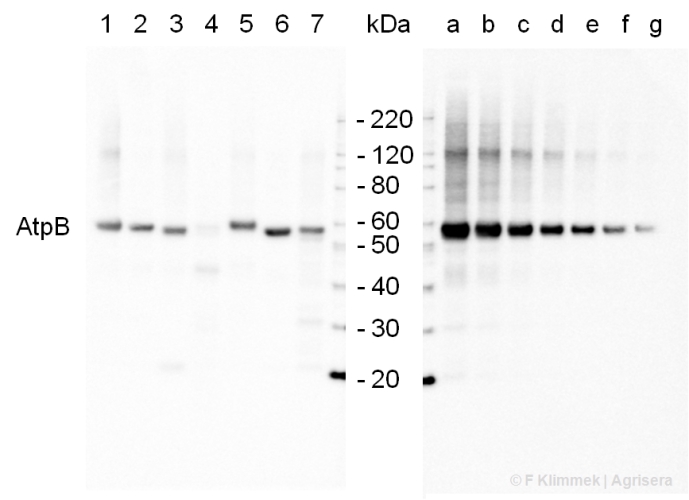 2 µg of total protein extracted with PEB (AS08 300) from leaf tissue of (1) Arabidopsis thaliana, (2) Spinacia oleracea, (3) Lycopersicon esculentum, (4) Glycine max, (5) Populus sp., (6) Zea mays and (7) Hordeum vulgare were separated on 4-12% NuPage (Invitrogen) LDS-PAGE and blotted 1h to nitrocellulose. In parallel a dilution row (a-g: 10 - 5 - 2.5 - 1.25 - 0.63 - 0.32 - 0.16 µg protein/lane) from sample 1 (Arabidopsis) was processed. Filters were blocked 1h with 2% low-fat milk powder in TBS-T (0.1% TWEEN 20) and probed with anti-AtpB (AS08 085, 1:5000, 1h) and secondary anti-rabbit (1:10000, 1 h) antibody (HRP conjugated, recommended secondary antibody AS09 602) in TBS-T containing 2% low fat milk powder. Antibody incubations were followed by washings in TBS-T (15, +5, +5, +5 min). All steps were performed at RT with agitation. Signal was detected with standard ECL (Invitrogen) using a Fuji LAS-3000 CCD (300s, standard sensitivity).
application example 2
western blot detection of AtpB in animal and plant tissue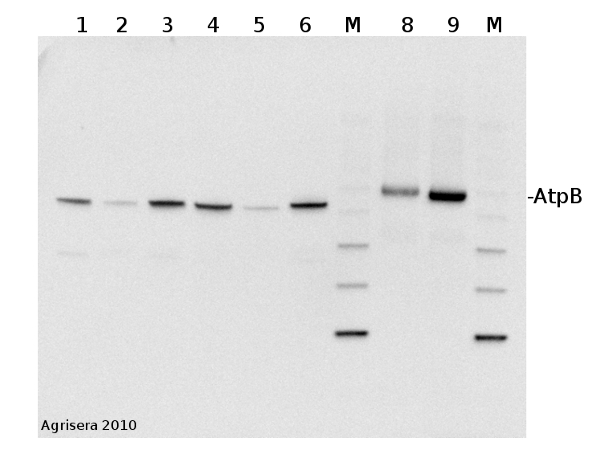 2 µg of total protein from (1) cow muscle, (2) chicken muscle, (3) pig muscle, (4) rat liver, (5) salmon muscle, (6) seal muscle, (8) Arabidopsis thaliana, (9) Zea mays extracted with Protein Extration Buffer, PEB (AS08 300) and separated on 4-12% NuPage (Invitrogen) LDS-PAGE and blotted 1h to PVDF. Blots were blocked immediately following transfer in 2% ECL Advance blocking reagent (GE Healthcare) in 20 mM Tris, 137 mM sodium chloride pH 7.6 with 0.1% (v/v) Tween-20 (TBS-T) for 1h at room temperature with agitation. Blots were incubated in the primary antibody at a dilution of 1: 50 000 for 1h at room temperature with agitation. The antibody solution was decanted and the blot was rinsed briefly twice, then washed once for 15 min and 3 times for 5 min in TBS-T at room temperature with agitation. Blots were incubated in secondary antibody (Agrisera anti-rabbit IgG horse radish peroxidase conjugated, AS09 602) diluted to 1:50 000 in 2% ECL Advance blocking solution for 1h at room temperature with agitation. The blots were washed as above and developed for 5 min with ECL Advance detection reagent according to the manufacturers instructions. Images of the blots were obtained using a CCD imager (FluorSMax, Bio-Rad) and Quantity One software (Bio-Rad). Exposure time was 30 seconds.
M - molecular weight marker
[Related Products]AtpB | beta subunit of ATP synthase (100 ul)
Filter:
(Type enter to validate)
| Cat_Number | Product name | Supplier | Quantity | Price | Tech | More |
| --- | --- | --- | --- | --- | --- | --- |
| AS03030 | AtpB | beta subunit of ATP synthase | Agrisera | 100 ul | 337€ | | Pub |
| AS05085 | AtpB | beta subunit of ATP synthase (100 ul) | Agrisera | 100 ul | 342€ | | Pub |
| 22967 | ATP synthase H+ transporting mitochondrial F1 complex delta subunit precursor antibody Source Rabbit Polyconal Ab Species Human Application WB | SignalWay Antibody S.A.B | 100ul | 329€ | | Pub |
| AS08370 | ATPase | ATP synthase, whole enzyme | Agrisera | 100 ul | 337€ | | Pub |
| Y075071 | Anti-AP-1 complex subunit beta-1 (11-29) Antibody | ABM Goods | 100 ul | 374.85€ | | Pub |
| Y075071 | Anti AP 1 complex subunit beta 1 (11 29) | ABM Goods | 100 ul | 423.15€ | | Pub |
| Y090129 | Anti-ATPase, (Na(+) K(+)) beta-subunit Monoclonal Antibody | ABM Goods | 100ul | 265.65€ | | Pub |
| Y090129 | Anti ATPase, (Na(+) K(+)) beta subunit Monoclonal | ABM Goods | 100ul | 299.25€ | | Pub |
| 2121-100 | ATP100 ul | Biovision | 100 ul | 102.06€ | | Pub |
| 22171 | succinate-CoA ligase, GDP-forming beta subunit precursor antibody Source Rabbit Polyconal Ab Species Human Application WB IF | SignalWay Antibody S.A.B | 100ul | 329€ | | Pub |
| 22364 | ATPase beta3(Na+ K+) antibody Source Rabbit Polyconal Ab Species Human Application WB IHC | SignalWay Antibody S.A.B | 100ul | 329€ | | Pub |
| 22398 | ATP synthase C mature antibody Source Rabbit Polyconal Ab Species Human Application WB | SignalWay Antibody S.A.B | 100ul | 329€ | | Pub |
| 23092 | succinate-CoA ligase, ADP-forming, beta subunit precursor antibody Source Rabbit Polyconal Ab Species Human Application WB IHC IF | SignalWay Antibody S.A.B | 100ul | 329€ | | Pub |
| AP21103 | Rabbit anti beta Catenin (Ab-41 45) | AngoiPro | 100.00 ul | 290€ | | Pub |
| AP21184 | Rabbit anti PKC beta (Ab-641) | AngoiPro | 100.00 ul | 290€ | | Pub |
| AP21211 | Rabbit anti beta Catenin (Ab-33) | AngoiPro | 100.00 ul | 290€ | | Pub |
| AP21212 | Rabbit anti beta Catenin (Ab-37) | AngoiPro | 100.00 ul | 290€ | | Pub |
| AP21219 | Rabbit anti PDGF Receptor beta (Ab-751) | AngoiPro | 100.00 ul | 290€ | | Pub |
| AP21304 | Rabbit anti IkB-beta (Ab-23) | AngoiPro | 100.00 ul | 290€ | | Pub |
| AS03030S | AtpB | protein standard | Agrisera | 250 ul | 241€ | | Pub |
| AS04052 | COXII | cytochrome oxidase subunit II | Agrisera | 100 ul | 337€ | | Pub |
| AS06185 | SPS | sucrose phosphate synthase, maize | Agrisera | 100 ul | 337€ | | Pub |
| bs-0348R | Rabbit Anti-G protein beta subunit GI Polyclonal Antibody, Unconjugated | Bioss | 100ug | 330€ | | Pub |
| iAP-0001 | Mouse anti beta tubulin (HRP) Loading control antibodies | AngoiPro | 100.00 ul | 284€ | | Pub |
| iAP-0002 | Mouse anti beta actin (HRP) Loading control antibodies | AngoiPro | 100.00 ul | 284€ | | Pub |
| LF-MA0152 | anti-Aβ 40 (Amyloid beta 40) (32A1) , Mouse monoclonal to Aβ 40 (Amyloid beta 40), Isotype IgG2b, Host Mouse | Abfrontier | 100 ul | 355€ | | Pub |
| LF-MA0203 | anti-Carboxypeptidase N subunit 2 precusor , Mouse monoclonal to Carboxypeptidase N subunit 2 precusor , Isotype IgG1, Host Mouse | Abfrontier | 100 ul | 355€ | | Pub |
| MO20029-100 | Nitric Oxide Synthase, monoclonal antibody, mouse, 100 ul. | Neuromics | 1 | 250€ | | Pub |
| pAP11060 | Rabbit anti Integrin beta3 (pTyr773) | AngoiPro | 100.00 ul | 302€ | | Pub |
| pAP11116 | Rabbit anti beta-Catenin (pThr41-pSer45) | AngoiPro | 100.00 ul | 302€ | | Pub |
| pAP11172 | Rabbit anti PKC beta (pThr641) | AngoiPro | 100.00 ul | 302€ | | Pub |
| pAP11218 | Rabbit anti beta Catenin (pSer33) | AngoiPro | 100.00 ul | 302€ | | Pub |
| pAP11219 | Rabbit anti beta Catenin (pSer37) | AngoiPro | 100.00 ul | 302€ | | Pub |
| pAP11282 | Rabbit anti Integrin beta3 (pTyr785) | AngoiPro | 100.00 ul | 302€ | | Pub |
| Y050501 | Anti-ATP6V0A4(ATPase, H+ transporting, lysosomal V0 subunit aisoform 4) Antibody | ABM Goods | 100ug | 386.4€ | | Pub |
| Y050501 | Anti ATP6V0A4(ATPase, H+ transporting, lysosomal V0 subunit aisoform 4) | ABM Goods | 100ug | 436.8€ | | Pub |
| Y061444 | Monoclonal Anti-ATP Synthase β produced in mouse Antibody | ABM Goods | 100ug | 994.35€ | | Pub |
| Y061444 | Monoclonal Anti ATP Synthase β produced in mouse | ABM Goods | 100ug | 1119.3€ | | Pub |
| Y075020 | Anti-Human ATPase (195-209) Antibody | ABM Goods | 100 ul | 374.85€ | | Pub |
| Y075020 | Anti Human ATPase (195 209) | ABM Goods | 100 ul | 423.15€ | | Pub |
| Y075070 | Anti-AP-1 complex subunit gamma-1 (5-24) Antibody | ABM Goods | 100 ul | 374.85€ | | Pub |
| Y075070 | Anti AP 1 complex subunit gamma 1 (5 24) | ABM Goods | 100 ul | 423.15€ | | Pub |
| 011-A | anti GSK3 Beta IgG2a (monoclonal). Produced against a recombinant Xenopus laevis protein. | Virogen | 100 µg | 280€ | | Pub |
| 129-10012 | Rabbit Anti-Human Actin beta, N-terminus | Ray Biotech | 100 | 528€ | | Pub |
| 129-10287 | Mouse Anti-Human Estrogen Receptor beta 5 | Ray Biotech | 100 | 1146€ | | Pub |
| 129-10641 | Mouse Anti-Human Thyroid Hormone Receptor beta | Ray Biotech | 100 | 843€ | | Pub |
| 18-272-195411 | S100 alpha - Rabbit polyclonal to S100 alpha; S100 calcium-binding protein A1; S-100 protein alpha subunit; S-100 protein alpha chain Polyclonal | GenWay | 0.05 mg | 448€ | | Pub |
| 21560 | Primary antibody NMDANR2B Subunit Antibody, Source Rabbit Polyconal Ab, Species Reactivity Human Mouse Rat | SignalWay Antibody S.A.B | 100ul | 282€ | | Pub |
| 22072 | cytochrome c oxidase subunit VIa polypeptide 2 precursor antibody Source Rabbit Polyconal Ab Species Human Application WB IHC | SignalWay Antibody S.A.B | 100ul | 329€ | | Pub |
| 22073 | IL-12 Receptor beta2 antibody Source Rabbit Polyconal Ab Species Human Application WB | SignalWay Antibody S.A.B | 100ul | 329€ | | Pub |
| 22086 | V-ATPase H antibody Source Rabbit Polyconal Ab Species Human Application WB IHC IF | SignalWay Antibody S.A.B | 100ul | 329€ | | Pub |
| 22199 | PABP1-dependent poly A-specific ribonuclease subunit PAN3 antibody Source Rabbit Polyconal Ab Species Human Application WB IF | SignalWay Antibody S.A.B | 100ul | 329€ | | Pub |
| 22207 | beta3Gn-T3 antibody Source Rabbit Polyconal Ab Species Human Application WB | SignalWay Antibody S.A.B | 100ul | 329€ | | Pub |
| 22299 | basic beta 2 syntrophin antibody Source Rabbit Polyconal Ab Species Human Application WB IHC IF | SignalWay Antibody S.A.B | 100ul | 329€ | | Pub |
| 22303 | betaine-homocysteine methyltransferase antibody Source Rabbit Polyconal Ab Species Human Application WB IHC IF | SignalWay Antibody S.A.B | 100ul | 329€ | | Pub |
| 22304 | betaine-homocysteine methyltransferase antibody Source Rabbit Polyconal Ab Species Human Application WB | SignalWay Antibody S.A.B | 100ul | 329€ | | Pub |
| 22324 | GMF-beta antibody Source Rabbit Polyconal Ab Species Human Application WB IHC | SignalWay Antibody S.A.B | 100ul | 329€ | | Pub |
| 22332 | V-ATPase C2 antibody Source Rabbit Polyconal Ab Species Human Application WB | SignalWay Antibody S.A.B | 100ul | 329€ | | Pub |
| 22355 | beta-Gal antibody Source Rabbit Polyconal Ab Species Human Application WB | SignalWay Antibody S.A.B | 100ul | 329€ | | Pub |
| 22357 | beta-glucosidase antibody Source Rabbit Polyconal Ab Species Human Application WB IHC IF | SignalWay Antibody S.A.B | 100ul | 329€ | | Pub |
| 22358 | beta-glucosidase antibody Source Rabbit Polyconal Ab Species Human Application WB IHC | SignalWay Antibody S.A.B | 100ul | 329€ | | Pub |
| 22394 | eIF2B beta antibody Source Rabbit Polyconal Ab Species Human Application WB IHC | SignalWay Antibody S.A.B | 100ul | 329€ | | Pub |
| 22431 | TGF beta induced factor 2 antibody Source Rabbit Polyconal Ab Species Human Application WB | SignalWay Antibody S.A.B | 100ul | 329€ | | Pub |
| 22463 | TCP-1 beta antibody Source Rabbit Polyconal Ab Species Human Application WB IHC | SignalWay Antibody S.A.B | 100ul | 329€ | | Pub |
| 22483 | Dopamine beta-Hydroxylase antibody Source Rabbit Polyconal Ab Species Human Application WB IHC IF | SignalWay Antibody S.A.B | 100ul | 329€ | | Pub |
| 22491 | CapZ-beta antibody Source Rabbit Polyconal Ab Species Human Application WB IHC | SignalWay Antibody S.A.B | 100ul | 329€ | | Pub |
| 22498 | beta IV Tubulin antibody Source Rabbit Polyconal Ab Species Human Application WB IF | SignalWay Antibody S.A.B | 100ul | 329€ | | Pub |
| 22519 | PCCase beta antibody Source Rabbit Polyconal Ab Species Human Application WB IHC IF | SignalWay Antibody S.A.B | 100ul | 329€ | | Pub |
| 22541 | CaMKK beta antibody Source Rabbit Polyconal Ab Species Human Application WB IF | SignalWay Antibody S.A.B | 100ul | 329€ | | Pub |
| 22599 | GABP-beta1 antibody Source Rabbit Polyconal Ab Species Human Application WB IHC IF | SignalWay Antibody S.A.B | 100ul | 329€ | | Pub |
| 22620 | voltage-dependent calcium channel gamma-5 subunit isoform b antibody Source Rabbit Polyconal Ab Species Human Application WB | SignalWay Antibody S.A.B | 100ul | 329€ | | Pub |
| 22666 | ATP6V0A2 antibody Source Rabbit Polyconal Ab Species human Application WB IHC IF | SignalWay Antibody S.A.B | 100ul | 329€ | | Pub |
| 22670 | Beta-ETF antibody Source Rabbit Polyconal Ab Species Human Application WB IF | SignalWay Antibody S.A.B | 100ul | 329€ | | Pub |
| 22673 | amyloid beta precursor protein-binding family B member 3 isoform a antibody Source Rabbit Polyconal Ab Species Human Application WB | SignalWay Antibody S.A.B | 100ul | 329€ | | Pub |
| 22702 | Retinoid X Receptor beta antibody Source Rabbit Polyconal Ab Species Human Application WB | SignalWay Antibody S.A.B | 100ul | 329€ | | Pub |
| 22722 | Proteasome inhibitor PI31 subunit antibody Source Rabbit Polyconal Ab Species Human Application WB | SignalWay Antibody S.A.B | 100ul | 329€ | | Pub |
| 22746 | V-ATPase 116 kDa isoform a4 antibody Source Rabbit Polyconal Ab Species Human Application WB | SignalWay Antibody S.A.B | 100ul | 329€ | | Pub |
| 22787 | TGF beta Receptor III antibody Source Rabbit Polyconal Ab Species Human Application WB | SignalWay Antibody S.A.B | 100ul | 329€ | | Pub |
| 228-10079-3 | Recombinant Yeast ATP sulfurylase Proteins | Ray Biotech | 100IU | 535€ | | Pub |
| 228-10117-2 | Recombinant Human beta-Synuclein | Ray Biotech | 100 | 290€ | | Pub |
| 228-10848-3 | Recombinant Porcine IL-1 beta Proteins | Ray Biotech | 100 | 2673€ | | Pub |
| 228-11253-3 | Recombinant PKA regulatory subunit, type 2 alpha Proteins | Ray Biotech | 100 | 0€ | | Pub |
| 228-11495-3 | Recombinant Human TGF-beta 1 Proteins | Ray Biotech | 100 | 1031€ | | Pub |
| 228-11497-3 | Recombinant Human TGF-beta 3 Proteins | Ray Biotech | 100 | 1031€ | | Pub |
| 22832 | 14-3-3 beta antibody Source Rabbit Polyconal Ab Species Human Application WB IHC IF | SignalWay Antibody S.A.B | 100ul | 329€ | | Pub |
| 22833 | RPA 70 kDa subunit antibody Source Rabbit Polyconal Ab Species Human Application WB IHC IF | SignalWay Antibody S.A.B | 100ul | 329€ | | Pub |
| 22867 | Fatty Acid Synthase antibody Source Rabbit Polyconal Ab Species Human Application WB IHC IF | SignalWay Antibody S.A.B | 100ul | 329€ | | Pub |
| 22868 | Fatty Acid Synthase antibody Source Rabbit Polyconal Ab Species Human Application WB IHC IF | SignalWay Antibody S.A.B | 100ul | 329€ | | Pub |
| 22912 | PI3 Kinase p110 beta antibody Source Rabbit Polyconal Ab Species Human Application WB IF | SignalWay Antibody S.A.B | 100ul | 329€ | | Pub |
| 22942 | IKK beta antibody Source Rabbit Polyconal Ab Species Human Application WB IHC IF | SignalWay Antibody S.A.B | 100ul | 329€ | | Pub |
| 22945 | beta-Adaptin antibody Source Rabbit Polyconal Ab Species Human Mouse Application WB | SignalWay Antibody S.A.B | 100ul | 329€ | | Pub |
| 22947 | RPA 14 kDa subunit antibody Source Rabbit Polyconal Ab Species Human Application WB IHC | SignalWay Antibody S.A.B | 100ul | 329€ | | Pub |
| 22957 | Beta Actin antibody Source Rabbit Polyconal Ab Species Human Application WB IHC IF | SignalWay Antibody S.A.B | 100ul | 329€ | | Pub |
| 22965 | beta-Amyloid antibody Source Rabbit Polyconal Ab Species Human Application WB IHC | SignalWay Antibody S.A.B | 100ul | 329€ | | Pub |
| 22987 | Beta-crystallin A4 antibody Source Rabbit Polyconal Ab Species Human Application WB IF | SignalWay Antibody S.A.B | 100ul | 329€ | | Pub |
| 230-00005-WBC | Recombinant Human TGF beta 1 [from E. coli] Proteins | Ray Biotech | 100 | 111€ | | Pub |
| 230-00021-100 | Recombinant Human beta-2 Microglobulin (B2M) | Ray Biotech | 100 | 463€ | | Pub |
| 230-00239-100 | Recombinant Human NGF (beta) [from E. coli] Proteins | Ray Biotech | 100 | 318€ | | Pub |
| 23015 | HLA DR beta antibody Source Rabbit Polyconal Ab Species Human Application WB | SignalWay Antibody S.A.B | 100ul | 329€ | | Pub |
| 23026 | Inhibin beta-A antibody Source Rabbit Polyconal Ab Species Human Application WB IHC IF | SignalWay Antibody S.A.B | 100ul | 329€ | | Pub |
| 23034 | Laminin beta-3 antibody Source Rabbit Polyconal Ab Species Human Mouse Application WB IHC IF | SignalWay Antibody S.A.B | 100ul | 329€ | | Pub |
| 23044 | NADH dehydrogenase (ubiquinone) 1 beta subcomplex, 9, 22kDa antibody Source Rabbit Polyconal Ab Species Human Application WB IHC | SignalWay Antibody S.A.B | 100ul | 329€ | | Pub |
| 23069 | RPA 32 kDa subunit antibody Source Rabbit Polyconal Ab Species Human Application WB IHC IF | SignalWay Antibody S.A.B | 100ul | 329€ | | Pub |
| 23104 | beta Tubulin 3 antibody Source Rabbit Polyconal Ab Species Human Application WB IF | SignalWay Antibody S.A.B | 100ul | 329€ | | Pub |
| 23120 | Sec61 gamma subunit antibody Source Rabbit Polyconal Ab Species Human Application WB | SignalWay Antibody S.A.B | 100ul | 329€ | | Pub |
| 23174 | cytochrome c oxidase subunit VIIb2 precursor antibody Source Rabbit Polyconal Ab Species Human Application WB IHC IF | SignalWay Antibody S.A.B | 100ul | 329€ | | Pub |
| 23176 | beta Tubulin antibody Source Rabbit Polyconal Ab Species Human Application WB IF | SignalWay Antibody S.A.B | 100ul | 329€ | | Pub |
| 23182 | Tubulin beta-8 antibody Source Rabbit Polyconal Ab Species Human Application WB IHC IF | SignalWay Antibody S.A.B | 100ul | 329€ | | Pub |
| 24063 | Primary antibody IKK beta Antibody, Source Rabbit, Species Reactivity This polyclonal antibody has no cross response to IKKa or IKKy. | SignalWay Antibody S.A.B | 100ug | 364€ | | Pub |
| 308-31901 | Anti beta3-AR Human, Polyclonal Antibody Antibodies | B-Bridge | 100UG | 838.5€ | | Pub |
| 308-31901 | Anti beta3 AR Human, Polyclonal Antibody | B-Bridge | 100UG | 935.382€ | | Pub |
| 308-31901 | Anti beta3 AR Human, Polyclonal Antibody The neurotransmitter hormone adrenaline (epinephrine, adrenalin) plays a central role in the mammalian stress response, increasing heart rate, raising blood pr | B-Bridge | 100 UG | 680.4€ | | Pub |
| 3598-100 | Beta-Actin Antibody | Biovision | 100 | 305.235€ | | Pub |
| 3598-100 | Beta-Actin Antibody (Clone B11V08) | Biovision | 100 | 353.43€ | | Pub |
| 3598-100 | Beta Actin Antibody | Biovision | 100 µg | 417.69€ | | Pub |
| 3598-100 | Beta Actin Monoclonal Antibody100 ug | Biovision | 100 ug | 268.38€ | | Pub |
| 3662-100 | Beta-Actin Antibody | Biovision | 100 | 301€ | | Pub |
| 3662-100 | Beta Actin Antibody | Biovision | 100 µg | 341.145€ | | Pub |
| 3662-100 | Beta Actin Polyclonal Antibody100 ug | Biovision | 100 ug | 212.625€ | | Pub |
| 3850-100 | Beta Actin Antibody | Biovision | 100 ug | 282€ | | Pub |
| 3917-100 | Beta-Actin Antibody | Biovision | 100 | 301€ | | Pub |
| 4303R-100 | NGF beta, human recombinant | Biovision | 100 ìg | 678€ | | Pub |
| 4304-100 | NGF-beta, murine recombinant | Biovision | 100 μg | 661€ | | Pub |
| 4335-MC-01K-AC | Anti PAR Monoclonal Antibody | Trevigen | 1000 ul | 2523.15€ | | Pub |
| 4655-100 | RELM-beta, murine recombinant | Biovision | 100 μg | 661€ | | Pub |
| 5128-100 | IL 1 beta Antibody | Biovision | 100 µg | 341€ | | Pub |
| 5129-100 | IL 1 beta Antibody | Biovision | 100 µg | 341€ | | Pub |
| 5249-100 | MIP 1 beta Antibody | Biovision | 100 µg | 341€ | | Pub |
| 5340-100 | TGF beta2 Antibody | Biovision | 100 µg | 341€ | | Pub |
| 5343R-100 | TGF beta2 Antibody | Biovision | 100 µg | 341€ | | Pub |
| 5344R-100 | TGF beta3 Antibody | Biovision | 100 µg | 341€ | | Pub |
| 5345-100 | TNF beta Antibody | Biovision | 100 µg | 341€ | | Pub |
| 5559-100 | TGF beta1 Antibody | Biovision | 100 µg | 341€ | | Pub |
| 5636R-100 | TGF beta Receptor I Antibody | Biovision | 100 µg | 341€ | | Pub |
| 5636R-100 | TGF beta Receptor I Polyclonal100 ug | Biovision | 100 ug | 231.506€ | | Pub |
| 5639-100 | TGF beta Receptor II Polyclonal100 ug[DISCONTINUED] | Biovision | 100 ug | 296.607€ | | Pub |
| 5639R-100 | TGF beta Receptor II Antibody | Biovision | 100 µg | 341€ | | Pub |
| 5642-100 | TGF-beta Receptor III Antibody | Biovision | 100 | 343€ | | Pub |
| 5651-100 | TCR beta Antibody | Biovision | 100 µg | 354€ | | Pub |
| 5654-100 | RELM beta Antibody | Biovision | 100 µg | 354€ | | Pub |
| 7763-100 | Active p38 beta | Biovision | 100 μg | 2074€ | | Pub |
| 82 | Beta trifluoromethylumbelliferone [7 Hydroxy 4 trifluoromethylcoumarin)] *Fluorescence reference standard* | AAT Bioquest | 100 mg | 108€ | | Pub |
| AS03037 | RbcL | Rubisco large subunit, form I and form II (100 ug) | Agrisera | 100 ug | 422€ | | Pub |
| bs-0023M | Mouse Anti-GSK-3 Beta (NT) Polyclonal Antibody, Unconjugated | Bioss | 100ug | 330€ | | Pub |
| bs-0023M-PE | Mouse Anti-GSK-3 Beta (NT) Polyclonal Antibody, PE Conjugated | Bioss | 100ug | 369€ | | Pub |
| bs-0023M-PE-Cy3 | Mouse Anti-GSK-3 Beta (NT) Polyclonal Antibody, PE-Cy3 Conjugated | Bioss | 100ug | 401€ | | Pub |
| bs-0023M-PE-Cy7 | Mouse Anti-GSK-3 Beta (NT) Polyclonal Antibody, PE-Cy7 Conjugated | Bioss | 100ug | 401€ | | Pub |
| bs-0028M | Mouse Anti-GSK-3 Beta (CT) Polyclonal Antibody, Unconjugated | Bioss | 100ug | 330€ | | Pub |
| bs-0028M-A350 | Mouse Anti-GSK-3 Beta (CT) Polyclonal Antibody, Alexa Fluor 350 conjugated,Isotype: IgG | Sepax | 100ug Lyophilized | 323€ | | Pub |
| bs-0028M-A488 | Mouse Anti-GSK-3 Beta (CT) Polyclonal Antibody, Alexa Fluor 488 conjugated,Isotype: IgG | Sepax | 100ug Lyophilized | 323€ | | Pub |
| bs-0028M-A555 | Mouse Anti-GSK-3 Beta (CT) Polyclonal Antibody, Alexa Fluor 555 conjugated,Isotype: IgG | Sepax | 100ug Lyophilized | 323€ | | Pub |
| bs-0028M-A647 | Mouse Anti-GSK-3 Beta (CT) Polyclonal Antibody, Alexa Fluor 647 conjugated,Isotype: IgG | Sepax | 100ug Lyophilized | 323€ | | Pub |
| bs-0028M-Biotin | Mouse Anti-GSK-3 Beta (CT) Polyclonal Antibody, Biotin Conjugated | Bioss | 100ug | 369€ | | Pub |
| bs-0028M-Cy3 | Mouse Anti-GSK-3 Beta (CT) Polyclonal Antibody, Cy3 Conjugated | Bioss | 100ug | 369€ | | Pub |
| bs-0028M-Cy5 | Mouse Anti-GSK-3 Beta (CT) Polyclonal Antibody, Cy5 Conjugated | Bioss | 100ug | 369€ | | Pub |
| bs-0028M-Cy5.5 | Mouse Anti-GSK-3 Beta (CT) Polyclonal Antibody, Cy5.5 Conjugated | Bioss | 100ug | 369€ | | Pub |
| bs-0028M-Cy7 | Mouse Anti-GSK-3 Beta (CT) Polyclonal Antibody, Cy7 Conjugated | Bioss | 100ug | 369€ | | Pub |
| bs-0028M-FITC | Mouse Anti-GSK-3 Beta (CT) Polyclonal Antibody, FITC conjugated,Isotype: IgG | Sepax | 100ug Lyophilized | 304€ | | Pub |
| bs-0028M-HRP | Mouse Anti-GSK-3 Beta (CT) Polyclonal Antibody, HRP Conjugated | Bioss | 100ug | 369€ | | Pub |
| bs-0028M-PE | Mouse Anti-GSK-3 Beta (CT) Polyclonal Antibody, PE Conjugated | Bioss | 100ug | 369€ | | Pub |
| bs-0028M-PE-Cy3 | Mouse Anti-GSK-3 Beta (CT) Polyclonal Antibody, PE-Cy3 Conjugated | Bioss | 100ug | 401€ | | Pub |
| bs-0028M-PE-Cy5 | Mouse Anti-GSK-3 Beta (CT) Polyclonal Antibody, PE-Cy5 Conjugated | Bioss | 100ug | 402€ | | Pub |
| bs-0028M-PE-Cy5.5 | Mouse Anti-GSK-3 Beta (CT) Polyclonal Antibody, PE-Cy5.5 conjugated Isotype: IgG | Sepax | 100ug Lyophilized | 300€ | | Pub |
| bs-0028M-PE-Cy7 | Mouse Anti-GSK-3 Beta (CT) Polyclonal Antibody, PE-Cy7 Conjugated | Bioss | 100ug | 401€ | | Pub |
| bs-0061R | Rabbit Anti-Beta (Loading Control) Polyclonal Antibody, Unconjugated | Bioss | 100ug | 330€ | | Pub |
| bs-0061R-A350 | Rabbit Anti-beta-Actin (Loading Control) Polyclonal Antibody, Alexa Fluor 350 conjugated,Isotype: IgG | Sepax | 100ug Lyophilized | 323€ | | Pub |
| bs-0061R-A488 | Rabbit Anti-beta-Actin (Loading Control) Polyclonal Antibody, Alexa Fluor 488 conjugated,Isotype: IgG | Sepax | 100ug Lyophilized | 323€ | | Pub |
| bs-0061R-A555 | Rabbit Anti-beta-Actin (Loading Control) Polyclonal Antibody, Alexa Fluor 555 conjugated,Isotype: IgG | Sepax | 100ug Lyophilized | 323€ | | Pub |
| bs-0061R-A647 | Rabbit Anti-beta-Actin (Loading Control) Polyclonal Antibody, Alexa Fluor 647 conjugated,Isotype: IgG | Sepax | 100ug Lyophilized | 323€ | | Pub |
| bs-0061R-Biotin | Rabbit Anti-Beta (Loading Control) Polyclonal Antibody, Biotin Conjugated | Bioss | 100ug | 369€ | | Pub |
| bs-0061R-Cy3 | Rabbit Anti-Beta (Loading Control) Polyclonal Antibody, Cy3 Conjugated | Bioss | 100ug | 369€ | | Pub |
| bs-0061R-Cy5 | Rabbit Anti-Beta (Loading Control) Polyclonal Antibody, Cy5 Conjugated | Bioss | 100ug | 369€ | | Pub |
| bs-0061R-Cy5.5 | Rabbit Anti-Beta (Loading Control) Polyclonal Antibody, Cy5.5 Conjugated | Bioss | 100ug | 369€ | | Pub |
| bs-0061R-Cy7 | Rabbit Anti-Beta (Loading Control) Polyclonal Antibody, Cy7 Conjugated | Bioss | 100ug | 369€ | | Pub |
| bs-0061R-FITC | Rabbit Anti-beta-Actin (Loading Control) Polyclonal Antibody, FITC conjugated,Isotype: IgG | Sepax | 100ug Lyophilized | 304€ | | Pub |
| bs-0061R-Gold | Rabbit Anti-Beta (Loading Control) Polyclonal Antibody, Gold Conjugated | Bioss | 100ug | 369€ | | Pub |
| bs-0061R-HRP | Rabbit Anti-Beta (Loading Control) Polyclonal Antibody, HRP Conjugated | Bioss | 100ug | 369€ | | Pub |
| bs-0061R-PE | Rabbit Anti-Beta (Loading Control) Polyclonal Antibody, PE Conjugated | Bioss | 100ug | 369€ | | Pub |
| bs-0061R-PE-Cy3 | Rabbit Anti-Beta (Loading Control) Polyclonal Antibody, PE-Cy3 Conjugated | Bioss | 100ug | 401€ | | Pub |
| bs-0061R-PE-Cy5 | Rabbit Anti-Beta (Loading Control) Polyclonal Antibody, PE-Cy5 Conjugated | Bioss | 100ug | 402€ | | Pub |
| bs-0061R-PE-Cy5.5 | Rabbit Anti-beta-Actin (Loading Control) Polyclonal Antibody, PE-Cy5.5 conjugated Isotype: IgG | Sepax | 100ug Lyophilized | 300€ | | Pub |
| bs-0061R-PE-Cy7 | Rabbit Anti-Beta (Loading Control) Polyclonal Antibody, PE-Cy7 Conjugated | Bioss | 100ug | 401€ | | Pub |
| bs-0067R | Rabbit Anti-NGF-beta Polyclonal Antibody, Unconjugated | Bioss | 100ug | 330€ | | Pub |
| bs-0076M-Gold | Mouse Anti-beta-Amyloid 1-42(CT) Polyclonal Antibody, Gold Conjugated | Bioss | 100ug | 369€ | | Pub |
| bs-0076M-HRP | Mouse Anti-beta-Amyloid 1-42(CT) Polyclonal Antibody, HRP Conjugated | Bioss | 100ug | 369€ | | Pub |
| bs-0076M-PE | Mouse Anti-beta-Amyloid 1-42(CT) Polyclonal Antibody, PE Conjugated | Bioss | 100ug | 369€ | | Pub |
| bs-0076M-PE-Cy3 | Mouse Anti-beta-Amyloid 1-42(CT) Polyclonal Antibody, PE-Cy3 Conjugated | Bioss | 100ug | 401€ | | Pub |
| bs-0076M-PE-Cy7 | Mouse Anti-beta-Amyloid 1-42(CT) Polyclonal Antibody, PE-Cy7 Conjugated | Bioss | 100ug | 401€ | | Pub |
| bs-0104M | Mouse Anti-beta-Amyloid(1-16) (human) Polyclonal Antibody, Unconjugated | Bioss | 100ug | 330€ | | Pub |
| bs-0104M-A350 | Mouse Anti-beta-Amyloid(1-16) (human) Polyclonal Antibody, Alexa Fluor 350 conjugated,Isotype: IgG | Sepax | 100ug Lyophilized | 323€ | | Pub |
| bs-0104M-A488 | Mouse Anti-beta-Amyloid(1-16) (human) Polyclonal Antibody, Alexa Fluor 488 conjugated,Isotype: IgG | Sepax | 100ug Lyophilized | 323€ | | Pub |
| bs-0104M-A555 | Mouse Anti-beta-Amyloid(1-16) (human) Polyclonal Antibody, Alexa Fluor 555 conjugated,Isotype: IgG | Sepax | 100ug Lyophilized | 323€ | | Pub |
| bs-0104M-A647 | Mouse Anti-beta-Amyloid(1-16) (human) Polyclonal Antibody, Alexa Fluor 647 conjugated,Isotype: IgG | Sepax | 100ug Lyophilized | 323€ | | Pub |
| bs-0104M-Biotin | Mouse Anti-beta-Amyloid(1-16) (human) Polyclonal Antibody, Biotin Conjugated | Bioss | 100ug | 369€ | | Pub |
| bs-0104M-Cy3 | Mouse Anti-beta-Amyloid(1-16) (human) Polyclonal Antibody, Cy3 Conjugated | Bioss | 100ug | 369€ | | Pub |
| bs-0104M-Cy5 | Mouse Anti-beta-Amyloid(1-16) (human) Polyclonal Antibody, Cy5 Conjugated | Bioss | 100ug | 369€ | | Pub |
| bs-0104M-Cy5.5 | Mouse Anti-beta-Amyloid(1-16) (human) Polyclonal Antibody, Cy5.5 Conjugated | Bioss | 100ug | 369€ | | Pub |
| bs-0104M-Cy7 | Mouse Anti-beta-Amyloid(1-16) (human) Polyclonal Antibody, Cy7 Conjugated | Bioss | 100ug | 369€ | | Pub |
| bs-0104M-FITC | Mouse Anti-beta-Amyloid(1-16) (human) Polyclonal Antibody, FITC conjugated,Isotype: IgG | Sepax | 100ug Lyophilized | 304€ | | Pub |
| bs-0104M-Gold | Mouse Anti-beta-Amyloid(1-16) (human) Polyclonal Antibody, Gold Conjugated | Bioss | 100ug | 369€ | | Pub |
| bs-0104M-HRP | Mouse Anti-beta-Amyloid(1-16) (human) Polyclonal Antibody, HRP Conjugated | Bioss | 100ug | 369€ | | Pub |
| bs-0104M-PE | Mouse Anti-beta-Amyloid(1-16) (human) Polyclonal Antibody, PE Conjugated | Bioss | 100ug | 369€ | | Pub |
| bs-0104M-PE-Cy3 | Mouse Anti-beta-Amyloid(1-16) (human) Polyclonal Antibody, PE-Cy3 Conjugated | Bioss | 100ug | 401€ | | Pub |
| bs-0104M-PE-Cy5 | Mouse Anti-beta-Amyloid(1-16) (human) Polyclonal Antibody, PE-Cy5 Conjugated | Bioss | 100ug | 402€ | | Pub |
| bs-0104M-PE-Cy5.5 | Mouse Anti-beta-Amyloid(1-16) (human) Polyclonal Antibody, PE-Cy5.5 conjugated Isotype: IgG | Sepax | 100ug Lyophilized | 300€ | | Pub |
| bs-0104M-PE-Cy7 | Mouse Anti-beta-Amyloid(1-16) (human) Polyclonal Antibody, PE-Cy7 Conjugated | Bioss | 100ug | 401€ | | Pub |
| bs-0105R-AF647 | Rabbit Anti-beta-Amyloid(1-28) Polyclonal Antibody, Alexa Fluor 647 Conjugated, 4.3kDa; Isotype IgG; Reactivity Human , Mouse , Rat; Application Flow-Cyt(1 20-100), IF(1 50-200) | Bioss | 100ug Lyophilized | 502€ | | Pub |
| bs-0105R-Alexa488 | Rabbit Anti-beta-Amyloid(1-28) Polyclonal Antibody, Alexa 488 Conjugated | Bioss | 100ug | 369€ | | Pub |
| bs-0105R-Biotin | Rabbit Anti-beta-Amyloid(1-28) Polyclonal Antibody, Biotin Conjugated | Bioss | 100ug | 369€ | | Pub |
| bs-0105R-HRP | Rabbit Anti-beta-Amyloid(1-28) Polyclonal Antibody, HRP Conjugated | Bioss | 100ug | 369€ | | Pub |
| bs-0105R-PE | Rabbit Anti-beta-Amyloid(1-28) Polyclonal Antibody, PE Conjugated | Bioss | 100ug | 369€ | | Pub |
| bs-0105R-PE-Cy3 | Rabbit Anti-beta-Amyloid(1-28) Polyclonal Antibody, PE-Cy3 Conjugated | Bioss | 100ug | 401€ | | Pub |
| bs-0105R-PE-Cy7 | Rabbit Anti-beta-Amyloid(1-28) Polyclonal Antibody, PE-Cy7 Conjugated | Bioss | 100ug | 401€ | | Pub |
| bs-0106M | Mouse Anti-beta-Amyloid(1-40) Polyclonal Antibody, Unconjugated | Bioss | 100ug | 330€ | | Pub |
| bs-0106M-A350 | Mouse Anti-beta-Amyloid(1-40) Polyclonal Antibody, Alexa Fluor 350 conjugated,Isotype: IgG | Sepax | 100ug Lyophilized | 323€ | | Pub |
| bs-0106M-A488 | Mouse Anti-beta-Amyloid(1-40) Polyclonal Antibody, Alexa Fluor 488 conjugated,Isotype: IgG | Sepax | 100ug Lyophilized | 323€ | | Pub |
| bs-0106M-A555 | Mouse Anti-beta-Amyloid(1-40) Polyclonal Antibody, Alexa Fluor 555 conjugated,Isotype: IgG | Sepax | 100ug Lyophilized | 323€ | | Pub |
| bs-0106M-A647 | Mouse Anti-beta-Amyloid(1-40) Polyclonal Antibody, Alexa Fluor 647 conjugated,Isotype: IgG | Sepax | 100ug Lyophilized | 323€ | | Pub |
| bs-0106M-Biotin | Mouse Anti-beta-Amyloid(1-40) Polyclonal Antibody, Biotin Conjugated | Bioss | 100ug | 369€ | | Pub |
| bs-0106M-Cy3 | Mouse Anti-beta-Amyloid(1-40) Polyclonal Antibody, Cy3 conjugated, Isotype: IgG | Sepax | 100ug Lyophilized | 268€ | | Pub |
| bs-0106M-Cy5 | Mouse Anti-beta-Amyloid(1-40) Polyclonal Antibody, Cy5 conjugated, Isotype: IgG | Sepax | 100ug Lyophilized | 268€ | | Pub |
| bs-0106M-Cy5.5 | Mouse Anti-beta-Amyloid(1-40) Polyclonal Antibody, Cy5.5 conjugated, Isotype: IgG | Sepax | 100ug Lyophilized | 268€ | | Pub |
| bs-0106M-Cy7 | Mouse Anti-beta-Amyloid(1-40) Polyclonal Antibody, Cy7 conjugated Isotype: IgG | Sepax | 100ug Lyophilized | 268€ | | Pub |
| bs-0106M-FITC | Mouse Anti-beta-Amyloid(1-40) Polyclonal Antibody, FITC conjugated,Isotype: IgG | Sepax | 100ug Lyophilized | 304€ | | Pub |
| bs-0106M-Gold | Mouse Anti-beta-Amyloid(1-40) Polyclonal Antibody, Gold Conjugated | Bioss | 100ug | 369€ | | Pub |
| bs-0106M-HRP | Mouse Anti-beta-Amyloid(1-40) Polyclonal Antibody, HRP Conjugated, 4.4kDa, Isotype IgG, Application WB(1 100-500), ELISA(1 500-1000) | Bioss | 100ug Lyophilized | 530€ | | Pub |
| bs-0106M-PE | Mouse Anti-beta-Amyloid(1-40) Polyclonal Antibody, PE Conjugated | Bioss | 100ug | 369€ | | Pub |
| bs-0106M-PE-Cy3 | Mouse Anti-beta-Amyloid(1-40) Polyclonal Antibody, PE-Cy3 Conjugated | Bioss | 100ug | 401€ | | Pub |
| bs-0106M-PE-Cy5 | Mouse Anti-beta-Amyloid(1-40) Polyclonal Antibody, PE-Cy5 Conjugated | Bioss | 100ug | 402€ | | Pub |
| bs-0106M-PE-Cy5.5 | Mouse Anti-beta-Amyloid(1-40) Polyclonal Antibody, PE-Cy5.5 conjugated Isotype: IgG | Sepax | 100ug Lyophilized | 300€ | | Pub |
| bs-0106M-PE-Cy7 | Mouse Anti-beta-Amyloid(1-40) Polyclonal Antibody, PE-Cy7 Conjugated | Bioss | 100ug | 401€ | | Pub |
| bs-0107R-Cy3 | Rabbit Anti-beta-Amyloid(1-42) Polyclonal Antibody, Cy3 Conjugated | Bioss | 100ug | 369€ | | Pub |
| bs-0107R-Cy5 | Rabbit Anti-beta-Amyloid(1-42) Polyclonal Antibody, Cy5 Conjugated | Bioss | 100ug | 369€ | | Pub |
| bs-0107R-Cy5.5 | Rabbit Anti-beta-Amyloid(1-42) Polyclonal Antibody, Cy5.5 Conjugated | Bioss | 100ug | 369€ | | Pub |
| bs-0107R-Cy7 | Rabbit Anti-beta-Amyloid(1-42) Polyclonal Antibody, Cy7 Conjugated | Bioss | 100ug | 369€ | | Pub |
| bs-0107R-Gold | Rabbit Anti-beta-Amyloid(1-42) Polyclonal Antibody, Gold Conjugated | Bioss | 100ug | 369€ | | Pub |
| bs-0107R-PE | Rabbit Anti-beta-Amyloid(1-42) Polyclonal Antibody, PE Conjugated | Bioss | 100ug | 369€ | | Pub |
| bs-0107R-PE-Cy3 | Rabbit Anti-beta-Amyloid(1-42) Polyclonal Antibody, PE-Cy3 Conjugated | Bioss | 100ug | 401€ | | Pub |
| bs-0107R-PE-Cy7 | Rabbit Anti-beta-Amyloid(1-42) Polyclonal Antibody, PE-Cy7 Conjugated | Bioss | 100ug | 401€ | | Pub |
| bs-0116R | Rabbit Anti-ER-beta Polyclonal Antibody | Sepax | 100ug Lyophilized | 222€ | | Pub |
| bs-0116R-A350 | Rabbit Anti-ER-beta Polyclonal Antibody, Alexa Fluor 350 conjugated,Isotype: IgG | Sepax | 100ug Lyophilized | 323€ | | Pub |
| bs-0116R-A555 | Rabbit Anti-ER-beta Polyclonal Antibody, Alexa Fluor 555 conjugated,Isotype: IgG | Sepax | 100ug Lyophilized | 323€ | | Pub |
| bs-0116R-A647 | Rabbit Anti-ER-beta Polyclonal Antibody, Alexa Fluor 647 conjugated,Isotype: IgG | Sepax | 100ug Lyophilized | 323€ | | Pub |
| bs-0116R-Alexa488 | Rabbit Anti-ER-beta Polyclonal Antibody, Alexa 488 Conjugated | Bioss | 100ug | 369€ | | Pub |
| bs-0116R-Biotin | Rabbit Anti-ER-beta Polyclonal Antibody, Biotin Conjugated | Bioss | 100ug | 369€ | | Pub |
| bs-0116R-Cy3 | Rabbit Anti-ER-beta Polyclonal Antibody, Cy3 Conjugated | Bioss | 100ug | 369€ | | Pub |
| bs-0116R-Cy5 | Rabbit Anti-ER-beta Polyclonal Antibody, Cy5 Conjugated | Bioss | 100ug | 369€ | | Pub |
| bs-0116R-Cy5.5 | Rabbit Anti-ER-beta Polyclonal Antibody, Cy5.5 Conjugated | Bioss | 100ug | 369€ | | Pub |
| bs-0116R-Cy7 | Rabbit Anti-ER-beta Polyclonal Antibody, Cy7 Conjugated | Bioss | 100ug | 369€ | | Pub |
| bs-0116R-FITC | Rabbit Anti-ER-beta Polyclonal Antibody, FITC conjugated,Isotype: IgG | Sepax | 100ug Lyophilized | 304€ | | Pub |
| bs-0116R-HRP | Rabbit Anti-ER-beta Polyclonal Antibody, HRP Conjugated | Bioss | 100ug | 369€ | | Pub |
| bs-0116R-PE | Rabbit Anti-ER-beta Polyclonal Antibody, PE Conjugated | Bioss | 100ug | 369€ | | Pub |
| bs-0116R-PE-Cy3 | Rabbit Anti-ER-beta Polyclonal Antibody, PE-Cy3 Conjugated | Bioss | 100ug | 401€ | | Pub |
| bs-0116R-PE-Cy5 | Rabbit Anti-ER-beta Polyclonal Antibody, PE-Cy5 Conjugated | Bioss | 100ug | 402€ | | Pub |
| bs-0116R-PE-Cy5.5 | Rabbit Anti-ER-beta Polyclonal Antibody, PE-Cy5.5 conjugated Isotype: IgG | Sepax | 100ug Lyophilized | 300€ | | Pub |
| bs-0116R-PE-Cy7 | Rabbit Anti-ER-beta Polyclonal Antibody, PE-Cy7 Conjugated | Bioss | 100ug | 401€ | | Pub |
| bs-0210R | Rabbit Anti-Tubulin-beta Polyclonal Antibody, Unconjugated | Bioss | 100ug | 330€ | | Pub |
| bs-0210R-A350 | Rabbit Anti-Tubulin-beta Polyclonal Antibody, Alexa Fluor 350 conjugated,Isotype: IgG | Sepax | 100ug Lyophilized | 323€ | | Pub |
| bs-0210R-A488 | Rabbit Anti-Tubulin-beta Polyclonal Antibody, Alexa Fluor 488 conjugated,Isotype: IgG | Sepax | 100ug Lyophilized | 323€ | | Pub |
| bs-0210R-A555 | Rabbit Anti-Tubulin-beta Polyclonal Antibody, Alexa Fluor 555 conjugated,Isotype: IgG | Sepax | 100ug Lyophilized | 323€ | | Pub |
| bs-0210R-A647 | Rabbit Anti-Tubulin-beta Polyclonal Antibody, Alexa Fluor 647 conjugated,Isotype: IgG | Sepax | 100ug Lyophilized | 323€ | | Pub |
| bs-0210R-Biotin | Rabbit Anti-Tubulin-beta Polyclonal Antibody, Biotin Conjugated | Bioss | 100ug | 369€ | | Pub |
| bs-0210R-Cy3 | Rabbit Anti-Tubulin-beta Polyclonal Antibody, Cy3 Conjugated | Bioss | 100ug | 369€ | | Pub |
| bs-0210R-Cy5 | Rabbit Anti-Tubulin-beta Polyclonal Antibody, Cy5 Conjugated | Bioss | 100ug | 369€ | | Pub |
| bs-0210R-Cy5.5 | Rabbit Anti-Tubulin-beta Polyclonal Antibody, Cy5.5 Conjugated | Bioss | 100ug | 369€ | | Pub |
| bs-0210R-Cy7 | Rabbit Anti-Tubulin-beta Polyclonal Antibody, Cy7 Conjugated | Bioss | 100ug | 369€ | | Pub |
| bs-0210R-FITC | Rabbit Anti-Tubulin-beta Polyclonal Antibody, FITC conjugated,Isotype: IgG | Sepax | 100ug Lyophilized | 304€ | | Pub |
| bs-0210R-Gold | Rabbit Anti-Tubulin-beta Polyclonal Antibody, Gold Conjugated | Bioss | 100ug | 369€ | | Pub |
| bs-0210R-HRP | Rabbit Anti-Tubulin-beta Polyclonal Antibody, HRP Conjugated | Bioss | 100ug | 369€ | | Pub |
| bs-0210R-PE | Rabbit Anti-Tubulin-beta Polyclonal Antibody, PE Conjugated | Bioss | 100ug | 369€ | | Pub |
| bs-0210R-PE-Cy3 | Rabbit Anti-Tubulin-beta Polyclonal Antibody, PE-Cy3 Conjugated | Bioss | 100ug | 401€ | | Pub |
| bs-0210R-PE-Cy5 | Rabbit Anti-Tubulin-beta Polyclonal Antibody, PE-Cy5 Conjugated | Bioss | 100ug | 402€ | | Pub |
| bs-0210R-PE-Cy5.5 | Rabbit Anti-Tubulin-beta Polyclonal Antibody, PE-Cy5.5 conjugated Isotype: IgG | Sepax | 100ug Lyophilized | 300€ | | Pub |
| bs-0210R-PE-Cy7 | Rabbit Anti-Tubulin-beta Polyclonal Antibody, PE-Cy7 Conjugated | Bioss | 100ug | 401€ | | Pub |
| bs-0237R | Rabbit Anti-14-3-3(Alpha Beta Gamma Delta Epsilon) Polyclonal Antibody, Unconjugated | Bioss | 100ug | 330€ | | Pub |
| bs-0237R-A350 | Rabbit Anti-14-3-3(Alpha Beta Gamma Delta Epsilon) Polyclonal Antibody, Alexa Fluor 350 conjugated,Isotype: IgG | Sepax | 100ug Lyophilized | 323€ | | Pub |
| bs-0237R-A488 | Rabbit Anti-14-3-3(Alpha Beta Gamma Delta Epsilon) Polyclonal Antibody, Alexa Fluor 488 conjugated,Isotype: IgG | Sepax | 100ug Lyophilized | 323€ | | Pub |
| bs-0237R-A555 | Rabbit Anti-14-3-3(Alpha Beta Gamma Delta Epsilon) Polyclonal Antibody, Alexa Fluor 555 conjugated,Isotype: IgG | Sepax | 100ug Lyophilized | 323€ | | Pub |
| bs-0237R-A647 | Rabbit Anti-14-3-3(Alpha Beta Gamma Delta Epsilon) Polyclonal Antibody, Alexa Fluor 647 conjugated,Isotype: IgG | Sepax | 100ug Lyophilized | 323€ | | Pub |
| bs-0237R-Biotin | Rabbit Anti-14-3-3(Alpha Beta Gamma Delta Epsilon) Polyclonal Antibody, Biotin Conjugated | Bioss | 100ug | 369€ | | Pub |
| bs-0237R-Cy3 | Rabbit Anti-14-3-3(Alpha Beta Gamma Delta Epsilon) Polyclonal Antibody, Cy3 Conjugated | Bioss | 100ug | 369€ | | Pub |
| bs-0237R-Cy5 | Rabbit Anti-14-3-3(Alpha Beta Gamma Delta Epsilon) Polyclonal Antibody, Cy5 Conjugated | Bioss | 100ug | 369€ | | Pub |
| bs-0237R-Cy5.5 | Rabbit Anti-14-3-3(Alpha Beta Gamma Delta Epsilon) Polyclonal Antibody, Cy5.5 Conjugated | Bioss | 100ug | 369€ | | Pub |
| bs-0237R-Cy7 | Rabbit Anti-14-3-3(Alpha Beta Gamma Delta Epsilon) Polyclonal Antibody, Cy7 Conjugated | Bioss | 100ug | 369€ | | Pub |
| bs-0237R-FITC | Rabbit Anti-14-3-3(Alpha Beta Gamma Delta Epsilon) Polyclonal Antibody, FITC conjugated,Isotype: IgG | Sepax | 100ug Lyophilized | 304€ | | Pub |
| bs-0237R-Gold | Rabbit Anti-14-3-3(Alpha Beta Gamma Delta Epsilon) Polyclonal Antibody, Gold Conjugated | Bioss | 100ug | 369€ | | Pub |
| bs-0237R-HRP | Rabbit Anti-14-3-3(Alpha Beta Gamma Delta Epsilon) Polyclonal Antibody, HRP Conjugated, 31kDa, Isotype IgG, Application WB(1 100-500) | Bioss | 100ug Lyophilized | 530€ | | Pub |
| bs-0237R-PE | Rabbit Anti-14-3-3(Alpha Beta Gamma Delta Epsilon) Polyclonal Antibody, PE Conjugated , 31kDa; Isotype IgG; Reactivity Human , Rat , Mouse , Sheep , FruitFly; Application Flow-Cyt(1 20-100), IF(1 5 | Bioss | 100ug Lyophilized | 502€ | | Pub |
| bs-0237R-PE-Cy3 | Rabbit Anti-14-3-3(Alpha Beta Gamma Delta Epsilon) Polyclonal Antibody, PE-Cy3 Conjugated | Bioss | 100ug | 401€ | | Pub |
| bs-0237R-PE-Cy5 | Rabbit Anti-14-3-3(Alpha Beta Gamma Delta Epsilon) Polyclonal Antibody, PE-Cy5 Conjugated | Bioss | 100ug | 402€ | | Pub |
| bs-0237R-PE-Cy5.5 | Rabbit Anti-14-3-3(Alpha Beta Gamma Delta Epsilon) Polyclonal Antibody, PE-Cy5.5 conjugated Isotype: IgG | Sepax | 100ug Lyophilized | 300€ | | Pub |
| bs-0237R-PE-Cy7 | Rabbit Anti-14-3-3(Alpha Beta Gamma Delta Epsilon) Polyclonal Antibody, PE-Cy7 Conjugated | Bioss | 100ug | 401€ | | Pub |
| bs-0255R-Alexa488 | Rabbit Anti-ER-Beta Polyclonal Antibody, Alexa 488 Conjugated | Bioss | 100ug | 369€ | | Pub |
| bs-0255R-Biotin | Rabbit Anti-ER-Beta Polyclonal Antibody, Biotin Conjugated | Bioss | 100ug | 369€ | | Pub |
| bs-0255R-PE | Rabbit Anti-ER-Beta Polyclonal Antibody, PE Conjugated | Bioss | 100ug | 369€ | | Pub |
| bs-0255R-PE-Cy3 | Rabbit Anti-ER-Beta Polyclonal Antibody, PE-Cy3 Conjugated | Bioss | 100ug | 401€ | | Pub |
| bs-0255R-PE-Cy7 | Rabbit Anti-ER-Beta Polyclonal Antibody, PE-Cy7 Conjugated | Bioss | 100ug | 401€ | | Pub |
| bs-0290R | Rabbit Anti-Insulin Receptor Beta Polyclonal Antibody, Unconjugated | Bioss | 100ug | 330€ | | Pub |
| bs-0290R-A350 | Rabbit Anti-Insulin Receptor Beta Polyclonal Antibody, Alexa Fluor 350 conjugated,Isotype: IgG | Sepax | 100ug Lyophilized | 323€ | | Pub |
| bs-0290R-A488 | Rabbit Anti-Insulin Receptor Beta Polyclonal Antibody, Alexa Fluor 488 conjugated,Isotype: IgG | Sepax | 100ug Lyophilized | 323€ | | Pub |
| bs-0290R-A555 | Rabbit Anti-Insulin Receptor Beta Polyclonal Antibody, Alexa Fluor 555 conjugated,Isotype: IgG | Sepax | 100ug Lyophilized | 323€ | | Pub |
| bs-0290R-A647 | Rabbit Anti-Insulin Receptor Beta Polyclonal Antibody, Alexa Fluor 647 conjugated,Isotype: IgG | Sepax | 100ug Lyophilized | 323€ | | Pub |
| bs-0290R-Biotin | Rabbit Anti-Insulin Receptor Beta Polyclonal Antibody, Biotin Conjugated | Bioss | 100ug | 369€ | | Pub |
| bs-0290R-Cy3 | Rabbit Anti-Insulin Receptor Beta Polyclonal Antibody, Cy3 Conjugated | Bioss | 100ug | 369€ | | Pub |
| bs-0290R-Cy5 | Rabbit Anti-Insulin Receptor Beta Polyclonal Antibody, Cy5 Conjugated | Bioss | 100ug | 369€ | | Pub |
| bs-0290R-Cy5.5 | Rabbit Anti-Insulin Receptor Beta Polyclonal Antibody, Cy5.5 Conjugated | Bioss | 100ug | 369€ | | Pub |
| bs-0290R-Cy7 | Rabbit Anti-Insulin Receptor Beta Polyclonal Antibody, Cy7 Conjugated | Bioss | 100ug | 369€ | | Pub |
| bs-0290R-FITC | Rabbit Anti-Insulin Receptor Beta Polyclonal Antibody, FITC conjugated,Isotype: IgG | Sepax | 100ug Lyophilized | 304€ | | Pub |
| bs-0290R-Gold | Rabbit Anti-Insulin Receptor Beta Polyclonal Antibody, Gold Conjugated | Bioss | 100ug | 369€ | | Pub |
| bs-0290R-HRP | Rabbit Anti-Insulin Receptor Beta Polyclonal Antibody, HRP Conjugated | Bioss | 100ug | 369€ | | Pub |
| bs-0290R-PE | Rabbit Anti-Insulin Receptor Beta Polyclonal Antibody, PE Conjugated | Bioss | 100ug | 369€ | | Pub |
| bs-0290R-PE-Cy3 | Rabbit Anti-Insulin Receptor Beta Polyclonal Antibody, PE-Cy3 Conjugated | Bioss | 100ug | 401€ | | Pub |
| bs-0290R-PE-Cy5 | Rabbit Anti-Insulin Receptor Beta Polyclonal Antibody, PE-Cy5 Conjugated | Bioss | 100ug | 402€ | | Pub |
| bs-0290R-PE-Cy5.5 | Rabbit Anti-Insulin Receptor Beta Polyclonal Antibody, PE-Cy5.5 conjugated Isotype: IgG | Sepax | 100ug Lyophilized | 300€ | | Pub |
| bs-0290R-PE-Cy7 | Rabbit Anti-Insulin Receptor Beta Polyclonal Antibody, PE-Cy7 Conjugated | Bioss | 100ug | 401€ | | Pub |
| bs-0342R | Rabbit Anti-Integrin beta 3 ITGB3 CD61 Polyclonal Antibody, Unconjugated | Bioss | 100ug | 330€ | | Pub |
| bs-0342R-A350 | Rabbit Anti-Integrin beta 3 CD61 Polyclonal Antibody, Alexa Fluor 350 conjugated,Isotype: IgG | Sepax | 100ug Lyophilized | 323€ | | Pub |
| bs-0342R-A488 | Rabbit Anti-Integrin beta 3 CD61 Polyclonal Antibody, Alexa Fluor 488 conjugated,Isotype: IgG | Sepax | 100ug Lyophilized | 323€ | | Pub |
| bs-0342R-A555 | Rabbit Anti-Integrin beta 3 CD61 Polyclonal Antibody, Alexa Fluor 555 conjugated,Isotype: IgG | Sepax | 100ug Lyophilized | 323€ | | Pub |
| bs-0342R-A647 | Rabbit Anti-Integrin beta 3 CD61 Polyclonal Antibody, Alexa Fluor 647 conjugated,Isotype: IgG | Sepax | 100ug Lyophilized | 323€ | | Pub |
| bs-0342R-Biotin | Rabbit Anti-Integrin beta 3 ITGB3 CD61 Polyclonal Antibody, Biotin Conjugated | Bioss | 100ug | 369€ | | Pub |
| bs-0342R-Cy3 | Rabbit Anti-Integrin beta 3 ITGB3 CD61 Polyclonal Antibody, Cy3 Conjugated | Bioss | 100ug | 369€ | | Pub |
| bs-0342R-Cy5 | Rabbit Anti-Integrin beta 3 ITGB3 CD61 Polyclonal Antibody, Cy5 Conjugated | Bioss | 100ug | 369€ | | Pub |
| bs-0342R-Cy5.5 | Rabbit Anti-Integrin beta 3 ITGB3 CD61 Polyclonal Antibody, Cy5.5 Conjugated | Bioss | 100ug | 369€ | | Pub |
| bs-0342R-Cy7 | Rabbit Anti-Integrin beta 3 ITGB3 CD61 Polyclonal Antibody, Cy7 Conjugated | Bioss | 100ug | 369€ | | Pub |
| bs-0342R-FITC | Rabbit Anti-Integrin beta 3 CD61 Polyclonal Antibody, FITC conjugated,Isotype: IgG | Sepax | 100ug Lyophilized | 304€ | | Pub |
| bs-0342R-HRP | Rabbit Anti-Integrin beta 3 ITGB3 CD61 Polyclonal Antibody, HRP Conjugated | Bioss | 100ug | 369€ | | Pub |
| bs-0342R-PE | Rabbit Anti-Integrin beta 3 ITGB3 CD61 Polyclonal Antibody, PE Conjugated | Bioss | 100ug | 369€ | | Pub |
| bs-0342R-PE-Cy3 | Rabbit Anti-Integrin beta 3 ITGB3 CD61 Polyclonal Antibody, PE-Cy3 Conjugated | Bioss | 100ug | 401€ | | Pub |
| bs-0342R-PE-Cy5 | Rabbit Anti-Integrin beta 3 ITGB3 CD61 Polyclonal Antibody, PE-Cy5 Conjugated | Bioss | 100ug | 402€ | | Pub |
| bs-0342R-PE-Cy5.5 | Rabbit Anti-Integrin beta 3 CD61 Polyclonal Antibody, PE-Cy5.5 conjugated Isotype: IgG | Sepax | 100ug Lyophilized | 300€ | | Pub |
| bs-0342R-PE-Cy7 | Rabbit Anti-Integrin beta 3 ITGB3 CD61 Polyclonal Antibody, PE-Cy7 Conjugated | Bioss | 100ug | 401€ | | Pub |
| bs-0503R-PE | Rabbit Anti-Integrin beta 2 CD18 LFA-1 Polyclonal Antibody, PE Conjugated | Bioss | 100ug | 369€ | | Pub |
| bs-0503R-PE-Cy3 | Rabbit Anti-Integrin beta 2 CD18 LFA-1 Polyclonal Antibody, PE-Cy3 Conjugated | Bioss | 100ug | 401€ | | Pub |
| bs-0503R-PE-Cy5 | Rabbit Anti-Integrin beta 2 CD18 LFA-1 Polyclonal Antibody, PE-Cy5 Conjugated | Bioss | 100ug | 402€ | | Pub |
| bs-0503R-PE-Cy7 | Rabbit Anti-Integrin beta 2 CD18 LFA-1 Polyclonal Antibody, PE-Cy7 Conjugated | Bioss | 100ug | 401€ | | Pub |
| bs-0701R | Rabbit Anti-GCS glucosylceramide synthase Polyclonal Antibody, Unconjugated | Bioss | 100ug | 330€ | | Pub |
| bs-0701R-A350 | Rabbit Anti-GCS glucosylceramide synthase Polyclonal Antibody, Alexa Fluor 350 conjugated,Isotype: IgG | Sepax | 100ug Lyophilized | 323€ | | Pub |
| bs-0701R-A488 | Rabbit Anti-GCS glucosylceramide synthase Polyclonal Antibody, Alexa Fluor 488 conjugated,Isotype: IgG | Sepax | 100ug Lyophilized | 323€ | | Pub |
| bs-0701R-A555 | Rabbit Anti-GCS glucosylceramide synthase Polyclonal Antibody, Alexa Fluor 555 conjugated,Isotype: IgG | Sepax | 100ug Lyophilized | 323€ | | Pub |
| bs-0701R-A647 | Rabbit Anti-GCS glucosylceramide synthase Polyclonal Antibody, Alexa Fluor 647 conjugated,Isotype: IgG | Sepax | 100ug Lyophilized | 323€ | | Pub |
| bs-0701R-Biotin | Rabbit Anti-GCS glucosylceramide synthase Polyclonal Antibody, Biotin Conjugated | Bioss | 100ug | 369€ | | Pub |
| bs-0701R-Cy3 | Rabbit Anti-GCS glucosylceramide synthase Polyclonal Antibody, Cy3 Conjugated | Bioss | 100ug | 369€ | | Pub |
| bs-0701R-Cy5 | Rabbit Anti-GCS glucosylceramide synthase Polyclonal Antibody, Cy5 Conjugated | Bioss | 100ug | 369€ | | Pub |
| bs-0701R-Cy5.5 | Rabbit Anti-GCS glucosylceramide synthase Polyclonal Antibody, Cy5.5 Conjugated | Bioss | 100ug | 369€ | | Pub |
| bs-0701R-Cy7 | Rabbit Anti-GCS glucosylceramide synthase Polyclonal Antibody, Cy7 Conjugated | Bioss | 100ug | 369€ | | Pub |
| bs-0701R-FITC | Rabbit Anti-GCS glucosylceramide synthase Polyclonal Antibody, FITC conjugated,Isotype: IgG | Sepax | 100ug Lyophilized | 304€ | | Pub |
| bs-0701R-HRP | Rabbit Anti-GCS glucosylceramide synthase Polyclonal Antibody, HRP Conjugated | Bioss | 100ug | 369€ | | Pub |
| bs-0701R-PE | Rabbit Anti-GCS glucosylceramide synthase Polyclonal Antibody, PE Conjugated | Bioss | 100ug | 369€ | | Pub |
| bs-0701R-PE-Cy3 | Rabbit Anti-GCS glucosylceramide synthase Polyclonal Antibody, PE-Cy3 Conjugated | Bioss | 100ug | 401€ | | Pub |
| bs-0701R-PE-Cy5 | Rabbit Anti-GCS glucosylceramide synthase Polyclonal Antibody, PE-Cy5 Conjugated | Bioss | 100ug | 402€ | | Pub |
| bs-0701R-PE-Cy5.5 | Rabbit Anti-GCS glucosylceramide synthase Polyclonal Antibody, PE-Cy5.5 conjugated Isotype: IgG | Sepax | 100ug Lyophilized | 300€ | | Pub |
| bs-0701R-PE-Cy7 | Rabbit Anti-GCS glucosylceramide synthase Polyclonal Antibody, PE-Cy7 Conjugated | Bioss | 100ug | 401€ | | Pub |
| bs-0715R | Rabbit Anti-Tubulin-Beta Polyclonal Antibody, Unconjugated | Bioss | 100ug | 330€ | | Pub |
| bs-0784R-Cy3 | Rabbit Anti-IFN-Beta (mouse, rat) Polyclonal Antibody, Cy3 Conjugated | Bioss | 100ug | 369€ | | Pub |
| bs-0784R-Cy5 | Rabbit Anti-IFN-Beta (mouse, rat) Polyclonal Antibody, Cy5 Conjugated | Bioss | 100ug | 369€ | | Pub |
| bs-0784R-Cy5.5 | Rabbit Anti-IFN-Beta (mouse, rat) Polyclonal Antibody, Cy5.5 Conjugated | Bioss | 100ug | 369€ | | Pub |
| bs-0784R-Cy7 | Rabbit Anti-IFN-Beta (mouse, rat) Polyclonal Antibody, Cy7 Conjugated | Bioss | 100ug | 369€ | | Pub |
| bs-0784R-HRP | Rabbit Anti-IFN-Beta (mouse, rat) Polyclonal Antibody, HRP Conjugated | Bioss | 100ug | 369€ | | Pub |
| bs-0784R-PE | Rabbit Anti-IFN-Beta (mouse, rat) Polyclonal Antibody, PE Conjugated | Bioss | 100ug | 369€ | | Pub |
| bs-0784R-PE-Cy3 | Rabbit Anti-IFN-Beta (mouse, rat) Polyclonal Antibody, PE-Cy3 Conjugated | Bioss | 100ug | 401€ | | Pub |
| bs-0814R | Rabbit Anti-Beta-lactoglobulin Polyclonal Antibody, Unconjugated | Bioss | 100ug | 330€ | | Pub |
| bs-0814R-A350 | Rabbit Anti-Beta-lactoglobulin Polyclonal Antibody, Alexa Fluor 350 conjugated,Isotype: IgG | Sepax | 100ug Lyophilized | 323€ | | Pub |
| bs-0814R-A488 | Rabbit Anti-Beta-lactoglobulin Polyclonal Antibody, Alexa Fluor 488 conjugated,Isotype: IgG | Sepax | 100ug Lyophilized | 323€ | | Pub |
| bs-0814R-A555 | Rabbit Anti-Beta-lactoglobulin Polyclonal Antibody, Alexa Fluor 555 conjugated,Isotype: IgG | Sepax | 100ug Lyophilized | 323€ | | Pub |
| bs-0814R-A647 | Rabbit Anti-Beta-lactoglobulin Polyclonal Antibody, Alexa Fluor 647 conjugated,Isotype: IgG | Sepax | 100ug Lyophilized | 323€ | | Pub |
| bs-0814R-Biotin | Rabbit Anti-Beta-lactoglobulin Polyclonal Antibody, Biotin Conjugated | Bioss | 100ug | 369€ | | Pub |
| bs-0814R-Cy3 | Rabbit Anti-Beta-lactoglobulin Polyclonal Antibody, Cy3 Conjugated | Bioss | 100ug | 369€ | | Pub |
| bs-0814R-Cy5 | Rabbit Anti-Beta-lactoglobulin Polyclonal Antibody, Cy5 Conjugated | Bioss | 100ug | 369€ | | Pub |
| bs-0814R-Cy5.5 | Rabbit Anti-Beta-lactoglobulin Polyclonal Antibody, Cy5.5 Conjugated | Bioss | 100ug | 369€ | | Pub |
| bs-0814R-Cy7 | Rabbit Anti-Beta-lactoglobulin Polyclonal Antibody, Cy7 Conjugated | Bioss | 100ug | 369€ | | Pub |
| bs-0814R-FITC | Rabbit Anti-Beta-lactoglobulin Polyclonal Antibody, FITC conjugated,Isotype: IgG | Sepax | 100ug Lyophilized | 304€ | | Pub |
| bs-0814R-Gold | Rabbit Anti-Beta-lactoglobulin Polyclonal Antibody, Gold Conjugated | Bioss | 100ug | 369€ | | Pub |
| bs-0814R-HRP | Rabbit Anti-Beta-lactoglobulin Polyclonal Antibody, HRP Conjugated | Bioss | 100ug | 369€ | | Pub |
| bs-0814R-PE | Rabbit Anti-Beta-lactoglobulin Polyclonal Antibody, PE Conjugated | Bioss | 100ug | 369€ | | Pub |
| bs-0814R-PE-Cy3 | Rabbit Anti-Beta-lactoglobulin Polyclonal Antibody, PE-Cy3 Conjugated | Bioss | 100ug | 401€ | | Pub |
| bs-0814R-PE-Cy5 | Rabbit Anti-Beta-lactoglobulin Polyclonal Antibody, PE-Cy5 Conjugated | Bioss | 100ug | 402€ | | Pub |
| bs-0814R-PE-Cy5.5 | Rabbit Anti-Beta-lactoglobulin Polyclonal Antibody, PE-Cy5.5 conjugated Isotype: IgG | Sepax | 100ug Lyophilized | 300€ | | Pub |
| bs-0814R-PE-Cy7 | Rabbit Anti-Beta-lactoglobulin Polyclonal Antibody, PE-Cy7 Conjugated | Bioss | 100ug | 401€ | | Pub |
| bs-0857R | Rabbit Anti-Beta-arrestin 1 Polyclonal Antibody | Sepax | 100ug Lyophilized | 222€ | | Pub |
| bs-0857R-A350 | Rabbit Anti-Beta-arrestin 1 Polyclonal Antibody, Alexa Fluor 350 conjugated,Isotype: IgG | Sepax | 100ug Lyophilized | 323€ | | Pub |
| bs-0857R-A555 | Rabbit Anti-Beta-arrestin 1 Polyclonal Antibody, Alexa Fluor 555 conjugated,Isotype: IgG | Sepax | 100ug Lyophilized | 323€ | | Pub |
| bs-0857R-A647 | Rabbit Anti-Beta-arrestin 1 Polyclonal Antibody, Alexa Fluor 647 conjugated,Isotype: IgG | Sepax | 100ug Lyophilized | 323€ | | Pub |
| bs-0857R-Alexa488 | Rabbit Anti-Beta-arrestin 1 Polyclonal Antibody, Alexa 488 Conjugated | Bioss | 100ug | 369€ | | Pub |
| bs-0857R-Biotin | Rabbit Anti-Beta-arrestin 1 Polyclonal Antibody, Biotin Conjugated | Bioss | 100ug | 369€ | | Pub |
| bs-0857R-Cy3 | Rabbit Anti-Beta-arrestin 1 Polyclonal Antibody, Cy3 Conjugated | Bioss | 100ug | 369€ | | Pub |
| bs-0857R-Cy5 | Rabbit Anti-Beta-arrestin 1 Polyclonal Antibody, Cy5 Conjugated | Bioss | 100ug | 369€ | | Pub |
| bs-0857R-Cy5.5 | Rabbit Anti-Beta-arrestin 1 Polyclonal Antibody, Cy5.5 Conjugated | Bioss | 100ug | 369€ | | Pub |
| bs-0857R-Cy7 | Rabbit Anti-Beta-arrestin 1 Polyclonal Antibody, Cy7 Conjugated | Bioss | 100ug | 369€ | | Pub |
| bs-0857R-FITC | Rabbit Anti-Beta-arrestin 1 Polyclonal Antibody, FITC conjugated,Isotype: IgG | Sepax | 100ug Lyophilized | 304€ | | Pub |
| bs-0857R-Gold | Rabbit Anti-Beta-arrestin 1 Polyclonal Antibody, Gold Conjugated | Bioss | 100ug | 369€ | | Pub |
| bs-0857R-HRP | Rabbit Anti-Beta-arrestin 1 Polyclonal Antibody, HRP Conjugated | Bioss | 100ug | 369€ | | Pub |
| bs-0857R-PE | Rabbit Anti-Beta-arrestin 1 Polyclonal Antibody, PE Conjugated | Bioss | 100ug | 369€ | | Pub |
| bs-0857R-PE-Cy3 | Rabbit Anti-Beta-arrestin 1 Polyclonal Antibody, PE-Cy3 Conjugated | Bioss | 100ug | 401€ | | Pub |
| bs-0857R-PE-Cy5 | Rabbit Anti-Beta-arrestin 1 Polyclonal Antibody, PE-Cy5 Conjugated | Bioss | 100ug | 402€ | | Pub |
| bs-0857R-PE-Cy5.5 | Rabbit Anti-Beta-arrestin 1 Polyclonal Antibody, PE-Cy5.5 conjugated Isotype: IgG | Sepax | 100ug Lyophilized | 300€ | | Pub |
| bs-0857R-PE-Cy7 | Rabbit Anti-Beta-arrestin 1 Polyclonal Antibody, PE-Cy7 Conjugated | Bioss | 100ug | 401€ | | Pub |
| bs-0882R | Rabbit Anti-Shiga-like toxin IIe variant subunit A Polyclonal Antibody, Unconjugated | Bioss | 100ug | 330€ | | Pub |
| bs-1046R | Rabbit Anti-MIP-1 Beta CCL4 Polyclonal Antibody, Unconjugated | Bioss | 100ug | 330€ | | Pub |
| bs-1046R-A350 | Rabbit Anti-MIP-1 Beta CCL4 Polyclonal Antibody, Alexa Fluor 350 conjugated,Isotype: IgG | Sepax | 100ug Lyophilized | 323€ | | Pub |
| bs-1046R-A488 | Rabbit Anti-MIP-1 Beta CCL4 Polyclonal Antibody, Alexa Fluor 488 conjugated,Isotype: IgG | Sepax | 100ug Lyophilized | 323€ | | Pub |
| bs-1046R-A555 | Rabbit Anti-MIP-1 Beta CCL4 Polyclonal Antibody, Alexa Fluor 555 conjugated,Isotype: IgG | Sepax | 100ug Lyophilized | 323€ | | Pub |
| bs-1046R-A647 | Rabbit Anti-MIP-1 Beta CCL4 Polyclonal Antibody, Alexa Fluor 647 conjugated,Isotype: IgG | Sepax | 100ug Lyophilized | 323€ | | Pub |
| bs-1046R-Biotin | Rabbit Anti-MIP-1 Beta CCL4 Polyclonal Antibody, Biotin Conjugated | Bioss | 100ug | 369€ | | Pub |
| bs-1046R-Cy3 | Rabbit Anti-MIP-1 Beta CCL4 Polyclonal Antibody, Cy3 Conjugated | Bioss | 100ug | 369€ | | Pub |
| bs-1046R-Cy5 | Rabbit Anti-MIP-1 Beta CCL4 Polyclonal Antibody, Cy5 Conjugated | Bioss | 100ug | 369€ | | Pub |
| bs-1046R-Cy5.5 | Rabbit Anti-MIP-1 Beta CCL4 Polyclonal Antibody, Cy5.5 Conjugated | Bioss | 100ug | 369€ | | Pub |
| bs-1046R-FITC | Rabbit Anti-MIP-1 Beta CCL4 Polyclonal Antibody, FITC conjugated,Isotype: IgG | Sepax | 100ug Lyophilized | 304€ | | Pub |
| bs-1046R-HRP | Rabbit Anti-MIP-1 Beta CCL4 Polyclonal Antibody, HRP Conjugated | Bioss | 100ug | 369€ | | Pub |
| bs-1046R-PE | Rabbit Anti-MIP-1 Beta CCL4 Polyclonal Antibody, PE Conjugated | Bioss | 100ug | 369€ | | Pub |
| bs-1046R-PE-Cy3 | Rabbit Anti-MIP-1 Beta CCL4 Polyclonal Antibody, PE-Cy3 Conjugated | Bioss | 100ug | 401€ | | Pub |
| bs-1046R-PE-Cy5 | Rabbit Anti-MIP-1 Beta CCL4 Polyclonal Antibody, PE-Cy5 Conjugated | Bioss | 100ug | 402€ | | Pub |
| bs-1046R-PE-Cy5.5 | Rabbit Anti-MIP-1 Beta CCL4 Polyclonal Antibody, PE-Cy5.5 conjugated Isotype: IgG | Sepax | 100ug Lyophilized | 300€ | | Pub |
| bs-1046R-PE-Cy7 | Rabbit Anti-MIP-1 Beta CCL4 Polyclonal Antibody, PE-Cy7 Conjugated | Bioss | 100ug | 401€ | | Pub |
| bs-1088R | Rabbit Anti-T Beta 10 Polyclonal Antibody, Unconjugated | Bioss | 100ug | 330€ | | Pub |
| bs-1152R | Rabbit Anti-ATP1b2 Na+K+ATPase Polyclonal Antibody, Unconjugated | Bioss | 100ug | 330€ | | Pub |
| bs-1152R-A350 | Rabbit Anti-ATP1b2 Na+K+ATPase Polyclonal Antibody, Alexa Fluor 350 conjugated,Isotype: IgG | Sepax | 100ug Lyophilized | 323€ | | Pub |
| bs-1152R-A488 | Rabbit Anti-ATP1b2 Na+K+ATPase Polyclonal Antibody, Alexa Fluor 488 conjugated,Isotype: IgG | Sepax | 100ug Lyophilized | 323€ | | Pub |
| bs-1152R-A555 | Rabbit Anti-ATP1b2 Na+K+ATPase Polyclonal Antibody, Alexa Fluor 555 conjugated,Isotype: IgG | Sepax | 100ug Lyophilized | 323€ | | Pub |
| bs-1152R-A647 | Rabbit Anti-ATP1b2 Na+K+ATPase Polyclonal Antibody, Alexa Fluor 647 conjugated,Isotype: IgG | Sepax | 100ug Lyophilized | 323€ | | Pub |
| bs-1152R-Biotin | Rabbit Anti-ATP1b2 Na+K+ATPase Polyclonal Antibody, Biotin Conjugated | Bioss | 100ug | 369€ | | Pub |
| bs-1152R-Cy3 | Rabbit Anti-ATP1b2 Na+K+ATPase Polyclonal Antibody, Cy3 Conjugated | Bioss | 100ug | 369€ | | Pub |
| bs-1152R-Cy5 | Rabbit Anti-ATP1b2 Na+K+ATPase Polyclonal Antibody, Cy5 Conjugated | Bioss | 100ug | 369€ | | Pub |
| bs-1152R-Cy5.5 | Rabbit Anti-ATP1b2 Na+K+ATPase Polyclonal Antibody, Cy5.5 Conjugated | Bioss | 100ug | 369€ | | Pub |
| bs-1152R-Cy7 | Rabbit Anti-ATP1b2 Na+K+ATPase Polyclonal Antibody, Cy7 Conjugated | Bioss | 100ug | 369€ | | Pub |
| bs-1152R-FITC | Rabbit Anti-ATP1b2 Na+K+ATPase Polyclonal Antibody, FITC conjugated,Isotype: IgG | Sepax | 100ug Lyophilized | 304€ | | Pub |
| bs-1152R-Gold | Rabbit Anti-ATP1b2 Na+K+ATPase Polyclonal Antibody, Gold Conjugated | Bioss | 100ug | 369€ | | Pub |
| bs-1152R-HRP | Rabbit Anti-ATP1b2 Na+K+ATPase Polyclonal Antibody, HRP Conjugated | Bioss | 100ug | 369€ | | Pub |
| bs-1152R-PE | Rabbit Anti-ATP1b2 Na+K+ATPase Polyclonal Antibody, PE Conjugated | Bioss | 100ug | 369€ | | Pub |
| bs-1152R-PE-Cy3 | Rabbit Anti-ATP1b2 Na+K+ATPase Polyclonal Antibody, PE-Cy3 Conjugated | Bioss | 100ug | 401€ | | Pub |
| bs-1152R-PE-Cy5 | Rabbit Anti-ATP1b2 Na+K+ATPase Polyclonal Antibody, PE-Cy5 Conjugated | Bioss | 100ug | 402€ | | Pub |
| bs-1152R-PE-Cy5.5 | Rabbit Anti-ATP1b2 Na+K+ATPase Polyclonal Antibody, PE-Cy5.5 conjugated Isotype: IgG | Sepax | 100ug Lyophilized | 300€ | | Pub |
| bs-1152R-PE-Cy7 | Rabbit Anti-ATP1b2 Na+K+ATPase Polyclonal Antibody, PE-Cy7 Conjugated | Bioss | 100ug | 401€ | | Pub |
| bs-1162R | Rabbit Anti-MIP2 GRO Beta CXCL2 Polyclonal Antibody, Unconjugated | Bioss | 100ug | 330€ | | Pub |
| bs-1165R | Rabbit Anti-Beta Catenin Polyclonal Antibody, Unconjugated | Bioss | 100ug | 330€ | | Pub |
| bs-1165R-PE | Rabbit Anti-Beta Catenin Polyclonal Antibody, PE Conjugated | Bioss | 100ug | 369€ | | Pub |
| bs-1165R-PE-Cy3 | Rabbit Anti-Beta Catenin Polyclonal Antibody, PE-Cy3 Conjugated | Bioss | 100ug | 401€ | | Pub |
| bs-1165R-PE-Cy5 | Rabbit Anti-Beta Catenin Polyclonal Antibody, PE-Cy5 Conjugated | Bioss | 100ug | 402€ | | Pub |
| bs-1165R-PE-Cy7 | Rabbit Anti-Beta Catenin Polyclonal Antibody, PE-Cy7 Conjugated | Bioss | 100ug | 401€ | | Pub |
| bs-1296R | Rabbit Anti-Defensin Beta 2 Polyclonal Antibody, Unconjugated | Bioss | 100ug | 330€ | | Pub |
| bs-1572R | Rabbit Anti-ATP7A Polyclonal Antibody, Unconjugated | Bioss | 100ug | 330€ | | Pub |
| bs-1718R | Rabbit Anti-ATP7B Polyclonal Antibody, Unconjugated | Bioss | 100ug | 330€ | | Pub |
| bs-1718R-A350 | Rabbit Anti-ATP7B Polyclonal Antibody, Alexa Fluor 350 conjugated,Isotype: IgG | Sepax | 100ug Lyophilized | 323€ | | Pub |
| bs-1718R-A488 | Rabbit Anti-ATP7B Polyclonal Antibody, Alexa Fluor 488 conjugated,Isotype: IgG | Sepax | 100ug Lyophilized | 323€ | | Pub |
| bs-1718R-A555 | Rabbit Anti-ATP7B Polyclonal Antibody, Alexa Fluor 555 conjugated,Isotype: IgG | Sepax | 100ug Lyophilized | 323€ | | Pub |
| bs-1718R-A647 | Rabbit Anti-ATP7B Polyclonal Antibody, Alexa Fluor 647 conjugated,Isotype: IgG | Sepax | 100ug Lyophilized | 323€ | | Pub |
| bs-1718R-Biotin | Rabbit Anti-ATP7B Polyclonal Antibody, Biotin Conjugated | Bioss | 100ug | 369€ | | Pub |
| bs-1718R-Cy3 | Rabbit Anti-ATP7B Polyclonal Antibody, Cy3 Conjugated | Bioss | 100ug | 369€ | | Pub |
| bs-1718R-Cy5 | Rabbit Anti-ATP7B Polyclonal Antibody, Cy5 Conjugated | Bioss | 100ug | 369€ | | Pub |
| bs-1718R-Cy5.5 | Rabbit Anti-ATP7B Polyclonal Antibody, Cy5.5 Conjugated | Bioss | 100ug | 369€ | | Pub |
| bs-1718R-Cy7 | Rabbit Anti-ATP7B Polyclonal Antibody, Cy7 Conjugated | Bioss | 100ug | 369€ | | Pub |
| bs-1718R-FITC | Rabbit Anti-ATP7B Polyclonal Antibody, FITC conjugated,Isotype: IgG | Sepax | 100ug Lyophilized | 304€ | | Pub |
| bs-1718R-HRP | Rabbit Anti-ATP7B Polyclonal Antibody, HRP Conjugated | Bioss | 100ug | 369€ | | Pub |
| bs-1718R-PE | Rabbit Anti-ATP7B Polyclonal Antibody, PE Conjugated | Bioss | 100ug | 369€ | | Pub |
| bs-1718R-PE-Cy3 | Rabbit Anti-ATP7B Polyclonal Antibody, PE-Cy3 Conjugated | Bioss | 100ug | 401€ | | Pub |
| bs-1718R-PE-Cy5 | Rabbit Anti-ATP7B Polyclonal Antibody, PE-Cy5 Conjugated | Bioss | 100ug | 402€ | | Pub |
| bs-1718R-PE-Cy5.5 | Rabbit Anti-ATP7B Polyclonal Antibody, PE-Cy5.5 conjugated Isotype: IgG | Sepax | 100ug Lyophilized | 300€ | | Pub |
| bs-1718R-PE-Cy7 | Rabbit Anti-ATP7B Polyclonal Antibody, PE-Cy7 Conjugated | Bioss | 100ug | 401€ | | Pub |
| bs-1910R | Rabbit Anti-TGF Beta R3 Polyclonal Antibody, Unconjugated | Bioss | 100ug | 330€ | | Pub |
| bs-1910R-A350 | Rabbit Anti-TGF Beta R3 Polyclonal Antibody, Alexa Fluor 350 conjugated,Isotype: IgG | Sepax | 100ug Lyophilized | 323€ | | Pub |
| bs-1910R-A488 | Rabbit Anti-TGF Beta R3 Polyclonal Antibody, Alexa Fluor 488 conjugated,Isotype: IgG | Sepax | 100ug Lyophilized | 323€ | | Pub |
| bs-1910R-A555 | Rabbit Anti-TGF Beta R3 Polyclonal Antibody, Alexa Fluor 555 conjugated,Isotype: IgG | Sepax | 100ug Lyophilized | 323€ | | Pub |
| bs-1910R-A647 | Rabbit Anti-TGF Beta R3 Polyclonal Antibody, Alexa Fluor 647 conjugated,Isotype: IgG | Sepax | 100ug Lyophilized | 323€ | | Pub |
| bs-1910R-Biotin | Rabbit Anti-TGF Beta R3 Polyclonal Antibody, Biotin Conjugated | Bioss | 100ug | 369€ | | Pub |
| bs-1910R-Cy3 | Rabbit Anti-TGF Beta R3 Polyclonal Antibody, Cy3 conjugated, Isotype: IgG | Sepax | 100ug Lyophilized | 268€ | | Pub |
| bs-1910R-Cy5 | Rabbit Anti-TGF Beta R3 Polyclonal Antibody, Cy5 conjugated, Isotype: IgG | Sepax | 100ug Lyophilized | 268€ | | Pub |
| bs-1910R-Cy5.5 | Rabbit Anti-TGF Beta R3 Polyclonal Antibody, Cy5.5 conjugated, Isotype: IgG | Sepax | 100ug Lyophilized | 268€ | | Pub |
| bs-1910R-Cy7 | Rabbit Anti-TGF Beta R3 Polyclonal Antibody, Cy7 conjugated Isotype: IgG | Sepax | 100ug Lyophilized | 268€ | | Pub |
| bs-1910R-FITC | Rabbit Anti-TGF Beta R3 Polyclonal Antibody, FITC conjugated,Isotype: IgG | Sepax | 100ug Lyophilized | 304€ | | Pub |
| bs-1910R-Gold | Rabbit Anti-TGF Beta R3 Polyclonal Antibody, Gold Conjugated | Bioss | 100ug | 369€ | | Pub |
| bs-1910R-HRP | Rabbit Anti-TGF Beta R3 Polyclonal Antibody, HRP Conjugated | Bioss | 100ug | 369€ | | Pub |
| bs-1910R-PE | Rabbit Anti-TGF Beta R3 Polyclonal Antibody, PE Conjugated | Bioss | 100ug | 369€ | | Pub |
| bs-1910R-PE-Cy3 | Rabbit Anti-TGF Beta R3 Polyclonal Antibody, PE-Cy3 Conjugated | Bioss | 100ug | 401€ | | Pub |
| bs-1910R-PE-Cy5 | Rabbit Anti-TGF Beta R3 Polyclonal Antibody, PE-Cy5 Conjugated | Bioss | 100ug | 402€ | | Pub |
| bs-1910R-PE-Cy5.5 | Rabbit Anti-TGF Beta R3 Polyclonal Antibody, PE-Cy5.5 conjugated Isotype: IgG | Sepax | 100ug Lyophilized | 300€ | | Pub |
| bs-1910R-PE-Cy7 | Rabbit Anti-TGF Beta R3 Polyclonal Antibody, PE-Cy7 Conjugated | Bioss | 100ug | 401€ | | Pub |
| bs-4631R | Rabbit Anti-Beta galactosidase Polyclonal Antibody | Sepax | 100ug Lyophilized | 222€ | | Pub |
| bs-4631R-A350 | Rabbit Anti-Beta galactosidase Polyclonal Antibody, Alexa Fluor 350 conjugated,Isotype: IgG | Sepax | 100ug Lyophilized | 323€ | | Pub |
| bs-4631R-A488 | Rabbit Anti-Beta galactosidase Polyclonal Antibody, Alexa Fluor 488 conjugated,Isotype: IgG | Sepax | 100ug Lyophilized | 323€ | | Pub |
| bs-4631R-A555 | Rabbit Anti-Beta galactosidase Polyclonal Antibody, Alexa Fluor 555 conjugated,Isotype: IgG | Sepax | 100ug Lyophilized | 323€ | | Pub |
| bs-4631R-A647 | Rabbit Anti-Beta galactosidase Polyclonal Antibody, Alexa Fluor 647 conjugated,Isotype: IgG | Sepax | 100ug Lyophilized | 323€ | | Pub |
| bs-4631R-Biotin | Rabbit Anti-Beta galactosidase Polyclonal Antibody, Biotin conjugated, Isotype: IgG | Sepax | 100ug Lyophilized | 268€ | | Pub |
| bs-4631R-Cy3 | Rabbit Anti-Beta galactosidase Polyclonal Antibody, Cy3 conjugated, Isotype: IgG | Sepax | 100ug Lyophilized | 268€ | | Pub |
| bs-4631R-Cy5 | Rabbit Anti-Beta galactosidase Polyclonal Antibody, Cy5 conjugated, Isotype: IgG | Sepax | 100ug Lyophilized | 268€ | | Pub |
| bs-4631R-Cy5.5 | Rabbit Anti-Beta galactosidase Polyclonal Antibody, Cy5.5 conjugated, Isotype: IgG | Sepax | 100ug Lyophilized | 268€ | | Pub |
| bs-4631R-Cy7 | Rabbit Anti-Beta galactosidase Polyclonal Antibody, Cy7 conjugated Isotype: IgG | Sepax | 100ug Lyophilized | 268€ | | Pub |
| bs-4631R-FITC | Rabbit Anti-Beta galactosidase Polyclonal Antibody, FITC conjugated,Isotype: IgG | Sepax | 100ug Lyophilized | 304€ | | Pub |
| bs-4631R-Gold | Rabbit Anti-Beta galactosidase Polyclonal Antibody, Gold conjugated Isotype: IgG | Sepax | 100ug Lyophilized | 284€ | | Pub |
| bs-4631R-HRP | Rabbit Anti-Beta galactosidase Polyclonal Antibody, HRP conjugated Isotype: IgG | Sepax | 100ug Lyophilized | 284€ | | Pub |
| bs-4631R-PE | Rabbit Anti-Beta galactosidase Polyclonal Antibody, PE Conjugated , 74kDa; Isotype IgG; Reactivity Human , Mouse , Rat , Dog; Application Flow-Cyt(1 20-100), IF(1 50-200) | Bioss | 100ug Lyophilized | 502€ | | Pub |
| bs-4631R-PE-Cy3 | Rabbit Anti-Beta galactosidase Polyclonal Antibody, PE-Cy3 Conjugated , 74kDa; Isotype IgG; Reactivity Human , Mouse , Rat , Dog; Application Flow-Cyt(1 20-100), IF(1 50-200) | Bioss | 100ug Lyophilized | 530€ | | Pub |
| bs-4631R-PE-Cy5 | Rabbit Anti-Beta galactosidase Polyclonal Antibody, PE-Cy5 conjugated Isotype: IgG | Sepax | 100ug Lyophilized | 319€ | | Pub |
| bs-4631R-PE-Cy5.5 | Rabbit Anti-Beta galactosidase Polyclonal Antibody, PE-Cy5.5 conjugated Isotype: IgG | Sepax | 100ug Lyophilized | 300€ | | Pub |
| bs-4631R-PE-Cy7 | Rabbit Anti-Beta galactosidase Polyclonal Antibody, PE-Cy7 conjugated Isotype: IgG | Sepax | 100ug Lyophilized | 300€ | | Pub |
| bs-6319R | Rabbit Anti-IL-1 Beta IL-1B Polyclonal Antibody | Sepax | 100ug Lyophilized | 222€ | | Pub |
| bs-6319R-A350 | Rabbit Anti-IL-1 Beta IL-1B Polyclonal Antibody, Alexa Fluor 350 conjugated,Isotype: IgG | Sepax | 100ug Lyophilized | 323€ | | Pub |
| bs-6319R-A488 | Rabbit Anti-IL-1 Beta IL-1B Polyclonal Antibody, Alexa Fluor 488 conjugated,Isotype: IgG | Sepax | 100ug Lyophilized | 323€ | | Pub |
| bs-6319R-A647 | Rabbit Anti-IL-1 Beta IL-1B Polyclonal Antibody, Alexa Fluor 647 conjugated,Isotype: IgG | Sepax | 100ug Lyophilized | 323€ | | Pub |
| bs-6319R-Biotin | Rabbit Anti-IL-1 Beta IL-1B Polyclonal Antibody, Biotin conjugated, Isotype: IgG | Sepax | 100ug Lyophilized | 268€ | | Pub |
| bs-6319R-Cy3 | Rabbit Anti-IL-1 Beta IL-1B Polyclonal Antibody, Cy3 conjugated, Isotype: IgG | Sepax | 100ug Lyophilized | 268€ | | Pub |
| Cat_Number | Product name | Supplier | Quantity | Price | PDF | Pub |