Product name : EpiQuik Superoxide Dismutase Activity Inhibition Assay Kit (Colorimetric) (2x96 assays)
Catalog Number :  OP-0001-2
Quantity :
Price :240.00 €
Pay now with :
Supplier :EpigenTek
EpiQuik Superoxide Dismutase Activity/Inhibition Assay Kit (Colorimetric)
Product Overview
Superoxide dismutase (SOD) is one of the most important enzymes in defending oxidative stress. SOD catalyses the dismutation of superoxide anion (O2-) into hydrogen peroxide and molecular oxygen (O2). Oxidative stress through reactive oxygen species (ROS) plays an important role in the etiology and progression in certain diseases such as cancer, heart disease, and various autoimmune disorders. ROS have shown to cause cellular damage, enzyme inactivation, and more particularly, epigenetic damage of DNA. Thus, the determination of SOD activity is necessary in various research fields related to human diseases. There are several methods used for measuring SOD activity, yet most of these methods have some drawbacks in selectivity, rapidity, and convenience. The EpiQuik Superoxide Dismutase Activity/Inhibition Assay Kit (Colorimetric) addresses these problems by using a unique procedure to measure SOD activity. The kit has the following features:
The fastest procedure available, which can be finished within 60 minutes.
Very simple -- just one step.
High throughput microplate format with consistent reaction conditions.
Product Details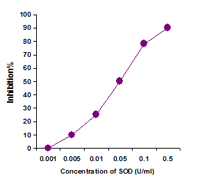 Inhibition Curve Prepared Using SOD from Bovine Liver. The kit utilizes a water-soluble tetrazolium salt that produces a water-soluble formazan dye upon reduction with a superoxide anion (6). The rate of the reduction with O2- is linearly related to the xanthine oxidase (XO) activity and is inhibited by SOD. Therefore, the IC 50 (50% inhibition activity of SOD or SOD-like materials) can be determined by this colorimetric method.
Product Components
SD1 (Dilution Buffer)
SD2 (10X SOD Assay Buffer)
SD3 (SOD Substrate)
SD4 (SOD Indicator Solution)
SD5 (Reaction Enzyme, 0.1 U/ml)
SD6 (SOD Standard, 10 U/µl)
96-Well Microplate
User Guide
Product Citations
Risitano, A. et. al. (May 2012). Platelets and platelet-like particles mediate intercellular RNA transfer. Blood. Epub ahead of print. PubMed Abstract
Martin, HL. et. al. (March 2012). Pharmacological manipulation of peroxisome proliferator-activated receptor γ (PPARγ) reveals a role for anti- oxidant protection in a model of Parkinson's disease. Exp Neurol. Epub ahead of print. PubMed Abstract
Liao, Y. J. et. al. (January 2010). Deficiency of glycine N-methyltransferase results in deterioration of cellular defense to stress in mouse liver. Proteomics. 4(4): 394-406. Abstract
[Related Products]  EpiQuik Superoxide Dismutase Activity Inhibition Assay Kit (Colorimetric) (2x96 assays)
| Cat Number | Product name | Supplier | Quantity | Price | Tech | More |
| --- | --- | --- | --- | --- | --- | --- |
|   OP-0001-2 |  EpiQuik Superoxide Dismutase Activity Inhibition Assay Kit (Colorimetric) (2x96 assays) | EpigenTek | | 240.00€ | | Pub |
|   OP-0001-3 |  EpiQuik Superoxide Dismutase Activity Inhibition Assay Kit (Colorimetric) (5x96 assays) | EpigenTek | | 397.00€ | | Pub |
| P-3021-48 | EpiQuik MBD2 Binding Activity Inhibition Assay Kit | EpigenTek | 48 assays | 505.45€ | | Pub |
| P-3005-48 | EpiQuik Histone Methyltransferase Activity Inhibition Assay Kit H3K27 | EpigenTek | 48 assays | 461.00€ | | Pub |
| P-3003-2 | EpiQuik Histone Methyltransferase Activity Inhibition Assay Kit H3K9 | EpigenTek | 96 assays | 770.00€ | | Pub |
| P-3003-1 | EpiQuik Histone Methyltransferase Activity Inhibition Assay Kit H3K9 | EpigenTek | 48 assays | 461.00€ | | Pub |
| P-3002-2 | EpiQuik Histone Methyltransferase Activity Inhibition Assay Kit H3K4 | EpigenTek | 96 assays | 769.65€ | | Pub |
| P-3021-48 |  EpiQuik MBD2 Binding Activity Inhibition Assay Kit (48 assays) | EpigenTek | | 474.60€ | | Pub |
| P-3002-1 | EpiQuik Histone Methyltransferase Activity Inhibition Assay Kit H3K4 | EpigenTek | 48 assays | 461.00€ | | Pub |
| P-3005-96 | EpiQuik Histone Methyltransferase Activity Inhibition Assay Kit H3K27 | EpigenTek | 96 assays | 770.00€ | | Pub |
| P-2004-96 | EpiQuik General Protein DNA Binding Assay Kit Colorimetric | EpigenTek | 96 assays | 521.00€ | | Pub |
| K331-100 | HDAC Colorimetric Activity Assay Kit | Biovision | 100 assays | 357.00€ | | Pub |
|   P-4012-48 |  EpiQuik Global Acetyl Histone H3K14 Quantification Kit (Colorimetric) (48 assays) | EpigenTek | | 370.00€ | | Pub |
|   P-4020-48 |  EpiQuik Global Acetyl Histone H3K56 Quantification Kit (Colorimetric) (48 assays) | EpigenTek | | 370.00€ | | Pub |
|   P-4028-48 |  EpiQuik Global Acetyl Histone H4K12 Quantification Kit (Colorimetric) (48 assays) | EpigenTek | | 358.00€ | | Pub |
|   P-4030-96 |  EpiQuik Total Histone H3 Acetylation Detection Fast Kit (Colorimetric) (96 assays)  | EpigenTek | | 606.00€ | | Pub |
|   P-4014-96 |  EpiQuik Global Acetyl Histone H3K18 Quantification Kit (Colorimetric) (96 assays) | EpigenTek | | 618.00€ | | Pub |
|   P-4022-96 |  EpiQuik Global Acetyl Histone H4K5 Quantification Kit (Colorimetric) (96 assays) | EpigenTek | | 645.00€ | | Pub |
| K028-H1 | Superoxide Dismutase (SOD) Colorimetric Activity kit (2 Plates) | Arbor Assays | 2 x 96 well plate | 337.00€ | | Pub |
|   P-4030-48 |  EpiQuik Total Histone H3 Acetylation Detection Fast Kit (Colorimetric) (48 assays)  | EpigenTek | | 358.00€ | | Pub |
|   P-4014-48 |  EpiQuik Global Acetyl Histone H3K18 Quantification Kit (Colorimetric) (48 assays) | EpigenTek | | 370.00€ | | Pub |
|   P-4022-48 |  EpiQuik Global Acetyl Histone H4K5 Quantification Kit (Colorimetric) (48 assays) | EpigenTek | | 358.00€ | | Pub |
| K263-100 | GST Colorimetric Activity Assay Kit | Biovision | 100 assays | 367.00€ | | Pub |
|   P-4016-96 |  EpiQuik Global Acetyl Histone H3K23 Quantification Kit (Colorimetric) (96 assays) | EpigenTek | | 618.00€ | | Pub |
|   P-4024-96 |  EpiQuik Global Acetyl Histone H4K8 Quantification Kit (Colorimetric) (96 assays) | EpigenTek | | 606.00€ | | Pub |
| K410-500 | Phosphate Colorimetric Assay Kit500 assays | Biovision | 500 assays | 0.00€ | | Pub |
|   P-4016-48 |  EpiQuik Global Acetyl Histone H3K23 Quantification Kit (Colorimetric) (48 assays) | EpigenTek | | 370.00€ | | Pub |
|   P-4024-48 |  EpiQuik Global Acetyl Histone H4K8 Quantification Kit (Colorimetric) (48 assays) | EpigenTek | | 358.00€ | | Pub |
| 11305 | Amplite™ Colorimetric Superoxide Dismutase (SOD) Assay Kit | AAT Bioquest | 1 kit | 202.00€ | | Pub |
|   P-4010-96 |  EpiQuik Global Acetyl Histone H3K9 Quantification Kit (Colorimetric) (96 assays) | EpigenTek | | 618.00€ | | Pub |
|   P-4018-96 |  EpiQuik Global Acetyl Histone H3K36 Quantification Kit (Colorimetric) (96 assays) | EpigenTek | | 618.00€ | | Pub |
|   P-4026-96 |  EpiQuik Global Acetyl Histone H4K16 Quantification Kit (Colorimetric) (96 assays) | EpigenTek | | 606.00€ | | Pub |
| K784-100 | Gamma Glutamyl Transferase (GGT) Activity Colorimetric Assay Kit | Biovision | 100 assays | 406.00€ | | Pub |
|   P-4032-96 |  EpiQuik Total Histone H4 Acetylation Detection Fast Kit (Colorimetric) (96 assays) | EpigenTek | | 606.00€ | | Pub |
|   P-4004-192 |  EpiQuik In Situ H3K9 Acetylation Assay Kit (2x96 assays) | EpigenTek | | 841.00€ | | Pub |
| P-2004-96 |  EpiQuik General Protein DNA Binding Assay Kit (Colorimetric) (96 assays) | EpigenTek | | 487.00€ | | Pub |
|   P-4010-48 |  EpiQuik Global Acetyl Histone H3K9 Quantification Kit (Colorimetric) (48 assays) | EpigenTek | | 370.00€ | | Pub |
| K744-100 | Myeloperoxidase (MPO) Colorimetric Activity Assay Kit | Biovision | 100 assays | 406.00€ | | Pub |
|   P-4018-48 |  EpiQuik Global Acetyl Histone H3K36 Quantification Kit (Colorimetric) (48 assays) | EpigenTek | | 370.00€ | | Pub |
|   P-4026-48 |  EpiQuik Global Acetyl Histone H4K16 Quantification Kit (Colorimetric) (48 assays) | EpigenTek | | 358.00€ | | Pub |
|   P-4012-96 |  EpiQuik Global Acetyl Histone H3K14 Quantification Kit (Colorimetric) (96 assays) | EpigenTek | | 618.00€ | | Pub |
|   P-4020-96 |  EpiQuik Global Acetyl Histone H3K56 Quantification Kit (Colorimetric) (96 assays) | EpigenTek | | 618.00€ | | Pub |
|   P-4028-96 |  EpiQuik Global Acetyl Histone H4K12 Quantification Kit (Colorimetric) (96 assays) | EpigenTek | | 606.00€ | | Pub |
|   P-4032-48 |  EpiQuik Total Histone H4 Acetylation Detection Fast Kit (Colorimetric) (48 assays) | EpigenTek | | 358.00€ | | Pub |
| K119-25 | Caspase 9 Colorimetric Assay Kit | Biovision | 25 assays | 180.50€ | | Pub |
|   P-4009-96 |  EpiQuik Global Histone H4 Acetylation Assay Kit (96 assays) | EpigenTek | | 710.00€ | | Pub |
| K125-200 | Caspase 10 Colorimetric Assay Kit | Biovision | 200 assays | 495.50€ | | Pub |
| K111-25 | Caspase 1 Colorimetric Assay Kit | Biovision | 25 assays | 162.50€ | | Pub |
|   P-4017-96 |  EpiQuik Global Acetyl Histone H3K23 Quantification Kit (Fluorometric) (96 assays) | EpigenTek | | 618.00€ | | Pub |
| K403-50 | ApoBrdU IHC DNA Fragmentation Assay Kit50 assays | Biovision | 50 assays | 579.00€ | | Pub |
| 4700-192-K | Tankyrase 1 Colorimetric Activity Assay | Trevigen | 192 samples | 1 342.00€ | | Pub |
| K115-25 | Caspase 6 Colorimetric Assay Kit | Biovision | 25 assays | 171.50€ | | Pub |
| K269-500 | Mammalian Cell Extraction Kit500 assays | Biovision | 500 assays | 221.13€ | | Pub |
|   P-4025-96 |  EpiQuik Global Acetyl Histone H4K8 Quantification Kit (Fluorometric) (96 assays) | EpigenTek | | 606.00€ | | Pub |
| K144-100 | Cathepsin S Activity Assay Kit | Biovision | 100 assays | 357.00€ | | Pub |
| K106-25 | Caspase 3 Colorimetric Assay Kit | Biovision | 25 assays | 162.50€ | | Pub |
| K371-100 | cAMP Activity Assay Kit | Biovision | 100 assays | 367.00€ | | Pub |
| K754-100 | Asparaginase Activity Assay Kit | Biovision | 100 assays | 425.00€ | | Pub |
| K134-9-25 | Caspase Colorimetric Substrate Set II | Biovision | 9 x 25 assays | 687.00€ | | Pub |
| K412-500 | Alkaline Phosphatase Colorimetric Assay Kit | Biovision | 500 assays | 379.00€ | | Pub |
| K274-100 | Total Antioxidant Capacity (TAC) Assay Kit100 assays | Biovision | 100 assays | 325.08€ | | Pub |
| P-1034-96 |  MethylFlash Methylated DNA Quantification Kit (Colorimetric) (96 assays)  | EpigenTek | | 819.00€ | | Pub |
| K661-100 | Ascorbic Acid Assay Kit100 assays | Biovision | 100 assays | 325.08€ | | Pub |
| K123-400 | Caspase 5 Colorimetric Assay Kit | Biovision | 400 assays | 765.50€ | | Pub |
| K335-100 | SOD Activity Assay Kit 100 assays | Biovision | 100 assays | 230.58€ | | Pub |
| K722-100 | Lipase Activity Assay Kit | Biovision | 100 assays | 357.00€ | | Pub |
| K430-40 | KinaseSTAR JNK Activity Screening Kit | Biovision | 40 assays | 559.00€ | | Pub |
|   P-4009-48 |  EpiQuik Global Histone H4 Acetylation Assay Kit (48 assays) | EpigenTek | | 474.00€ | | Pub |
| 7501-500-K | HT Superoxide Dismutase Assay Kit | Trevigen | 480 tests | 547.00€ | | Pub |
| K125-100 | Caspase 10 Colorimetric Assay Kit | Biovision | 100 assays | 360.50€ | | Pub |
| K355-100 | ADP Colorimetric Fluorometric Assay Kit | Biovision | 100 assays | 386.00€ | | Pub |
| P-3016-096 |  EpiQuik In Situ Histone H3K9 Methylation Assay Kit (96 assays) | EpigenTek | | 539.00€ | | Pub |
| K111-200 | Caspase 1 Colorimetric Assay Kit | Biovision | 200 assays | 450.50€ | | Pub |
| OP-0003-100 |  EpiQuik Whole Cell Extraction Kit (100 assays) | EpigenTek | | 213.15€ | | Pub |
|   P-4017-48 |  EpiQuik Global Acetyl Histone H3K23 Quantification Kit (Fluorometric) (48 assays) | EpigenTek | | 370.00€ | | Pub |
| 4700-096-K | Tankyrase 1 Colorimetric Activity Assay | Trevigen | 96 samples | 996.00€ | | Pub |
| K115-200 | Caspase 6 Colorimetric Assay Kit | Biovision | 200 assays | 450.50€ | | Pub |
| K773-100 | Catalase Activity Assay Kit | Biovision | 100 assays | 289.00€ | | Pub |
|   P-4025-48 |  EpiQuik Global Acetyl Histone H4K8 Quantification Kit (Fluorometric) (48 assays) | EpigenTek | | 358.00€ | | Pub |
| K143-100 | Cathepsin D Activity Assay Kit | Biovision | 100 assays | 357.00€ | | Pub |
| K119-200 | Caspase 9 Colorimetric Assay Kit | Biovision | 200 assays | 468.50€ | | Pub |
| K330-100 | HDAC Fluorometric Activity Assay Kit | Biovision | 100 assays | 357.00€ | | Pub |
| K808-200 | Deproteinizing Sample Preparation Kit200 assays | Biovision | 200 assays | 231.00€ | | Pub |
| K106-200 | Caspase 3 Colorimetric Assay Kit | Biovision | 200 assays | 450.50€ | | Pub |
|   P-4011-96 |  EpiQuik Global Acetyl Histone H3K9 Quantification Kit (Fluorometric) (96 assays) | EpigenTek | | 618.00€ | | Pub |
| K753-100 | Aspartate Aminotransferase (AST or SGOT) Activity Assay Kit | Biovision | 100 assays | 357.00€ | | Pub |
|   P-4019-96 |  EpiQuik Global Acetyl Histone H3K36 Quantification Kit (Fluorometric) (96 assays) | EpigenTek | | 618.00€ | | Pub |
| K411-500 | Acid Phosphatase Colorimetric Assay Kit | Biovision | 500 assays | 250.00€ | | Pub |
| K781-100 | Protease Activity Assay Kit | Biovision | 100 assays | 289.00€ | | Pub |
| P-1034-96 | MethylFlash Methylated DNA Quantification Kit Colorimetric | EpigenTek | 96 assays | 819.00€ | | Pub |
|   P-4027-96 |  EpiQuik Global Acetyl Histone H4K16 Quantification Kit (Fluorometric) (96 assays) | EpigenTek | | 606.00€ | | Pub |
| K123-25 | Caspase 5 Colorimetric Assay Kit | Biovision | 25 assays | 180.50€ | | Pub |
| K335-100 | SOD Activity Assay Kit | Biovision | 100 assays | 279.00€ | | Pub |
| K256-25 | Mitochondria Cytosol Fractionation Kit25 assays | Biovision | 25 assays | 164.43€ | | Pub |
| K716-100 | Aconitase Activity Assay Kit | Biovision | 100 assays | 357.00€ | | Pub |
| K127-400 | Caspase 4 Colorimetric Assay Kit | Biovision | 400 assays | 738.50€ | | Pub |
| K380-250 | Calcium Colorimetric Assay Kit | Biovision | 250 assays | 289.00€ | | Pub |
| K113-400 | Caspase 8 Colorimetric Assay Kit | Biovision | 400 assays | 702.50€ | | Pub |
| K266-25 | Nuclear Cytosol Fractionation Kit25 assays | Biovision | 25 assays | 164.43€ | | Pub |
| K761-200 | Glutathione Reductase Activity Assay Kit | Biovision | 200 assays | 357.00€ | | Pub |
| ESOD-100 | EnzyChrom™ Superoxide Dismutase Assay Kit | Bioassays | 100 tests | 213.00€ | | Pub |
| K138-9-25 | Caspase Colorimetric Substrate Set II Plus | Biovision | 9 x 25 assays | 854.00€ | | Pub |
| K422-500 | Alkaline Phosphatase Activity Fluorometric Assay Kit | Biovision | 500 assays | 260.00€ | | Pub |
| K117-400 | Caspase 2 Colorimetric Assay Kit | Biovision | 400 assays | 765.50€ | | Pub |
| K787-100 | Alcohol Dehydrogenase Activity Assay Kit | Biovision | 100 assays | 386.00€ | | Pub |
| K604-100 | PLTP Activity Assay Kit | Biovision | 100 assays | 464.00€ | | Pub |
|   P-4008-96 |  EpiQuik Global Histone H3 Acetylation Assay Kit (96 assays) | EpigenTek | | 709.00€ | | Pub |
| K354-100 | ATP Colorimetric Fluorometric Assay Kit | Biovision | 100 assays | 386.00€ | | Pub |
| P-3016-096 | EpiQuik In Situ Histone H3K9 Methylation Assay Kit | EpigenTek | 96 assays | 584.00€ | | Pub |
| K111-100 | Caspase 1 Colorimetric Assay Kit | Biovision | 100 assays | 315.50€ | | Pub |
| K726-500 | Lactate Dehydrogenase Activity Assay Kit | Biovision | 500 assays | 367.00€ | | Pub |
| OP-0003-100 | EpiQuik Whole Cell Extraction Kit | EpigenTek | 100 assays | 213.15€ | | Pub |
| K115-100 | Caspase 6 Colorimetric Assay Kit | Biovision | 100 assays | 333.50€ | | Pub |
| K268-50 | Membrane Protein Extraction Kit50 assays | Biovision | 50 assays | 314.69€ | | Pub |
| K771-100 | Trypsin Activity Assay Kit | Biovision | 100 assays | 308.00€ | | Pub |
| K142-100 | Cathepsin L Activity Assay Kit | Biovision | 100 assays | 357.00€ | | Pub |
| K119-100 | Caspase 9 Colorimetric Assay Kit | Biovision | 100 assays | 360.50€ | | Pub |
| K106-100 | Caspase 3 Colorimetric Assay Kit | Biovision | 100 assays | 315.50€ | | Pub |
|   P-4011-48 |  EpiQuik Global Acetyl Histone H3K9 Quantification Kit (Fluorometric) (48 assays) | EpigenTek | | 370.00€ | | Pub |
| P-4008-96 | EpiQuik Global Histone H3 Acetylation Assay Kit 96 assays | EpigenTek | 96 assays | 769.65€ | | Pub |
| K265-200 | Hydrogen Peroxide Assay Kit200 assays | Biovision | 200 assays | 230.58€ | | Pub |
| K752-100 | Alanine Aminotransferase (ALT or SGPT) Activity Assay Kit | Biovision | 100 assays | 357.00€ | | Pub |
|   P-4019-48 |  EpiQuik Global Acetyl Histone H3K36 Quantification Kit (Fluorometric) (48 assays) | EpigenTek | | 370.00€ | | Pub |
| EPPD-100 | EnzyChrom™ Phospholipase D Assay Kit, Quantitative determination of phospholipase D activity by colorimetric (570nm) or fluorimetric (530 590nm) method. Procedure 30 min. Kit size 100 tests. Detecti | Bioassays | 100tests | 287.00€ | | Pub |
| K132-7-25 | Caspase Colorimetric Substrate Set | Biovision | 7 x 25 assays | 559.00€ | | Pub |
| P-1034-48 |  MethylFlash Methylated DNA Quantification Kit (Colorimetric) (48 assays)  | EpigenTek | | 458.85€ | | Pub |
|   P-4027-48 |  EpiQuik Global Acetyl Histone H4K16 Quantification Kit (Fluorometric) (48 assays) | EpigenTek | | 358.00€ | | Pub |
| K123-200 | Caspase 5 Colorimetric Assay Kit | Biovision | 200 assays | 486.50€ | | Pub |
| K335-100 | SOD Activity Activity Assay Kit | Biovision | 100 assays | 299.00€ | | Pub |
| K711-100 | Amylase Activity Assay Kit | Biovision | 100 assays | 269.00€ | | Pub |
|   P-4013-96 |  EpiQuik Global Acetyl Histone H3K14 Quantification Kit (Fluorometric) (96 assays) | EpigenTek | | 618.00€ | | Pub |
| K127-25 | Caspase-4 Colorimetric Assay Kit | Biovision | 25 assays | 201.00€ | | Pub |
| K113-25 | Caspase 8 Colorimetric Assay Kit | Biovision | 25 assays | 162.50€ | | Pub |
| K631-100 | D-Sorbitol Colorimetric Assay Kit | Biovision | 100 assays | 425.00€ | | Pub |
|   P-4021-96 |  EpiQuik Global Acetyl Histone H3K56 Quantification Kit (Fluorometric) (96 assays) | EpigenTek | | 618.00€ | | Pub |
| K117-25 | Caspase 2 Colorimetric Assay Kit | Biovision | 25 assays | 180.50€ | | Pub |
| K786-100 | Glucose Dehydrogenase Activity Assay Kit | Biovision | 100 assays | 367.00€ | | Pub |
| P-1036-96 | MethylFlash Hydroxymethylated DNA Quantification Kit Colorimetric | EpigenTek | 96 assays | 862.59€ | | Pub |
|   P-4029-96 |  EpiQuik Global Acetyl Histone H4K12 Quantification Kit (Fluorometric) (96 assays) | EpigenTek | | 642.00€ | | Pub |
|   P-4008-48 |  EpiQuik Global Histone H3 Acetylation Assay Kit (48 assays) | EpigenTek | | 474.00€ | | Pub |
| P-3015-096 | EpiQuik In Situ Histone H3K4 Methylation Assay Kit | EpigenTek | 96 assays | 584.00€ | | Pub |
| K262-200 | Nitric Oxide Colorimetric Assay Kit | Biovision | 200 assays | 357.00€ | | Pub |
| K724-100 | Lipase Activity Assay Kit III | Biovision | 100 assays | 425.00€ | | Pub |
| OP-0002-1 |  EpiQuik Nuclear Extraction Kit (100 assays) | EpigenTek | | 239.40€ | | Pub |
| DAMY-100 | QuantiChrom™ α-Amylase Assay Kit, Quantitative determination of α-amylase activity by colorimetric (595nm) method | Bioassays | 100Tests | 405.00€ | | Pub |
| K141-100 | Cathepsin K Activity Assay Kit | Biovision | 100 assays | 357.00€ | | Pub |
| P-1039-96 | MethylFlash Urine 5-Methylcytosine (5-mC) Quantification Kit (Colorimetric) (96 assays) | EpigenTek | | 649.00€ | | Pub |
| K125-400 | Caspase 10 Colorimetric Assay Kit | Biovision | 400 assays | 738.50€ | | Pub |
| P-4008-48 | EpiQuik Global Histone H3 Acetylation Assay Kit 48 assays | EpigenTek | 48 assays | 490.35€ | | Pub |
| K745-100 | Myeloperoxidase (MPO) Fluorometric Activity Assay Kit | Biovision | 100 assays | 406.00€ | | Pub |
| K410-500 | Phosphate Colorimetric Assay Kit | Biovision | 500 assays | 201.00€ | | Pub |
| ECAT-100 | EnzyChrom™ Catalase Assay Kit, Quantitative determination of catalase activity by colorimetric (570nm) or fluorometric (530nm 590nm) methods. Procedure 40 min. Kit size 100 tests. Detection limit 0 | Bioassays | 100tests | 258.00€ | | Pub |
| K779-100 | DPP4 Activity Assay Kit | Biovision | 100 assays | 386.00€ | | Pub |
| P-1034-48 | MethylFlash Methylated DNA Quantification Kit Colorimetric | EpigenTek | 48 assays | 458.85€ | | Pub |
| K123-100 | Caspase 5 Colorimetric Assay Kit | Biovision | 100 assays | 360.50€ | | Pub |
| K332-100 | HAT Activity Activity Assay Kit | Biovision | 100 assays | 396.00€ | | Pub |
| K710-100 | Xanthine Oxidase Activity Assay Kit | Biovision | 100 assays | 289.00€ | | Pub |
|   P-4013-48 |  EpiQuik Global Acetyl Histone H3K14 Quantification Kit (Fluorometric) (48 assays) | EpigenTek | | 370.00€ | | Pub |
| K127-200 | Caspase 4 Colorimetric Assay Kit | Biovision | 200 assays | 495.50€ | | Pub |
| K113-200 | Caspase 8 Colorimetric Assay Kit | Biovision | 200 assays | 450.50€ | | Pub |
| K757-100 | Glucose-6-Phosphate Dehydrogenase Activity Assay Kit | Biovision | 100 assays | 357.00€ | | Pub |
|   P-4021-48 |  EpiQuik Global Acetyl Histone H3K56 Quantification Kit (Fluorometric) (48 assays) | EpigenTek | | 370.00€ | | Pub |
| K136-7-25 | Caspase Colorimetric Substrate Set Plus | Biovision | 7 x 25 assays | 726.00€ | | Pub |
| K117-200 | Caspase 2 Colorimetric Assay Kit | Biovision | 200 assays | 486.50€ | | Pub |
| K280-50 | Mitochondrial DNA Isolation Kit50 assays | Biovision | 50 assays | 390.29€ | | Pub |
| P-1036-48 |  MethylFlash Hydroxymethylated DNA Quantification Kit (Colorimetric) (48 assays) | EpigenTek | | 514.94€ | | Pub |
|   P-4029-48 |  EpiQuik Global Acetyl Histone H4K12 Quantification Kit (Fluorometric) (48 assays) | EpigenTek | | 373.00€ | | Pub |
| K245-100 | Proteasome Activity Assay Kit | Biovision | 100 assays | 367.00€ | | Pub |
| P-3014T-096 | EpiQuik In Situ Histone H3K27 Tri Methylation Assay Kit | EpigenTek | 96 assays | 584.00€ | | Pub |
| K261-100 | Glutathione Colorimetric Detection Kit | Biovision | 100 assays | 367.00€ | | Pub |
| OP-0002-1 | EpiQuik Nuclear Extraction Kit | EpigenTek | 100 assays | 239.40€ | | Pub |
|   P-4015-96 |  EpiQuik Global Acetyl Histone H3K18 Quantification Kit (Fluorometric) (96 assays) | EpigenTek | | 618.00€ | | Pub |
| K267-50 | Cytosol Particulate Separation Kit50 assays | Biovision | 50 assays | 276.89€ | | Pub |
| K762-100 | Glutathione Peroxidase Activity Assay Kit | Biovision | 100 assays | 357.00€ | | Pub |
|   P-4023-96 |  EpiQuik Global Acetyl Histone H4K5 Quantification Kit (Fluorometric) (96 assays) | EpigenTek | | 606.00€ | | Pub |
| K140-100 | Cathepsin B Activity Assay Kit | Biovision | 100 assays | 357.00€ | | Pub |
| K435-40 | KinaseSTAR Akt Activity Assay Kit | Biovision | 40 assays | 687.00€ | | Pub |
| K119-400 | Caspase 9 Colorimetric Assay Kit | Biovision | 400 assays | 765.50€ | | Pub |
| CSOD100-2 | Colorimetric Superoxide Dismutase | Celleng-tech | 1 kit | 322.35€ | | Pub |
| K125-25 | Caspase 10 Colorimetric Assay Kit | Biovision | 25 assays | 180.50€ | | Pub |
| K111-400 | Caspase 1 Colorimetric Assay Kit | Biovision | 400 assays | 702.50€ | | Pub |
| K264-100 | Glutathione (GSH GSSG Total) Assay Kit100 assays | Biovision | 100 assays | 409.19€ | | Pub |
| K115-400 | Caspase 6 Colorimetric Assay Kit | Biovision | 400 assays | 729.50€ | | Pub |
| K270-50 | FractionPREP Cell Fractionation Kit50 assays | Biovision | 50 assays | 400.68€ | | Pub |
| K773-100 | Catalase Assay Kit100 assays | Biovision | 100 assays | 230.58€ | | Pub |
| K145-100 | Cathepsin H Activity Assay Kit | Biovision | 100 assays | 357.00€ | | Pub |
| K331-100 | HDAC Colorimetric Assay Kit | Biovision | 100 assays | 357.00€ | | Pub |
| K106-400 | Caspase 3 Colorimetric Assay Kit | Biovision | 400 assays | 702.50€ | | Pub |
| K256-100 | Mitochondria Cytosol Fractionation Kit100 assays | Biovision | 100 assays | 314.69€ | | Pub |
| K709-100 | Pyruvate Kinase Activity Assay Kit | Biovision | 100 assays | 435.00€ | | Pub |
| DACE-100 | QuantiChrom™ Acetylcholinesterase Assay Kit, Quantitative determination of acetylcholinesterase activity by colorimetric (412nm) method. Procedure 10 min. Kit size 100 tests. Detection limit 10 U L | Bioassays | 100tests | 385.00€ | | Pub |
| K127-100 | Caspase-4 Colorimetric Assay Kit | Biovision | 100 assays | 406.00€ | | Pub |
| K372-100 | cGMP Activity Assay Kit | Biovision | 100 assays | 367.00€ | | Pub |
| K113-100 | Caspase 8 Colorimetric Assay Kit | Biovision | 100 assays | 315.00€ | | Pub |
| K266-100 | Nuclear Cytosol Fractionation Kit100 assays | Biovision | 100 assays | 314.69€ | | Pub |
| K756-100 | Isocitrate Dehydrogenase Activity Assay Kit | Biovision | 100 assays | 357.00€ | | Pub |
| K117-100 | Caspase 2 Colorimetric Assay Kit | Biovision | 100 assays | 360.50€ | | Pub |
| K783-100 | MMP-3 Activity Assay Kit | Biovision | 100 assays | 425.00€ | | Pub |
| K240-100 | Calpain Activity Assay Kit | Biovision | 100 assays | 435.00€ | | Pub |
| K667-100 | D Lactate Colorimetric Assay Kit | Biovision | 100 assays | 342.50€ | | Pub |
| K601-100 | CETP Activity Assay Kit | Biovision | 100 assays | 464.00€ | | Pub |
| K260-100 | GST Fluorometric Activity Assay Kit | Biovision | 100 assays | 367.00€ | | Pub |
| K723-100 | Lipase Activity Assay Kit II | Biovision | 100 assays | 386.00€ | | Pub |
|   P-4015-48 |  EpiQuik Global Acetyl Histone H3K18 Quantification Kit (Fluorometric) (48 assays) | EpigenTek | | 370.00€ | | Pub |
| K128-100 | Annexin V PE Apoptosis Detection Kit100 assays | Biovision | 100 assays | 315.00€ | | Pub |
| K761-200 | Glutathione Reductase Assay Kit200 assays | Biovision | 200 assays | 325.08€ | | Pub |
|   P-4023-48 |  EpiQuik Global Acetyl Histone H4K5 Quantification Kit (Fluorometric) (48 assays) | EpigenTek | | 358.00€ | | Pub |
| K431-40 | KinaseSTAR JNK Activity Assay Kit | Biovision | 40 assays | 687.00€ | | Pub |
| K311-400 | LDH Cytotoxicity Assay Kit | Biovision | 400 assays | 261.50€ | | Pub |
| K794-100 | MMP-1 Inhibitor Screening Kit | Biovision | 100 assays | 503.00€ | | Pub |
| 1103-1000 | Caspase 1 Substrate YVAD AFC1000 assays | Biovision | 1000 assays | 541.49€ | | Pub |
| K105-200 | Caspase 3 Fluorometric Assay Kit | Biovision | 200 assays | 450.50€ | | Pub |
| K252-200 | Nitric Oxide Fluorometric Assay Kit | Biovision | 2 x 96 assays | 431.00€ | | Pub |
| K687-100 | PicoProbe™ Glucose-6-Phosphate Assay Kit | Biovision | 100 assays | 425.00€ | | Pub |
| 1069-200 | Caspase-6 Substrate VEID-AFC; Appearance Liquid | Biovision | 200 assays | 311.85€ | | Pub |
| K172-25 | Caspase 12 Staining Kit, CaspGLOW Green | Biovision | 25 assays | 186.00€ | | Pub |
| K606-100 | Glucose Assay Kit | Biovision | 100 assays | 347.00€ | | Pub |
| 1014-1000 | Annexin V PE Reagent | Biovision | 1000 assays | 945.50€ | | Pub |
| 22780 | Cell Meter™ Colorimetric Cell Cytotoxicity Assay Kit | AAT Bioquest | 1 kit | 163.00€ | | Pub |
| K357-100 | FAD Assay Kit | Biovision | 100 assays | 367.00€ | | Pub |
| MSP20 | Rapid Microplate Assay Kit for PDH Activity and Quantity (Combo) | ACR | 96 Tests | 988.05€ | | Pub |
| 1110-1000 | Caspase-4 Substrate LEVD-pNA; Appearance Liquid | Biovision | 1000 assays | 635.04€ | | Pub |
| 36371 | Screen Quest™ Colorimetric ELISA cAMP Assay Kit | AAT Bioquest | 10 plates | 1 571.00€ | | Pub |
| K264-100 | Glutathione (GSH GSSG Total) Assay Kit | Biovision | 100 assays | 435.00€ | | Pub |
| K739-100 | Lipid Peroxidation (MDA) Assay Kit | Biovision | 100 assays | 406.00€ | | Pub |
| 1072-1000 | Caspase 2 Substrate VDVAD pNA | Biovision | 1000 assays | 634.10€ | | Pub |
| K189-100 | Caspase 9 Staining Kit, CaspGLOW Green | Biovision | 100 assays | 400.00€ | | Pub |
| K623-100 | Cholesterol Cholesteryl Ester Quantitation Kit II | Biovision | 100 assays | 377.00€ | | Pub |
| 13500 | Amplite™ Universal Fluorimetric Protease Activity Assay Kit *Green Fluorescence* | AAT Bioquest | 1 kit | 202.00€ | | Pub |
| 22799 | Cell Meter™ Caspase 9 Activity Apoptosis Assay Kit *Green Fluorescence* | AAT Bioquest | 200 Tests | 280.00€ | | Pub |
| K129-400 | Annexin V PE Cy5 Apoptosis Detection Kit | Biovision | 400 assays | 828.50€ | | Pub |
| LF-MA0065 | anti-Superoxide Dismutase 2 (4F10) , Mouse monoclonal to Superoxide Dismutase 2, Isotype IgG1, Host Mouse | Abfrontier | 100 ul | 355.00€ | | Pub |
| 1004-1000 | Annexin V EGFP Reagent1000 assays | Biovision | 1000 assays | 891.00€ | | Pub |
| 1114-200 | Caspase 10 Substrate AEVD pNA200 assays | Biovision | 200 assays | 287.28€ | | Pub |
| K773-100 | Catalase Assay Kit | Biovision | 100 assays | 282.56€ | | Pub |
| 1076-200 | Caspase 9 Substrate LEHD pNA200 assays | Biovision | 200 assays | 287.28€ | | Pub |
| K200-100 | CaspSCREEN Caspase Screening Kit | Biovision | 100 assays | 521.00€ | | Pub |
| K646-100 | Glycogen Assay Kit | Biovision | 100 assays | 425.00€ | | Pub |
| 13801 | Amplite™ Colorimetric Aspartate Aminotransferase (AST) Assay Kit | AAT Bioquest | 1 kit | 280.00€ | | Pub |
| K4903-100 | Adiponectin (rat) Elisa Assay Kit | Biovision | 1 x 96 assays | 943.00€ | | Pub |
| STA-330 | OxiSelect™ TBARS Assay Kit (MDA Quantitation) | Cell Biolabs | 200 assays | 489.00€ | | Pub |
| 1008-1000 | Caspase-3 Substrate DEVD-pNA; Appearance Liquid | Biovision | 1000 assays | 614.25€ | | Pub |
| K154-100 | Caspase 4 Inhibitor Drug Screening Kit | Biovision | 100 assays | 387.50€ | | Pub |
| K552-100 | Aspartate Assay Kit | Biovision | 100 assays | 367.00€ | | Pub |
| 1008-200 | Caspase 3 Substrate DEVD pNA200 assays | Biovision | 200 assays | 276.00€ | | Pub |
| K122-25 | Caspase 5 Fluorometric Assay Kit | Biovision | 25 assays | 171.50€ | | Pub |
| 1104-1000 | Caspase 1 Substrate YVAD pNA | Biovision | 1000 assays | 613.31€ | | Pub |
| K256-100 | Mitochondria Cytosol Fractionation Kit | Biovision | 100 assays | 367.00€ | | Pub |
| K708-400 | PhosphoSeek™ Sphingosine Kinase Assay Kit | Biovision | 400 Assays | 854.00€ | | Pub |
| 1070-1000 | Caspase 6 Substrate VEID pNA1000 assays | Biovision | 1000 assays | 541.49€ | | Pub |
| K180-25 | CaspGLOW Fluorescein Active Caspase Staining Kit | Biovision | 25 assays | 200.00€ | | Pub |
| K611-100 | PicoProbe™ Fructose Assay Kit | Biovision | 100 assays | 425.00€ | | Pub |
| 1015-1000 | Annexin V PE Cy5 Reagent1000 assays | Biovision | 1000 assays | 984.00€ | | Pub |
| K126-400 | Caspase 4 Fluorometric Assay Kit | Biovision | 400 assays | 738.50€ | | Pub |
| K860-100 | PAH (p Aminohippuric Acid) Assay Kit | Biovision | 100 assays | 405.50€ | | Pub |
| 1001-1000 | Annexin V FITC Reagent | Biovision | 1000 assays | 945.50€ | | Pub |
| 1110-200 | Caspase 4 Substrate LEVD pNA200 assays | Biovision | 200 assays | 287.28€ | | Pub |
| K112-400 | Caspase 8 Fluorometric Assay Kit | Biovision | 400 assays | 702.50€ | | Pub |
| K266-100 | Nuclear Cytosol Fractionation Kit | Biovision | 100 assays | 377.00€ | | Pub |
| P-1014-48 |  Methylamp Global DNA Methylation Quantification Kit (48 assays) | EpigenTek | | 446.25€ | | Pub |
| 1075-1000 | Caspase-9 Substrate LEHD-AFC; Appearance Liquid | Biovision | 1000 assays | 614.25€ | | Pub |
| K190-100 | CaspGLOW Red Active Caspase Staining Kit | Biovision | 100 assays | 482.00€ | | Pub |
| K628-100 | Maltose Assay Kit | Biovision | 100 assays | 357.00€ | | Pub |
| M1222 | MarkerGeneTMFluorescent Alkaline Phosphatase Assay Kit, Allows fast and easy measurement of Alkaline Phosphatase activity in vitro, in cell preparations or in vivo using the substrate fluorescein diph | MarkerGene | | 355.00€ | | Pub |
| 13510 | Amplite™ Universal Fluorimetric MMP Activity Assay Kit *Green Fluorescence* | AAT Bioquest | 1 kit | 280.00€ | | Pub |
| LF-PA0013 | anti-Superoxide Dismutase 1, Rabbit polyclonal to Superoxide Dismutase 1, Isotype IgG, Host Rabbit | Abfrontier | 100 ul | 355.00€ | | Pub |
| RLF-EK0104R | ELISA Human , Superoxide dismutase 2 | Biovendor | 96 wells (1 kit) | 577.00€ | | Pub |
| 1116-200 | Caspase 13 Substrate LEED AFC | Biovision | 200 assays | 311.85€ | | Pub |
| K116-400 | Caspase 2 Fluorometric Assay Kit | Biovision | 400 assays | 738.50€ | | Pub |
| K782-100 | Neutrophil Elastase Inhibitor Screening Kit | Biovision | 100 assays | 425.00€ | | Pub |
| 1101-200 | Caspase-5 Substrate WEHD-AFC; Appearance Liquid | Biovision | 200 assays | 311.85€ | | Pub |
| K202-100 | Annexin V Cy3 Apoptosis Kit Plus | Biovision | 100 assays | 333.00€ | | Pub |
| K655-100 | Citrate Assay Kit | Biovision | 100 assays | 377.00€ | | Pub |
| 1062-200 | Caspase 8 Substrate IETD AFC | Biovision | 200 assays | 311.85€ | | Pub |
| 15258 | Amplite™ Colorimetric NAD NADH Assay Kit | AAT Bioquest | 1 kit | 202.00€ | | Pub |
| CQBL-10K | CellQuanti-Blue™ Cell Viability Assay Kits | Bioassays | 10000 tests | 229.00€ | | Pub |
| K102-400 | Annexin V Cy3 Apoptosis Kit | Biovision | 400 assays | 702.50€ | | Pub |
| K203-400 | Annexin V PE Apoptosis Kit Plus | Biovision | 400 assays | 666.50€ | | Pub |
| 1063-200 | Caspase-8 Substrate IETD-pNA; Appearance Liquid | Biovision | 200 assays | 311.85€ | | Pub |
| CQMT-01K | CellQuanti MTT™ Cell Viability Assay Kits | Bioassays | 1000 | 230.45€ | | Pub |
| K159-100 | Caspase 9 Inhibitor Drug Screening Kit | Biovision | 100 assays | 387.50€ | | Pub |
| K576-100 | Phosphatidylcholine Assay Kit | Biovision | 100 assays | 357.00€ | | Pub |
|   OP-0005-2 |  CytoX Violet Cell Proliferation Cytotoxicity Assay Kit (10x96 assays) | EpigenTek | | 214.00€ | | Pub |
| 1109-1000 | Caspase-4 Substrate LEVD-AFC; Appearance Liquid | Biovision | 1000 assays | 614.25€ | | Pub |
| K110-100 | Caspase 1 Fluorometric Assay Kit | Biovision | 100 assays | 315.50€ | | Pub |
| K257-100 | Cytochrome c Apoptosis Assay Kit | Biovision | 100 assays | 484.00€ | | Pub |
| 1071-1000 | Caspase 2 Substrate VDVAD AFC | Biovision | 1000 assays | 613.31€ | | Pub |
| K183-25 | Active Caspase 3 Staining Kit, CaspGLOW Fluorescein | Biovision | 25 assays | 165.00€ | | Pub |
| K617-100 | Galactose and Lactose Assay Kit | Biovision | 100 assays | 386.00€ | | Pub |
| K128-100 | Annexin V PE Apoptosis Detection Kit | Biovision | 100 assays | 333.50€ | | Pub |
| K385-100 | Magnesium Assay Kit | Biovision | 100 assays | 357.00€ | | Pub |
| LF-MA0019 | anti-Superoxide Dismutase 4 (11G1), Mouse monoclonal to Superoxide Dismutase 4, Isotype IgG1, Host Mouse | Abfrontier | 100 ul | 355.00€ | | Pub |
| 1002-1000 | Annexin V Cy3 Reagent1000 assays | Biovision | 1000 assays | 891.00€ | | Pub |
| 1113-200 | Caspase 10 Substrate AEVD AFC200 assays | Biovision | 200 assays | 276.89€ | | Pub |
| K114-100 | Caspase 6 Fluorometric Assay Kit | Biovision | 100 assays | 315.50€ | | Pub |
| K267-50 | Cytosol/Particulate Separation Kit | Biovision | 50 assays | 322.25€ | | Pub |
| K761-200 | Glutathione Reductase Assay Kit | Biovision | 200 assays | 357.21€ | | Pub |
| P-1014B-96 | Methylamp Global DNA Methylation Quantification Ultra Kit | EpigenTek | 96 assays | 808.50€ | | Pub |
| 1075-200 | Caspase 9 Substrate LEHD AFC200 assays | Biovision | 200 assays | 276.89€ | | Pub |
| K011-F1 | P450 Demethylation Activity kit (2 plate) | Arbor Assays | 2x96 well plates | 270.00€ | | Pub |
| K193-25 | CaspGLOW Red Active Caspase 3 Staining Kit | Biovision | 25 assays | 200.00€ | | Pub |
| K633-100 | Fumarate Assay Kit | Biovision | 100 assays | 357.00€ | | Pub |
| 13601 | Amplite™ Fluorimetric HDAC Activity Assay Kit *Green Fluorescence* | AAT Bioquest | 1 kit | 202.00€ | | Pub |
| 22816 | Cell Meter™ Caspase 8 Activity Apoptosis Assay Kit *Red Fluorescence* | AAT Bioquest | 100 Tests | 202.00€ | | Pub |
| BQ062A-EACL | ENZYMATIC ASSAY KITS (CHEMISTRY AUTOANALYZER), KIDNEY AND PANCREATIC DISEASES: NAG Calibrator (2 mL vial) | Bioquant | | 148.00€ | | Pub |
| K139-100 | Caspase 12 Fluorometric Assay Kit | Biovision | 100 assays | 360.50€ | | Pub |
| 1007-1000 | Caspase-3 Substrate DEVD-AFC; Appearance Liquid | Biovision | 1000 assays | 614.25€ | | Pub |
| 1117-200 | Caspase-12 Substrate ATAD-AFC; Appearance Liquid | Biovision | 200 assays | 416.75€ | | Pub |
| K118-100 | Caspase 9 Fluorometric Assay Kit | Biovision | 100 assays | 342.50€ | | Pub |
| K301-500 | Quick Cell Proliferation Assay Kit | Biovision | 500 assays | 230.00€ | | Pub |
| K790-100 | StayBrite™ Highly Stable Luciferase Luciferin Reagent | Biovision | 100 assays | 143.00€ | | Pub |
| P-1037-48 |  MethylFlash Hydroxymethylated DNA Quantification Kit (Fluorometric) (48 assays)  | EpigenTek | | 527.99€ | | Pub |
| 1102-1000 | Caspase 5 Substrate WEHD pNA1000 assays | Biovision | 1000 assays | 579.29€ | | Pub |
| K303-500 | VisionBlue™ Quick Cell Viability Assay | Biovision | 500 assays | 244.00€ | | Pub |
| K793-100 | MMP-3 Inhibitor Screening Kit | Biovision | 100 assays | 503.00€ | | Pub |
| 1103-1000 | Caspase 1 Substrate YVAD AFC | Biovision | 1000 assays | 613.31€ | | Pub |
| K105-100 | Caspase 3 Fluorometric Assay Kit | Biovision | 100 assays | 315.50€ | | Pub |
| K251-100 | Glutathione Fluorometric Detection Kit | Biovision | 100 assays | 367.00€ | | Pub |
| K686-100 | Glucose Assay Kit II | Biovision | 100 assays | 357.00€ | | Pub |
| 1069-1000 | Caspase 6 Substrate VEID AFC1000 assays | Biovision | 1000 assays | 514.08€ | | Pub |
| 22901 | Cell Meter™ Fluorimetric Intracellular Total ROS Activity Assay Kit*Orange Fluorescence* | AAT Bioquest | 1 kit | 215.00€ | | Pub |
| CSB-EL022398RB | Rabbit superoxide dismutase 2, mitochondrial (SOD2) ELISA kit, Species Rabbit, Sample Type serum, plasma | Cusabio | 96T | 913.00€ | | Pub |
| K172-100 | CaspGLOW Fluorescein Active Caspase 12 Staining Kit | Biovision | 100 assays | 521.00€ | | Pub |
| K605-100 | PLTP Inhibitor Drug Screening Kit | Biovision | 100 assays | 533.00€ | | Pub |
| 1109-200 | Caspase 4 Substrate LEVD AFC200 assays | Biovision | 200 assays | 276.89€ | | Pub |
| 36370 | Screen Quest™ Colorimetric ELISA cAMP Assay Kit | AAT Bioquest | 1 plate | 280.00€ | | Pub |
| E2ND-100 | EnzyChrom™ NAD NADH Assay Kit, Sensitive determination of NAD and NADH by colorimetric (565nm) method. Procedure 15 min. Kit size 100 tests. Detection limit 0.05 µM. Shelf life 6 months. Shipping | Bioassays | 100tests | 364.00€ | | Pub |
| K264-100 | Glutathione (GSH/GSSG/Total) Assay Kit | Biovision | 100 assays | 457.38€ | | Pub |
| K729-100 | Glutamate Dehydrogenase Assay Kit | Biovision | 100 assays | 357.00€ | | Pub |
| 1072-1000 | Caspase-2 Substrate VDVAD-pNA; Appearance Liquid | Biovision | 1000 assays | 635.04€ | | Pub |
| K188-25 | CaspGLOW Fluorescein Active Caspase 8 Staining Kit | Biovision | 25 assays | 200.00€ | | Pub |
| K622-100 | Triglyceride Quantification Kit | Biovision | 100 assays | 425.00€ | | Pub |
| 22798 | Cell Meter™ Caspase 8 Activity Apoptosis Assay Kit * Green Fluorescence* | AAT Bioquest | 1 kit | 212.00€ | | Pub |
| K129-25 | Annexin V PE Cy5 Apoptosis Detection Kit | Biovision | 25 assays | 207.50€ | | Pub |
| K403-50 | ApoBrdU IHC DNA Fragmentation Assay Kit | Biovision | 50 assays | 558.50€ | | Pub |
| LF-MA0042 | anti-Superoxide Dismutase 4 (3A1), Mouse monoclonal to Superoxide Dismutase 4, Isotype IgG2a, Host Mouse | Abfrontier | 100 ul | 355.00€ | | Pub |
| 1004-1000 | Annexin V EGFP Reagent | Biovision | 1000 assays | 945.50€ | | Pub |
| 1114-200 | Caspase 10 Substrate AEVD pNA | Biovision | 200 assays | 311.85€ | | Pub |
| K269-500 | Mammalian Cell Extraction Kit | Biovision | 500 assays | 240.00€ | | Pub |
| P-1020-96 |  FitAmp General DNA Quantification Kit (96 assays) | EpigenTek | | 239.40€ | | Pub |
| 1076-200 | Caspase 9 Substrate LEHD pNA | Biovision | 200 assays | 311.85€ | | Pub |
| K199-25 | CaspGLOW Red Active Caspase 9 Staining Kit | Biovision | 25 assays | 200.00€ | | Pub |
| K642-100 | L Carnitine Assay Kit | Biovision | 100 assays | 405.50€ | | Pub |
| M1376 | MarkerGene™ LysoLive™ Lysosomal Phosphatase Assay Kit, Useful for labeling lysosomes in a live cell format and capable of monitoring lysosomal metabolic activity, 1 kit | MarkerGene | | 459.00€ | | Pub |
| 22823 | Cell Meter™ Fluorometric Caspase 3 7 Activity Assay Kit *Green Fluorescence Optimized for Flow Cytometry* | AAT Bioquest | 1 kit | 231.00€ | | Pub |
| K4902-100 | Adiponectin (mouse) Elisa Assay Kit | Biovision | 1 x 96 assays | 943.00€ | | Pub |
| STA-326 | OxiSelect™ Cellular UV-Induced DNA Damage ELISA Kit (CPD) | Cell Biolabs | 96 assays | 489.00€ | | Pub |
| 1007-200 | Caspase 3 Substrate DEVD AFC200 assays | Biovision | 200 assays | 276.00€ | | Pub |
| EDLC-100 | EnzyChrom™ D-Lactate Assay Kit, Quantitative determination of D-lactic acid by colorimetric (565nm) method. Procedure 20 min. Kit size 100 tests. Detection limit 0.05 mM. Shelf life 6 months. Ship | Bioassays | 100tests | 345.00€ | | Pub |
| K530-100 | Chloride Assay Kit | Biovision | 100 assays | 260.00€ | | Pub |
| 1008-200 | Caspase 3 Substrate DEVD pNA | Biovision | 200 assays | 311.85€ | | Pub |
| 11400 | Amplite™ Colorimetric Acetylcholinesterase Assay Kit | AAT Bioquest | 1 kit | 202.00€ | | Pub |
| EFFA-100 | EnzyChrom™ Free Fatty Acid Assay Kit, Quantitative determination of free fatty acid by colorimetric (570nm) or fluorimetric (530 590nm) method. Procedure 30 min. Kit size 100 tests. Detection limit | Bioassays | 100tests | 355.00€ | | Pub |
| K122-200 | Caspase 5 Fluorometric Assay Kit | Biovision | 200 assays | 468.50€ | | Pub |
| 1104-1000 | Caspase-1 Substrate YVAD-pNA; Appearance Liquid | Biovision | 1000 assays | 614.25€ | | Pub |
| K256-100 | Mitochondria/Cytosol Fractionation Kit | Biovision | 100 assays | 384.62€ | | Pub |
| K707-400 | PhosphoSeek™ PTP1B Assay Kit | Biovision | 400 Assays | 640.00€ | | Pub |
| 1070-1000 | Caspase 6 Substrate VEID pNA | Biovision | 1000 assays | 613.31€ | | Pub |
| D2NO-100 | QuantiChrom™ Nitric Oxide Assay Kit, Quantitative determination of nitric oxide by colorimetric (540nm) method | Bioassays | 100Tests | 265.00€ | | Pub |
| K180-25 | Caspase Staining Kit, CaspGLOW Green | Biovision | 25 assays | 165.00€ | | Pub |
| K610-100 | Adipogenesis Assay Kit | Biovision | 100 assays | 308.00€ | | Pub |
| 1015-1000 | Annexin V PE Cy5 Reagent | Biovision | 1000 assays | 945.50€ | | Pub |
| EKIN-400 | EnzyChrom™ Kinase Assay Kit, Rapid mix-and-measure procedure for determination of kinase activity and high-throµghput screening for kinase inhibitors by fluorimetric (530nm 590nm) method | Bioassays | 400Tests | 250.00€ | | Pub |
| K126-25 | Caspase 4 Fluorometric Assay Kit | Biovision | 25 assays | 180.50€ | | Pub |
| K370-100 | Ammonia Assay Kit | Biovision | 100 assays | 367.00€ | | Pub |
| K815-100 | GFP Quantitation Kit | Biovision | 100 assays | 328.00€ | | Pub |
| P-5001-48 | QuantiSir General Gene Knockdown Quantification Kit 48 assays | EpigenTek | 48 assays | 413.00€ | | Pub |
| 1110-200 | Caspase 4 Substrate LEVD pNA | Biovision | 200 assays | 311.85€ | | Pub |
| K112-25 | Caspase 8 Fluorometric Assay Kit | Biovision | 25 assays | 162.50€ | | Pub |
| K266-100 | Nuclear/Cytosol Fractionation Kit | Biovision | 100 assays | 395.01€ | | Pub |
| P-1014-48 | Methylamp Global DNA Methylation Quantification Kit | EpigenTek | 48 assays | 446.25€ | | Pub |
| 1072-200 | Caspase 2 Substrate VDVAD pNA200 assays | Biovision | 200 assays | 287.28€ | | Pub |
| K190-100 | Caspase Staining Kit, CaspGLOW Red | Biovision | 100 assays | 400.00€ | | Pub |
| K627-100 | Lactate Assay Kit II | Biovision | 100 assays | 425.00€ | | Pub |
| M1214 | MarkerGeneTM Long Wavelength Fluorescent Lipase Assay Kit, Allows fast and easy measurement of lipase activity in vitro, in cell preparations or in vivo using the substrate resorufin oleate, 1 kit | MarkerGene | | 380.00€ | | Pub |
| K133-9-25 | Caspase Fluorometric Substrate Set II | Biovision | 9 x 25 assays | 687.00€ | | Pub |
| LF-P0020 | Superoxide Dismutase 4, Human | Abfrontier | 0.5 mg | 154.00€ | | Pub |
| RLF-EK0101R | ELISA Human , Superoxide dismutase 1 | Biovendor | 96 wells (1 kit) | 577.00€ | | Pub |
| 1116-200 | Caspase-13 Substrate LEED-AFC; Appearance Liquid | Biovision | 200 assays | 311.85€ | | Pub |
| K116-25 | Caspase 2 Fluorometric Assay Kit | Biovision | 25 assays | 171.50€ | | Pub |
| K274-100 | Total Antioxidant Capacity (TAC) Assay Kit | Biovision | 100 assays | 377.00€ | | Pub |
| 1101-1000 | Caspase 5 Substrate WEHD AFC1000 assays | Biovision | 1000 assays | 541.49€ | | Pub |
| K035-H1 | Ceruloplasmin Colorimetric Activity Kit (Two Plates) | Arbor Assays | 2 x 96 well plate | 398.00€ | | Pub |
| K201-400 | Annexin V FITC Apoptosis Kit Plus | Biovision | 400 assays | 666.50€ | | Pub |
| K653-100 | Formate Assay Kit | Biovision | 100 assays | 435.00€ | | Pub |
| 1062-200 | Caspase-8 Substrate IETD-AFC; Appearance Liquid | Biovision | 200 assays | 311.85€ | | Pub |
| CQBL-05K | CellQuanti Blue™ Cell Viability Assay Kits | Bioassays | 5000 | 170.89€ | | Pub |
| K153-100 | Caspase 3 Inhibitor Drug Screening Kit | Biovision | 100 assays | 387.50€ | | Pub |
| 1063-1000 | Caspase 8 Substrate IETD pNA1000 assays | Biovision | 1000 assays | 514.08€ | | Pub |
| CQMT-01K | CellQuanti-MTT™ Cell Viability Assay Kits | Bioassays | 1000 tests | 173.00€ | | Pub |
| K158-100 | Caspase 8 Inhibitor Drug Screening Kit | Biovision | 100 assays | 387.50€ | | Pub |
| K572-100 | Phenylalanine Assay Kit | Biovision | 100 assays | 367.00€ | | Pub |
|   OP-0005-1 |  CytoX Violet Cell Proliferation Cytotoxicity Assay Kit (5x96 assays) | EpigenTek | | 174.00€ | | Pub |
| EFRU-100 | EnzyChrom™ Fructose Assay Kit, Quantitative determination of fructose by colorimetric (565nm) method. Procedure 70 min. Kit size 100 tests. Detection limit 12 µM fructose. Shelf life 3 months. Shi | Bioassays | 100tests | 335.00€ | | Pub |
| 1104-200 | Caspase 1 Substrate YVAD pNA200 assays | Biovision | 200 assays | 276.89€ | | Pub |
| K109-400 | Annexin V Biotin Apoptosis Kit | Biovision | 400 assays | 702.50€ | | Pub |
| NRPC01A | Recombinant Human Copper, Zinc-Superoxide Dismutase rhCu,Zn-SOD1 | NTec | 1mg x 20 | 186.00€ | | Pub |
| 1071-1000 | Caspase-2 Substrate VDVAD-AFC; Appearance Liquid | Biovision | 1000 assays | 614.25€ | | Pub |
| K183-100 | CaspGLOW Fluorescein Active Caspase 3 Staining Kit | Biovision | 100 assays | 482.00€ | | Pub |
| K616-100 | Glucose and Sucrose Assay Kit | Biovision | 100 assays | 386.00€ | | Pub |
| LF-MA0016 | anti-Superoxide Dismutase 4 (2A1), Mouse monoclonal to Superoxide Dismutase 4, Isotype IgG1, Host Mouse | Abfrontier | 100 ul | 355.00€ | | Pub |
| 1002-1000 | Annexin V Cy3 Reagent | Biovision | 1000 assays | 945.50€ | | Pub |
| 1113-200 | Caspase 10 Substrate AEVD AFC | Biovision | 200 assays | 311.85€ | | Pub |
| 4257-010-NC | Neutral CometAssay Control Cells | Trevigen | 10 assays | 177.00€ | | Pub |
| EASC-100 | EnzyChrom™ Ascorbic Acid Assay Kit, Quantitative determination of ascorbic acid by colorimetric (570nm) or fluorimetric (530nm 590nm) methods. Procedure 10 min. Kit size 100 tests. Detection limit | Bioassays | 100tests | 335.00€ | | Pub |
| P-1014B-48 |  Methylamp Global DNA Methylation Quantification Ultra Kit (48 assays) | EpigenTek | | 458.85€ | | Pub |
| 1075-200 | Caspase 9 Substrate LEHD AFC | Biovision | 200 assays | 311.85€ | | Pub |
| 303-0030 | PiColorlock Gold | Innova Biosciences | 625/1560 assays | 179.00€ | | Pub |
| K193-100 | CaspGLOW Red Active Caspase 3 Staining Kit | Biovision | 100 assays | 482.00€ | | Pub |
| K632-100 | β-Hydroxybutyrate (β-HB) Assay Kit | Biovision | 100 assays | 377.00€ | | Pub |
| 22813 | Cell Meter™ Caspase 9 Activity Apoptosis Assay Kit * Green Fluorescence* | AAT Bioquest | 1 kit | 215.00€ | | Pub |
| BQ042A-EALD | ENZYMATIC ASSAY KITS (CHEMISTRY AUTOANALYZER), LIVER DISEASES: Total Bile Acids (TBA) (Enzymatic Cycling) Kit | Bioquant | 430 tests | 483.00€ | | Pub |
| 1117-1000 | Caspase 12 Substrate ATAD AFC1000 assays | Biovision | 1000 assays | 947.84€ | | Pub |
| K301-2500 | Quick Cell Proliferation Assay Kit | Biovision | 2500 assays | 435.00€ | | Pub |
| P-1037-48 | MethylFlash Hydroxymethylated DNA Quantification Kit Fluorometric | EpigenTek | 48 assays | 507.82€ | | Pub |
| 1102-1000 | Caspase 5 Substrate WEHD pNA | Biovision | 1000 assays | 634.10€ | | Pub |
| K102-100 | Annexin V Cy3 Apoptosis Kit | Biovision | 100 assays | 333.00€ | | Pub |
| K203-25 | Annexin V PE Apoptosis Kit Plus | Biovision | 25 assays | 180.50€ | | Pub |
| K661-100 | Ascorbic Acid Assay Kit | Biovision | 100 assays | 357.00€ | | Pub |
| P-1040-96 | MethylFlash Urine 5-Methylcytosine (5-mC) Quantification Kit (fluorometric) (96 assays) | EpigenTek | | 649.00€ | | Pub |
| 1103-1000 | Caspase-1 Substrate YVAD-AFC; Appearance Liquid | Biovision | 1000 assays | 614.25€ | | Pub |
| DIUR-500 | QuantiChrom™ Urea Assay Kit, Quantitative determination of urea by chemical colorimetric (520nm) method | Bioassays | 500Tests | 300.00€ | | Pub |
| K104-400 | Annexin V EGFP Apoptosis Kit | Biovision | 400 assays | 702.50€ | | Pub |
| K250-25 | MitoCapture Apoptosis Detection Kit | Biovision | 25 assays | 213.00€ | | Pub |
| K677-100 | Alpha Ketoglutarate Assay Kit | Biovision | 100 assays | 351.50€ | | Pub |
| 1069-1000 | Caspase 6 Substrate VEID AFC | Biovision | 1000 assays | 613.31€ | | Pub |
| 22900 | Cell Meter™ Fluorimetric Intracellular Total ROS Activity Assay Kit*Green Fluorescence* | AAT Bioquest | 1 kit | 202.00€ | | Pub |
| CSB-EL022397RB | Rabbit superoxide dismutase 1, soluble (SOD1) ELISA kit, Species Rabbit, Sample Type serum, plasma | Cusabio | 96T | 781.00€ | | Pub |
| K170-50 | Apoptotic DNA Ladder Isolation Kit | Biovision | 50 assays | 338.00€ | | Pub |
| 1013-200 | Annexin V Cy5 Reagent200 assays | Biovision | 200 assays | 325.08€ | | Pub |
| K124-400 | Caspase 10 Fluorometric Assay Kit | Biovision | 400 assays | 738.50€ | | Pub |
| 1109-200 | Caspase 4 Substrate LEVD AFC | Biovision | 200 assays | 311.85€ | | Pub |
| 1071-200 | Caspase 2 Substrate VDVAD AFC200 assays | Biovision | 200 assays | 276.89€ | | Pub |
| K188-25 | Caspase 8 Staining Kit, CaspGLOW Green | Biovision | 25 assays | 165.00€ | | Pub |
| K621-100 | Galactose Assay Kit | Biovision | 100 assays | 357.00€ | | Pub |
| 22797 | Cell Meter™ Caspase 3 7 Activity Apoptosis Assay Kit *Red Fluorescence* | AAT Bioquest | 100 Tests | 280.00€ | | Pub |
| K129-100 | Annexin V PE Cy5 Apoptosis Detection Kit | Biovision | 100 assays | 378.50€ | | Pub |
| K402-50 | ApoDIRECT DNA Fragmentation Assay Kit | Biovision | 50 assays | 533.00€ | | Pub |
| LF-MA0035 | anti-Superoxide Dismutase 2 (1E8) , Mouse monoclonal to Superoxide Dismutase 2, Isotype IgG2b, Host Mouse | Abfrontier | 100 ul | 355.00€ | | Pub |
| 1003-1000 | Annexin V Biotin Reagent1 mg (4000 assays) | Biovision | 1 mg (4000 assays) | 2 073.00€ | | Pub |
| 1114-200 | Caspase-10 Substrate AEVD-pNA; Appearance Liquid | Biovision | 200 assays | 311.85€ | | Pub |
| 4684-096-K | HT Colorimetric PARP Apoptosis Assay Kit | Trevigen | 96 Tests | 533.00€ | | Pub |
| P-1020-96 | FitAmp General DNA Quantification Kit | EpigenTek | 96 assays | 239.40€ | | Pub |
| 1076-200 | Caspase-9 Substrate LEHD-pNA; Appearance Liquid | Biovision | 200 assays | 311.85€ | | Pub |
| DICA-500 | QuantiChrom™ Calcium Assay Kit, Quantitative determination of calcium ion Ca2+ by colorimetric (612nm) method | Bioassays | 500Tests | 320.00€ | | Pub |
| K027-H1 | PKA (Protein Kinase A) Activity Assay kit | Arbor Assays | 1x96 well plate | 398.00€ | | Pub |
| K199-100 | CaspGLOW Red Active Caspase 9 Staining Kit | Biovision | 100 assays | 482.00€ | | Pub |
| K639-100 | L Amino Acid Quantitation Kit | Biovision | 100 assays | 333.50€ | | Pub |
| 22822 | Cell Meter™ Generic Fluorometric Caspase Activity Assay Kit *Optimized Red Fluorescence for Flow Cytometry* | AAT Bioquest | 1 kit | 231.00€ | | Pub |
| FA-0010 | Transcription Factors: TF Filter Plate Assays | Signosis 2011 | 96 | 368.00€ | | Pub |
| K4901-100 | Adiponectin (human) Elisa Assay Kit | Biovision | 1 x 96 assays | 943.00€ | | Pub |
| SMART-SPT9M | Mouse Sera SPOT Assays, Basic Antigen Panel:EDIM, MHV, MPUL, MPV, MVM, PVM, REO-3, Sendai, TMEV | BTP | | 349.00€ | | Pub |
| 1007-200 | Caspase 3 Substrate DEVD AFC | Biovision | 200 assays | 311.85€ | | Pub |
| EDLC-100 | EnzyChrom™ D-Lactate Assay Kit, Quantitative determination of D-lactic acid by colorimetric (565nm) method | Bioassays | 100Tests | 362.00€ | | Pub |
| K303-2500 | VisionBlue™ Quick Cell Viability Assay | Biovision | 2500 assays | 564.00€ | | Pub |
| K791-1000 | StayBrite™ Highly Stable ATP Assay Kit | Biovision | 1000 assays | 923.00€ | | Pub |
| 1008-200 | Caspase-3 Substrate DEVD-pNA; Appearance Liquid | Biovision | 200 assays | 311.85€ | | Pub |
| K122-100 | Caspase 5 Fluorometric Assay Kit | Biovision | 100 assays | 342.00€ | | Pub |
| K317-100 | PicoProbe™Acetyl CoA Assay Kit | Biovision | 100 assays | 351.50€ | | Pub |
| K808-200 | Deproteinizing Sample Preparation Kit | Biovision | 200 assays | 240.00€ | | Pub |
| 1103-200 | Caspase 1 Substrate YVAD AFC200 assays | Biovision | 200 assays | 276.89€ | | Pub |
| DS-MB-02347 | Mouse Anti-Bovine Superoxide Dismutase (Cu-Zn) | Ray Biotech | 100 | 604.00€ | | Pub |
| K255-200 | ApoSENSOR™ ADP ATP Ratio Assay Kit | Biovision | 200 assays | 546.00€ | | Pub |
| K706-400 | PhosphoSeek™ PI3 Kinase Assay Kit | Biovision | 400 Assays | 854.00€ | | Pub |
| 1070-1000 | Caspase-6 Substrate VEID-pNA; Appearance Liquid | Biovision | 1000 assays | 614.25€ | | Pub |
| K180-100 | CaspGLOW Fluorescein Active Caspase Staining Kit | Biovision | 100 assays | 482.00€ | | Pub |
| K609-100 | Pyruvate Assay Kit | Biovision | 100 assays | 425.00€ | | Pub |
| 1014-200 | Annexin V PE Reagent200 assays | Biovision | 200 assays | 325.00€ | | Pub |
| K126-200 | Caspase 4 Fluorometric Assay Kit | Biovision | 100 assays | 495.50€ | | Pub |
| K367-100 | Coenzyme A (CoA) Assay Kit | Biovision | 100 assays | 357.00€ | | Pub |
| K812-1000 | BCA Protein Quantitation Kit | Biovision | 1000 assays | 240.00€ | | Pub |
| 1110-200 | Caspase-4 Substrate LEVD-pNA; Appearance Liquid | Biovision | 200 assays | 311.85€ | | Pub |
| K112-200 | Caspase 8 Fluorometric Assay Kit | Biovision | 200 assays | 450.50€ | | Pub |
| 1072-200 | Caspase 2 Substrate VDVAD pNA | Biovision | 200 assays | 311.85€ | | Pub |
| K-1050 | SilverStar® Staining Kit 20 assays | Bioneer | 20 assays | 323.00€ | | Pub |
| K189-25 | CaspGLOW Fluorescein Active Caspase 9 Staining Kit | Biovision | 25 assays | 200.00€ | | Pub |
| K626-100 | Sucrose Assay Kit | Biovision | 100 assays | 357.00€ | | Pub |
| LF-P0013 | Superoxide Dismutase 2, Human , Protein | Abfrontier | 0.5 mg | 218.00€ | | Pub |
| 1116-1000 | Caspase 13 Substrate LEED AFC1000 assays | Biovision | 1000 assays | 541.49€ | | Pub |
| 4802-100 | Superoxide Dismutase,human recombinant | Biovision | 100 ìg | 357.00€ | | Pub |
| K116-200 | Caspase 2 Fluorometric Assay Kit | Biovision | 200 assays | 468.50€ | | Pub |
| K270-50 | FractionPREP™ Cell Fractionation Kit | Biovision | 50 assays | 435.00€ | | Pub |
| K780-100 | DPP4 Inhibitor Screening Kit | Biovision | 100 assays | 503.00€ | | Pub |
| 1101-1000 | Caspase 5 Substrate WEHD AFC | Biovision | 1000 assays | 613.31€ | | Pub |
| K201-25 | Annexin V FITC Apoptosis Kit Plus | Biovision | 25 assays | 180.50€ | | Pub |
| K652-100 | Alanine Assay Kit | Biovision | 100 assays | 357.00€ | | Pub |
| 1062-1000 | Caspase 8 Substrate IETD AFC1000 assays | Biovision | 1000 assays | 514.08€ | | Pub |
| K152-100 | Caspase 2 Inhibitor Drug Screening Kit | Biovision | 100 assays | 387.50€ | | Pub |
| K510-100 | Nickel Assay Kit | Biovision | 100 assays | 367.00€ | | Pub |
| 1063-1000 | Caspase 8 Substrate IETD pNA | Biovision | 1000 assays | 613.31€ | | Pub |
| CQLD-100 | QuantiChrom™ LDH Cytotoxicity Assay Kit, Quantitative determination of cytotoxicity based on cellular lactate dehydrogenase release into cell culture medium by colorimetric (565nm) method. Procedure | Bioassays | 100tests | 113.00€ | | Pub |
| K157-100 | Caspase 7 Inhibitor Drug Screening Kit | Biovision | 100 assays | 387.50€ | | Pub |
| K566-100 | Sialic Acid (NANA) Assay Kit | Biovision | 100 assays | 435.00€ | | Pub |
|   OP-0004-3 |  CytoX Red Cell Proliferation Cytotoxicity Assay Kit (10x96 assays) | EpigenTek | | 319.00€ | | Pub |
| 1104-200 | Caspase 1 Substrate YVAD pNA | Biovision | 200 assays | 311.85€ | | Pub |
| K109-25 | Annexin V Biotin Apoptosis Kit | Biovision | 25 assays | 162.50€ | | Pub |
| K256-25 | Mitochondria Cytosol Fractionation Kit | Biovision | 25 assays | 182.00€ | | Pub |
| 1070-200 | Caspase 6 Substrate VEID pNA200 assays | Biovision | 200 assays | 276.89€ | | Pub |
| K183-100 | Active Caspase 3 Staining Kit, CaspGLOW Fluorescein | Biovision | 100 assays | 400.00€ | | Pub |
| K615-100 | Choline Acetylcholine Quantification Kit | Biovision | 100 assays | 406.00€ | | Pub |
| Cat Number | Product name | Supplier | Quantity | Price | PDF | Pub |