Product name :AccuPrep Genomic DNA Extraction Kit Whole human blood, lymphocytes, mammalian tissues, cultured cells
Catalog Number :K-3032
Quantity :100 extractions
Price :248.00 €
Pay now with :
Supplier :Bioneer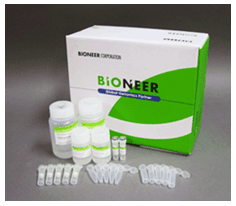 AccuPrep® Genomic DNA Extraction Kit can rapidly and conveniently extract genomic DNA from blood, lymphocyte, buffy coat, tissue and cultured cell. This process does not require phenol/chloroform extraction, alcohol precipitation, nor other burdensome steps. Our Kit employs spin column type. Proteins and other contaminants which can inhibit enzyme reaction or PCR are eliminated through series of short wash-and-spin steps. The isolated DNA is ready to use in various applications.
Features and Benefits

Highly purified and high yield genomic DNA can be extracted from Whole blood, Animal tissue, Cultured cells.

Silica based DNA binding column with high binding efficiency.

Optimized Tissue lysis buffer for efficient lysis of the various tissue sample.
Contents
| | |
| --- | --- |
| Components | K-3032 (100 reaction) |
| Tissue Lysis buffer (TL) | 25 ml X 1 ea |
| Binding buffer (GC) | 25 ml X 1 ea |
| Wahsing buffer 1 (W1) | 40 ml X 1 ea |
| Washing buffer 2 (W2) | 20 ml X 2 ea |
| Elution buffer (EL) | 30 ml X 1 ea |
| Proteinase K, lyophilized | 25 mg X 2 ea |
| DNA binding column tube | 100 ea X 1 pack |
| 2.0ml tubes for filtration | 100 ea X 1 pack |
| 1.5ml tubes for elution | 100 ea X 1 pack |
| Manual | 1 ea |
Specifications
| | | |
| --- | --- | --- |
| Sample | Amount | Yield |
| Whole blood | 200 ul | 3 - 6 ug |
| Buffy coat | 200 ul | 15 - 20 ug |
| Cultured cells | 104 ~ 108 cells | 15 - 20 ug |
| Mammalian tissue | 25 ~ 50 mg | 10 - 15 ug |
Applications
Gene cloning, PCR, real time PCR, Southern blotting, SNP genotyping
Procedure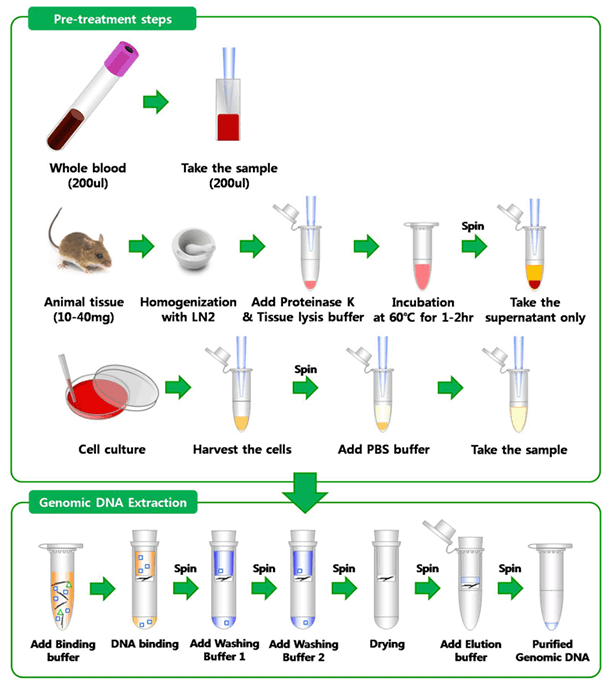 Experimental Data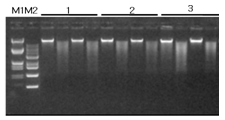 Fig. 1 Gel electrophoresis of whole blood genomic DNA
Lane M1; Molecular weight marker, λ DNA/EcoR l + Hind lll Markers (Cat. No. D-1070, Bioneer),
Lane M2; Molecular weight marker, 1 kb ladder (Cat. No. D-1040, Bioneer),
Lane 1; whole blood genomic DNA of two individual mice,
Lane 2; whole blood genomic DNA of two individual rats,
Lane 3; whole blood genomic DNA of two persons.
* 100 ng of Intact DNA (left) and Hind III (E-1721, Bioneer) enzyme digested DNA (right)


Fig. 2 PCR with p53 primer set after genomic DNA purification
Lane M: Molecular marker, 100 bp ladder (D-1030, Bioneer), Lane 1~8: PCR product with p53 primer set
[Related Products] AccuPrep Genomic DNA Extraction Kit Whole human blood, lymphocytes, mammalian tissues, cultured cells
| Cat Number | Product name | Supplier | Quantity | Price | Tech | More |
| --- | --- | --- | --- | --- | --- | --- |
| K-3032 | AccuPrep Genomic DNA Extraction Kit Whole human blood, lymphocytes, mammalian tissues, cultured cells | Bioneer | 100 extractions | 248.00€ | | Pub |
| K-3090 | AccuzolTM Total RNA Extraction Reagent Tissues, cultured cells, blood samples | Bioneer | 100 extractions | 300.00€ | | Pub |
| K-3032-2 | Kits for 96 well Plate Vacuum Manifold AccuPrep™ Genomic DNA Extraction kit | Bioneer | 96-well plate X 2 | 0.00€ | | Pub |
| M1563 | Astra Blue 6GLL, Stain for oligo and polysaccharides such as cellulose in plant tissues. Has also been used for analysis of human mast cells from tissues or blood samples, 25g | MarkerGene | | 192.00€ | | Pub |
| K-3030-2 | Kits for 96 well Plate Vacuum Manifold AccuPrep™ Plasmid Extraction kit | Bioneer | 96-well plate X 2 | 290.00€ | | Pub |
| K269-500 | Mammalian Cell Extraction Kit500 assays | Biovision | 500 assays | 221.13€ | | Pub |
| IPLA-WB3-Unit | Human Red Blood Cells Unit | Innovative Research INC | 1 Unit | 462.00€ | | Pub |
| PBKXL-10 | ProPrep™ Genomic XL-10 High-Throughput Genomic DNA Isolation Kits | Biotech support group | 10, 10ml whole blood | 655.00€ | | Pub |
| P-1018-100 |  FitAmp Blood and Cultured Cell DNA Extraction Kit (100 samples) | EpigenTek | | 318.15€ | | Pub |
| 308-31901 | Anti beta3 AR Human, Polyclonal Antibody The neurotransmitter hormone adrenaline (epinephrine, adrenalin) plays a central role in the mammalian stress response, increasing heart rate, raising blood pr | B-Bridge | 100 UG | 680.40€ | | Pub |
| cAP-0024 | Human Cord Blood CD34+ Cells Derived Endothelial Cells | AngoiPro | 1.00 flask | 570.00€ | | Pub |
| KB-0111 | AccuPrep Genomic DNA Extraction Kit | Bioneer | Proteinase K Powder, 2 ea X 25 mg | 101.00€ | | Pub |
| P-1018-100 | FitAmp Blood and Cultured Cell DNA Extraction Kit | EpigenTek | 100 samples | 318.15€ | | Pub |
| MD-14-0490 | Rabbit Anti-Human Red Blood Cells Antibodies | Ray Biotech | 50 mg | 650.00€ | | Pub |
| P-1018-050 |  FitAmp Blood and Cultured Cell DNA Extraction Kit (50 samples) | EpigenTek | | 201.60€ | | Pub |
| K-3032 | AccuPrep Genomic DNA Extraction Kit | Bioneer | 100 extractions | 230.00€ | | Pub |
| P-1018-050 | FitAmp Blood and Cultured Cell DNA Extraction Kit | EpigenTek | 50 samples | 201.60€ | | Pub |
| 296-64401 | Beta Amyloid (1 42) High Sensitivity ELISA Kit, Human Highly sensitive ELISA kit detecting beta amyloid (1 42). Detection sensitivity of the kits is about 10 times higher than that of the existing pro | B-Bridge | 96 tests | 1 201.20€ | | Pub |
| MD-14-0789 | Mouse Anti-Human CD40 (CD40+ B-cells) Antibodies | Ray Biotech | 200 | 584.00€ | | Pub |
| IC05-0910-100ml | Guinea Pig Red Blood Cells 100ml | Innovative Research INC | 100ml | 552.00€ | | Pub |
| cAP-0006 | Human Aortic Artery Endothelial Cells | AngoiPro | 1.00 flask | 570.00€ | | Pub |
| 228-10328-2 | Recombinant Human HSP40 DnaJ Proteins | Ray Biotech | 25 | 205.00€ | | Pub |
| cAP-0007GFP | GFP Expressing Human Coronary Artery Endothelial Cells | AngoiPro | 1.00 flask | 830.00€ | | Pub |
| K5016005 | Genomic DNA Extraction Kit | Biochain | 1 kit | 309.75€ | | Pub |
| IC05-3070-100ml | Canine Red Blood Cells 100ml | Innovative Research INC | 100ml | 552.00€ | | Pub |
| orb81492 | Human Dnak (HSP70) His tag protein HSP 70kD produced in E.coli is a single,non-glycosylated polypeptide chain containing 661 amino acids fused to His-tag at N-terminus and having total Mw of 72.2 kDa. | Biorb | 10 | 154.00€ | | Pub |
| 514-A | anti CD38 Hematopoietic precursors, thymocytes, activated T cells, plasma cells Recognition human CD38 antigen Clone ICO 20 | Virogen | 1 mg | 1 233.00€ | | Pub |
| PPG-960 | ProPrep™ Genomic 960 | Biotech support group | 10x96, 50µl whole blood | 2 197.00€ | | Pub |
| cAP-0018 | Human Internal Mammary Artery Endothelial Cells | AngoiPro | 1.00 flask | 570.00€ | | Pub |
| 22027 | DNAI2 antibody Source Rabbit Polyconal Ab Species Human Application WB | SignalWay Antibody S.A.B | 100ul | 329.00€ | | Pub |
| IC10-0510-30ml | Rabbit Red Blood Cells 30ml | Innovative Research INC | 30ml | 240.00€ | | Pub |
| 142-A | anti H ab human blood antigen IgM | Virogen | 1 mg | 1 328.00€ | | Pub |
| cAP-0001GFP-Mitochon | Mitochondria GFP Tag Human Umbilical Vein Endothelial Cells | AngoiPro | 1.00 flask | 570.00€ | | Pub |
| M1394 | pDC57 Mammalian Luciferase Expression Vector, This vector is very useful for transfection of mammalian cells in culture and may also be used in other species, 20 micrograms | MarkerGene | | 361.00€ | | Pub |
| IC05-0990-15ml | Turkey Red Blood Cells 5% 15ml | Innovative Research INC | 15ml | 142.00€ | | Pub |
| 228-10337-1 | Recombinant Human DNase Proteins | Ray Biotech | 500IU | 147.00€ | | Pub |
| cAP-0010GFP | GFP Expressing Human Retinal Microvascular Endothelial Cells | AngoiPro | 1.00 flask | 830.00€ | | Pub |
| K-3033 | AccuPrep Viral RNA Extraction Kit | Bioneer | 100 extractions | 290.00€ | | Pub |
| IC10-0090-15ml | Porcine Red Blood Cells, Packed 10% 15ml | Innovative Research INC | 15ml | 175.00€ | | Pub |
| 22128 | glial cells missing homolog 2 antibody Source Rabbit Polyconal Ab Species Human Application WB | SignalWay Antibody S.A.B | 100ul | 329.00€ | | Pub |
| 228-11222-3 | Recombinant Human PEDF [from HEK cells] Proteins | Ray Biotech | 100 | 1 172.00€ | | Pub |
| 132-A | anti A1, A2 human blood antigen IgM | Virogen | 100 µg | 280.00€ | | Pub |
| cAP-0020 | Human Iliac Artery Endothelial Cells | AngoiPro | 1.00 flask | 570.00€ | | Pub |
| 228-11623-3 | Recombinant Human VEGF VEGFA [from CHO cells] Proteins | Ray Biotech | 1mg | 0.00€ | | Pub |
| 228-11175-3 | Recombinant Human OPG TNFRSF11b [from Hi-5 cells] Proteins | Ray Biotech | 100 | 1 244.00€ | | Pub |
| K-3131 | AccuPrep Nano plus Plasmid Maxi Extraction Kit | Bioneer | 25 extractions | 616.00€ | | Pub |
| IC100-0210-15ml | Sheep Red Blood Cells, Packed 100% 15ml | Innovative Research INC | 15ml | 175.00€ | | Pub |
| DS-MB-03301 | Mouse Anti-Human HSP40 DnaJ Antibodies | Ray Biotech | 0.1 mg | 452.00€ | | Pub |
| cAP-0003 | Human Dermal Lymphatic Microvascular Endothelial Cells | AngoiPro | 1.00 flask | 570.00€ | | Pub |
| IQ417 | Mouse Anti-Human Fibronectin Target Antigen Fibronectin Host Isotype Mouse IgG1 Application IHC (P); Immunohistochemical staining of matrix fibronectin in normal and malignant tissues on frozen sec | Imunquest | 0.1ml (1mg/ml) | 492.00€ | | Pub |
| 010-14531 | Anti C Reactive Protein Anti Human C Reactive Protein (CRP) monoclonal antibody is produced by hybridoma clone 409 being established by fusing myeloma cells NS 1 and spleen cells of BALB c mice which | B-Bridge | 1mg | 800.10€ | | Pub |
| 228-11354-2 | Recombinant Human RAGE AGER [from HEK cells] Proteins | Ray Biotech | 10 | 205.00€ | | Pub |
| MD-11-0123 | Mouse Anti-Human CD94 (Natural Killer Cells) Antibodies | Ray Biotech | 200 | 535.00€ | | Pub |
| IC05-3054-25ml | Mouse Red Blood Cells 25ml | Innovative Research INC | 25ml | 248.00€ | | Pub |
| 20-783-71341 | MOUSE ANTI HUMAN CD173 - BLOOD GROUP H TYPE 2 Monoclonal | GenWay | 0.2 mg | 530.25€ | | Pub |
| S-1337.0001 | Hepcidin-25 (human) - EIA Kit (H - sr, pl), Host Rabbit, Extraction-free, CE-marked | Bachem | kit | 625.80€ | | Pub |
| cAP-0012RFP | RFP Expressing Human Liver Sinusoidal Microvascular Endothelial Cells | AngoiPro | 1.00 flask | 830.00€ | | Pub |
| K-3034-2 | Kits for 96 well Plate Vacuum Manifold AccuPrep™ PCR Purification kit | Bioneer | 96-well plate X 2 | 305.00€ | | Pub |
| 228-11412-1 | Recombinant Human SCF KITLG Proteins | Ray Biotech | 2 | 147.00€ | | Pub |
| IC10-0410-100ml | Bovine Red Blood Cells, Packed 10% 100ml | Innovative Research INC | 100ml | 257.00€ | | Pub |
| 135-A | anti AB human blood antigen IgM | Virogen | 1 mg | 1 328.00€ | | Pub |
| IC05-0810-30ml | Chicken Red Blood Cells, Packed 5% 30ml | Innovative Research INC | 30ml | 207.00€ | | Pub |
| cAP-0005 | Human Dermal Microvascular Endothelial Cells | AngoiPro | 1.00 flask | 570.00€ | | Pub |
| 228-11547-3 | Recombinant Human THPO [from CHO cells] Proteins | Ray Biotech | 1mg | 0.00€ | | Pub |
| 228-10328-1 | Recombinant Human HSP40 DnaJ Proteins | Ray Biotech | 5 | 147.00€ | | Pub |
| K-3030-1 | AccuPrep Plasmid Mini Extraction Kit | Bioneer | 50 extractions | 61.00€ | | Pub |
| IC05-3061-50ml | Rat Red Blood Cells 50ml | Innovative Research INC | 50ml | 339.00€ | | Pub |
| cAP-0017 | Human Large Intestine Microvascular Endothelial Cells | AngoiPro | 1.00 flask | 570.00€ | | Pub |
| K-3070 | Blood RNA PrepMate™ | Bioneer | 100 extractions | 397.00€ | | Pub |
| 228-11413-3 | Recombinant Human SCF KITLG [from Sf9] Proteins | Ray Biotech | 1mg | 0.00€ | | Pub |
| IC10-0510-25ml | Rabbit Red Blood Cells 25ml | Innovative Research INC | 25ml | 207.00€ | | Pub |
| MNO381 | Tissue profiling tissue array with 19 types of normal human tissues, 19 cases 38 cores | US Biomax | | 166.00€ | | Pub |
| DS-MB-03294 | Mouse Anti-Human Follicular Dendritic Cells Antibodies | Ray Biotech | 25 | 155.00€ | | Pub |
| 141-A | anti H n ab human blood antigen IgM Clone 86 M | Virogen | 1 mg | 1 233.00€ | | Pub |
| cAP-0001GFP | GFP Expressing Human Umbilical Vein Endothelial Cells | AngoiPro | 1.00 flask | 414.00€ | | Pub |
| IC05-0990-100ml | Turkey Red Blood Cells 5% 100ml | Innovative Research INC | 100ml | 240.00€ | | Pub |
| hAP-0248 | Mouse anti human DNAM-1 Anti-Human antibodies | AngoiPro | 100.00 ug | 310.00€ | | Pub |
| 228-10332-3 | Recombinant Human HSP70 DnaK Proteins | Ray Biotech | 1mg | 1 782.00€ | | Pub |
| cAP-0010 | Human Retinal Microvascular Endothelial Cells | AngoiPro | 1.00 flask | 570.00€ | | Pub |
| MD-14-0252P | Recombinant Human SCF KITLG Proteins | Ray Biotech | 10 | 309.00€ | | Pub |
| IC10-0090-100ml | Porcine Red Blood Cells, Packed 10% 100ml | Innovative Research INC | 100ml | 257.00€ | | Pub |
| 228-11222-2 | Recombinant Human PEDF [from HEK cells] Proteins | Ray Biotech | 10 | 205.00€ | | Pub |
| cAP-0019RFP | RFP Expressing Human Saphenous Vein Endothelial Cells | AngoiPro | 1.00 flask | 830.00€ | | Pub |
| 228-11623-2 | Recombinant Human VEGF VEGFA [from CHO cells] Proteins | Ray Biotech | 10 | 205.00€ | | Pub |
| 228-11175-2 | Recombinant Human OPG TNFRSF11b [from Hi-5 cells] Proteins | Ray Biotech | 10 | 205.00€ | | Pub |
| K-3122 | AccuPrep Nano plus Plasmid Midi Extraction Kit | Bioneer | 25 extractions | 308.00€ | | Pub |
| IC100-0210-100ml | Sheep Red Blood Cells, Packed 100% 100ml | Innovative Research INC | 100ml | 257.00€ | | Pub |
| M0855 | MarkerGeneTM Chemiluminescent lacZ beta Galactosidase Detection Kit, Allows for quantitaive measure of b galactosidase enzyme activity in mammalian, yeast, and bacterial cells through the use of a che | MarkerGene | | 347.00€ | | Pub |
| IC100-0410-30ml | Bovine Red Blood Cells, Packed 100% 30ml | Innovative Research INC | 30ml | 192.00€ | | Pub |
| cAP-0002GFP | GFP Expressing Human Brain Microvascular Endothelial Cells | AngoiPro | 1.00 flask | 830.00€ | | Pub |
| 228-11354-1 | Recombinant Human RAGE AGER [from HEK cells] Proteins | Ray Biotech | 2 | 147.00€ | | Pub |
| K269-500 | Mammalian Cell Extraction Kit | Biovision | 500 assays | 240.00€ | | Pub |
| IC05-3054-10ml | Mouse Red Blood Cells 10ml | Innovative Research INC | 10ml | 158.00€ | | Pub |
| cAP-0012GFP | GFP Expressing Human Liver Sinusoidal Microvascular Endothelial Cells | AngoiPro | 1.00 flask | 830.00€ | | Pub |
| IC10-0210-30ml | Sheep Red Blood Cells, Packed 10% 30ml | Innovative Research INC | 30ml | 192.00€ | | Pub |
| 134-A | anti B human blood antigen IgM Clone Z5H 2 | Virogen | 100 ug/vial | 225.00€ | | Pub |
| IPLA-WB1-Unit | Single Donor Human Whole Blood Unit | Innovative Research INC | | 442.00€ | | Pub |
| 228-10704-3 | Recombinant Human HGF [from CHO cells] Proteins | Ray Biotech | 1mg | 0.00€ | | Pub |
| PBC-960 | ProPrep™ Genomic Blood Card 960 | Biotech support group | 10x96 blood spots | 1 615.00€ | | Pub |
| IC05-0810-15ml | Chicken Red Blood Cells, Packed 5% 15ml | Innovative Research INC | 15ml | 175.00€ | | Pub |
| cAP-0004RFP | RFP Expressing Human Glomerular Microvascular Endothelial Cells | AngoiPro | 1.00 flask | 830.00€ | | Pub |
| K-3030 | AccuPrep Plasmid Mini Extraction Kit | Bioneer | 200 extractions | 185.00€ | | Pub |
| IC05-3061-25ml | Rat Red Blood Cells 25ml | Innovative Research INC | 25ml | 248.00€ | | Pub |
| 03-001-5 | Epidermal Growth Factor (EGF), human, active EGF is a polypeptide growth hormone which plays an important role in the regulation of growth, proliferation, and differentiation of a wide range of cells | B-Bridge | 5 x 50 ug | 404.25€ | | Pub |
| cAP-0016 | Human Small Intestine Microvascular Endothelial Cells | AngoiPro | 1.00 flask | 570.00€ | | Pub |
| K-3036 | AccuPrep Stool DNA Extraction Kit Fresh or frozen stool | Bioneer | 100 extractions | 305.00€ | | Pub |
| 228-11413-2 | Recombinant Human SCF KITLG [from Sf9] Proteins | Ray Biotech | 10 | 205.00€ | | Pub |
| IC10-0510-10ml | Rabbit Red Blood Cells 10ml | Innovative Research INC | 10ml | 151.00€ | | Pub |
| 22719 | Blood Group Lewis a antibody Source Rabbit Polyconal Ab Species Human Application WB | SignalWay Antibody S.A.B | 100ul | 329.00€ | | Pub |
| 140-A | anti B human blood group antigen IgM Clone 89 F | Virogen | 100 ug/vial | 225.00€ | | Pub |
| cAP-0001 | Human Umbilical Vein Endothelial Cells | AngoiPro | 1.00 flask | 206.00€ | | Pub |
| M1352 | MarkerGene™ â Galactosidase Staining Kit, used to monitor and detect enzyme activity in stably or transiently transfected cells or transgenic tissues using X Gal, 1 kit | MarkerGene | | 240.00€ | | Pub |
| IC05-0910-50ml | Guinea Pig Red Blood Cells 50ml | Innovative Research INC | 50ml | 339.00€ | | Pub |
| 228-10332-2 | Recombinant Human HSP70 DnaK Proteins | Ray Biotech | 50 | 205.00€ | | Pub |
| cAP-0009 | Human Pancreatic Microvascular Endothelial Cells | AngoiPro | 1.00 flask | 570.00€ | | Pub |
| SL100489-CaS | Transfection Reagents and Kits, GenJet™ DNA In Vitro Tranfection Reagent for Ca Ski was pre optimized for most efficiently transfecting Ca Ski cells. | Signagen | 1 ml | 231.37€ | | Pub |
| IC05-3070-50ml | Canine Red Blood Cells 50ml | Innovative Research INC | 50ml | 339.00€ | | Pub |
| DS-MB-01157 | Mouse Anti-Human Dendritic Cells | Ray Biotech | 200 | 604.00€ | | Pub |
| 228-11222-1 | Recombinant Human PEDF [from HEK cells] Proteins | Ray Biotech | 2 | 147.00€ | | Pub |
| 22078 | DNAJC7 antibody Source Rabbit Polyconal Ab Species Human Application WB IHC IF | SignalWay Antibody S.A.B | 100ul | 329.00€ | | Pub |
| cAP-0019GFP | GFP Expressing Human Saphenous Vein Endothelial Cells | AngoiPro | 1.00 flask | 830.00€ | | Pub |
| 22547 | DNAJB6 antibody Source Rabbit Polyconal Ab Species Human Application WB IF | SignalWay Antibody S.A.B | 100ul | 329.00€ | | Pub |
| 228-11623-1 | Recombinant Human VEGF VEGFA [from CHO cells] Proteins | Ray Biotech | 2 | 147.00€ | | Pub |
| K-3112 | AccuPrep Nano plus Plasmid Mini Extraction Kit | Bioneer | 50 extractions | 140.00€ | | Pub |
| MD-11-0034 | Mouse Anti-Human CD19 (pan B-cells) Antibodies | Ray Biotech | 200 | 361.00€ | | Pub |
| IC100-0110-30ml | Horse Red Blood Cells, Packed 100% 30ml | Innovative Research INC | 30ml | 192.00€ | | Pub |
| DS-MB-01204 | Mouse Anti-Human Endothelial Cells Antibodies | Ray Biotech | 0.5 ml | 766.00€ | | Pub |
| DS-MB-03294 | Mouse Anti-Human Follicular Dendritic Cells | Ray Biotech | 25 | 213.00€ | | Pub |
| 145-A | anti N human blood antigen Ig2b | Virogen | 1 mg | 1 328.00€ | | Pub |
| cAP-0002 | Human Brain Microvascular Endothelial Cells | AngoiPro | 1.00 flask | 570.00€ | | Pub |
| K268-50 | Membrane Protein Extraction Kit50 assays | Biovision | 50 assays | 314.69€ | | Pub |
| IC05-3054-100ml | Mouse Red Blood Cells 100ml | Innovative Research INC | 100ml | 552.00€ | | Pub |
| 504-A | anti CD7 All T cells Recognition human CD7 antigen Clone ICO 87 | Virogen | 100 ug/vial | 225.00€ | | Pub |
| cAP-0012 | Human Liver Sinusoidal Microvascular Endothelial Cells | AngoiPro | 1.00 flask | 570.00€ | | Pub |
| IC10-0210-15ml | Sheep Red Blood Cells, Packed 10% 15ml | Innovative Research INC | 15ml | 175.00€ | | Pub |
| 133-A | anti A1, A2, A3 human blood antigen IgM | Virogen | 1 mg | 1 328.00€ | | Pub |
| cAP-0023 | Human Uterine Microvascular Endothelial Cells | AngoiPro | 1.00 flask | 570.00€ | | Pub |
| [302-C] | DirectPCR Lysis Reagent (cell) | Viagen | cultured cells (100 ml) | 215.25€ | | Pub |
| 228-10704-2 | Recombinant Human HGF [from CHO cells] Proteins | Ray Biotech | 10 | 205.00€ | | Pub |
| IR100074-1ml | Human Cord Blood 1ml | Innovative Research INC | 1ml | 596.00€ | | Pub |
| IC100-0410-15ml | Bovine Red Blood Cells, Packed 100% 15ml | Innovative Research INC | 15ml | 175.00€ | | Pub |
| 228-10933-3 | Recombinant Human IL-4 [from CHO cells] Proteins | Ray Biotech | 1mg | 0.00€ | | Pub |
| M1193 | MarkerGeneTM Gaussia Luciferase Cellular Assay Kit, Utilizes a new luciferase which does not require ATP and can be expressed in mammalian cells using commercially available reporter plasmids, 1 kit | MarkerGene | | 140.00€ | | Pub |
| MD-14-0786 | Mouse Anti-Human CD37 (B-Lymphocytes) Antibodies | Ray Biotech | 100 | 510.00€ | | Pub |
| IC05-0810-100ml | Chicken Red Blood Cells, Packed 5% 100ml | Innovative Research INC | 100ml | 257.00€ | | Pub |
| cAP-0004GFP | GFP Expressing Human Glomerular Microvascular Endothelial Cells | AngoiPro | 1.00 flask | 830.00€ | | Pub |
| IC05-3061-10ml | Rat Red Blood Cells 10ml | Innovative Research INC | 10ml | 158.00€ | | Pub |
| cAP-0015 | Human Ovarian Microvascular Endothelial Cells | AngoiPro | 1.00 flask | 570.00€ | | Pub |
| K-3036 | AccuPrep Stool DNA Extraction Kit | Bioneer | 100 extractions | 243.00€ | | Pub |
| 228-11413-1 | Recombinant Human SCF KITLG [from Sf9] Proteins | Ray Biotech | 2 | 147.00€ | | Pub |
| IC10-0510-100ml | Rabbit Red Blood Cells 100ml | Innovative Research INC | 100ml | 404.00€ | | Pub |
| 137-13614 | Macrophage Colony Stimulating Factor (M CSF), Human, recombinant Macrophage colony stimulating factor, or M CSF, is a secreted cytokine which influences hemopoietic stem cells to differentiate into m | B-Bridge | 1 mg | 0.00€ | | Pub |
| IC05-0910-25ml | Guinea Pig Red Blood Cells 25ml | Innovative Research INC | 25ml | 248.00€ | | Pub |
| cAP-0007 | Human Coronary Artery Endothelial Cells | AngoiPro | 1.00 flask | 570.00€ | | Pub |
| 228-10332-1 | Recombinant Human HSP70 DnaK Proteins | Ray Biotech | 10 | 147.00€ | | Pub |
| bs-7653R-PE-Cy3 | Rabbit Anti-DNase gamma Polyclonal Antibody, PE-Cy3 Conjugated , 36kDa; Isotype IgG; Reactivity Human , Mouse , Rat; Application Flow-Cyt(1 20-100), IF(1 50-200) | Bioss | 100ug Lyophilized | 530.00€ | | Pub |
| DS-MB-01338 | Mouse Anti-Human Follicular Dendritic Cells | Ray Biotech | 200 | 604.00€ | | Pub |
| IC05-3070-25ml | Canine Red Blood Cells 25ml | Innovative Research INC | 25ml | 248.00€ | | Pub |
| 518-A | anti Transferrin receptor on activated T B , cells Recognition human CD71 antigen Clone ICO 92 | Virogen | 100 ug/vial | 225.00€ | | Pub |
| cAP-0019 | Human Saphenous Vein Endothelial Cells | AngoiPro | 1.00 flask | 570.00€ | | Pub |
| K-3111 | AccuPrep Nano plus Plasmid Mini Extraction Kit | Bioneer | 200 extractions | 215.00€ | | Pub |
| MD-11-0033 | Mouse Anti-Human CD19 (pan B-cells) Antibodies | Ray Biotech | 1 mL | 568.00€ | | Pub |
| IC100-0110-15ml | Horse Red Blood Cells, Packed 100% 15ml | Innovative Research INC | 15ml | 175.00€ | | Pub |
| DS-MB-03293 | Mouse Anti-Human Fibroblasts Epithelial cells [+RPE] Antibodies | Ray Biotech | 25 TESTS | 223.00€ | | Pub |
| 139-A | Blood Group Antibodies anti-A1, A2 human blood antigen IgM , Clone 87-G | Virogen | 100ug/vial | 216.00€ | | Pub |
| DS-MB-01211 | Mouse Anti-Human Endothelial Cells (Vein Assoc. Ag.) Antibodies | Ray Biotech | 0.5 ml | 361.00€ | | Pub |
| 144-A | anti M human blood antigen IgM | Virogen | 100 µg | 280.00€ | | Pub |
| cAP-0001RFP | RFP Expressing Human Umbilical Vein Endothelial Cells | AngoiPro | 1.00 flask | 414.00€ | | Pub |
| IC05-0990-50ml | Turkey Red Blood Cells 5% 50ml | Innovative Research INC | 50ml | 192.00€ | | Pub |
| 228-10337-3 | Recombinant Human DNase Proteins | Ray Biotech | 10,000IU | 601.00€ | | Pub |
| cAP-0011 | Human Synovial Microvascular Endothelial Cells | AngoiPro | 1.00 flask | 570.00€ | | Pub |
| IC10-0210-100ml | Sheep Red Blood Cells, Packed 10% 100ml | Innovative Research INC | 100ml | 257.00€ | | Pub |
| MD-14-0756 | Mouse Anti-Human CD103 (Intestinal lymphocytes) Antibodies | Ray Biotech | 200 | 650.00€ | | Pub |
| 133-13611 | Macrophage Colony Stimulating Factor (M CSF), Human, recombinant Macrophage colony stimulating factor, or M CSF, is a secreted cytokine which influences hemopoietic stem cells to differentiate into ma | B-Bridge | 10 ug | 520.80€ | | Pub |
| cAP-0022 | Human Bladder Microvascular Endothelial Cells | AngoiPro | 1.00 flask | 570.00€ | | Pub |
| [301-C] | DirectPCR Lysis Reagent (cell) | Viagen | cultured cells (50 ml) | 152.25€ | | Pub |
| 228-10704-1 | Recombinant Human HGF [from CHO cells] Proteins | Ray Biotech | 2 | 147.00€ | | Pub |
| IC100-0410-100ml | Bovine Red Blood Cells, Packed 100% 100ml | Innovative Research INC | 100ml | 257.00€ | | Pub |
| cAP-0004 | Human Glomerular Microvascular Endothelial Cells | AngoiPro | 1.00 flask | 570.00€ | | Pub |
| IC05-3061-100ml | Rat Red Blood Cells 100ml | Innovative Research INC | 100ml | 552.00€ | | Pub |
| 03-001 | Epidermal Growth Factor (EGF), human, active EGF is a polypeptide growth hormone which plays an important role in the regulation of growth, proliferation, and differentiation of a wide range of cells | B-Bridge | 50 ug | 120.75€ | | Pub |
| 510-A | anti CD22 B lymphocytes Recognition human CD22 antigen Clone ICO 12 | Virogen | 1 mg | 1 233.00€ | | Pub |
| 22071 | DNAJB2 antibody Source Rabbit Polyconal Ab Species Human Application WB | SignalWay Antibody S.A.B | 100ul | 329.00€ | | Pub |
| cAP-0014 | Human Prostate Microvascular Endothelial Cells | AngoiPro | 1.00 flask | 570.00€ | | Pub |
| 22331 | DNAJA2 antibody Source Rabbit Polyconal Ab Species Human Application WB | SignalWay Antibody S.A.B | 100ul | 329.00€ | | Pub |
| 228-11412-3 | Recombinant Human SCF KITLG Proteins | Ray Biotech | 1mg | 2 426.00€ | | Pub |
| IC10-0410-30ml | Bovine Red Blood Cells, Packed 10% 30ml | Innovative Research INC | 30ml | 192.00€ | | Pub |
| KLS-MSCiPS-4 | LumiSTEM 96 iPS MSC derived iPS cells Human | Hemogenix | 4 x 96-well plate | 1 782.00€ | | Pub |
| MD-14-0790 | Mouse Anti-Human CD40 (CD40+ B-cells) Antibodies | Ray Biotech | 200 | 535.00€ | | Pub |
| IC05-0910-10ml | Guinea Pig Red Blood Cells 10ml | Innovative Research INC | 10ml | 158.00€ | | Pub |
| cAP-0006GFP | GFP Expressing Human Aortic Artery Endothelial Cells | AngoiPro | 1.00 flask | 830.00€ | | Pub |
| 228-10328-3 | Recombinant Human HSP40 DnaJ Proteins | Ray Biotech | 1mg | 2 426.00€ | | Pub |
| bs-7653R-PE | Rabbit Anti-DNase gamma Polyclonal Antibody, PE Conjugated , 36kDa; Isotype IgG; Reactivity Human , Mouse , Rat; Application Flow-Cyt(1 20-100), IF(1 50-200) | Bioss | 100ug Lyophilized | 502.00€ | | Pub |
| DS-MB-01337 | Mouse Anti-Human Follicular Dendritic Cells | Ray Biotech | 200 | 1 045.00€ | | Pub |
| K-3031 | AccuPrep GMO DNA Extraction Kit | Bioneer | 100 extractions | 365.00€ | | Pub |
| IC05-3070-10ml | Canine Red Blood Cells 10ml | Innovative Research INC | 10ml | 158.00€ | | Pub |
| 516-A | anti CD45 RA B cells, T cells, NK cells Recognition human CD45 RA antigen Clone ICO 166 | Virogen | 1 mg | 1 233.00€ | | Pub |
| cAP-0018GFP | GFP Expressing Human Internal Mammary Artery Endothelial Cells | AngoiPro | 1.00 flask | 830.00€ | | Pub |
| IC100-0110-100ml | Horse Red Blood Cells, Packed 100% 100ml | Innovative Research INC | 100ml | 257.00€ | | Pub |
| M0259 | MarkerGeneTM in vivo lacZ beta Galactosidase Intracellular Detection Kit, Allows ultra sensitive detection of ß galactosidase activity in live mammalian, yeast, bacterial, or plant cells. Especially u | MarkerGene | | 315.00€ | | Pub |
| AN1002368 | NycoPrep™ 1.077, for isolation of Human Mononuclear Cells, contains Nycodenz™ & NaCl, Cell Separation Media | Accurate | 4 X 250 ml. | 292.95€ | | Pub |
| DS-MB-03292 | Mouse Anti-Human Fibroblasts Epithelial cells Antibodies | Ray Biotech | 25 | 180.00€ | | Pub |
| DS-MB-01207 | Rat Anti-Human Endothelial Cells Antibodies | Ray Biotech | 0.1 mg | 650.00€ | | Pub |
| 143-A | anti H inh human blood antigen IgM Clone 97 I | Virogen | 100 ug/vial | 225.00€ | | Pub |
| cAP-0001GFP-PM | Plasma Membrane GFP Tag Human Umbilical Vein Endothelial Cells | AngoiPro | 1.00 flask | 570.00€ | | Pub |
| MD-11-0113 | Rat Anti-Human CD77 (blood group pk1, pk2) Antibodies | Ray Biotech | 100 Tests | 568.00€ | | Pub |
| 228-10941-3 | Recombinant Human IL-6 (IL-6) [from CHO cells] Proteins | Ray Biotech | 1mg | 0.00€ | | Pub |
| M1395 | pDC99 Mammalian Luciferase Expression Vector, This vector is very useful for transfection of mammalian cells in culture and may also be used in other species, 20 micrograms | MarkerGene | | 361.00€ | | Pub |
| IC05-0990-30ml | Turkey Red Blood Cells 5% 30ml | Innovative Research INC | 30ml | 175.00€ | | Pub |
| 228-10337-2 | Recombinant Human DNase Proteins | Ray Biotech | 1500IU | 205.00€ | | Pub |
| cAP-0010RFP | RFP Expressing Human Retinal Microvascular Endothelial Cells | AngoiPro | 1.00 flask | 830.00€ | | Pub |
| K-3033 | AccuPrep Viral RNA Extraction Kit Serum, plasma, CSF, urine | Bioneer | 100 extractions | 386.00€ | | Pub |
| MD-14-0255P | Recombinant Human SDF-1a KITLG Proteins | Ray Biotech | 10 | 309.00€ | | Pub |
| HN60000 | Stemez hN2 Human Neuron Discovery Kit, 1 million cells | Neuromics | 1 | 1 044.00€ | | Pub |
| IC10-0090-30ml | Porcine Red Blood Cells, Packed 10% 30ml | Innovative Research INC | 30ml | 192.00€ | | Pub |
| MD-14-0755 | Mouse Anti-Human CD103 (Intestinal lymphocytes) Antibodies | Ray Biotech | 200 | 502.00€ | | Pub |
| cAP-0021 | Human Cardiac Microvascular Endothelial Cells | AngoiPro | 1.00 flask | 570.00€ | | Pub |
| K-3132 | AccuPrep Nano plus Plasmid Maxi Extraction Kit | Bioneer | 10 extractions | 262.00€ | | Pub |
| 22663 | DNase I antibody Source Rabbit Polyconal Ab Species Human Application WB IF | SignalWay Antibody S.A.B | 100ul | 329.00€ | | Pub |
| IC100-0210-30ml | Sheep Red Blood Cells, Packed 100% 30ml | Innovative Research INC | 30ml | 192.00€ | | Pub |
| M1045 | MarkerGeneTM Live Cell Glutathione Transferase Activity Kit, Measures glutathione transferase activity in live cells, tissues or cell lysate samples, 1 kit | MarkerGene | | 249.00€ | | Pub |
| cAP-0003GFP | GFP Expressing Human Dermal Lymphatic Microvascular Endothelial Cells | AngoiPro | 1.00 flask | 830.00€ | | Pub |
| IQ77 | Mouse Anti-Human CD34 Target Antigen CD34 Host Isotype Mouse IgG1 Application Identification of haemopoietic progenitor cells; Studies into the control mechanisms of early haemopoiesis; Purificati | Imunquest | 0.1ml (1mg/ml) | 492.00€ | | Pub |
| 228-11354-3 | Recombinant Human RAGE AGER [from HEK cells] Proteins | Ray Biotech | 100 | 1 031.00€ | | Pub |
| IC05-3054-50ml | Mouse Red Blood Cells 50ml | Innovative Research INC | 50ml | 339.00€ | | Pub |
| 22989 | DNASE1L3 antibody Source Rabbit Polyconal Ab Species Human Application WB | SignalWay Antibody S.A.B | 100ul | 329.00€ | | Pub |
| cAP-0013 | Human Tonsil Microvascular Endothelial Cells | AngoiPro | 1.00 flask | 570.00€ | | Pub |
| 228-11412-2 | Recombinant Human SCF KITLG Proteins | Ray Biotech | 10 | 205.00€ | | Pub |
| IC10-0410-15ml | Bovine Red Blood Cells, Packed 10% 15ml | Innovative Research INC | 15ml | 175.00€ | | Pub |
| ER-14-0857 | Goat Anti-Human MDG1 DNAJB9, (C Terminus) Antibodies | Ray Biotech | 100 μg | 353.00€ | | Pub |
| IPLA-WB4 | Whole Blood:Human Platelets | Innovative Research INC | Unit | 321.00€ | | Pub |
| DS-PB-02085 | Sheep Anti-Human Vitronectin Antibodies | Ray Biotech | 1 ml | 502.00€ | | Pub |
| DS-MB-01067 | Mouse Anti-Human CKBB Antibodies | Ray Biotech | 0.2 mg | 386.00€ | | Pub |
| RLF-EK0113R | ELISA Human , Peroxiredoxin 3 | Biovendor | 96 wells (1 kit) | 577.00€ | | Pub |
| 228-11204-2 | Recombinant Human PCDC5 Proteins | Ray Biotech | 20 | 147.00€ | | Pub |
| E91555Hu | ELISA Kit for A Disintegrin And Metalloprotease 17 (ADAM17) Organism Human | USCNLife | 96T/Kit | 644.00€ | | Pub |
| 4306-50 | NT-3, human recombinant | Biovision | 50 μg | 661.00€ | | Pub |
| ER-14-1693 | Goat Anti-Human Sterol carrier protein 2, (internal region) Antibodies | Ray Biotech | 100 μg | 353.00€ | | Pub |
| ISASRbTPA-GF-HRP | Proteins and Antibodies Human and Animal Sheep Anti Rabbit tPA IgG fraction, HRP labeled | Innovative Research INC | 1mg | 543.00€ | | Pub |
| DS-PB-02466 | Rabbit Anti-Human GLI3 Antibodies | Ray Biotech | 50 | 601.00€ | | Pub |
| DS-MB-01619 | Rat Anti-Human IL-10 [+Biotin] Antibodies | Ray Biotech | 0.5 mg | 510.00€ | | Pub |
| T081 | Breast cancer test tissue array, with normal breast tissues as control, including TNM, clinical stage and pathology grade, 6 cases 24 cores, replaced by T085 | US Biomax | | 88.00€ | | Pub |
| 228-11272-3 | Recombinant Human PLA2G7 Proteins | Ray Biotech | 1mg | 0.00€ | | Pub |
| 22399 | hQSOX antibody Source Rabbit Polyconal Ab Species Human Application WB | SignalWay Antibody S.A.B | 100ul | 329.00€ | | Pub |
| 100-36 | Human Chemerin Chemerin | Shenandoah Biotechnology, Inc. | 5ug | 113.40€ | | Pub |
| 4568-50 | sTRAIL Receptor-2, human recombinant | Biovision | 50 μg | 252.00€ | | Pub |
| hAP-0061 | Mouse anti human CCR1 Anti-Human antibodies | AngoiPro | 100.00 ug | 310.00€ | | Pub |
| JI-04-00653 | Mouse Anti-Human NPAT Antibodies | Ray Biotech | 496 μg | 342.00€ | | Pub |
| DS-PB-02710 | Rabbit Anti-Human MPO Antibodies | Ray Biotech | 50 | 502.00€ | | Pub |
| DS-MB-02421 | Mouse Anti-Guinea Pig T Lymphocytes (pan) Antibodies | Ray Biotech | 0.25 ml | 452.00€ | | Pub |
| Y054375 | Purified Rabbit Anti Human MSF Polyclonal Antibody | ABM Goods | 100μl | 455.70€ | | Pub |
| 228-11351-1 | Recombinant Human RAC2 Proteins | Ray Biotech | 5 | 147.00€ | | Pub |
| 22560 | NDUFS4 antibody Source Rabbit Polyconal Ab Species Human Application WB IHC IF | SignalWay Antibody S.A.B | 100ul | 329.00€ | | Pub |
| 1085 | Immunization grade human type XI collagen, 1 mg | Chondrex | | 344.40€ | | Pub |
| 4757-100 | GDF-3, human recombinant | Biovision | 100 μg | 661.00€ | | Pub |
| hAP-0228 | Mouse anti human Cystatin B Anti-Human antibodies | AngoiPro | 100.00 ug | 310.00€ | | Pub |
| LC601 | Non small cell lung carcinoma (NSCLC) and normal tissue array, 25 cases plus normal tissues, with TNM data | US Biomax | | 0.00€ | | Pub |
| E88-104 | Human IgG ELISA Kit | Bethyl | 1 x 96 wells | 1 300.00€ | | Pub |
| DS-MB-02947 | Mouse Anti-Human CD26, RPE-labeled | Ray Biotech | 25 Tests | 264.00€ | | Pub |
| Y055129 | Purified Rabbit Anti Human B4GALT3 Polyclonal Antibody | ABM Goods | 100μl | 455.70€ | | Pub |
| 228-11453-2 | Recombinant Human Spastic Paraplegia 21 | Ray Biotech | 20 | 290.00€ | | Pub |
| 22721 | FUS2 antibody Source Rabbit Polyconal Ab Species Human Application WB | SignalWay Antibody S.A.B | 100ul | 329.00€ | | Pub |
| 126-10116 | Goat Anti-Human F2R PAR1, (Internal region (near N Terminus)) Antibodies | Ray Biotech | 100 μg | 353.00€ | | Pub |
| 4983-10 | IL-31, human recombinant | Biovision | 10 μg | 252.00€ | | Pub |
| hAP-0389 | Rat anti human IL-1ra Anti-Human antibodies | AngoiPro | 100.00 ug | 310.00€ | | Pub |
| MD-14-0036 | Mouse Anti-Human BAD Antibodies | Ray Biotech | 100 | 535.00€ | | Pub |
| ELH-hCG-001 | Human hCG ELISA ELISA | Ray Biotech | One 96-Well Strip Microplate Kit | 362.00€ | | Pub |
| DS-MB-03136 | Mouse Anti-Human CD54, FITC-labeled | Ray Biotech | 25 | 251.00€ | | Pub |
| Y055767 | Purified Rabbit Anti Human ACCN4 Poly Antibody | ABM Goods | 100μl | 455.70€ | | Pub |
| 228-11532-3 | Recombinant Human TOP1 Proteins | Ray Biotech | 1mg | 0.00€ | | Pub |
| 228-10038-3 | Recombinant Human AK3L1 Proteins | Ray Biotech | 1mg | 0.00€ | | Pub |
| 128-10103-2 | Rabbit Anti-Human HPA-1 Antibodies | Ray Biotech | 480 | 766.00€ | | Pub |
| AA0103 | Cytokine (Human) Quantitative Antibody Array 1 is a multiplex antibody array for the quantitative measurement of 20 human cytokines in 8-10 samples. | Abnova | 16 Arrays/Slide | 1 068.00€ | | Pub |
| hAP-0553 | Mouse anti human SLAM Anti-Human antibodies | AngoiPro | 100.00 ug | 310.00€ | | Pub |
| MD-14-0525 | Mouse Anti-Human snRNP B'B D1 Antibodies | Ray Biotech | 1 mL | 961.00€ | | Pub |
| ELH-uPA-001 | Human uPA ELISA ELISA | Ray Biotech | One 96-Well Strip Microplate Kit | 498.00€ | | Pub |
| DS-MB-03255 | Mouse Anti-Human CD95, RPE-labeled | Ray Biotech | 25 Tests | 264.00€ | | Pub |
| Y102431 | Alkaline Phosphatase, Human | ABM Goods | 1 mg | 559.65€ | | Pub |
| 228-11629-2 | Recombinant Human VEGFB Proteins | Ray Biotech | 10 | 205.00€ | | Pub |
| 228-10117-1 | Recombinant Human beta-Synuclein | Ray Biotech | 20 | 201.00€ | | Pub |
| 129-10222 | Rabbit Anti-Human MIG CXCL9 Antibodies | Ray Biotech | 0.1 mg | 510.00€ | | Pub |
| bs-0449R-Cy3 | Rabbit Anti-TSLP (human) Polyclonal Antibody, Cy3 Conjugated | Bioss | 100ug | 369.00€ | | Pub |
| IASHPT-GF-HRP | Antibodies, Rabbit: Rabbit anti human prothrombin IgG fraction, HRP labeled | Innovative Research INC | 1.0mg | 518.00€ | | Pub |
| MD-17-0018 | Mouse Anti-Human Myeloperoxidase MPO Antibodies | Ray Biotech | 100 | 584.00€ | | Pub |
| ER-14-0298 | Goat Anti-Human Cdc42-binding kinase alpha, (N Terminus) Antibodies | Ray Biotech | 100 μg | 353.00€ | | Pub |
| DS-MB-03428 | Mouse Anti-Human TNF-beta Antibodies | Ray Biotech | 0.1 mg | 510.00€ | | Pub |
| 22912 | PI3 Kinase p110 beta antibody Source Rabbit Polyconal Ab Species Human Application WB IF | SignalWay Antibody S.A.B | 100ul | 329.00€ | | Pub |
| 228-10235-1 | Recombinant Human CIB1 Proteins | Ray Biotech | 5 | 147.00€ | | Pub |
| 130-00030-200 | Mouse Anti-Human TIMP-3 Antibodies | Ray Biotech | 200 | 211.00€ | | Pub |
| bs-7062R-PE-Cy3 | Rabbit Anti-DEDD1 Polyclonal Antibody, PE-Cy3 Conjugated , 37kDa; Isotype IgG; Reactivity Human , Mouse , Rat , Bovine; Application Flow-Cyt(1 20-100), IF(1 50-200) | Bioss | 100ug Lyophilized | 530.00€ | | Pub |
| IHFXI-0.1mg | Human coagulation Factor XI 0.1mg | Innovative Research INC | 0.1mg | 319.00€ | | Pub |
| PC35101 | E18 Primary Rat Hippocampal Cells | Neuromics | 1 | 430.00€ | | Pub |
| ER-14-0588 | Goat Anti-Human Frizzled 4, (internal region) Antibodies | Ray Biotech | 100 μg | 353.00€ | | Pub |
| DS-PB-00272 | Goat Anti-Human BKS (C-term) Antibodies | Ray Biotech | 0.1 mg | 518.00€ | | Pub |
| 230-00045-50 | Recombinant Human IGFBP6 [from E. coli] Proteins | Ray Biotech | 50 | 229.00€ | | Pub |
| 228-10307-1 | Recombinant Human DDIT3 Proteins | Ray Biotech | 5 | 205.00€ | | Pub |
| 130-10090-200 | Rabbit Anti-Human Galectin-3 Antibodies | Ray Biotech | 200 | 211.00€ | | Pub |
| bs-7672R-PE-Cy3 | Rabbit Anti-NRH2 Polyclonal Antibody, PE-Cy3 Conjugated , 24kDa; Isotype IgG; Reactivity Human , Mouse , Rat; Application Flow-Cyt(1 20-100), IF(1 50-200) | Bioss | 100ug Lyophilized | 530.00€ | | Pub |
| IPLA-N-100ml-NaCitrate | Pooled Normal Human Plasma 100ml Na Citrate | Innovative Research INC | | 128.00€ | | Pub |
| rAP-0054-10 | BMP-4 (Human) recombinant proteins | AngoiPro | 10.00 ug | 279.00€ | | Pub |
| 228-10430-2 | Recombinant Human FABP6 Proteins | Ray Biotech | 25 | 205.00€ | | Pub |
| 21432 | EWS Antibody Source Rabbit Polyconal Ab Species Human Mouse Rat Application WB | SignalWay Antibody S.A.B | 50ul | 195.00€ | | Pub |
| 228-10518-3 | Recombinant Human GCK Proteins | Ray Biotech | 1mg | 0.00€ | | Pub |
| 22043 | INPP5F antibody Source Rabbit Polyconal Ab Species Human Application WB IHC IF | SignalWay Antibody S.A.B | 100ul | 329.00€ | | Pub |
| 228-10707-1 | Recombinant Human HIF1A Proteins | Ray Biotech | 10 | 147.00€ | | Pub |
| 22203 | PRPS1L1 antibody Source Rabbit Polyconal Ab Species Human Application WB | SignalWay Antibody S.A.B | 100ul | 329.00€ | | Pub |
| DS-PB-00812 | Rabbit Anti-Human G6PD Antibodies | Ray Biotech | 50 | 411.00€ | | Pub |
| DF302 | Large DNA Fragments Extraction Kit[DISCONTINUED] | Geneaid | 300 preps/kit LD Buffer x 10 ml | 0.00€ | | Pub |
| RBMS2013R | ELISA Human , Interleukin-12 Interleukin23 p40 | Biovendor | 96 wells (1 kit) | 528.00€ | | Pub |
| 228-10967-3 | Recombinant Human IDE Proteins | Ray Biotech | 1mg | 2 426.00€ | | Pub |
| 23093 | ABH1 antibody Source Rabbit Polyconal Ab Species Human Application WB | SignalWay Antibody S.A.B | 100ul | 329.00€ | | Pub |
| ER-14-0964 | Goat Anti-Human NOVA1, (internal region) Antibodies | Ray Biotech | 100 μg | 353.00€ | | Pub |
| IR1-090N-50ml-K3EDTA | Guinea Pig Whole Blood 50ml K3 EDTA | Innovative Research INC | | 302.00€ | | Pub |
| 228-10863-3 | Recombinant Human IL-12 p35 IL12A [+His] Proteins | Ray Biotech | 1mg | 0.00€ | | Pub |
| DS-PB-01435 | Sheep Anti-Human Neuropeptide Y Receptor 1 Antibodies | Ray Biotech | 1 ml | 361.00€ | | Pub |
| DS-MB-00220 | Mouse Anti-Human CD101 [+FITC] Antibodies | Ray Biotech | 0.1 mg | 386.00€ | | Pub |
| RD172225100 | Human, S100G, E.coli , Rec. Prot. | Biovendor | 0.1 mg | 352.00€ | | Pub |
| 228-11075-1 | Recombinant Human MAOB Proteins | Ray Biotech | 2 | 147.00€ | | Pub |
| 4017-20 | CNTF, human recombinant | Biovision | 20 μg | 236.00€ | | Pub |
| ER-14-1295 | Goat Anti-Human SFRP2, (C Terminus) Antibodies | Ray Biotech | 100 μg | 353.00€ | | Pub |
| IRAPKT015 | Human alpha1-antitripsin ELISA Kit (for plasma serum sample) | Innovative Research INC | 1 kit(96 Wells) | 531.00€ | | Pub |
| DS-PB-01953 | Sheep Anti-Human TSH Antibodies | Ray Biotech | 1 ml | 452.00€ | | Pub |
| DS-MB-00769 | Mouse Anti-Human CD49d | Ray Biotech | 100 | 516.00€ | | Pub |
| RF0019-100 | r Human LXR â LBD | Argenvec | 100ìg | 1 204.30€ | | Pub |
| 228-11180-2 | Recombinant Human OSTF1 Proteins | Ray Biotech | 50 | 205.00€ | | Pub |
| 42-653 | Competent Cells for CloningGC5 Competent Cells, pUC19 | Genesee | 75 x 50ul/Unit | 704.00€ | | Pub |
| ER-14-1565 | Goat Anti-Human XRCC4-like factor NHEJ1, (C Terminus) Antibodies | Ray Biotech | 100 μg | 353.00€ | | Pub |
| ISASHPAI-GF-BIO | Antibodies, Sheep: Biotin labeled sheep anti human PAI-1 IgG | Innovative Research INC | 1.0mg | 401.00€ | | Pub |
| DS-PB-02341 | Goat Anti-Human RBP1-Like Protein Antibodies | Ray Biotech | 0.1 mg | 568.00€ | | Pub |
| DS-MB-01424 | Mouse Anti-Human hCG (alpha 2 Epitope) Antibodies | Ray Biotech | 0.5 mg | 411.00€ | | Pub |
| SPC-200D | TLR4 Host Species Rabbit Species Reactivity Human, Mouse polyclonal | Stressmarq | 100ug | 312.00€ | | Pub |
| 228-11255-3 | Recombinant Human PKC beta 1 [+His] [from Sf9] Proteins | Ray Biotech | 1mg | 0.00€ | | Pub |
| 22351 | LETM1 antibody Source Rabbit Polyconal Ab Species Human Application WB IHC IF | SignalWay Antibody S.A.B | 100ul | 329.00€ | | Pub |
| 100-136 | Human Macrophage Inflammatory Protein-4 (CCL18) MIP-4 CCL18 | Shenandoah Biotechnology, Inc. | 2ug | 113.40€ | | Pub |
| 4488-50 | PDGF-BB, human recombinant | Biovision | 50 μg | 661.00€ | | Pub |
| hAP-0002 | Mouse anti human VEGFR-2 Anti-Human antibodies | AngoiPro | 100.00 ug | 310.00€ | | Pub |
| JI-04-00601 | Mouse Anti-Human NRBF2 Antibodies | Ray Biotech | 448 μg | 342.00€ | | Pub |
| DS-PB-02629 | Rabbit Anti-Human IGFBP1 Antibodies | Ray Biotech | 1 ml | 502.00€ | | Pub |
| DS-MB-02154 | Mouse Anti-Human Proinsulin Antibodies | Ray Biotech | 0.2 mg | 361.00€ | | Pub |
| Y054211 | Purified Rabbit Anti Human DCTN2 Polyclonal Antibody | ABM Goods | 100μl | 455.00€ | | Pub |
| 228-11334-1 | Recombinant Human PSMB1 Proteins | Ray Biotech | 2 | 147.00€ | | Pub |
| 22512 | EMR1 antibody Source Rabbit Polyconal Ab Species Human Application WB IHC | SignalWay Antibody S.A.B | 100ul | 329.00€ | | Pub |
| 1042 | ELHABI Human Monkey IgA anti bovine type I collagen ELISA kit | Chondrex | | 497.70€ | | Pub |
| 4699-100 | ApoE4, human recombinant | Biovision | 100 μg | 134.00€ | | Pub |
| hAP-0180 | Mouse anti human CD9 Anti-Human antibodies | AngoiPro | 100.00 ug | 310.00€ | | Pub |
| K233-10-25 | Active Human Caspases Set IV | Biovision | 10 x 25 units | 1 072.00€ | | Pub |
| DS-PB-03011 | Sheep Anti-Human IgG1 Antibodies | Ray Biotech | 0.5 mg | 700.00€ | | Pub |
| DS-MB-02892 | Mouse Anti-Human CD20 | Ray Biotech | 200 | 604.00€ | | Pub |
| Y054893 | Purified Rabbit Anti Human AURKB Polyclonal Antibody | ABM Goods | 100μl | 455.70€ | | Pub |
| 228-11425-2 | Human Secretin | Ray Biotech | 5 mg | 290.00€ | | Pub |
| 22673 | amyloid beta precursor protein-binding family B member 3 isoform a antibody Source Rabbit Polyconal Ab Species Human Application WB | SignalWay Antibody S.A.B | 100ul | 329.00€ | | Pub |
| 126-10038 | Goat Anti-Human PXR NR1I2, (internal region) Antibodies | Ray Biotech | 100 μg | 353.00€ | | Pub |
| 4917-5MG | Human Angiotensin II5 mg | Biovision | 5 mg | 137.24€ | | Pub |
| hAP-0341 | Mouse anti human IGFBP-2 Anti-Human antibodies | AngoiPro | 100.00 ug | 310.00€ | | Pub |
| MD-11-0090 | Mouse Anti-Human CD54 Antibodies | Ray Biotech | 200 | 309.00€ | | Pub |
| ELH-DR6-001 | Custom Human DR6 ELISA ELISA | Ray Biotech | One 96-Well Strip Microplate Kit | 542.00€ | | Pub |
| DS-MB-03083 | Mouse Anti-Human CD45, RPE-labeled | Ray Biotech | 100 Tests | 566.00€ | | Pub |
| Y055529 | Purified Rabbit Anti Human ATPAF2 Polyclonal | ABM Goods | 100μl | 514.50€ | | Pub |
| 228-11508-3 | Native Human Thrombin Proteins | Ray Biotech | 5mg | 0.00€ | | Pub |
| 228-10018-3 | Native Human SERPINA3 Proteins | Ray Biotech | 1mg | 510.00€ | | Pub |
| 128-10046-2 | Mouse Anti-Human CD58, Biotinylated | Ray Biotech | 1 mg | 717.00€ | | Pub |
| 90900-2 | TGFâ1 Active Human Recombinant Protein | BPS Bioscience | 5 µg | 217.00€ | | Pub |
| hAP-0506 | Mouse anti human P38 delta Anti-Human antibodies | AngoiPro | 100.00 ug | 310.00€ | | Pub |
| MD-14-0323 | Mouse Anti-Human Glial Fibrillary Acidic Protein GFAP Antibodies | Ray Biotech | 100 | 292.00€ | | Pub |
| ELH-RAGE-001 | Human RAGE ELISA ELISA | Ray Biotech | One 96-Well Strip Microplate Kit | 362.00€ | | Pub |
| DS-MB-03225 | Mouse Anti-Human CD86 [+FITC] Antibodies | Ray Biotech | 25 | 180.00€ | | Pub |
| Y059034 | Anti-Human Dopamine Beta-Hydroxylase Antibody | ABM Goods | 30ug | 254.00€ | | Pub |
| 228-11605-2 | Recombinant Human VAMP2 Proteins | Ray Biotech | 20 | 205.00€ | | Pub |
| 228-10098-1 | Recombinant Human Bcl-2 -BH1 Proteins | Ray Biotech | 2 | 147.00€ | | Pub |
| 129-10076 | Rabbit Anti-Human CARD9 | Ray Biotech | 100 | 528.00€ | | Pub |
| bs-0104M-A647 | Mouse Anti-beta-Amyloid(1-16) (human) Polyclonal Antibody, Alexa Fluor 647 conjugated,Isotype: IgG | Sepax | 100ug Lyophilized | 323.00€ | | Pub |
| IASHATIII-GF | Antibodies, Rabbit: Rabbit anti human antithrombin III IgG fraction | Innovative Research INC | 1.0mg | 518.00€ | | Pub |
| MD-14-0979 | Mouse Anti-Human VLDL Receptor Antibodies | Ray Biotech | 200 | 309.00€ | | Pub |
| ER-14-0228 | Goat Anti-Human BDH2 DHRS6 (aa 60 to 71), (internal region) Antibodies | Ray Biotech | 100 μg | 353.00€ | | Pub |
| DS-MB-03359 | Mouse Anti-Human IgM [+FITC] Antibodies | Ray Biotech | 0.1 mg | 411.00€ | | Pub |
| bs-0051R | Rabbit Anti-Melanoma Melan-A MART-1 Melanoma HumanB45 Polyclonal Antibody, Unconjugated | Bioss | 100ug | 330.00€ | | Pub |
| 22863 | MURF1 antibody Source Rabbit Polyconal Ab Species Human Application WB IHC IF | SignalWay Antibody S.A.B | 100ul | 329.00€ | | Pub |
| 228-10207-1 | Recombinant Human CD99 | Ray Biotech | 2 | 422.00€ | | Pub |
| 129-10654 | Mouse Anti-Human TREM-1 | Ray Biotech | 25 | 264.00€ | | Pub |
| bs-6793R-PE | Rabbit Anti-APPD LAPF Polyclonal Antibody, PE Conjugated , 31-35kDa; Isotype IgG; Reactivity Human , Mouse , Rat , Bovine , Dog; Application Flow-Cyt(1 20-100), IF(1 50-200) | Bioss | 100ug Lyophilized | 502.00€ | | Pub |
| ICVXC-N | Cancer Samples: Cervix Carcinoma Human Plasma | Innovative Research INC | Each | 302.00€ | | Pub |
| G028 | DNase I | ABM Goods | 1ml / 2000U | 71.40€ | | Pub |
| ER-14-0503 | Goat Anti-Human Ezrin villin 2, (internal region) Antibodies | Ray Biotech | 100 μg | 353.00€ | | Pub |
| DS-PB-00170 | Rabbit Anti-Human Angiotensin II Antibodies | Ray Biotech | 1 ml | 411.00€ | | Pub |
| 230-00011-100 | Recombinant Human Interleukin-6 | Ray Biotech | 100 | 463.00€ | | Pub |
| 228-10286-1 | Recombinant Human CSTB Proteins | Ray Biotech | 5 | 147.00€ | | Pub |
| 130-10061-200 | Rabbit Anti-Human FABP3 Antibodies | Ray Biotech | 200 | 211.00€ | | Pub |
| bs-7637R-PE-Cy3 | Rabbit Anti-ICAM4 CD242 Polyclonal Antibody, PE-Cy3 Conjugated , kDa; Isotype IgG; Reactivity Human , Rat , Mouse; Application Flow-Cyt(1 20-100), IF(1 50-200) | Bioss | 100ug Lyophilized | 530.00€ | | Pub |
| INTAF488PAI-L | Human PAI-1 (N-terminal Alexa Fluor 488 labeled, latent fraction) | Innovative Research INC | 0.5mg | 1 214.00€ | | Pub |
| rAP-0020-10 | FGF-2 (Human) recombinant proteins | AngoiPro | 10.00 ug | 133.00€ | | Pub |
| 228-10409-2 | Recombinant Human ErbB2 HER2 Proteins | Ray Biotech | 20 | 205.00€ | | Pub |
| 20351T | Mouse anti-human type II collagen IgG1 antibody subtype assay kit, TMB | Chondrex | | 442.05€ | | Pub |
| 228-10487-2 | Recombinant Human Flt3 Ligand Proteins | Ray Biotech | 10 | 205.00€ | | Pub |
| 21679 | Cox2 Antibody, Rabbit Polyconal Ab, Species Reactivity: Human | SignalWay Antibody S.A.B | 50ul | 186.00€ | | Pub |
| 228-10592-1 | Recombinant Human gamma-Synuclein | Ray Biotech | 20 | 201.00€ | | Pub |
| 22155 | XE7 antibody Source Rabbit Polyconal Ab Species Human Application WB IHC | SignalWay Antibody S.A.B | 100ul | 329.00€ | | Pub |
| DS-PB-00666 | Rabbit Anti-Human DR3 (N-term) Antibodies | Ray Biotech | 0.1 mg | 353.00€ | | Pub |
| CSB-E13906h | Human Phospholipase D2 (PLD2) ELISA Kit | Cusabio | 96T | 856.00€ | | Pub |
| RB-08-0029-1000 | Rabbit Anti-Human APL Antibodies | Ray Biotech | 1000 | 561.00€ | | Pub |
| 228-10934-3 | Recombinant Human IL-4 [+His] Proteins | Ray Biotech | 1mg | 0.00€ | | Pub |
| 23044 | NADH dehydrogenase (ubiquinone) 1 beta subcomplex, 9, 22kDa antibody Source Rabbit Polyconal Ab Species Human Application WB IHC | SignalWay Antibody S.A.B | 100ul | 329.00€ | | Pub |
| ER-14-0882 | Goat Anti-Human MRP5, (N Terminus) Antibodies | Ray Biotech | 100 μg | 353.00€ | | Pub |
| IR1-070N-1000ml-K3EDTA | Swine Whole Blood 1000ml K3 EDTA | Innovative Research INC | | 348.00€ | | Pub |
| 228-10817-3 | Recombinant Human Interferon-alpha-2a | Ray Biotech | 1 mg | 1 444.00€ | | Pub |
| DS-PB-01283 | Goat Anti-Human MCM3 Antibodies | Ray Biotech | 0.1 mg | 584.00€ | | Pub |
| DS-MB-00082 | Mouse Anti-Human Angiotensin II Antibodies | Ray Biotech | 0.2 mg | 452.00€ | | Pub |
| RD172078100 | Human, Regenerating Protein 1 alpha , Rec. Prot. | Biovendor | 0.1 mg | 352.00€ | | Pub |
| 228-11030-1 | Recombinant Human Leptin (quad antagonist) Proteins | Ray Biotech | 10 | 147.00€ | | Pub |
| ER-14-1220 | Goat Anti-Human Ribosomal protein L22, (C Terminus) Antibodies | Ray Biotech | 100 μg | 353.00€ | | Pub |
| IR1-991N-25ml-NaHeparin | C57BL6 Mouse Whole Blood Na Heparin 25ml | Innovative Research INC | | 629.00€ | | Pub |
| DS-PB-01813 | Rabbit Anti-Human SLUG Antibodies | Ray Biotech | 0.1 mg | 386.00€ | | Pub |
| DS-MB-00518 | Mouse Anti-Human CD226 | Ray Biotech | 100 | 317.00€ | | Pub |
| RD191100200R | ELISA Human , Omentin | Biovendor | 96 wells (1 kit) | 599.00€ | | Pub |
| 228-11157-2 | Recombinant Human NKp46 Proteins | Ray Biotech | 20 | 205.00€ | | Pub |
| 4149-1000 | IL 8 (77 a.a.), human recombinant | Biovision | 1 mg | 3 123.00€ | | Pub |
| ER-14-1497 | Goat Anti-Human TRPV5, (internal region) Antibodies | Ray Biotech | 100 μg | 353.00€ | | Pub |
| IRKTAH2479 | Human Angiotensin II ELISA Kit | Innovative Research INC | 1 kit(96 Wells) | 542.00€ | | Pub |
| DS-PB-02274 | Goat Anti-Human IgG gamma Antibodies | Ray Biotech | 0.8 mg | 292.00€ | | Pub |
| DS-MB-01247 | Mouse Anti-Human Erythropoietin (EPO) | Ray Biotech | 200 | 604.00€ | | Pub |
| SJB02-05 | Recombinant Human IL-4 | Cytokin. | 100μg/vial | 669.00€ | | Pub |
| 228-11234-3 | Recombinant Human PGK1 Proteins | Ray Biotech | 1mg | 2 426.00€ | | Pub |
| 22302 | PSPH antibody Source Rabbit Polyconal Ab Species Human Application WB IF | SignalWay Antibody S.A.B | 100ul | 329.00€ | | Pub |
| 10-003 | Rad52 Protein (Human) Rad52 Protein (Human) | B-Bridge | 20 ug | 303.45€ | | Pub |
| 4366-5 | Leptin, human recombinant | Biovision | 5 mg | 554.00€ | | Pub |
| 228-10331-2 | Recombinant E. coli HSP70 DnaK ATPase BD Proteins | Ray Biotech | 50 | 205.00€ | | Pub |
| JI-04-00550 | Mouse Anti-Human SOX12 Antibodies | Ray Biotech | 399 μg | 342.00€ | | Pub |
| DS-PB-02562 | Rabbit Anti-Human CDK11 Antibodies | Ray Biotech | 50 | 411.00€ | | Pub |
| DS-MB-01982 | Mouse Anti-Mouse NC1.1 (Natural Cytotoxic cells) Antibodies | Ray Biotech | 1 mg | 865.00€ | | Pub |
| Y051149 | Anti human C1 Esterase Inhibitor | ABM Goods | 100μg | 592.00€ | | Pub |
| 228-11302-1 | Recombinant Human PRDX5 Proteins | Ray Biotech | 5 | 147.00€ | | Pub |
| 22464 | galanin receptor 2 antibody Source Rabbit Polyconal Ab Species Human Application WB IHC | SignalWay Antibody S.A.B | 100ul | 329.00€ | | Pub |
| 102-PA03AG | Rabbit anti VEGF-A (human) | AngoiPro | 50.00 ug | 398.00€ | | Pub |
| 4642-100 | VEGF B, human recombinant | Biovision | 100 ìg | 571.00€ | | Pub |
| hAP-0130 | Rat anti human Cathepsin L Anti-Human antibodies | AngoiPro | 100.00 ug | 310.00€ | | Pub |
| JI-04-00764 | Mouse Anti-Human POLDIP2 Antibodies | Ray Biotech | 560 μg | 342.00€ | | Pub |
| DS-PB-02796 | Rabbit Anti-Human IRE1p (C-term) Antibodies | Ray Biotech | 50 | 292.00€ | | Pub |
| DS-MB-02829 | Mouse Anti-Human CD147, FITC-labeled | Ray Biotech | 100 | 541.00€ | | Pub |
| Y054670 | Purified Rabbit Anti Human ARL6IP4 Polyclonal Antibody | ABM Goods | 100μl | 455.70€ | | Pub |
| 228-11388-2 | Recombinant Human RXRA Proteins | Ray Biotech | 50 | 292.00€ | | Pub |
| 22624 | WNT11 antibody Source Rabbit Polyconal Ab Species Human Application WB IHC IF | SignalWay Antibody S.A.B | 100ul | 329.00€ | | Pub |
| 11188 | Ephrin-B2 (Phospho-Tyr316) Antibody Source Rabbit Polyconal Ab Species Human Mouse Application WB | SignalWay Antibody S.A.B | 50ul | 224.00€ | | Pub |
| 4860-10 | IFN-beta, human recombinant | Biovision | 10 μg | 282.00€ | | Pub |
| hAP-0292 | Mouse anti human FGF-9 Anti-Human antibodies | AngoiPro | 100.00 ug | 310.00€ | | Pub |
| M1306 | pCMVLuxA Mammalian LuxA Expression Vector, High copy number eukaryotic vector, pCMVLuxA, expresses the alpha subunit of luciferase encoded by the bacterium Vibria harveyi. When paired with pCMVLuxB, | MarkerGene | | 197.00€ | | Pub |
| ELH-bad-001 | Custom Human BAD ELISA ELISA | Ray Biotech | One 96-Well Strip Microplate Kit | 677.00€ | | Pub |
| DS-MB-03030 | Mouse Anti-Human CD33, RPE-labeled | Ray Biotech | 25 Tests | 264.00€ | | Pub |
| Y055342 | Purified Rabbit Anti Human DDX20 Polyclonal Antibody | ABM Goods | 100μl | 455.00€ | | Pub |
| 228-11485-3 | Recombinant Human TCEB2 Proteins | Ray Biotech | 1mg | 1 658.00€ | | Pub |
| 22781 | IDH2 antibody Source Rabbit Polyconal Ab Species Human Application WB IHC | SignalWay Antibody S.A.B | 100ul | 329.00€ | | Pub |
| 128-10014-1 | Mouse Anti-Human CD14, FITC-labeled | Ray Biotech | 500 | 516.00€ | | Pub |
| 7004-100 | GSK 3b, human recombinant | Biovision | 100 ug | 431.00€ | | Pub |
| hAP-0456 | Mouse anti human TNFSF14 Anti-Human antibodies | AngoiPro | 100.00 ug | 310.00€ | | Pub |
| MD-14-0202 | Rabbit Anti-Human Cullin 2 CUL2 Antibodies | Ray Biotech | 100 | 650.00€ | | Pub |
| ELH-MDC-001 | Human MDC ELISA ELISA | Ray Biotech | One 96-Well Strip Microplate Kit | 362.00€ | | Pub |
| DS-MB-03198 | Mouse Anti-Human CD74 [+FITC] Antibodies | Ray Biotech | 25 | 180.00€ | | Pub |
| Y055957 | Purified Rabbit Anti Human ARF3 Polyclonal | ABM Goods | 100μl | 514.50€ | | Pub |
| 228-11584-2 | Recombinant Human UBE2I [+His] Proteins | Ray Biotech | 50 | 205.00€ | | Pub |
| 228-10070-2 | Recombinant Human Apolipoprotein A1 | Ray Biotech | 100 | 317.00€ | | Pub |
| 128-10160-2 | Mouse Anti-Human Neurotrophin-4 | Ray Biotech | 1 mg | 566.00€ | | Pub |
| B0008-5 | Protein Purification Beads Mouse Anti-Human IgG Beads (1-1.5mg ml) | Boster biotechnology | 5ml | 407.40€ | | Pub |
| hAP-0617 | Mouse anti human alpha FAP Anti-Human antibodies | AngoiPro | 100.00 ug | 310.00€ | | Pub |
| ER-14-0166 | Goat Anti-Human ARF1, 2, 3, 4, (C Terminus) Antibodies | Ray Biotech | 100 μg | 353.00€ | | Pub |
| DS-MB-03306 | Mouse Anti-Human HLA ABC [+RPE] Antibodies | Ray Biotech | 100 TESTS | 411.00€ | | Pub |
| Y105143 | G Protein Coupled Receptor G2A (GPR132), Human | ABM Goods | 50ug | 1 174.00€ | | Pub |
| 22814 | PIM2 antibody Source Rabbit Polyconal Ab Species Human Application WB IHC | SignalWay Antibody S.A.B | 100ul | 329.00€ | | Pub |
| 228-10150-3 | Recombinant Human C1QBP Proteins | Ray Biotech | 1mg | 2 426.00€ | | Pub |
| 129-10417 | Rabbit Anti-Human LOX-1 (Cytoplasm) Antibodies | Ray Biotech | 0.1 ml | 411.00€ | | Pub |
| bs-6352R-PE-Cy3 | Rabbit Anti-Adenylosuccinate Lyase Polyclonal Antibody, PE-Cy3 Conjugated , 55kDa; Isotype IgG; Reactivity Human , Mouse , Rat; Application Flow-Cyt(1 20-100), IF(1 50-200) | Bioss | 100ug Lyophilized | 530.00€ | | Pub |
| OD-0026-01 | Human Parvovirus (B19 ) Real Time PCR Kit DNA I,II | Liferiver | 25 | 256.20€ | | Pub |
| ER-14-0423 | Goat Anti-Human DKK3 REIC, (C Terminus) Antibodies | Ray Biotech | 100 μg | 353.00€ | | Pub |
| DS-PB-00020 | Goat Anti-Human 3PAP Antibodies | Ray Biotech | 0.1 mg | 353.00€ | | Pub |
| 22978 | Caspase 9 antibody Source Rabbit Polyconal Ab Species Human Application WB | SignalWay Antibody S.A.B | 100ul | 329.00€ | | Pub |
| 228-10268-1 | Native Human C1q Proteins | Ray Biotech | 200 | 147.00€ | | Pub |
| 130-10037-200 | Rabbit Anti-Human GFAP Antibodies | Ray Biotech | 200 | 211.00€ | | Pub |
| bs-7574R-PE-Cy3 | Rabbit Anti-RRAS Polyclonal Antibody, PE-Cy3 Conjugated , 24kDa; Isotype IgG; Reactivity Human , Mouse , Rat; Application Flow-Cyt(1 20-100), IF(1 50-200) | Bioss | 100ug Lyophilized | 530.00€ | | Pub |
| IHTPA-NC-0.1mg | Human tPA, Noncleavable 0.1mg | Innovative Research INC | 0.1mg | 697.00€ | | Pub |
| QAH-CAA-7000 | Human Cytokine Array Q7000 Antibody Arrays Cytokine Arrays | Ray Biotech | 1-8 Sample Kit | 8 669.00€ | | Pub |
| ER-14-0696 | Goat Anti-Human Histamine receptor H1(internal), (internal region) Antibodies | Ray Biotech | 100 μg | 353.00€ | | Pub |
| DS-PB-00416 | Rabbit Anti-Human CD220 Antibodies | Ray Biotech | 50 | 601.00€ | | Pub |
| 230-00228-100 | Recombinant Human Inhibin alpha [from E. coli] Proteins | Ray Biotech | 100 | 318.00€ | | Pub |
| 228-10374-2 | Recombinant Human EMAP II Proteins | Ray Biotech | 20 | 205.00€ | | Pub |
| 18-783-75653 | RABBIT ANTI HUMAN SDF-1 ALPHA - CXCL12a; SDF-1; C-X-C motif chemokine 12; Pre-B cell growth-stimulating factor; PBSF; hIRH Polyclonal | GenWay | 0.1 mg | 625.00€ | | Pub |
| IR1-010LK-1000ml | Laked Horse Whole Blood 1000ml | Innovative Research INC | 1000ml | 264.00€ | | Pub |
| rAP-0157-10 | TNF-a (Human) recombinant proteins | AngoiPro | 10.00 ug | 133.00€ | | Pub |
| 228-10463-2 | Recombinant Human FGF9 Proteins | Ray Biotech | 20 | 205.00€ | | Pub |
| 21616 | LPAM-1(Integrin α4, CD49d) Antibody Source Rabbit Polyconal Ab Species Human Application WB | SignalWay Antibody S.A.B | 50ul | 195.00€ | | Pub |
| 228-10567-1 | Recombinant Human GPHB5 Proteins | Ray Biotech | 2 | 147.00€ | | Pub |
| 22107 | ZYG11BL antibody Source Rabbit Polyconal Ab Species Human Application WB IHC | SignalWay Antibody S.A.B | 100ul | 329.00€ | | Pub |
| DS-PB-00518 | Rabbit Anti-Human Collagen III Antibodies | Ray Biotech | 0.5 ml | 568.00€ | | Pub |
| CBEL-STAT3-1 | Human Mouse Rat Phospho-Stat 3 (Y705) Cell-Based ELISA (1) ELISA | Ray Biotech | One 96-Well Microplate Kit | 347.00€ | | Pub |
| RB-02-0022-200 | Mouse Anti-Human Tau Antibodies | Ray Biotech | 200 | 256.00€ | | Pub |
| 228-10903-3 | Recombinant Human IL-2 [+His] Proteins | Ray Biotech | 1mg | 0.00€ | | Pub |
| 230-00271-50 | Recombinant Human RSTN [from E. coli] Proteins | Ray Biotech | 50 | 229.00€ | | Pub |
| ER-14-0805 | Goat Anti-Human LHX2, (C Terminus) Antibodies | Ray Biotech | 100 μg | 353.00€ | | Pub |
| IR1-040N-500ml-K3EDTA | Bovine Whole Blood 500ml K3 EDTA | Innovative Research INC | | 226.00€ | | Pub |
| 228-10787-2 | Recombinant Human HSP20 Proteins | Ray Biotech | 10 | 205.00€ | | Pub |
| 22267 | ZNF346 antibody Source Rabbit Polyconal Ab Species Human Application WB IHC | SignalWay Antibody S.A.B | 100ul | 329.00€ | | Pub |
| DS-PB-01099 | Rabbit Anti-Human IL1RN IL-1ra (aa 525-540) Antibodies | Ray Biotech | 0.1 mg | 386.00€ | | Pub |
| DS-01-0489 | Recombinant Human PDGF-BB Proteins | Ray Biotech | 10 | 452.00€ | | Pub |
| RCAN-T3-4220R | ELISA Human , Triiodothyronine, Total (T3) | Biovendor | 96 wells (1 kit) | 218.00€ | | Pub |
| Cat Number | Product name | Supplier | Quantity | Price | PDF | Pub |