Product name :H+ATPase | plasma membrane H+ATPase
Catalog Number :AS07260
Quantity :200 ug
Price :342 Eur
Pay now with :
Supplier :Agrisera
background
The Plasma Membrane H+ATPase is a family of proteins of ca. 100 kDa that are believed to be exclusive to the plasma membranes of plants and fungi. The protein is anchored within biological membrane which creates an electrochemical gradient used as an energy source and is essential for uptake of most metabolites and plant responses to environment, for example movement of leaves.
immunogen
KLH-conjugated synthetic peptide derived from available di and monocot, fern, mosses and algal plasma membrane ATPase sequences including Arabidopsis thaliana ATPase 1 (At2g18960) and ATPase 2,3,4,6,7,8,9 of Arabidopsis thaliana and hydrogen ATPase of Chlamydomonas reinhardtii (Q9FNS3)
antibody format
rabbit
polyclonal
serum
lyophilized
quantity
200 µl lyophilized
for reconstitution add 200 µl of sterile water.
storage
store lyophilized/reconstituted at -20°C; once reconstituted make aliquots to avoid repeated freeze-thaw cycles. Please, remember to spin tubes briefly prior to opening them to avoid any losses that might occur from lyophilized material adhering to the cap or sides of the tubes.
tested applications
western blot (WB), immunofluorescence (IF), immunolocalization (IL)
related products
AS07 213 | anti-V-ATPase rabbit antibody
AS13 2671 | H+ATPase | plasma membrane H+ATPase
antibodies to membrane transport system
recommended secondary antibody
additional information
cellular [compartment marker] for plasma membrane
tissue specific immunolocalization was done on paraffin emdedded samples as described here.
APPLICATION INFORMATION
recommended dilution
1: 1000 - 1: 5000 with standard ECL OR 1: 10 000 with ECL-Advance, enhanced chemiluminescence (WB), 1: 600 - 1: 1000 (IF), 1: 100 (IL)
expected | apparent MW
95 kDa (Arabidopsis thaliana)
confirmed reactivity
dicots including: Arabidopsis thaliana, Cucurbita moschata, Glycine max (weak), Lycopersicon esculentum, Nicotiana tabaccum, Ricinus communis, Spinacia oleracea, monocots inlcuding: Hordeum vulgare, Zea mays, trees: Picea abies, Populus tremula, Pteris vittata (fern), algae: Chlamydmonas reinhardtii,
predicted reactivity
dicots (including Nicotiana tabacum, Solanum tuberosum, Mesembruanthemum crystallinum); monocots (including Avena sativa, Hordeum vulgare, Oryza sativa, conifers (Pinus thunbergii), mosses (Physocomitrella patens), algae (Dunaliella spp., Ostreococcus spp.), Saccharomyces cerevisiae
not reactive in
no confirmed exceptions from predicted reactivity known in the moment
additional information
for additional Western blot detection image please refer to the article below.
VERY IMPORTANT: please, do not heat up your samples over 70°C as this might cause H+ATPase to precipitate and there will be no signal on your western blot.
selected references
Menckhoff et al. (2013). Plasma membrane-associated malate dehydrogenase of maize (Zea mays L.) roots: Native versus recombinant protein. J Proteomics, Jan 10.
Visnovitz et al. (2012). Plasma membrane H(+) -ATPase gene expression, protein level and activity in growing and non-growing regions of barley (Hordeum vulgare) leaves. Physiol. Plant. January 2012 (ahead of print).

application example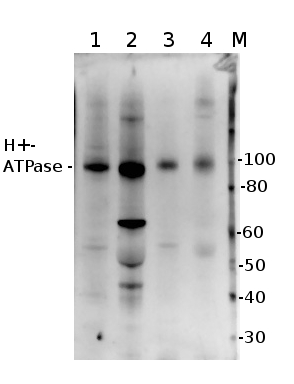 western blot using affinity purified anti-H+-ATPase antibodies
5 µg of total protein from (1) Zea mays whole cell, extracted with Protein Extration Buffer, PEB (AS08 300), (2) Hordeum vulgare leaf extracted with PEB, (3) Spinacia oleraceatotal cell extracted with PEB, (4) Arabidopsis thaliana were boiled for 10 min. in 70°C and separated on 4-12% NuPage (Invitrogen) LDS-PAGE and blotted 1h to PVDF. Blots were blocked immediately following transfer in 2% ECL Advance blocking reagent (GE Healthcare) in 20 mM Tris, 137 mM sodium chloride pH 7.6 with 0.1% (v/v) Tween-20 (TBS-T) for 1h at room temperature with agitation. Blots were incubated in the primary antibody at a dilution of 1: 10 000 for 1h at room temperature with agitation. The antibody solution was decanted and the blot was rinsed briefly twice, then washed once for 15 min and 3 times for 5 min in TBS-T at room temperature with agitation. Blots were incubated in secondary antibody (anti-rabbit IgG horse radish peroxidase conjugated, recommended secondary antibody AS09 602) diluted to 1:50 000 in 2% ECL Advance blocking solution for 1h at room temperature with agitation. The blots were washed as above and developed for 5 min with ECL Advance detection reagent according the manufacturers instructions. Images of the blots were obtained using a CCD imager (FluorSMax, Bio-Rad) and Quantity One software (Bio-Rad).
immunolocalization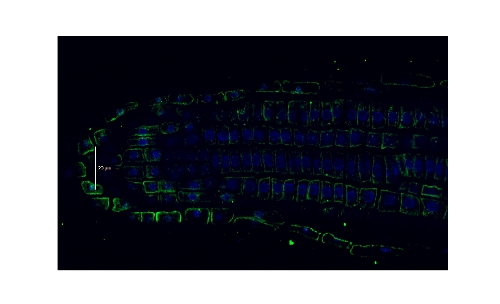 immunolocalization of H+ATPase in Arabidopsis thaliana roots
Plasma membrane H+ATPase localization inArabidopsis thaliana roots.
Arabidopsis thaliana, elongation zone, H+ATPase (green). Arabidopsis thaliana roots were fixed in para-formaldehyde for 30 minutes. Tissue cleaning has been performed before immunolocalization. Anti-rabbit H+ATPase | plasma membrane primary antibody diluted in 1: 300. Co-staining with DAPI visualized nucleus (blue color). Scale bar – 50 µm.
Courtesy Dr. Taras Pasternak, Freiburg University
[Related Products]H+ATPase | plasma membrane H+ATPase
Filter:
(Type enter to validate)
| Cat_Number | Product name | Supplier | Quantity | Price | Tech | More |
| --- | --- | --- | --- | --- | --- | --- |
| AS07260 | H+ATPase | plasma membrane H+ATPase | Agrisera | 200 ug | 342€ | | Pub |
| bs-9753R-FITC | Rabbit Anti-ATP6V1G2 V-ATPase G2 Polyclonal Antibody, FITC conjugated,Isotype: IgG | Sepax | 100ug Lyophilized | 304€ | | Pub |
| 228-10331-3 | Recombinant E. coli HSP70 DnaK ATPase BD Proteins | Ray Biotech | 1mg | 1658€ | | Pub |
| AS08370 | ATPase | ATP synthase, whole enzyme | Agrisera | 100 ul | 337€ | | Pub |
| Y090609 | Anti ATPase, Ca(+2) fast twitch SR Monoclonal | ABM Goods | 100ul | 299.25€ | | Pub |
| bs-1152R-Cy3 | Rabbit Anti-ATP1b2 Na+K+ATPase Polyclonal Antibody, Cy3 Conjugated | Bioss | 100ug | 369€ | | Pub |
| CSB-EL024054PI | Pig translocase of outer mitochondrial membrane 7 homolog (yeast) (TOMM7) ELISA kit, Species Pig, Sample Type serum, plasma | Cusabio | 96T | 887€ | | Pub |
| bs-1152R-PE-Cy5 | Rabbit Anti-ATP1b2 Na+K+ATPase Polyclonal Antibody, PE-Cy5 Conjugated | Bioss | 100ug | 402€ | | Pub |
| bs-9753R-Biotin | Rabbit Anti-ATP6V1G2 V-ATPase G2 Polyclonal Antibody, Biotin conjugated, Isotype: IgG | Sepax | 100ug Lyophilized | 268€ | | Pub |
| 22332 | V-ATPase C2 antibody Source Rabbit Polyconal Ab Species Human Application WB | SignalWay Antibody S.A.B | 100ul | 329€ | | Pub |
| Y090129 | Anti-ATPase, (Na(+) K(+)) beta-subunit Monoclonal Antibody | ABM Goods | 100ul | 265.65€ | | Pub |
| bs-9753R-PE-Cy7 | Rabbit Anti-ATP6V1G2 V-ATPase G2 Polyclonal Antibody, PE-Cy7 conjugated Isotype: IgG | Sepax | 100ug Lyophilized | 300€ | | Pub |
| bs-1152R-A350 | Rabbit Anti-ATP1b2 Na+K+ATPase Polyclonal Antibody, Alexa Fluor 350 conjugated,Isotype: IgG | Sepax | 100ug Lyophilized | 323€ | | Pub |
| bs-1152R-FITC | Rabbit Anti-ATP1b2 Na+K+ATPase Polyclonal Antibody, FITC conjugated,Isotype: IgG | Sepax | 100ug Lyophilized | 304€ | | Pub |
| bs-9753R | Rabbit Anti-ATP6V1G2 V-ATPase G2 Polyclonal Antibody | Sepax | 100ug Lyophilized | 222€ | | Pub |
| 18-272-195131 | VDAC1 - Rabbit polyclonal to VDAC1; VDAC-1; hVDAC1; Outer mitochondrial membrane protein porin 1; Plasmalemmal porin; Porin 31HL; Porin 31HM Polyclonal | GenWay | 0.1 ml | 448€ | | Pub |
| Y050501 | Anti ATP6V0A4(ATPase, H+ transporting, lysosomal V0 subunit aisoform 4) | ABM Goods | 100ug | 436.8€ | | Pub |
| bs-9753R-Cy7 | Rabbit Anti-ATP6V1G2 V-ATPase G2 Polyclonal Antibody, Cy7 conjugated Isotype: IgG | Sepax | 100ug Lyophilized | 268€ | | Pub |
| 228-10331-2 | Recombinant E. coli HSP70 DnaK ATPase BD Proteins | Ray Biotech | 50 | 205€ | | Pub |
| Y090609 | Anti-ATPase, Ca(+2) fast twitch SR Monoclonal Antibody | ABM Goods | 100ul | 265.65€ | | Pub |
| bs-1152R-Biotin | Rabbit Anti-ATP1b2 Na+K+ATPase Polyclonal Antibody, Biotin Conjugated | Bioss | 100ug | 369€ | | Pub |
| bs-1152R-PE-Cy3 | Rabbit Anti-ATP1b2 Na+K+ATPase Polyclonal Antibody, PE-Cy3 Conjugated | Bioss | 100ug | 401€ | | Pub |
| bs-9753R-A647 | Rabbit Anti-ATP6V1G2 V-ATPase G2 Polyclonal Antibody, Alexa Fluor 647 conjugated,Isotype: IgG | Sepax | 100ug Lyophilized | 323€ | | Pub |
| Y075020 | Anti Human ATPase (195 209) | ABM Goods | 100 ul | 423.15€ | | Pub |
| bs-9753R-PE-Cy5.5 | Rabbit Anti-ATP6V1G2 V-ATPase G2 Polyclonal Antibody, PE-Cy5.5 conjugated Isotype: IgG | Sepax | 100ug Lyophilized | 300€ | | Pub |
| bs-1152R | Rabbit Anti-ATP1b2 Na+K+ATPase Polyclonal Antibody, Unconjugated | Bioss | 100ug | 330€ | | Pub |
| bs-1152R-Cy7 | Rabbit Anti-ATP1b2 Na+K+ATPase Polyclonal Antibody, Cy7 Conjugated | Bioss | 100ug | 369€ | | Pub |
| DATG-200 | QuantiChrom™ ATPase GTPase Assay Kit | Bioassays | 200 | 345€ | | Pub |
| Y050501 | Anti-ATP6V0A4(ATPase, H+ transporting, lysosomal V0 subunit aisoform 4) Antibody | ABM Goods | 100ug | 386.4€ | | Pub |
| bs-9753R-Cy5.5 | Rabbit Anti-ATP6V1G2 V-ATPase G2 Polyclonal Antibody, Cy5.5 conjugated, Isotype: IgG | Sepax | 100ug Lyophilized | 268€ | | Pub |
| 228-10331-1 | Recombinant E. coli HSP70 DnaK ATPase BD Proteins | Ray Biotech | 10 | 147€ | | Pub |
| Y090608 | Anti ATPase, Ca(+2) fast twitch SR (avian) Monoclonal | ABM Goods | 100ul | 299.25€ | | Pub |
| bs-1152R-A647 | Rabbit Anti-ATP1b2 Na+K+ATPase Polyclonal Antibody, Alexa Fluor 647 conjugated,Isotype: IgG | Sepax | 100ug Lyophilized | 323€ | | Pub |
| bs-1152R-PE | Rabbit Anti-ATP1b2 Na+K+ATPase Polyclonal Antibody, PE Conjugated | Bioss | 100ug | 369€ | | Pub |
| bs-9753R-A555 | Rabbit Anti-ATP6V1G2 V-ATPase G2 Polyclonal Antibody, Alexa Fluor 555 conjugated,Isotype: IgG | Sepax | 100ug Lyophilized | 323€ | | Pub |
| Y075020 | Anti-Human ATPase (195-209) Antibody | ABM Goods | 100 ul | 374.85€ | | Pub |
| bs-9753R-PE-Cy5 | Rabbit Anti-ATP6V1G2 V-ATPase G2 Polyclonal Antibody, PE-Cy5 conjugated Isotype: IgG | Sepax | 100ug Lyophilized | 300€ | | Pub |
| Y090610 | Anti ATPase, Ca(+2) slow twitch cardiac SR (avian) Monoclonal | ABM Goods | 100ul | 299.25€ | | Pub |
| bs-1152R-Cy5.5 | Rabbit Anti-ATP1b2 Na+K+ATPase Polyclonal Antibody, Cy5.5 Conjugated | Bioss | 100ug | 369€ | | Pub |
| bs-1152R-PE-Cy7 | Rabbit Anti-ATP1b2 Na+K+ATPase Polyclonal Antibody, PE-Cy7 Conjugated | Bioss | 100ug | 401€ | | Pub |
| bs-9753R-Cy5 | Rabbit Anti-ATP6V1G2 V-ATPase G2 Polyclonal Antibody, Cy5 conjugated, Isotype: IgG | Sepax | 100ug Lyophilized | 268€ | | Pub |
| 22746 | V-ATPase 116 kDa isoform a4 antibody Source Rabbit Polyconal Ab Species Human Application WB | SignalWay Antibody S.A.B | 100ul | 329€ | | Pub |
| Y090608 | Anti-ATPase, Ca(+2) fast twitch SR (avian) Monoclonal Antibody | ABM Goods | 100ul | 265.65€ | | Pub |
| bs-1152R-A555 | Rabbit Anti-ATP1b2 Na+K+ATPase Polyclonal Antibody, Alexa Fluor 555 conjugated,Isotype: IgG | Sepax | 100ug Lyophilized | 323€ | | Pub |
| bs-1152R-HRP | Rabbit Anti-ATP1b2 Na+K+ATPase Polyclonal Antibody, HRP Conjugated | Bioss | 100ug | 369€ | | Pub |
| bs-9753R-A488 | Rabbit Anti-ATP6V1G2 V-ATPase G2 Polyclonal Antibody, Alexa Fluor 488 conjugated,Isotype: IgG | Sepax | 100ug Lyophilized | 323€ | | Pub |
| Y121015 | ATPase Antibody | ABM Goods | 1mg | 319.2€ | | Pub |
| bs-9753R-HRP | Rabbit Anti-ATP6V1G2 V-ATPase G2 Polyclonal Antibody, HRP conjugated Isotype: IgG | Sepax | 100ug Lyophilized | 284€ | | Pub |
| Y090610 | Anti-ATPase, Ca(+2) slow twitch cardiac SR (avian) Monoclonal Antibody | ABM Goods | 100ul | 265.65€ | | Pub |
| bs-1152R-Cy5 | Rabbit Anti-ATP1b2 Na+K+ATPase Polyclonal Antibody, Cy5 Conjugated | Bioss | 100ug | 369€ | | Pub |
| bs-1152R-PE-Cy5.5 | Rabbit Anti-ATP1b2 Na+K+ATPase Polyclonal Antibody, PE-Cy5.5 conjugated Isotype: IgG | Sepax | 100ug Lyophilized | 300€ | | Pub |
| bs-9753R-Cy3 | Rabbit Anti-ATP6V1G2 V-ATPase G2 Polyclonal Antibody, Cy3 conjugated, Isotype: IgG | Sepax | 100ug Lyophilized | 268€ | | Pub |
| 22364 | ATPase beta3(Na+ K+) antibody Source Rabbit Polyconal Ab Species Human Application WB IHC | SignalWay Antibody S.A.B | 100ul | 329€ | | Pub |
| Y090129 | Anti ATPase, (Na(+) K(+)) beta subunit Monoclonal | ABM Goods | 100ul | 299.25€ | | Pub |
| cAP-0001GFP-PM | Plasma Membrane GFP Tag Human Umbilical Vein Endothelial Cells | AngoiPro | 1.00 flask | 570€ | | Pub |
| bs-1152R-A488 | Rabbit Anti-ATP1b2 Na+K+ATPase Polyclonal Antibody, Alexa Fluor 488 conjugated,Isotype: IgG | Sepax | 100ug Lyophilized | 323€ | | Pub |
| bs-1152R-Gold | Rabbit Anti-ATP1b2 Na+K+ATPase Polyclonal Antibody, Gold Conjugated | Bioss | 100ug | 369€ | | Pub |
| bs-9753R-A350 | Rabbit Anti-ATP6V1G2 V-ATPase G2 Polyclonal Antibody, Alexa Fluor 350 conjugated,Isotype: IgG | Sepax | 100ug Lyophilized | 323€ | | Pub |
| 22086 | V-ATPase H antibody Source Rabbit Polyconal Ab Species Human Application WB IHC IF | SignalWay Antibody S.A.B | 100ul | 329€ | | Pub |
| Y121015 | ATPase | ABM Goods | 1mg | 360.15€ | | Pub |
| AA0072 | Cytokine (Human) Antibody Array includes 23 highly specific and well-characterized antibodies on membrane. | Abnova | 4 Membranes/Box | 731€ | | Pub |
| MD-14-0853 | Mouse Anti-Epithelial Membrane Antigen (EMA) Antibodies | Ray Biotech | 1 mL | 650€ | | Pub |
| IRB-N-100ml-K2EDTA | Rabbit Plasma US Origin Innovative Grade™ 100ml K2 EDTA | Innovative Research INC | | 325€ | | Pub |
| IMS-BCN-N-K3EDTA-25ml | Balb C Mouse Plasma K3 EDTA 25ml | Innovative Research INC | | 185€ | | Pub |
| IGGP-N-1000ml-NaCitrate | Guinea Pig Plasma 1000ml Na Citrate | Innovative Research INC | | 2332€ | | Pub |
| 04-pc25 | IpPore track etched membranes (film polycarbonate), size A4 | IT4IP | 10 | 497.7€ | | Pub |
| IRT-N-500ml-K2EDTA | Sprague Dawley Rat Plasma 500ml K2 EDTA | Innovative Research INC | | 518€ | | Pub |
| IMS-N-500ml-NaHeparin | Non Swiss Albino Mouse Plasma 500ml Na Heparin | Innovative Research INC | | 518€ | | Pub |
| IGT-N100ml(K3EDTA) | Goat Plasma 100 ml | Innovative Research INC | 100ml | 207€ | | Pub |
| GPC-0100 | Non sterile goat plasma with sodium citrate, 100ml | Equitech | 100 ml | 128.142€ | | Pub |
| IWRT-N-500ml-LiHeparin | Wistar Rat Plasma 500ml Li Heparin | Innovative Research INC | | 518€ | | Pub |
| IPLA-N-500ml-K2EDTA | Pooled Normal Human Plasma 500ml K2 EDTA | Innovative Research INC | | 430€ | | Pub |
| IMPLA-SC-PAI-10ml | Mouse PAI1 Depleted Plasma, Sodium Citrate 10ml | Innovative Research INC | 10ml | 1111€ | | Pub |
| ICY-N-10ml-LiHeparin | Cynomolgus Monkey Plasma 10ml Li Heparin | Innovative Research INC | | 218€ | | Pub |
| IRS-N-100ml-NaEDTA | Rhesus Monkey Plasma 100ml Na EDTA | Innovative Research INC | | 801€ | | Pub |
| IMS-C57BL6-N-50ml-NaCitrate | C57BL6 Mouse Plasma 50ml Na Citrate | Innovative Research INC | | 255€ | | Pub |
| IGGP-N-NaHeparin-25ml | Guinea Pig Plasma Na Heparin 25ml | Innovative Research INC | | 185€ | | Pub |
| CSB-E17034h | Human Helicobacter pylori antibody(IgA) ELISA Kit, Species Human, Sample Type serum, plasma | Cusabio | 96T | 913€ | | Pub |
| 0103002-H-MMP-1 | Biotin-Conjugated Anti-Cytokines | Ray Biotech | 2 Membrane supply | 108€ | | Pub |
| 04-pc57 | IpPore track etched membranes (film polycarbonate), disks | IT4IP | 0,2 | 98.7€ | | Pub |
| ISH-N-500ml-LiHeparin | Sheep Plasma 500ml Li Heparin | Innovative Research INC | | 226€ | | Pub |
| IPK20E7B7 | Plasma Proteins: Anti Human Prekallikrein, Clone 20E7B7 | Innovative Research INC | 1.0mg | 752€ | | Pub |
| IHKDC-N | Cancer Samples: Kidney Carcinoma Plasma | Innovative Research INC | Each | 266€ | | Pub |
| IBV-N-500ml-NaEDTA | Bovine Plasma 500ml Na EDTA | Innovative Research INC | | 155€ | | Pub |
| 04-pc66 | IpPore track etched membranes (film polycarbonate), disks | IT4IP | 10 | 121.8€ | | Pub |
| ISTMC-N | Cancer Samples: Gastric Carcinoma Cancer Plasma | Innovative Research INC | Each | 266€ | | Pub |
| IPLA-MSPP-1ml | Single Donor Human Multiple Sclerosis Plasma 1ml | Innovative Research INC | | 401€ | | Pub |
| IHR-N-1000ml-NaEDTA | Horse Plasma 1000ml Na EDTA | Innovative Research INC | | 255€ | | Pub |
| ICK-N50ml(K2EDTA) | Chicken Plasma 50 ml | Innovative Research INC | 50ml | 282€ | | Pub |
| AA0081 | Cytokine (Mouse) Antibody Array includes 22 highly specific and well-characterized antibodies on membrane. | Abnova | 4 Membranes/Box | 731€ | | Pub |
| MFMCE047045GWSP | MCE Gridded Membrane Filter, Individually package, White, Sterile, 0.45(μm), 47(mm),With Pad | Membrane solutions | 1000 pcs | 336€ | | Pub |
| IRB-N-500ml-NaCitrate | Rabbit Plasma US Origin Innovative Grade™ 500ml Na Citrate | Innovative Research INC | | 864€ | | Pub |
| IMS-C57BL6-N-1000ml-NaEDTA | C57BL6 Mouse Plasma 1000ml Na EDTA | Innovative Research INC | | 2033€ | | Pub |
| IGGP-N-10ml-K2EDTA | Guinea Pig Plasma 10ml K2 EDTA | Innovative Research INC | | 149€ | | Pub |
| CAPE-0500 | Non sterile canine plasma with EDTA, 500ml | Equitech | 500 ml | 538.671€ | | Pub |
| A00008 | Epithelial Membrane Antigen; Clone E29 | Scy tek | 6 ml Ready-to-use | 98€ | | Pub |
| 04-pc34 | IpPore track etched membranes (film polycarbonate), disks | IT4IP | 2 | 115.5€ | | Pub |
| IRT-N-50ml-NaCitrate | Sprague Dawley Rat Plasma 50ml Na Citrate | Innovative Research INC | | 149€ | | Pub |
| IPG-N-1000ml-K3EDTA | Porcine Plasma 1000ml K3 EDTA | Innovative Research INC | | 440€ | | Pub |
| IGT-N-100ml-NaEDTA | Goat Plasma 100ml Na EDTA | Innovative Research INC | | 155€ | | Pub |
| HAPC-0050 | Non sterile hamster plasma with sodium citrate, 50ml | Equitech | 50 ml | 249€ | | Pub |
| 36001 | Screen Quest™ Membrane Potential Assay Kit *Orange Fluorescence* | AAT Bioquest | 100 plates | 3131€ | | Pub |
| IWRT-N-50ml-NaHeparin | Wistar Rat Plasma 50ml Na Heparin | Innovative Research INC | | 149€ | | Pub |
| IPLA-N-50ml-K3EDTA | Pooled Normal Human Plasma 50ml K3 EDTA | Innovative Research INC | | 107€ | | Pub |
| IMS-BCN-N-100ml-LiHeparin | Balb C Mouse Plasma 100ml Li Heparin | Innovative Research INC | | 395€ | | Pub |
| ICY-N-50ml-NaHeparin | Cynomolgus Monkey Plasma 50ml Na Heparin | Innovative Research INC | | 441€ | | Pub |
| 04-pc02 | IpPore track etched membranes (film polycarbonate), size A4 | IT4IP | 0,1 | 497.7€ | | Pub |
| IRS-N-50ml-K3EDTA | Rhesus Monkey Plasma 50ml K3 EDTA | Innovative Research INC | | 441€ | | Pub |
| IMS-N-1000ml-K2EDTA | Non Swiss Albino Mouse Plasma 1000ml K2 EDTA | Innovative Research INC | | 752€ | | Pub |
| IGHMA-N-10ml-LiHeparin | Hamster Plasma 10ml Li Heparin | Innovative Research INC | | 206€ | | Pub |
| CSB-EL010808RB | Rabbit heat shock protein 90kDa alpha (cytosolic), class B member 1 (HSP90AB1) ELISA kit, Species Rabbit, Sample Type serum, plasma | Cusabio | 96T | 913€ | | Pub |
| 0103002-H9 | Biotin-Conjugated Anti-Cytokines | Ray Biotech | 2 Membrane supply | 138€ | | Pub |
| 04-pc11 | IpPore track etched membranes (film polycarbonate), size A4 | IT4IP | 8 | 424.2€ | | Pub |
| IRT-N-1000ml-NaEDTA | Sprague Dawley Rat Plasma 1000ml Na EDTA | Innovative Research INC | | 877€ | | Pub |
| IMS-N-100ml-NaCitrate | Non Swiss Albino Mouse Plasma 100ml Na Citrate | Innovative Research INC | | 232€ | | Pub |
| IGHMA-N-50ml-NaHeparin | Hamster Plasma 50ml Na Heparin | Innovative Research INC | | 518€ | | Pub |
| 0103002-M-I-1 | Biotin-Conjugated Anti-Cytokines | Ray Biotech | 2 Membrane supply | 138€ | | Pub |
| 04-pc75 | IpPore track etched membranes (film polycarbonate), disks | IT4IP | 3 | 201.6€ | | Pub |
| IWRT-N-100ml-K2EDTA | Wistar Rat Plasma 100ml K2 EDTA | Innovative Research INC | | 232€ | | Pub |
| IPLA-N-100ml-CPD | Pooled Normal Human Plasma 100ml CPD | Innovative Research INC | | 128€ | | Pub |
| IHR-N-500ml-K3EDTA | Horse Plasma 500ml K3 EDTA | Innovative Research INC | | 186€ | | Pub |
| ICK-N-50ml-NaCitrate | Chicken Plasma 50ml Na Citrate | Innovative Research INC | | 164€ | | Pub |
| AA0090 | Inflammation (Human) Antibody Array includes 20 highly specific and well-characterized antibodies on membrane. | Abnova | 4 Membranes/Box | 731€ | | Pub |
| SHAPC-0050 | Sterile filtered hamster plasma with sodium citrate, 50ml | Equitech | 50 ml | 249€ | | Pub |
| IRbPLA-SC-PAI-100ml | Rabbit PAI1 Depleted Plasma, Sodium Citrate 100ml | Innovative Research INC | 100ml | 7045€ | | Pub |
| IMS-C57BL6-N-10ml-K3EDTA | C57BL6 Mouse Plasma 10ml K3 EDTA | Innovative Research INC | | 114€ | | Pub |
| IGGP-N-500ml-NaCitrate | Guinea Pig Plasma 500ml Na Citrate | Innovative Research INC | | 1162€ | | Pub |
| CMPH-0050 | Non sterile Cynomolgus monkey plasma with heparin, 50ml | Equitech | 50 ml | 982.422€ | | Pub |
| CMPE-0100 | Non-sterile Cynomolgus monkey plasma with EDTA, 100ml | Equitech | | 1454€ | | Pub |
| 04-pc43 | IpPore track etched membranes (film polycarbonate), disks | IT4IP | 0,4 | 140.7€ | | Pub |
| ISH-N-1000ml-NaHeparin | Sheep Plasma 1000ml Na Heparin | Innovative Research INC | | 342€ | | Pub |
| IPG-N-100ml-NaEDTA | Porcine Plasma 100ml Na EDTA | Innovative Research INC | | 174€ | | Pub |
| IGT-N-500ml-NaEDTA | Goat Plasma 500ml Na EDTA | Innovative Research INC | | 173€ | | Pub |
| IBV-N-1000ml-NaCitrate | Bovine Plasma 1000ml Na Citrate | Innovative Research INC | | 155€ | | Pub |
| 4931-1000 | Lipoprotein, Human Plasma, Low Density | Biovision | 1 mg | 152€ | | Pub |
| M0906 | D Luciferin, ethyl ester, Membrane Permeable Enzyme Substrate, 10mg | MarkerGene | | 127€ | | Pub |
| IPLA-PREC-1ml | Single Donor Human Preeclampsia Plasma 1ml | Innovative Research INC | | 401€ | | Pub |
| IMS-BCN-N-10ml-NaHeparin | Balb C Mouse Plasma 10ml Na Heparin | Innovative Research INC | | 114€ | | Pub |
| IDK-N-100ml-LiHeparin | Donkey Plasma 100ml Li Heparin | Innovative Research INC | | 150€ | | Pub |
| M1577 | 1,1'-Dioctadecyl-3,3,3',3'-tetramethylindotricarbocyanine iodide, DiR, A lipophilic near-IR (NIR) fluorescent membrane probe used for labeling cells for long term analysis, 25mg | MarkerGene | | 148€ | | Pub |
| IRAPKT041 | Human Complement C3 ELISA Kit (Plasma & Serum Samples) | Innovative Research INC | 1 kit(96 Wells) | 597€ | | Pub |
| IMS-BCN-N-50ml-LiHeparin | Balb C Mouse Plasma 50ml Li Heparin | Innovative Research INC | | 255€ | | Pub |
| IDK-N-500ml-NaHeparin | Donkey Plasma 500ml Na Heparin | Innovative Research INC | | 186€ | | Pub |
| 04-pc20 | IpPore track etched membranes (film polycarbonate), size A4 | IT4IP | 1 | 424.2€ | | Pub |
| IRT-N-10ml-K3EDTA | Sprague Dawley Rat Plasma 10ml K3 EDTA | Innovative Research INC | | 107€ | | Pub |
| IMS-N-500ml-K2EDTA | Non Swiss Albino Mouse Plasma 500ml K2 EDTA | Innovative Research INC | | 518€ | | Pub |
| IGMS-N-1000ml-LiHeparin | Mouse Plasma 1000ml Li Heparin | Innovative Research INC | | 2078€ | | Pub |
| FPC-0500 | Non sterile feline plasma with sodium citrate, 500ml | Equitech | 500 ml | 982.422€ | | Pub |
| IWRT-N-10ml-NaCitrate | Wistar Rat Plasma 10ml Na Citrate | Innovative Research INC | | 107€ | | Pub |
| IPLA-N-10ml-K2EDTA | Pooled Normal Human Plasma 10ml K2 EDTA | Innovative Research INC | | 79€ | | Pub |
| IHR-N-50ml-NaHeparin | Horse Plasma 50ml Na Heparin | Innovative Research INC | | 105€ | | Pub |
| ICY-N-100ml-NaCitrate | Cynomolgus Monkey Plasma 100ml Na Citrate | Innovative Research INC | | 801€ | | Pub |
| AAM-CUST-M | Custom C-Series Mouse Array Antibody Arrays Custom Arrays | Ray Biotech | 10 membrane minimum | 0€ | | Pub |
| IRMSA-200mg | Mouse Plasma Albumin 200mg | Innovative Research INC | 200mg | 946€ | | Pub |
| IMS-C57BL6-N-500ml-NaEDTA | C57BL6 Mouse Plasma 500ml Na EDTA | Innovative Research INC | | 1097€ | | Pub |
| IGGP-N-K2EDTA-25ml | Guinea Pig Plasma K2 EDTA 25ml | Innovative Research INC | | 185€ | | Pub |
| CSB-E14116Fh | Grouper Vitellogenin,VTG ELISA Kit, Species Grouper, Sample Type serum, plasma | Cusabio | 96T | 915€ | | Pub |
| 0103002-H-CHE-1 | Biotin-Conjugated Anti-Cytokines | Ray Biotech | 2 Membrane supply | 138€ | | Pub |
| 04-pc52 | IpPore track etched membranes (film polycarbonate), disks | IT4IP | 12 | 176.4€ | | Pub |
| ISH-N-10ml-NaCitrate | Sheep Plasma 10ml Na Citrate | Innovative Research INC | | 96€ | | Pub |
| IPGGMP-N-50ml-K3EDTA | Goettingen Mini Pig Plasma 50ml K3 EDTA | Innovative Research INC | | 784€ | | Pub |
| IHGPG | Plasma Proteins: Human Glu Plasminogen | Innovative Research INC | 1mg | 284€ | | Pub |
| IBV-N-100ml-NaOxalate | Bovine Plasma 100ml Na Oxalate | Innovative Research INC | | 155€ | | Pub |
| AA0067 | Angiogenesis (Mouse) Antibody Array includes 24 highly specific and well-characterized antibodies on membrane. | Abnova | 4 Membranes/Box | 731€ | | Pub |
| 04-pc61 | IpPore track etched membranes (film polycarbonate), disks | IT4IP | 1 | 107.1€ | | Pub |
| ISH-N-50ml-K3EDTA | Sheep Plasma 50ml K3 EDTA | Innovative Research INC | | 128€ | | Pub |
| IPLA-CLYP-1ml | Single Donor Human Colon Polyps Plasma 1ml | Innovative Research INC | 1ml | 513€ | | Pub |
| IHPZ | Plasma Proteins: Human Protein Z | Innovative Research INC | 0.5mg | 1103€ | | Pub |
| IBV-N-50ml-K3EDTA | Bovine Plasma 50ml K3 EDTA | Innovative Research INC | | 105€ | | Pub |
| AA0076 | Cytokine (Human) Antibody Array includes 60 highly specific and well-characterized antibodies on membrane. | Abnova | 4 Membranes/Box | 888€ | | Pub |
| MFMCE047045 | MCE Membrane Filter, Pore:0.45(μm), Diameter47(mm) | Membrane solutions | 5pk | 203€ | | Pub |
| IRB-N-100ml-NaEDTA | Rabbit Plasma US Origin Innovative Grade™ 100ml Na EDTA | Innovative Research INC | | 325€ | | Pub |
| IMS-BCN-N-NaHeparin-25ml | Balb C Mouse Plasma Na Heparin 25ml | Innovative Research INC | | 185€ | | Pub |
| IGGP-N-100ml-K3EDTA | Guinea Pig Plasma 100ml K3 EDTA | Innovative Research INC | | 395€ | | Pub |
| 04-pc29 | IpPore track etched membranes (film polycarbonate), disks | IT4IP | 0,2 | 107.1€ | | Pub |
| IRT-N-500ml-NaEDTA | Sprague Dawley Rat Plasma 500ml Na EDTA | Innovative Research INC | | 518€ | | Pub |
| IMS-N-50ml-NaCitrate | Non Swiss Albino Mouse Plasma 50ml Na Citrate | Innovative Research INC | | 149€ | | Pub |
| IGT-N-1000ml-NaCitrate | Goat Plasma 1000ml Na Citrate | Innovative Research INC | | 255€ | | Pub |
| GPH-0100 | Non sterile goat plasma with heparin, 100ml | Equitech | 100 ml | 128.142€ | | Pub |
| 22803 | Cell Meter™ NIR Mitochondria Membrane Potential Assay Kit *Optimized for Microplate Reader* | AAT Bioquest | 1 kit | 231€ | | Pub |
| IWRT-N-50ml-K2EDTA | Wistar Rat Plasma 50ml K2 EDTA | Innovative Research INC | | 149€ | | Pub |
| IPLA-N-500ml-NaEDTA | Pooled Normal Human Plasma 500ml Na EDTA | Innovative Research INC | | 430€ | | Pub |
| IMS-BCN-N-1000ml-NaCitrate | Balb C Mouse Plasma 1000ml Na Citrate | Innovative Research INC | | 2033€ | | Pub |
| ICY-N-50ml-K2EDTA | Cynomolgus Monkey Plasma 50ml K2 EDTA | Innovative Research INC | | 441€ | | Pub |
| Y090752 | Anti basement membrane marker Monoclonal | ABM Goods | 100ul | 299.25€ | | Pub |
| IRS-N-10ml-LiHeparin | Rhesus Monkey Plasma 10ml Li Heparin | Innovative Research INC | | 218€ | | Pub |
| IMS-C57BL6-NK3EDTA--25ml | C57BL6 Mouse Plasma K3 EDTA 25ml | Innovative Research INC | | 185€ | | Pub |
| IGHMA-N-100ml-NaCitrate | Hamster Plasma 100ml Na Citrate | Innovative Research INC | | 830€ | | Pub |
| CSB-EL005272CH | Chicken craniofacial development protein 1 (CFDP1) ELISA kit, Species Chicken, Sample Type serum, plasma | Cusabio | 96T | 913.5€ | | Pub |
| 0103002-H4 | Biotin-Conjugated Anti-Cytokines | Ray Biotech | 2 Membrane supply | 120€ | | Pub |
| IRS-N-50ml-NaHeparin | Rhesus Monkey Plasma 50ml Na Heparin | Innovative Research INC | | 441€ | | Pub |
| IMS-N-1000ml-NaEDTA | Non Swiss Albino Mouse Plasma 1000ml Na EDTA | Innovative Research INC | | 752€ | | Pub |
| IGHMA-N-50ml-K2EDTA | Hamster Plasma 50ml K2 EDTA | Innovative Research INC | | 518€ | | Pub |
| CSB-EL020623CH | Chicken S100 calcium binding protein A10 (S100A10) ELISA kit, Species Chicken, Sample Type serum, plasma | Cusabio | 96T | 913.5€ | | Pub |
| 0103002-M-4 | Biotin-Conjugated Anti-Cytokines | Ray Biotech | 2 Membrane supply | 121€ | | Pub |
| 04-pc70 | IpPore track etched membranes (film polycarbonate), disks | IT4IP | 0,4 | 201.6€ | | Pub |
| IWRT-N-1000ml-K3EDTA | Wistar Rat Plasma 1000ml K3 EDTA | Innovative Research INC | | 877€ | | Pub |
| IPLA-N-1000ml-LiHeparin | Pooled Normal Human Plasma 1000ml Li Heparin | Innovative Research INC | | 705€ | | Pub |
| IHR-N-100ml-LiHeparin | Horse Plasma 100ml Li Heparin | Innovative Research INC | | 155€ | | Pub |
| ICK-N-100ml-LiHeparin | Chicken Plasma 100ml Li Heparin | Innovative Research INC | | 246€ | | Pub |
| AA0085 | Cytokine (Mouse) Antibody Array includes 48 highly specific and well-characterized antibodies on membrane. | Abnova | 4 Membranes/Box | 888€ | | Pub |
| P-1004-2 |  FitAmp Plasma Serum DNA Isolation Kit (100 samples) | EpigenTek | | 292.95€ | | Pub |
| IRB-N-50ml-K3EDTA | Rabbit Plasma US Origin Innovative Grade™ 50ml K3 EDTA | Innovative Research INC | | 185€ | | Pub |
| IMS-C57BL6-N-100ml-LiHeparin | C57BL6 Mouse Plasma 100ml Li Heparin | Innovative Research INC | | 395€ | | Pub |
| IGGP-N-10ml-NaEDTA | Guinea Pig Plasma 10ml Na EDTA | Innovative Research INC | | 149€ | | Pub |
| CMPC-0100 | Non sterile Cynomolgus monkey plasma with sodium citrate, 100ml | Equitech | 100 ml | 1760.77€ | | Pub |
| BPUC-0500 | Non-sterile bovine plasma with sodium citrate, 500ml | Equitech | | 82.76€ | | Pub |
| 04-pc38 | IpPore track etched membranes (film polycarbonate), disks | IT4IP | 10 | 133.35€ | | Pub |
| ISH-N-1000ml-K2EDTA | Sheep Plasma 1000ml K2 EDTA | Innovative Research INC | | 342€ | | Pub |
| IPG-N-1000ml-NaHeparin | Porcine Plasma 1000ml Na Heparin | Innovative Research INC | | 440€ | | Pub |
| IGT-N-10ml-LiHeparin | Goat Plasma 10ml Li Heparin | Innovative Research INC | | 82€ | | Pub |
| IBSC-N | Cancer Samples: Breast Carcinoma Plasma | Innovative Research INC | Each | 266€ | | Pub |
| 4703-100 | Apolipoprotein CI, Human Plasma | Biovision | 100 | 236€ | | Pub |
| K268-50 | Membrane Protein Extraction Kit50 assays | Biovision | 50 assays | 314.685€ | | Pub |
| IPLA-N-50ml-NaHeparin | Pooled Normal Human Plasma 50ml Na Heparin | Innovative Research INC | | 107€ | | Pub |
| IMS-BCN-N-10ml-K2EDTA | Balb C Mouse Plasma 10ml K2 EDTA | Innovative Research INC | | 114€ | | Pub |
| IDK-N-1000ml-K3EDTA | Donkey Plasma 1000ml K3 EDTA | Innovative Research INC | | 278€ | | Pub |
| 04-pc06 | IpPore track etched membranes (film polycarbonate), size A4 | IT4IP | 0,8 | 424.2€ | | Pub |
| 04-pc15 | IpPore track etched membranes (film polycarbonate), size A4 | IT4IP | 0,1 | 424.2€ | | Pub |
| IRT-N-100ml-LiHeparin | Sprague Dawley Rat Plasma 100ml Li Heparin | Innovative Research INC | | 232€ | | Pub |
| IMS-N-10ml-K3EDTA | Non Swiss Albino Mouse Plasma 10ml K3 EDTA | Innovative Research INC | | 107€ | | Pub |
| IGHMA-NNaCitrate-25ml | Hamster Plasma Na Citrate 25ml | Innovative Research INC | | 310€ | | Pub |
| DS-MB-01745 | Mouse Anti-Kinetoplastid Membrane Protein 11 | Ray Biotech | 500 | 793€ | | Pub |
| 04-pc79 | IpPore track etched membranes (film polycarbonate), disks | IT4IP | 12 | 246.75€ | | Pub |
| IWRT-N-100ml-NaEDTA | Wistar Rat Plasma 100ml Na EDTA | Innovative Research INC | | 232€ | | Pub |
| IPLA-N-100ml-NaCitrate | Pooled Normal Human Plasma 100ml Na Citrate | Innovative Research INC | | 128€ | | Pub |
| IHR-N-500ml-NaHeparin | Horse Plasma 500ml Na Heparin | Innovative Research INC | | 186€ | | Pub |
| ICTS-N | Cancer Samples: Colon Adenocarcinoma Plasma | Innovative Research INC | Each | 266€ | | Pub |
| AA0094 | MMP (Human) Antibody Array includes 10 highly specific and well-characterized antibodies on membrane. | Abnova | 4 Membranes/Box | 731€ | | Pub |
| IRDSA-100mg | Canine Plasma Albumin 100mg | Innovative Research INC | 100mg | 559€ | | Pub |
| IMS-C57BL6-N-10ml-NaHeparin | C57BL6 Mouse Plasma 10ml Na Heparin | Innovative Research INC | | 114€ | | Pub |
| IGGP-N-50ml-K3EDTA | Guinea Pig Plasma 50ml K3 EDTA | Innovative Research INC | | 243€ | | Pub |
| CSB-E06971Rb | rabbit Leptin,LEP ELISA Kit, Species rabbit, Sample Type serum, plasma | Cusabio | 96T | 503€ | | Pub |
| CMPH-0500 | Non-sterile Cynomolgus monkey plasma with heparin, 500ml | Equitech | | 5666€ | | Pub |
| 04-pc47 | IpPore track etched membranes (film polycarbonate), disks | IT4IP | 2 | 149.1€ | | Pub |
| ISH-N-100ml-NaEDTA | Sheep Plasma 100ml Na EDTA | Innovative Research INC | | 200€ | | Pub |
| IPG-N-500ml-LiHeparin | Porcine Plasma 500ml Li Heparin | Innovative Research INC | | 278€ | | Pub |
| IGT-N-50ml-LiHeparin | Goat Plasma 50ml Li Heparin | Innovative Research INC | | 105€ | | Pub |
| IBV-N-100ml-K2EDTA | Bovine Plasma 100ml K2 EDTA | Innovative Research INC | | 155€ | | Pub |
| 514-A | anti CD38 Hematopoietic precursors, thymocytes, activated T cells, plasma cells Recognition human CD38 antigen Clone ICO 20 | Virogen | 1 mg | 1233€ | | Pub |
| M1197 | 3,3 dioctadecyloxacarbocyanine perchlorate (DiO; DiOC18(3)), Highly fluorescent membrane probe for labeling live and fixed cells in culture, 25mg | MarkerGene | | 114€ | | Pub |
| IRAPKT015 | Human alpha1-antitripsin ELISA Kit (for plasma serum sample) | Innovative Research INC | 1 kit(96 Wells) | 531€ | | Pub |
| IMS-BCN-N-500ml-NaCitrate | Balb C Mouse Plasma 500ml Na Citrate | Innovative Research INC | | 1097€ | | Pub |
| IDK-N-500ml-K2EDTA | Donkey Plasma 500ml K2 EDTA | Innovative Research INC | | 186€ | | Pub |
| MD-14-0296 | Mouse Anti-Fibronectin (Plasma) Antibodies | Ray Biotech | 1 mg | 370€ | | Pub |
| IRAPKT157 | Human Protein C ELISA Kit (Plasma & Serum Samples) | Innovative Research INC | 1 kit(96 Wells) | 652€ | | Pub |
| IMS-BCN-N-K2EDTA-25ml | Balb C Mouse Plasma K2 EDTA 25ml | Innovative Research INC | | 185€ | | Pub |
| IGGP-N-1000ml-LiHeparin | Guinea Pig Plasma 1000ml Li Heparin | Innovative Research INC | | 2332€ | | Pub |
| 04-pc24 | IpPore track etched membranes (film polycarbonate), size A4 | IT4IP | 8 | 497.7€ | | Pub |
| IRT-N-10ml-NaHeparin | Sprague Dawley Rat Plasma 10ml Na Heparin | Innovative Research INC | | 107€ | | Pub |
| IMS-N-500ml-NaEDTA | Non Swiss Albino Mouse Plasma 500ml Na EDTA | Innovative Research INC | | 518€ | | Pub |
| IGT-N100ml(K2EDTA) | Goat Plasma 100 ml | Innovative Research INC | 100ml | 207€ | | Pub |
| FPH-0500 | Non sterile feline plasma with heparin, 500ml | Equitech | 500 ml | 982.422€ | | Pub |
| IWRT-N-500ml-K3EDTA | Wistar Rat Plasma 500ml K3 EDTA | Innovative Research INC | | 518€ | | Pub |
| IPLA-N-10ml-NaHeparin | Pooled Normal Human Plasma 10ml Na Heparin | Innovative Research INC | | 79€ | | Pub |
| IMPLA-SC-PAI-100ml | Mouse PAI1 Depleted Plasma, Sodium Citrate 100ml | Innovative Research INC | 100ml | 9727€ | | Pub |
| ICY-N-10ml-K3EDTA | Cynomolgus Monkey Plasma 10ml K3 EDTA | Innovative Research INC | | 218€ | | Pub |
| IRS-N-100ml-NaCitrate | Rhesus Monkey Plasma 100ml Na Citrate | Innovative Research INC | | 801€ | | Pub |
| IMS-C57BL6-N-50ml-LiHeparin | C57BL6 Mouse Plasma 50ml Li Heparin | Innovative Research INC | | 255€ | | Pub |
| IGGP-N-NaEDTA-25ml | Guinea Pig Plasma Na EDTA 25ml | Innovative Research INC | | 185€ | | Pub |
| CSB-E15791Fh | Fish Luteinizing Hormone(LH)ELISA Kit, Species Fish, Sample Type serum, plasma | Cusabio | 96T | 688€ | | Pub |
| 0103002-H-I-3 | Biotin-Conjugated Anti-Cytokines | Ray Biotech | 2 Membrane supply | 138€ | | Pub |
| 04-pc56 | IpPore track etched membranes (film polycarbonate), disks | IT4IP | 0,1 | 126€ | | Pub |
| ISH-N-500ml-K3EDTA | Sheep Plasma 500ml K3 EDTA | Innovative Research INC | | 226€ | | Pub |
| IPGGMP-N-50ml-NaHeparin | Goettingen Mini Pig Plasma 50ml Na Heparin | Innovative Research INC | | 784€ | | Pub |
| IHKa | Plasma Proteins: Human Kallikrein | Innovative Research INC | 1mg | 606€ | | Pub |
| IBV-N-500ml-NaCitrate | Bovine Plasma 500ml Na Citrate | Innovative Research INC | | 155€ | | Pub |
| AA0071 | Chemokine (Human) Antibody Array includes 38 highly specific and well-characterized antibodies on membrane. | Abnova | 4 Membranes/Box | 731€ | | Pub |
| 04-pc65 | IpPore track etched membranes (film polycarbonate), disks | IT4IP | 8 | 107.1€ | | Pub |
| ISH-N-50ml-NaHeparin | Sheep Plasma 50ml Na Heparin | Innovative Research INC | | 128€ | | Pub |
| IPLA-MSPP-1ml | Single Donor Human Multiple Sclerosis Plasma 1ml | Innovative Research INC | 1ml | 513€ | | Pub |
| IHR-N-1000ml-NaCitrate | Horse Plasma 1000ml Na Citrate | Innovative Research INC | | 255€ | | Pub |
| IBV-N-50ml-NaOxalate | Bovine Plasma 50ml Na Oxalate | Innovative Research INC | | 105€ | | Pub |
| AA0080 | Cytokine (Human) Antibody Array includes 49 highly specific and well-characterized antibodies on membrane. | Abnova | 4 Membranes/Box | 888€ | | Pub |
| MFMCE047045GWS | MCE Gridded Membrane Filter, White, Individually package, Sterile, 0.45(μm), 47(mm) | Membrane solutions | 2000 pcs | 578€ | | Pub |
| IRB-N-500ml-LiHeparin | Rabbit Plasma US Origin Innovative Grade™ 500ml Li Heparin | Innovative Research INC | | 864€ | | Pub |
| IMS-C57BL6-N-1000ml-NaCitrate | C57BL6 Mouse Plasma 1000ml Na Citrate | Innovative Research INC | | 2033€ | | Pub |
| IGGP-N-100ml-NaHeparin | Guinea Pig Plasma 100ml Na Heparin | Innovative Research INC | | 395€ | | Pub |
| CAPE-0100 | Non sterile canine plasma with EDTA, 100ml | Equitech | 100 ml | 261.03€ | | Pub |
| 04-pc33 | IpPore track etched membranes (film polycarbonate), disks | IT4IP | 1 | 115.5€ | | Pub |
| IRT-N-50ml-LiHeparin | Sprague Dawley Rat Plasma 50ml Li Heparin | Innovative Research INC | | 149€ | | Pub |
| IPG-N-1000ml-K2EDTA | Porcine Plasma 1000ml K2 EDTA | Innovative Research INC | | 440€ | | Pub |
| IGT-N-100ml-NaCitrate | Goat Plasma 100ml Na Citrate | Innovative Research INC | | 155€ | | Pub |
| GPPE-0500 | Non sterile guinea pig plasma with EDTA, 500ml | Equitech | 500 ml | 711.9€ | | Pub |
| 36000 | Screen Quest™ Membrane Potential Assay Kit *Orange Fluorescence* | AAT Bioquest | 10 plates | 436€ | | Pub |
| IWRT-N-50ml-NaEDTA | Wistar Rat Plasma 50ml Na EDTA | Innovative Research INC | | 149€ | | Pub |
| IPLA-N-50ml-K2EDTA | Pooled Normal Human Plasma 50ml K2 EDTA | Innovative Research INC | | 107€ | | Pub |
| IMS-BCN-N-100ml-K3EDTA | Balb C Mouse Plasma 100ml K3 EDTA | Innovative Research INC | | 395€ | | Pub |
| ICY-N-50ml-NaEDTA | Cynomolgus Monkey Plasma 50ml Na EDTA | Innovative Research INC | | 441€ | | Pub |
| 04-pc01 | IpPore track etched membranes (film polycarbonate), size A4 | IT4IP | 0,05 | 497.7€ | | Pub |
| IRS-N-50ml-K2EDTA | Rhesus Monkey Plasma 50ml K2 EDTA | Innovative Research INC | | 441€ | | Pub |
| IMS-C57BL6-NNaHeparin--25ml | C57BL6 Mouse Plasma Na Heparin 25ml | Innovative Research INC | | 185€ | | Pub |
| IGHMA-N-10ml-K3EDTA | Hamster Plasma 10ml K3 EDTA | Innovative Research INC | | 206€ | | Pub |
| CSB-EL010802RB | Rabbit heat shock protein 90kDa alpha (cytosolic), class A member 1 (HSP90AA1) ELISA kit, Species Rabbit, Sample Type serum, plasma | Cusabio | 96T | 913€ | | Pub |
| 0103002-H8 | Biotin-Conjugated Anti-Cytokines | Ray Biotech | 2 Membrane supply | 138€ | | Pub |
| 04-pc10 | IpPore track etched membranes (film polycarbonate), size A4 | IT4IP | 5 | 424.2€ | | Pub |
| IRT-N-1000ml-NaCitrate | Sprague Dawley Rat Plasma 1000ml Na Citrate | Innovative Research INC | | 877€ | | Pub |
| IMS-N-100ml-LiHeparin | Non Swiss Albino Mouse Plasma 100ml Li Heparin | Innovative Research INC | | 232€ | | Pub |
| IGHMA-N-50ml-NaEDTA | Hamster Plasma 50ml Na EDTA | Innovative Research INC | | 518€ | | Pub |
| CSB-EL022603BO | Bovine secreted phosphoprotein 1 (SPP1) ELISA kit, Species Bovine, Sample Type serum, plasma | Cusabio | 96T | 798€ | | Pub |
| 0103002-M-ATH-1 | Biotin-Conjugated Anti-Cytokines | Ray Biotech | 2 Membrane supply | 121€ | | Pub |
| 04-pc74 | IpPore track etched membranes (film polycarbonate), disks | IT4IP | 2 | 201.6€ | | Pub |
| IWRT-N-1000ml-NaHeparin | Wistar Rat Plasma 1000ml Na Heparin | Innovative Research INC | | 877€ | | Pub |
| IPLA-N-100ml-ACD | Pooled Normal Human Plasma 100ml ACD | Innovative Research INC | | 128€ | | Pub |
| IHR-N-500ml-K2EDTA | Horse Plasma 500ml K2 EDTA | Innovative Research INC | | 186€ | | Pub |
| ICK-N-50ml-LiHeparin | Chicken Plasma 50ml Li Heparin | Innovative Research INC | | 164€ | | Pub |
| AA0089 | Growth Factor (Human) Antibody Array includes 41 highly specific and well-characterized antibodies on membrane. | Abnova | 4 Membranes/Box | 731€ | | Pub |
| RD172229100 | Human, Zymogen granule membrane protein 16, E.coli , Rec. Prot. | Biovendor | 0.1 mg | 352€ | | Pub |
| IRB-N-50ml-NaHeparin | Rabbit Plasma US Origin Innovative Grade™ 50ml Na Heparin | Innovative Research INC | | 185€ | | Pub |
| IMS-C57BL6-N-10ml-K2EDTA | C57BL6 Mouse Plasma 10ml K2 EDTA | Innovative Research INC | | 114€ | | Pub |
| IGGP-N-500ml-LiHeparin | Guinea Pig Plasma 500ml Li Heparin | Innovative Research INC | | 1162€ | | Pub |
| CMPE-0500 | Non sterile Cynomolgus monkey plasma with EDTA, 500ml | Equitech | 500 ml | 6758.3€ | | Pub |
| CMPE-0050 | Non-sterile Cynomolgus monkey plasma with EDTA, 50ml | Equitech | | 798.8€ | | Pub |
| 04-pc42 | IpPore track etched membranes (film polycarbonate), disks | IT4IP | 0,2 | 140.7€ | | Pub |
| ISH-N-1000ml-NaEDTA | Sheep Plasma 1000ml Na EDTA | Innovative Research INC | | 342€ | | Pub |
| IPG-N-100ml-NaCitrate | Porcine Plasma 100ml Na Citrate | Innovative Research INC | | 174€ | | Pub |
| IGT-N-500ml-NaCitrate | Goat Plasma 500ml Na Citrate | Innovative Research INC | | 173€ | | Pub |
| IBV-N-1000ml-LiHeparin | Bovine Plasma 1000ml Li Heparin | Innovative Research INC | | 155€ | | Pub |
| 4930-50 | Lipoprotein a [Lp(a)], Human Plasma | Biovision | 50 µg | 186€ | | Pub |
| M0271 | MarkerGeneTM Membrane Fluidity Kit, Allows quantitative monitoring of membrane fluidity in cell membranes, micelles and vesicles using a lipophilic pyrene probe, 1 kit | MarkerGene | | 197€ | | Pub |
| IPLA-PARK-1ml | Single Donor Human Parkinsons Plasma 1ml | Innovative Research INC | | 401€ | | Pub |
| IMS-BCN-N-10ml-NaEDTA | Balb C Mouse Plasma 10ml Na EDTA | Innovative Research INC | | 114€ | | Pub |
| IDK-N-1000ml-NaHeparin | Donkey Plasma 1000ml Na Heparin | Innovative Research INC | | 278€ | | Pub |
| M1331 | 3,3' Dipropylthiacarbocyanine iodide, Membrane potential sensitive dye, 250mg | MarkerGene | | 103€ | | Pub |
| IRAPKT035 | Human Ceruloplasmin ELISA Kit (Plasma and Serum) | Innovative Research INC | 1 kit(96 Wells) | 542€ | | Pub |
| IMS-BCN-N-50ml-K3EDTA | Balb C Mouse Plasma 50ml K3 EDTA | Innovative Research INC | | 255€ | | Pub |
| IDK-N-500ml-NaEDTA | Donkey Plasma 500ml Na EDTA | Innovative Research INC | | 186€ | | Pub |
| 04-pc19 | IpPore track etched membranes (film polycarbonate), size A4 | IT4IP | 0,8 | 424.2€ | | Pub |
| IRT-N-10ml-K2EDTA | Sprague Dawley Rat Plasma 10ml K2 EDTA | Innovative Research INC | | 107€ | | Pub |
| IMS-N-10ml-NaHeparin | Non Swiss Albino Mouse Plasma 10ml Na Heparin | Innovative Research INC | | 107€ | | Pub |
| IGMS-N-1000ml-K3EDTA | Mouse Plasma 1000ml K3 EDTA | Innovative Research INC | | 2078€ | | Pub |
| FPC-0100 | Non sterile feline plasma with sodium citrate, 100ml | Equitech | 100 ml | 422.394€ | | Pub |
| 22294 | Breast cancer membrane protein 11 precursor antibody Source Rabbit Polyconal Ab Species Human Application WB IHC IF | SignalWay Antibody S.A.B | 100ul | 329€ | | Pub |
| IWRT-N-10ml-LiHeparin | Wistar Rat Plasma 10ml Li Heparin | Innovative Research INC | | 107€ | | Pub |
| IPLA-N-10ml-CPD | Pooled Normal Human Plasma 10ml CPD | Innovative Research INC | | 79€ | | Pub |
| IHR-N-50ml-NaCitrate | Horse Plasma 50ml Na Citrate | Innovative Research INC | | 105€ | | Pub |
| ICY-N-100ml-LiHeparin | Cynomolgus Monkey Plasma 100ml Li Heparin | Innovative Research INC | | 801€ | | Pub |
| AAM-BLM-1-4 | Mouse L-308 Array, Membrane (4) Antibody Arrays High-Density Screening Arrays | Ray Biotech | 4 Sample Kit | 1257€ | | Pub |
| IRMSA-100mg | Mouse Plasma Albumin 100mg | Innovative Research INC | 100mg | 559€ | | Pub |
| IMS-C57BL6-N-500ml-NaCitrate | C57BL6 Mouse Plasma 500ml Na Citrate | Innovative Research INC | | 1097€ | | Pub |
| IGGP-N-50ml-NaHeparin | Guinea Pig Plasma 50ml Na Heparin | Innovative Research INC | | 243€ | | Pub |
| CSB-E14005B | Bovine Androstenedione,ASD ELISA Kit, Species Bovine, Sample Type serum, plasma | Cusabio | 96T | 940€ | | Pub |
| 0103002-H-ATH-1 | Biotin-Conjugated Anti-Cytokines | Ray Biotech | 2 Membrane supply | 120€ | | Pub |
| 04-pc51 | IpPore track etched membranes (film polycarbonate), disks | IT4IP | 10 | 176.4€ | | Pub |
| ISH-N-10ml-LiHeparin | Sheep Plasma 10ml Li Heparin | Innovative Research INC | | 96€ | | Pub |
| IPGGMP-N-50ml-K2EDTA | Goettingen Mini Pig Plasma 50ml K2 EDTA | Innovative Research INC | | 784€ | | Pub |
| IHDNK-N | Cancer Samples: Head and Neck Carcinoma Plasma | Innovative Research INC | Each | 302€ | | Pub |
| IBV-N-100ml-NaHeparin | Bovine Plasma 100ml Na Heparin | Innovative Research INC | | 155€ | | Pub |
| AA0066 | Angiogenesis (Human) Antibody Array includes 23 highly specific and well-characterized antibodies on membrane. | Abnova | 4 Membranes/Box | 731€ | | Pub |
| ISH-N-500ml-NaHeparin | Sheep Plasma 500ml Na Heparin | Innovative Research INC | | 226€ | | Pub |
| IPLA-BAPP-1ml | Single Donor Human Bronchial Asthma Plasma 1ml | Innovative Research INC | 1ml | 513€ | | Pub |
| IHPRENKT-NP | Human Prorenin ELISA Kit for Non Plasma Samples | Innovative Research INC | 1 kit(96 Wells) | 597€ | | Pub |
| IBV-N-50ml-K2EDTA | Bovine Plasma 50ml K2 EDTA | Innovative Research INC | | 105€ | | Pub |
| AA0075 | Cytokine (Human) Antibody Array includes 80 highly specific and well-characterized antibodies on membrane. | Abnova | 4 Membranes/Box | 888€ | | Pub |
| MD-17-0049 | Native Human Plasma, BNP-free Proteins | Ray Biotech | 1 mg | 510€ | | Pub |
| IRB-N-100ml-NaCitrate | Rabbit Plasma US Origin Innovative Grade™ 100ml Na Citrate | Innovative Research INC | | 325€ | | Pub |
| IMS-BCN-N-NaEDTA-25ml | Balb C Mouse Plasma Na EDTA 25ml | Innovative Research INC | | 185€ | | Pub |
| IGGP-N-100ml-K2EDTA | Guinea Pig Plasma 100ml K2 EDTA | Innovative Research INC | | 395€ | | Pub |
| 04-pc28 | IpPore track etched membranes (film polycarbonate), disks | IT4IP | 0,1 | 138.6€ | | Pub |
| IRT-N-500ml-NaCitrate | Sprague Dawley Rat Plasma 500ml Na Citrate | Innovative Research INC | | 518€ | | Pub |
| IMS-N-50ml-LiHeparin | Non Swiss Albino Mouse Plasma 50ml Li Heparin | Innovative Research INC | | 149€ | | Pub |
| IGT-N-1000ml-LiHeparin | Goat Plasma 1000ml Li Heparin | Innovative Research INC | | 255€ | | Pub |
| GPE-0500 | Non sterile goat plasma with EDTA, 500ml | Equitech | 500 ml | 156.618€ | | Pub |
| 22802 | Cell Meter™ NIR Mitochondria Membrane Potential Assay Kit *Optimized for Flow Cytometry* | AAT Bioquest | 1 kit | 231€ | | Pub |
| IWRT-N-500ml-NaHeparin | Wistar Rat Plasma 500ml Na Heparin | Innovative Research INC | | 518€ | | Pub |
| IPLA-N-500ml-NaCitrate | Pooled Normal Human Plasma 500ml Na Citrate | Innovative Research INC | | 430€ | | Pub |
| IMS-BCN-N-1000ml-LiHeparin | Balb C Mouse Plasma 1000ml Li Heparin | Innovative Research INC | | 2033€ | | Pub |
| ICY-N-10ml-NaHeparin | Cynomolgus Monkey Plasma 10ml Na Heparin | Innovative Research INC | | 218€ | | Pub |
| Y090752 | Anti-basement membrane marker Monoclonal Antibody | ABM Goods | 100ul | 265.65€ | | Pub |
| IRS-N-10ml-K3EDTA | Rhesus Monkey Plasma 10ml K3 EDTA | Innovative Research INC | | 218€ | | Pub |
| IMS-C57BL6-NK2EDTA--25ml | C57BL6 Mouse Plasma K2 EDTA 25ml | Innovative Research INC | | 185€ | | Pub |
| IGHMA-N-100ml-LiHeparin | Hamster Plasma 100ml Li Heparin | Innovative Research INC | | 830€ | | Pub |
| CSB-EL004895HU | Human OX-2 membrane glycoprotein(CD200) ELISA kit SpeciesHuman | Cusabio | 96T | 815.85€ | | Pub |
| 0103002-H3 | Biotin-Conjugated Anti-Cytokines | Ray Biotech | 2 Membrane supply | 121€ | | Pub |
| 04-pc60 | IpPore track etched membranes (film polycarbonate), disks | IT4IP | 0,8 | 107.1€ | | Pub |
| IGHMA-N-10ml-NaHeparin | Hamster Plasma 10ml Na Heparin | Innovative Research INC | | 206€ | | Pub |
| CSB-EL018020BO | Bovine prolactin-induced protein (PIP) ELISA kit, Species Bovine, Sample Type serum, plasma | Cusabio | 96T | 913.5€ | | Pub |
| 0103002-M-3 | Biotin-Conjugated Anti-Cytokines | Ray Biotech | 2 Membrane supply | 138€ | | Pub |
| 04-pc69 | IpPore track etched membranes (film polycarbonate), disks | IT4IP | 0,2 | 201.6€ | | Pub |
| IWRT-N-1000ml-K2EDTA | Wistar Rat Plasma 1000ml K2 EDTA | Innovative Research INC | | 877€ | | Pub |
| IPLA-N-1000ml-K3EDTA | Pooled Normal Human Plasma 1000ml K3 EDTA | Innovative Research INC | | 705€ | | Pub |
| IHR-N-100ml-K3EDTA | Horse Plasma 100ml K3 EDTA | Innovative Research INC | | 155€ | | Pub |
| ICK-N-100ml-K3EDTA | Chicken Plasma 100ml K3 EDTA | Innovative Research INC | | 246€ | | Pub |
| AA0084 | Cytokine (Mouse) Antibody Array includes 34 highly specific and well-characterized antibodies on membrane. | Abnova | 4 Membranes/Box | 731€ | | Pub |
| P-1004-2 | FitAmp Plasma Serum DNA Isolation Kit | EpigenTek | 100 samples | 292.95€ | | Pub |
| IRB-N-50ml-K2EDTA | Rabbit Plasma US Origin Innovative Grade™ 50ml K2 EDTA | Innovative Research INC | | 185€ | | Pub |
| IMS-C57BL6-N-100ml-K3EDTA | C57BL6 Mouse Plasma 100ml K3 EDTA | Innovative Research INC | | 395€ | | Pub |
| IGGP-N-10ml-NaCitrate | Guinea Pig Plasma 10ml Na Citrate | Innovative Research INC | | 149€ | | Pub |
| CMPC-0050 | Non sterile Cynomolgus monkey plasma with sodium citrate,50ml | Equitech | 50 ml | 982.422€ | | Pub |
| BPUC-0100 | Non-sterile bovine plasma with sodium citrate, 100ml | Equitech | | 64.04€ | | Pub |
| 04-pc37 | IpPore track etched membranes (film polycarbonate), disks | IT4IP | 8 | 116.55€ | | Pub |
| ISH-N100ml(K3EDTA) | Sheep Plasma 100 ml | Innovative Research INC | 100ml | 158€ | | Pub |
| IPG-N-1000ml-NaEDTA | Porcine Plasma 1000ml Na EDTA | Innovative Research INC | | 440€ | | Pub |
| IGT-N-10ml-K3EDTA | Goat Plasma 10ml K3 EDTA | Innovative Research INC | | 82€ | | Pub |
| IASHPK-GF | Antibodies, Rabbit: Anti-Kallikrein, Human Plasma, Rabbit IgG Fraction | Innovative Research INC | 1.0ml | 518€ | | Pub |
| 4325-500 | Apo-J Clusterin, human plasma | Biovision | 500 μg | 6143€ | | Pub |
| K268-50 | Membrane Protein Extraction Kit | Biovision | 50 assays | 377€ | | Pub |
| IPLA-N-50ml-NaEDTA | Pooled Normal Human Plasma 50ml Na EDTA | Innovative Research INC | | 107€ | | Pub |
| IMS-BCN-N-100ml-NaHeparin | Balb C Mouse Plasma 100ml Na Heparin | Innovative Research INC | | 395€ | | Pub |
| IDK-N-1000ml-K2EDTA | Donkey Plasma 1000ml K2 EDTA | Innovative Research INC | | 278€ | | Pub |
| 04-pc05 | IpPore track etched membranes (film polycarbonate), size A4 | IT4IP | 0,6 | 424.2€ | | Pub |
| IRS-N-50ml-NaEDTA | Rhesus Monkey Plasma 50ml Na EDTA | Innovative Research INC | | 441€ | | Pub |
| IMS-N-1000ml-NaCitrate | Non Swiss Albino Mouse Plasma 1000ml Na Citrate | Innovative Research INC | | 752€ | | Pub |
| 04-pc14 | IpPore track etched membranes (film polycarbonate), size A4 | IT4IP | 0,05 | 424.2€ | | Pub |
| IRT-N-100ml-K3EDTA | Sprague Dawley Rat Plasma 100ml K3 EDTA | Innovative Research INC | | 232€ | | Pub |
| IMS-N-10ml-K2EDTA | Non Swiss Albino Mouse Plasma 10ml K2 EDTA | Innovative Research INC | | 107€ | | Pub |
| IGHMA-NLiHeparin-25ml | Hamster Plasma Li Heparin 25ml | Innovative Research INC | | 310€ | | Pub |
| 129-10603 | Rabbit Anti-SARS-Associated Coronavirus Membrane Protein, C-terminus | Ray Biotech | 100 | 528€ | | Pub |
| 04-pc78 | IpPore track etched membranes (film polycarbonate), disks | IT4IP | 10 | 246.75€ | | Pub |
| IWRT-N-100ml-NaCitrate | Wistar Rat Plasma 100ml Na Citrate | Innovative Research INC | | 232€ | | Pub |
| IPLA-N-100ml-LiHeparin | Pooled Normal Human Plasma 100ml Li Heparin | Innovative Research INC | | 128€ | | Pub |
| IHR-N-500ml-NaEDTA | Horse Plasma 500ml Na EDTA | Innovative Research INC | | 186€ | | Pub |
| ICTI | Plasma Proteins: Corn Trypsin Inhibitor | Innovative Research INC | 1mg | 196€ | | Pub |
| AA0093 | Inflammation (Mouse) Antibody Array includes 40 highly specific and well-characterized antibodies on membrane. | Abnova | 4 Membranes/Box | 731€ | | Pub |
| IRCTC-N | Cancer Samples: Rectum Adenocarcinoma Plasma | Innovative Research INC | Each | 266€ | | Pub |
| IMS-C57BL6-N-10ml-NaEDTA | C57BL6 Mouse Plasma 10ml Na EDTA | Innovative Research INC | | 114€ | | Pub |
| IGGP-N-50ml-K2EDTA | Guinea Pig Plasma 50ml K2 EDTA | Innovative Research INC | | 243€ | | Pub |
| CSB-E05032h | Human Legionella pneumophila antigen,LP Ag ELISA Kit, Species Human, Sample Type serum, plasma | Cusabio | 96T | 981€ | | Pub |
| CMPH-0100 | Non-sterile Cynomolgus monkey plasma with heparin, 100ml | Equitech | | 1454€ | | Pub |
| 04-pc46 | IpPore track etched membranes (film polycarbonate), disks | IT4IP | 1 | 149.1€ | | Pub |
| ISH-N-100ml-NaCitrate | Sheep Plasma 100ml Na Citrate | Innovative Research INC | | 200€ | | Pub |
| IPG-N-500ml-K3EDTA | Porcine Plasma 500ml K3 EDTA | Innovative Research INC | | 278€ | | Pub |
| IGT-N-50ml-K3EDTA | Goat Plasma 50ml K3 EDTA | Innovative Research INC | | 105€ | | Pub |
| IBV-N-1000ml-NaOxalate | Bovine Plasma 1000ml Na Oxalate | Innovative Research INC | | 155€ | | Pub |
| 4934-1000 | Lipoproteins, Human Plasma, High Density | Biovision | 1 mg | 152€ | | Pub |
| M1091 | N,N,N Trimethyl 4 (6 phenyl 1,3,5 hexatrien 1 yl)phenylammonium p toluenesulfonate (TMA DPH), Fluorescent probe for fluorescence polarization studies of rotational motion and membrane fluidity measur | MarkerGene | | 112€ | | Pub |
| IRAPKT012 | Porcine Albumin ELISA Kit (Plasma and Serum) | Innovative Research INC | 1 kit(96 Wells) | 542€ | | Pub |
| IMS-BCN-N-500ml-LiHeparin | Balb C Mouse Plasma 500ml Li Heparin | Innovative Research INC | | 1097€ | | Pub |
| IDK-N-100ml-NaHeparin | Donkey Plasma 100ml Na Heparin | Innovative Research INC | | 150€ | | Pub |
| bs-2086R-Cy5 | Rabbit Anti-ompF(putative outer membrane porin F protein) Polyclonal Antibody, Cy5 Conjugated | Bioss | 100ug | 369€ | | Pub |
| MD-14-0043P | Native Human Kallikrein, Plasma Proteins | Ray Biotech | 50 | 205€ | | Pub |
| IRAPKT122 | Human Haptoglobin ELISA Kit (Plasma & Serum) | Innovative Research INC | 1 kit(96 Wells) | 597€ | | Pub |
| IMS-BCN-N-50ml-NaHeparin | Balb C Mouse Plasma 50ml Na Heparin | Innovative Research INC | | 255€ | | Pub |
| IGGP-N-1000ml-K3EDTA | Guinea Pig Plasma 1000ml K3 EDTA | Innovative Research INC | | 2332€ | | Pub |
| 04-pc23 | IpPore track etched membranes (film polycarbonate), size A4 | IT4IP | 5 | 424.2€ | | Pub |
| IRT-N-10ml-NaEDTA | Sprague Dawley Rat Plasma 10ml Na EDTA | Innovative Research INC | | 107€ | | Pub |
| IMS-N-500ml-NaCitrate | Non Swiss Albino Mouse Plasma 500ml Na Citrate | Innovative Research INC | | 518€ | | Pub |
| IGMS-N-1000ml-NaHeparin | Mouse Plasma 1000ml Na Heparin | Innovative Research INC | | 2078€ | | Pub |
| FPH-0100 | Non sterile feline plasma with heparin, 100ml | Equitech | 100 ml | 422.394€ | | Pub |
| IWRT-N-500ml-K2EDTA | Wistar Rat Plasma 500ml K2 EDTA | Innovative Research INC | | 518€ | | Pub |
| IPLA-N-10ml-NaEDTA | Pooled Normal Human Plasma 10ml Na EDTA | Innovative Research INC | | 79€ | | Pub |
| IMLNM-N | Cancer Samples: Melanoma Patient Plasma | Innovative Research INC | Each | 302€ | | Pub |
| ICY-N-10ml-K2EDTA | Cynomolgus Monkey Plasma 10ml K2 EDTA | Innovative Research INC | | 218€ | | Pub |
| AAX-SERV-BL | L-Series Array Testing Service (glass or membrane) Array Testing Service | Ray Biotech | | 0€ | | Pub |
| IRS-N-100ml-LiHeparin | Rhesus Monkey Plasma 100ml Li Heparin | Innovative Research INC | | 801€ | | Pub |
| IMS-C57BL6-N-50ml-K3EDTA | C57BL6 Mouse Plasma 50ml K3 EDTA | Innovative Research INC | | 255€ | | Pub |
| IGGP-N-NaCitrate-25ml | Guinea Pig Plasma Na Citrate 25ml | Innovative Research INC | | 185€ | | Pub |
| CSB-E15088h | Human apolipoprotein A4 (Apo-A4) ELISA Kit, Species Human, Sample Type serum, plasma | Cusabio | 96T | 798€ | | Pub |
| 0103002-H-I-2 | Biotin-Conjugated Anti-Cytokines | Ray Biotech | 2 Membrane supply | 120€ | | Pub |
| 04-pc55 | IpPore track etched membranes (film polycarbonate), disks | IT4IP | 0,8 | 130.2€ | | Pub |
| ISH-N-500ml-K2EDTA | Sheep Plasma 500ml K2 EDTA | Innovative Research INC | | 226€ | | Pub |
| IPGGMP-N-50ml-NaEDTA | Goettingen Mini Pig Plasma 50ml Na EDTA | Innovative Research INC | | 784€ | | Pub |
| IHK-TC | Plasma Proteins: Two Chain High Molecular Wt. Kininogen | Innovative Research INC | 1mg | 342€ | | Pub |
| IBV-N-500ml-LiHeparin | Bovine Plasma 500ml Li Heparin | Innovative Research INC | | 155€ | | Pub |
| AA0070 | Atherosclerosis (Mouse) Antibody Array includes 22 highly specific and well-characterized antibodies on membrane. | Abnova | 4 Membranes/Box | 731€ | | Pub |
| 04-pc64 | IpPore track etched membranes (film polycarbonate), disks | IT4IP | 5 | 107.1€ | | Pub |
| ISH-N-50ml-NaEDTA | Sheep Plasma 50ml Na EDTA | Innovative Research INC | | 128€ | | Pub |
| IPLA-LUPP-1ml | Single Donor Human Lupus Plasma 1ml | Innovative Research INC | 1ml | 604€ | | Pub |
| IHR-N-1000ml-LiHeparin | Horse Plasma 1000ml Li Heparin | Innovative Research INC | | 255€ | | Pub |
| IBV-N-50ml-NaHeparin | Bovine Plasma 50ml Na Heparin | Innovative Research INC | | 105€ | | Pub |
| AA0079 | Cytokine (Human) Antibody Array includes 51 highly specific and well-characterized antibodies on membrane. | Abnova | 4 Membranes/Box | 888€ | | Pub |
| MFMCE047045GBS | MCE Gridded Membrane Filter, Individually package, Black, Sterile,0.45(μm), 47(mm) | Membrane solutions | 2000 pcs | 742€ | | Pub |
| IRB-N-500ml-K3EDTA | Rabbit Plasma US Origin Innovative Grade™ 500ml K3 EDTA | Innovative Research INC | | 864€ | | Pub |
| IMS-C57BL6-N-1000ml-LiHeparin | C57BL6 Mouse Plasma 1000ml Li Heparin | Innovative Research INC | | 2033€ | | Pub |
| IGGP-N-100ml-NaEDTA | Guinea Pig Plasma 100ml Na EDTA | Innovative Research INC | | 395€ | | Pub |
| CAPC-0500 | Non sterile canine plasma with sodium citrate, 500ml | Equitech | 500 ml | 538.671€ | | Pub |
| 04-pc32 | IpPore track etched membranes (film polycarbonate), disks | IT4IP | 0,8 | 115.5€ | | Pub |
| IRT-N-50ml-K3EDTA | Sprague Dawley Rat Plasma 50ml K3 EDTA | Innovative Research INC | | 149€ | | Pub |
| IOVC-N | Cancer Samples: Ovarian Cancer Plasma | Innovative Research INC | Each | 313€ | | Pub |
| IGT-N-100ml-LiHeparin | Goat Plasma 100ml Li Heparin | Innovative Research INC | | 155€ | | Pub |
| GPPE-0100 | Non sterile guinea pig plasma with EDTA, 100ml | Equitech | 100 ml | 272.895€ | | Pub |
| 300-09971 | Anti CEL Monoclonal Antibody (KNH 30) CEL is known to generate from protein modification by methylglyoxal . Mclellan et al. demonstrated that plasma methylglyoxal, which is believed to be generate fro | B-Bridge | 50 UG | 958.65€ | | Pub |
| IWRT-N-50ml-NaCitrate | Wistar Rat Plasma 50ml Na Citrate | Innovative Research INC | | 149€ | | Pub |
| IPLA-N-50ml-CPD | Pooled Normal Human Plasma 50ml CPD | Innovative Research INC | | 107€ | | Pub |
| IMS-BCN-N-100ml-K2EDTA | Balb C Mouse Plasma 100ml K2 EDTA | Innovative Research INC | | 395€ | | Pub |
| ICY-N-50ml-NaCitrate | Cynomolgus Monkey Plasma 50ml Na Citrate | Innovative Research INC | | 441€ | | Pub |
| TMP999 | TMB Precipitating Reagent (For Membranes) | Scy tek | 1000 ml | 172€ | | Pub |
| IRS-N-10ml-NaHeparin | Rhesus Monkey Plasma 10ml Na Heparin | Innovative Research INC | | 218€ | | Pub |
| IMS-C57BL6-NNaEDTA--25ml | C57BL6 Mouse Plasma Na EDTA 25ml | Innovative Research INC | | 185€ | | Pub |
| IGHMA-N-10ml-K2EDTA | Hamster Plasma 10ml K2 EDTA | Innovative Research INC | | 206€ | | Pub |
| CSB-EL010048HU | Human guanylate cyclase activator 2B (uroguanylin) (GUCA2B) ELISA kit, Species Human, Sample Type serum, plasma | Cusabio | 96T | 913€ | | Pub |
| 0103002-H7 | Biotin-Conjugated Anti-Cytokines | Ray Biotech | 2 Membrane supply | 138€ | | Pub |
| 04-pc09 | IpPore track etched membranes (film polycarbonate), size A4 | IT4IP | 3 | 424.2€ | | Pub |
| IRT-N-1000ml-LiHeparin | Sprague Dawley Rat Plasma 1000ml Li Heparin | Innovative Research INC | | 877€ | | Pub |
| IMS-N-100ml-K3EDTA | Non Swiss Albino Mouse Plasma 100ml K3 EDTA | Innovative Research INC | | 232€ | | Pub |
| IGHMA-N-50ml-NaCitrate | Hamster Plasma 50ml Na Citrate | Innovative Research INC | | 518€ | | Pub |
| CSB-EL022398RB | Rabbit superoxide dismutase 2, mitochondrial (SOD2) ELISA kit, Species Rabbit, Sample Type serum, plasma | Cusabio | 96T | 913€ | | Pub |
| 0103002-M-ANG-1 | Biotin-Conjugated Anti-Cytokines | Ray Biotech | 2 Membrane supply | 121€ | | Pub |
| 04-pc73 | IpPore track etched membranes (film polycarbonate), disks | IT4IP | 1 | 201.6€ | | Pub |
| IWRT-N-1000ml-NaEDTA | Wistar Rat Plasma 1000ml Na EDTA | Innovative Research INC | | 877€ | | Pub |
| IPLA-N-1000ml-NaHeparin | Pooled Normal Human Plasma 1000ml Na Heparin | Innovative Research INC | | 705€ | | Pub |
| IHR-N-100ml-NaHeparin | Horse Plasma 100ml Na Heparin | Innovative Research INC | | 155€ | | Pub |
| ICK-N-100ml-NaHeparin | Chicken Plasma 100ml Na Heparin | Innovative Research INC | | 246€ | | Pub |
| AA0088 | Cytokine (Rat) Antibody Array includes 34 highly specific and well-characterized antibodies on membrane. | Abnova | 4 Membranes/Box | 731€ | | Pub |
| RD164335050 | Prostate-Specific Antigen Seminal plasma, Human Native protein | Biovendor | 0.05 mg | 408€ | | Pub |
| IRB-N-50ml-NaEDTA | Rabbit Plasma US Origin Innovative Grade™ 50ml Na EDTA | Innovative Research INC | | 185€ | | Pub |
| IMS-C57BL6-N-100ml-NaHeparin | C57BL6 Mouse Plasma 100ml Na Heparin | Innovative Research INC | | 395€ | | Pub |
| IGGP-N-500ml-K3EDTA | Guinea Pig Plasma 500ml K3 EDTA | Innovative Research INC | | 1162€ | | Pub |
| CMPE-0100 | Non sterile Cynomolgus monkey plasma with EDTA, 100ml | Equitech | 100 ml | 1760.77€ | | Pub |
| CMPC-0500 | Non-sterile Cynomolgus monkey plasma with sodium citrate, 500ml | Equitech | | 5666€ | | Pub |
| Cat_Number | Product name | Supplier | Quantity | Price | PDF | Pub |