Product name :Lambda DNA Hind III Marker 125 23,130 bp
Catalog Number :D-1050
Quantity :500 ul (0.2 ug/ul)
Price :92 Eur
Pay now with :
Supplier :Bioneer
Lambda DNA/Hind III DNA Marker is generated by digesting lambda DNA with restriction enzyme Hind III. The resulting DNA Ladder is then purified, and buffer and dye are added so the marker is ready to load. Lambda DNA/Hind III Marker consist of 8 double stranded Lambda DNA fragments ranging in size from 125 to 21,226 bp, making it an ideal molecular weight marker for daily use.
Note
The DNA marker can be applied directly onto an agarose gel.
The cohesive ends (indicated by an * in the picture above) of the 12 nt cos site of bacteriophage lambda may anneal and form an additional band. These fragments can be separated by heating at 60 - 65°C for 5 minutes and then cooling on ice for 3 minutes.
Specifications
Concentration: 0.2 ug/μl
Recommended loading: 2.5 μl / 5 mm lane width
Typical Number of lanes: 200 (5 mm lane width)
Size range (bp): 125 - 23,130
Number of bands: 8
Supplied in: 10 mM Tris-HCl (pH 8.0), 1 mM EDTA, 2.5% Ficoll, 0.005% Bromphenol Blue, 0.005% Xylene Cyanol
Storage: -20°C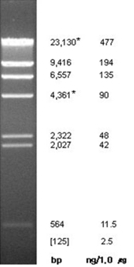 0.7% TAE agarose gel stained with Ethidium Bromide.
[Related Products]Lambda DNA Hind III Marker 125 23,130 bp
Filter:
(Type enter to validate)
| Cat_Number | Product name | Supplier | Quantity | Price | Tech | More |
| --- | --- | --- | --- | --- | --- | --- |
| D-1050 | Lambda DNA Hind III Marker 125 23,130 bp | Bioneer | 500 ul (0.2 ug/ul) | 92€ | | Pub |
| D-1070 | Lambda DNA EcoRI + Hind III Marker 125 21,226 bp | Bioneer | 500 ul (0.2 ug/ul) | 92€ | | Pub |
| D-1051 | Lambda DNA Hind III Marker 125 23,130 bp | Bioneer | 2,500 ul (0.2 ug/ul) | 370€ | | Pub |
| D-1071 | Lambda DNA EcoRI + Hind III Marker 125 21,226 bp | Bioneer | 2,500 ul (0.2 ug/ul) | 370€ | | Pub |
| D-1061 | Lambda DNA EcoRI Marker 3,530 21,226 bp | Bioneer | 2,500 ul (0.2 ug/ul) | 370€ | | Pub |
| 228-10913-3 | Recombinant Human IIIL-28A IFN-lambda 2 Proteins | Ray Biotech | 1mg | 2426€ | | Pub |
| D-1060 | Lambda DNA EcoRI Marker 3,530 21,226 bp | Bioneer | 500 ul (0.2 ug/ul) | 92€ | | Pub |
| ER-14-0245 | Goat Anti-Human BPOZ ABTB1, (C Terminus) Antibodies | Ray Biotech | 100 μg | 353€ | | Pub |
| 28944-74 | Pre stained Protein Markers(Low Range) for SDS PAGE | Nacalai | 5X100Ul | 224.7€ | | Pub |
| M1127 | Dansyl beta lactoglobulin A, IEF Marker for HPCE and for IEF gels, 1mg | MarkerGene | | 102€ | | Pub |
| bs-0016R-A488 | Rabbit Anti-Tyrosine Hydroxylase(Neuronal Marker) Tyk2 TYH Polyclonal Antibody, Alexa Fluor 488 conjugated,Isotype: IgG | Sepax | 100ug Lyophilized | 323€ | | Pub |
| BAH67-0050 | Protease, DNASE free heat shock BSA powder, 50gm | Equitech | 50gm | 310.8€ | | Pub |
| M1376 | MarkerGene™ LysoLive™ Lysosomal Phosphatase Assay Kit, Useful for labeling lysosomes in a live cell format and capable of monitoring lysosomal metabolic activity, 1 kit | MarkerGene | | 459€ | | Pub |
| bs-1276R-PE-Cy5.5 | Rabbit Anti-ERdj5 DNAJC10 Polyclonal Antibody, PE-Cy5.5 conjugated Isotype: IgG | Sepax | 100ug Lyophilized | 300€ | | Pub |
| UHR125 | UltraTek HRP Anti-Rabbit Lab Pack | Scy tek | 1250 Slides | 339€ | | Pub |
| M66685893 | Lead (IV) oxide CAS: [1309-60-0] | Molekula | 500 g | 84€ | | Pub |
| bs-2007R | Rabbit Anti-PCNA [Proliferation Marker] Polyclonal Antibody | Sepax | 100ug Lyophilized | 222€ | | Pub |
| A856295 | 4-[1'-(3'-Azido-1',2'-propanediol)]carbazole C15H14N4O2 CAS: 1253696-17-1 | TRC | 5 mg | 245€ | | Pub |
| M10242506 | TBTU (o Benzotriazol 1 yl N,N,N',N' tetramethyluronium tetrafluoroborate) CAS Number [125700 67 6] | Molekula | 5 G | 104€ | | Pub |
| 228-10328-1 | Recombinant Human HSP40 DnaJ Proteins | Ray Biotech | 5 | 147€ | | Pub |
| A00065 | Lambda Light Chain | Scy tek | 6 ml Ready-to-use | 98€ | | Pub |
| Y212993 | BPOZ ABTB1 Antibody | ABM Goods | 200ul | 462€ | | Pub |
| M61920457 | D-Phenylalanine methyl ester hydrochloride CAS: [13033-84-6] | Molekula | 5 g | 203€ | | Pub |
| bs-0016R-HRP | Rabbit Anti-Tyrosine Hydroxylase(Neuronal Marker) Tyk2 TYH Polyclonal Antibody, HRP Conjugated | Bioss | 100ug | 369€ | | Pub |
| bs-7653R-Biotin | Rabbit Anti-DNase gamma Polyclonal Antibody, Biotin conjugated, Isotype: IgG | Sepax | 100ug Lyophilized | 268€ | | Pub |
| D0002 | DNA Marker High | Abnova | 1 mL | 258€ | | Pub |
| M0276 | MarkerGeneTM beta Galactosidase Sample Kit, Contains popular b Gal substrates and their reference fluorophores, 1 kit | MarkerGene | | 380€ | | Pub |
| 228-10331-1 | Recombinant E. coli HSP70 DnaK ATPase BD Proteins | Ray Biotech | 10 | 147€ | | Pub |
| 128-10112-2 | Mouse Anti-Human Ig Lambda Light Chain | Ray Biotech | 1 mg | 566€ | | Pub |
| MD-12-0018P | Native Mouse IgM Lambda Proteins | Ray Biotech | 1 mg | 386€ | | Pub |
| bs-2007R-Cy7 | Rabbit Anti-PCNA [Proliferation Marker] Polyclonal Antibody, Cy7 Conjugated | Bioss | 100ug | 369€ | | Pub |
| bs-1359R | Rabbit Anti-DNAPK PRKDC Polyclonal Antibody, Unconjugated | Bioss | 100ug | 330€ | | Pub |
| BT1250 | 1250 µl Extended Length Barrier Tip Filtered Sterile 10 | Neptune | 3840 (in case - Racked - 96) | 328€ | | Pub |
| bs-6771R-PE-Cy3 | Rabbit Anti-ERN2 Polyclonal Antibody, PE-Cy3 Conjugated , 102-125kDa; Isotype IgG; Reactivity Mouse , Human; Application Flow-Cyt(1 20-100), IF(1 50-200) | Bioss | 100ug Lyophilized | 530€ | | Pub |
| bs-1276R-A350 | Rabbit Anti-ERdj5 DNAJC10 Polyclonal Antibody, Alexa Fluor 350 conjugated,Isotype: IgG | Sepax | 100ug Lyophilized | 323€ | | Pub |
| EHP125 | EconoTek HRP Anti-Polyvalent Lab Pack | Scy tek | 1250 Slides | 225€ | | Pub |
| A164680 | 5-Acetoxy-3-chloro-2-pentanone C7H11ClO3 CAS: 13051-49-5 | TRC | 100 mg | 193€ | | Pub |
| bs-1322R-A647 | Rabbit Anti-gamma tubulin(Centrosome Marker ) Polyclonal Antibody, Alexa Fluor 647 conjugated,Isotype: IgG | Sepax | 100ug Lyophilized | 323€ | | Pub |
| bs-7653R-PE-Cy3 | Rabbit Anti-DNase gamma Polyclonal Antibody, PE-Cy3 Conjugated , 36kDa; Isotype IgG; Reactivity Human , Mouse , Rat; Application Flow-Cyt(1 20-100), IF(1 50-200) | Bioss | 100ug Lyophilized | 530€ | | Pub |
| DS-PB-02292 | Goat Anti-Human Lambda Light Chain [+HRP] Antibodies | Ray Biotech | 1 ml | 328€ | | Pub |
| M1045 | MarkerGeneTM Live Cell Glutathione Transferase Activity Kit, Measures glutathione transferase activity in live cells, tissues or cell lysate samples, 1 kit | MarkerGene | | 249€ | | Pub |
| 228-10334-1 | Recombinant E. coli HSP70 DnaK SBD Proteins | Ray Biotech | 20 | 147€ | | Pub |
| 228-10914-2 | Recombinant HumanIL-29 IFN-lambda 1 Proteins | Ray Biotech | 20 | 205€ | | Pub |
| 1C05C1 | PSA test card, serum , Cancer markers | Bosbio | 500 tests | 620€ | | Pub |
| GM345 | DNA Marker H2 50,100,150,200,250,300,400,500,600,700,800,900,1000bp | Bio Basic Inc. | 50 loading | 84€ | | Pub |
| BBS-V1300 (BBS-1300VGS) | Vertical Laminar Flow Clean Bench, Model BBS-V1300 (BBS-1300VGS); Internal Dims(mm) 1200*645*610; External Dims(mm) 1310*750*2000 | Biobase | | 1920€ | | Pub |
| 228-10337-1 | Recombinant Human DNase Proteins | Ray Biotech | 500IU | 147€ | | Pub |
| CYT-LF-KPE | LAMBDA FITC KAPPA PE, Clon Polyclonal | Cytognos | 0,5ml/ 50test | 437.819€ | | Pub |
| Y090661 | Anti apoptotic marker in phagocytic cells (nematode) Monoclonal | ABM Goods | 100ul | 299.25€ | | Pub |
| bs-1276R-FITC | Rabbit Anti-ERdj5 DNAJC10 Polyclonal Antibody, FITC conjugated,Isotype: IgG | Sepax | 100ug Lyophilized | 304€ | | Pub |
| UAM125 | UltraTek Alk-Phos Anti-Mouse Lab Pack | Scy tek | 1250 Slides | 399€ | | Pub |
| B279851 | Benzyl (2S,3S,5S)-2-Hexyl-3-benzyloxy-5-hydroxyhexadecanoate C36H56O4 CAS: 130793-32-7 | TRC | 1 mg | 212€ | | Pub |
| bs-1322R-PE | Rabbit Anti-gamma tubulin(Centrosome Marker ) Polyclonal Antibody, PE Conjugated | Bioss | 100ug | 369€ | | Pub |
| VLK-25 | ViraPrep™ Lambda | Biotech support group | 25, 150 mm plate lysates, or 25, 10 ml liquid lysates | 1187€ | | Pub |
| A637845 | 4a',6'-Anhydro-4-tert-butyldimethylsilyl Simvastatin C31H52O6Si CAS: 125175-64-6 | TRC | 2.5 mg | 232€ | | Pub |
| 3365RBP-50 | Cadherin Blocking Peptide;Appearance Colorless liquid; Accession P09803;Gene ID 12550 | Biovision | 50 ug | 145.53€ | | Pub |
| G2100 | DNAfectin 2100 (A) | ABM Goods | 1ml; 100-500 transfections | 135€ | | Pub |
| BR963 | Breast disease spectrum tissue array, including TNM and pathology grade, stage, TNM and IHC markers (AR, PR, ER, Her 2, Ki67, CK14 and p53), 48 cases 96 cores, replacing BR962 | US Biomax | | 314€ | | Pub |
| A600300 | 2-Amino-3-benzylpyridine C12H12N2 CAS: 130277-16-6 | TRC | 10 mg | 193€ | | Pub |
| bs-0016R-Cy3 | Rabbit Anti-Tyrosine Hydroxylase(Neuronal Marker) Tyk2 TYH Polyclonal Antibody, Cy3 Conjugated | Bioss | 100ug | 369€ | | Pub |
| bs-7653R | Rabbit Anti-DNase gamma Polyclonal Antibody | Sepax | 100ug Lyophilized | 222€ | | Pub |
| M1580 | MarkerGene™ Multiple Drug Resistance Microtiterplate Assay Kit, High-throughput assay system based on measurement of efflux of green fluorescent dye known to bind to MDR transporters ABCG2 and ABCB1 | MarkerGene | | 310€ | | Pub |
| 228-10329-2 | Recombinant M. tuberculosis HSP70 DnaK Proteins | Ray Biotech | 10 | 205€ | | Pub |
| 02-300-5 | Lambda Protein Phosphatase Lambda Protein Phosphatase | B-Bridge | 5 X 20,000 U | 404.25€ | | Pub |
| bs-0156R-PE-Cy5.5 | Rabbit Anti-nNOS-1 Polyclonal Antibody, PE-Cy5.5 Conjugated , 130kDa; Isotype IgG; Reactivity Human , Mouse , Rat , Rabbit; Application Flow-Cyt(1 20-100), IF(1 50-200) | Bioss | 100ug Lyophilized | 530€ | | Pub |
| bs-2007R-Alexa488 | Rabbit Anti-PCNA [Proliferation Marker] Polyclonal Antibody, Alexa 488 Conjugated | Bioss | 100ug | 369€ | | Pub |
| MD-14-0793 | MAb to CD41 gpIIb IIIa Antibodies | Ray Biotech | 100 Tests | 650€ | | Pub |
| bs-2007R-PE | Rabbit Anti-PCNA [Proliferation Marker] Polyclonal Antibody, PE Conjugated | Bioss | 100ug | 369€ | | Pub |
| A603525 | 2-Amino-4-cyano-5-imidazolecarboxamide C5H5N5O CAS: 125815-68-1 | TRC | 250 mg | 232€ | | Pub |
| 22331 | DNAJA2 antibody Source Rabbit Polyconal Ab Species Human Application WB | SignalWay Antibody S.A.B | 100ul | 329€ | | Pub |
| A00090.050 | CD5 (Mantel Cell Lymphoma Marker); 4C7 | Scy tek | 50 ml Ready-to-use | 1234€ | | Pub |
| M53520215 | 5-Deoxy-L-arabinose CAS: [13039-56-0] | Molekula | 500 mg | 495€ | | Pub |
| bs-0016R-PE-Cy5.5 | Rabbit Anti-Tyrosine Hydroxylase(Neuronal Marker) Tyk2 TYH Polyclonal Antibody, PE-Cy5.5 conjugated Isotype: IgG | Sepax | 100ug Lyophilized | 300€ | | Pub |
| bs-7653R-Cy7 | Rabbit Anti-DNase gamma Polyclonal Antibody, Cy7 conjugated Isotype: IgG | Sepax | 100ug Lyophilized | 268€ | | Pub |
| DS-MB-03377 | Mouse Anti-Human Lambda Light Chain | Ray Biotech | 200 | 604€ | | Pub |
| M0795 | MarkerGeneTM Live Dead Assay Kit, Allows fast and easy measurement of both living and dead cells by measuring intracellular esterase activity(live cells) and staining of nucleic acid in chromatin (dea | MarkerGene | | 299€ | | Pub |
| 228-10332-2 | Recombinant Human HSP70 DnaK Proteins | Ray Biotech | 50 | 205€ | | Pub |
| 21476 | CD Marker ABCG2(CD338) Antibody | SignalWay Antibody S.A.B | 50ul | 236€ | | Pub |
| M1214 | MarkerGeneTM Long Wavelength Fluorescent Lipase Assay Kit, Allows fast and easy measurement of lipase activity in vitro, in cell preparations or in vivo using the substrate resorufin oleate, 1 kit | MarkerGene | | 380€ | | Pub |
| 228-10335-2 | Recombinant E. coli HSP70 DnaK SBD Proteins | Ray Biotech | 100 | 205€ | | Pub |
| 228-11050-3 | Native Human Lambda Light Chain | Ray Biotech | 10 mg | 3933€ | | Pub |
| 000493A | DNASE I | ABM Goods | 250ul | 621€ | | Pub |
| CYT-LAMBAP | Lambda-APC, Clone Polyclonal, Isotype | Cytognos | 0,5ml / 100 test | 318€ | | Pub |
| bs-7554R-PE-Cy3 | Rabbit Anti-phospho-Eph receptor A2+A3+A4 (Tyr588 + Tyr596) Polyclonal Antibody, PE-Cy3 Conjugated , 105-125kDa; Isotype IgG; Reactivity Mouse , Human; Application Flow-Cyt(1 20-100), IF(1 50-200) | Bioss | 100ug Lyophilized | 577€ | | Pub |
| bs-1276R-Biotin | Rabbit Anti-ERdj5 DNAJC10 Polyclonal Antibody, Biotin Conjugated | Bioss | 100ug | 369€ | | Pub |
| SAP125 | SensiTek Alk-Phos Anti-Polyvalent Lab Pack | Scy tek | 1250 Slides | 336€ | | Pub |
| M11575634 | Metanil Yellow (C.l. 13065) CAS Number [587 98 4] | Molekula | 100 G | 86€ | | Pub |
| bs-1322R-Cy5 | Rabbit Anti-gamma tubulin(Centrosome Marker ) Polyclonal Antibody, Cy5 conjugated, Isotype: IgG | Sepax | 100ug Lyophilized | 268€ | | Pub |
| DS-PB-00617 | Rabbit Anti-Bovine DNAse 1 Antibodies | Ray Biotech | 1 ml | 485€ | | Pub |
| DS-PB-02666 | Rabbit Anti-Human Lambda Light Chain Antibodies | Ray Biotech | 1 ml | 275€ | | Pub |
| 28941-75 | Pre‐stained Protein Markers(Low Range) for SDS‐PAGE | Nacalai | 500UL | 205.8€ | | Pub |
| LVP016-Puro | T-antigen (Puro) lentiviral particles: Pre-made lentiviral particles expressing SV40 large T-antigen with puromycin marker. | GenTarget | 1x107 IFU/ml x 200ul | 318€ | | Pub |
| bs-0016R-A350 | Rabbit Anti-Tyrosine Hydroxylase(Neuronal Marker) Tyk2 TYH Polyclonal Antibody, Alexa Fluor 350 conjugated,Isotype: IgG | Sepax | 100ug Lyophilized | 323€ | | Pub |
| 3214-100 | DNase I Antibody | Biovision | 100 | 301€ | | Pub |
| D-1040-1 | AccuLadder 1 kb DNA Size Marker 500 10,200 bp | Bioneer | 500 ul x 2 tubes (65 ng/ul) | 262€ | | Pub |
| M1356 | MarkerGene™ Biotin Detection and Quantitation Kit, Allows the measurement of the molar ratio of biotin to protein in biotin protein conjugates, biotin DNA molar ratios in biotinylated DNA samples, or | MarkerGene | | 200€ | | Pub |
| bs-1276R-PE-Cy5 | Rabbit Anti-ERdj5 DNAJC10 Polyclonal Antibody, PE-Cy5 Conjugated | Bioss | 100ug | 402€ | | Pub |
| UHP125 | UltraTek HRP Anti-Polyvalent Lab Pack | Scy tek | 1250 Slides | 444€ | | Pub |
| B208090 | N-Benzoylcytidine C16H17N3O6 CAS: 13089-48-0 | TRC | 250 mg | 193€ | | Pub |
| bs-1322R-PE-Cy7 | Rabbit Anti-gamma tubulin(Centrosome Marker ) Polyclonal Antibody, PE-Cy7 Conjugated | Bioss | 100ug | 401€ | | Pub |
| B127520 | BAPTA-tetramethyl Ester C26H32N2O10 CAS: 125367-34-2 | TRC | 1 g | 232€ | | Pub |
| DS-PB-00300 | Goat Anti-Human BPOZ Antibodies | Ray Biotech | 0.1 mg | 510€ | | Pub |
| A615900 | 5-[4-(Aminomethyl)-3,5-dimethoxyphenoxy]pentanoic Acid Acetate C16H25NO7 CAS: 125666-67-3� | TRC | 250 mg | 232€ | | Pub |
| 228-10327-3 | Recombinant E. coli HSP40 DnaJ Proteins | Ray Biotech | 1mg | 1031€ | | Pub |
| Y212993 | BPOZ ABTB1 | ABM Goods | 200ul | 520€ | | Pub |
| A603001 | 4-Aminobutyramide Hydrochloride C4H11ClN2O CAS: 13031-62-4 | TRC | 50 mg | 212€ | | Pub |
| bs-0016R-FITC | Rabbit Anti-Tyrosine Hydroxylase(Neuronal Marker) Tyk2 TYH Polyclonal Antibody, FITC conjugated,Isotype: IgG | Sepax | 100ug Lyophilized | 304€ | | Pub |
| bs-7653R-A647 | Rabbit Anti-DNase gamma Polyclonal Antibody, Alexa Fluor 647 conjugated,Isotype: IgG | Sepax | 100ug Lyophilized | 323€ | | Pub |
| D0001 | DNA Marker Low | Abnova | 1 mL | 258€ | | Pub |
| M0272 | MarkerGeneTM Carbohydrate Analysis Detection Kit, Allows estimation and comparison of the composition of carbohydrates obtained from glycoproteins, 1 kit | MarkerGene | | 309€ | | Pub |
| 228-10330-3 | Recombinant E. coli HSP70 DnaK Proteins | Ray Biotech | 1mg | 1658€ | | Pub |
| 128-10112-1 | Mouse Anti-Human Ig Lambda Light Chain | Ray Biotech | 500 | 343€ | | Pub |
| MD-11-0075 | Mouse Anti-Human CD41 Platelet gpIIb IIIa Antibodies | Ray Biotech | 100 Tests | 667€ | | Pub |
| bs-2007R-Cy5.5 | Rabbit Anti-PCNA [Proliferation Marker] Polyclonal Antibody, Cy5.5 Conjugated | Bioss | 100ug | 369€ | | Pub |
| hAP-0248 | Mouse anti human DNAM-1 Anti-Human antibodies | AngoiPro | 100.00 ug | 310€ | | Pub |
| bs-2007R-PE-Cy7 | Rabbit Anti-PCNA [Proliferation Marker] Polyclonal Antibody, PE-Cy7 Conjugated | Bioss | 100ug | 401€ | | Pub |
| bs-6771R-PE | Rabbit Anti-ERN2 Polyclonal Antibody, PE Conjugated , 102-125kDa; Isotype IgG; Reactivity Mouse , Human; Application Flow-Cyt(1 20-100), IF(1 50-200) | Bioss | 100ug Lyophilized | 502€ | | Pub |
| bs-1276R | Rabbit Anti-ERdj5 DNAJC10 Polyclonal Antibody, Unconjugated | Bioss | 100ug | 330€ | | Pub |
| EAP125 | EconoTek Alk-Phos Anti-Polyvalent Lab Pack | Scy tek | 1250 Slides | 237€ | | Pub |
| M11813844 | Calcium hydroxide CAS Number [1305 62 0] | Molekula | 1KG | 80€ | | Pub |
| bs-1322R-A555 | Rabbit Anti-gamma tubulin(Centrosome Marker ) Polyclonal Antibody, Alexa Fluor 555 conjugated,Isotype: IgG | Sepax | 100ug Lyophilized | 323€ | | Pub |
| bs-7653R-PE | Rabbit Anti-DNase gamma Polyclonal Antibody, PE Conjugated , 36kDa; Isotype IgG; Reactivity Human , Mouse , Rat; Application Flow-Cyt(1 20-100), IF(1 50-200) | Bioss | 100ug Lyophilized | 502€ | | Pub |
| DS-PB-02291 | Goat Anti-Human Lambda Light Chain [+FITC] Antibodies | Ray Biotech | 1 mg | 353€ | | Pub |
| M0972 | MarkerGeneTM TAMRA Antibody Protein Cell Labeling Kit, Provides reagents and methods to simply and quickly label antibodies or other proteins with the amine reactive dye 5(6) carboxytetramethylrhodami | MarkerGene | | 299€ | | Pub |
| 228-10333-3 | Recombinant E. coli HSP70 DnaK LCS Proteins | Ray Biotech | 1mg | 1031€ | | Pub |
| 228-10914-1 | Recombinant HumanIL-29 IFN-lambda 1 Proteins | Ray Biotech | 5 | 147€ | | Pub |
| M1222 | MarkerGeneTMFluorescent Alkaline Phosphatase Assay Kit, Allows fast and easy measurement of Alkaline Phosphatase activity in vitro, in cell preparations or in vivo using the substrate fluorescein diph | MarkerGene | | 355€ | | Pub |
| GM345 | 100 1000bp DNA Marker, Ready to Use | BBI Biotech | 13 DNA fragments: 50, 100X2, 150, 200X2 ,250, 300, 400, 500X2, 600, 700, 800, 900 and 1031bp | 84€ | | Pub |
| BBS-H1300 | Horizontal Laminar Flow Clean Bench, Model BBS-H1300; Internal Dims(mm) 1200*500*570 ; External Dims(mm) 1300*825*2000 | Biobase | | 1920€ | | Pub |
| 228-10336-3 | Native Bacterial DNase Proteins | Ray Biotech | 1g | 733€ | | Pub |
| CYT-LF-KPE | LAMBDA FITC KAPPA PE | Cytognos | 0,5ml/ 50test | 366.629€ | | Pub |
| Y090661 | Anti-apoptotic marker in phagocytic cells (nematode) Monoclonal Antibody | ABM Goods | 100ul | 265.65€ | | Pub |
| bs-1276R-Cy7 | Rabbit Anti-ERdj5 DNAJC10 Polyclonal Antibody, Cy7 Conjugated | Bioss | 100ug | 369€ | | Pub |
| SHR125 | SensiTek HRP Anti-Rabbit Lab Pack | Scy tek | 1250 Slides | 262€ | | Pub |
| M47735531 | (+ ) Anabasine CAS Number [13078 04 1] | Molekula | 25 MG | 104€ | | Pub |
| bs-1322R-HRP | Rabbit Anti-gamma tubulin(Centrosome Marker ) Polyclonal Antibody, HRP Conjugated | Bioss | 100ug | 369€ | | Pub |
| VLK-05 | ViraPrep™ Lambda | Biotech support group | 5, 150 mm plate lysates, or 5, 10 ml liquid lysates | 373€ | | Pub |
| A611235 | 6-Amino-2-hydroxymethyl Hexan-1-ol C7H17NO2 CAS: 125162-81-4 | TRC | 500 mg | 297€ | | Pub |
| M13682874 | Sibutramine hydrochloride monohydrate CAS Number [125494 59 9] | Molekula | 25 MG | 197€ | | Pub |
| G106 | 1kb DNA Marker | ABM Goods | 100 lanes (5ul/lane) | 87.15€ | | Pub |
| BR1505 | Breast cancer tissue array, including TNM, clinical stage, pathology grade and IHC markers (ER, PR, Her-2, AR and Ki67) results, 75 cases 150 cores, no overlaps with BR1503 or BR1504; ihc Anti-Actin | US Biomax | | 296€ | | Pub |
| M19970253 | Methyl Orange (C.I. 13025) CAS Number [547 58 0] | Molekula | 500 G | 141€ | | Pub |
| bs-0016R-Biotin | Rabbit Anti-Tyrosine Hydroxylase(Neuronal Marker) Tyk2 TYH Polyclonal Antibody, Biotin Conjugated | Bioss | 100ug | 369€ | | Pub |
| BAH67-1000 | Protease, DNASE free heat shock BSA powder, 1KG | Equitech | 1KG | 772.8€ | | Pub |
| M1460 | MarkerGene™ FDG Bacterial Detection and Quantification Kit, This kit uses the substrate fluorescein di â D galactopyranoside (FDG) to sensitively detect E. coli and other coliforms through both basal | MarkerGene | | 342€ | | Pub |
| 228-10329-1 | Recombinant M. tuberculosis HSP70 DnaK Proteins | Ray Biotech | 2 | 147€ | | Pub |
| 02-300-5 | Lambda Protein Phosphatase | B-Bridge | 5 X 20,000 U | 462€ | | Pub |
| bs-0156R-HRP | Rabbit Anti-nNOS-1 Polyclonal Antibody, HRP Conjugated, 130kDa, Isotype IgG, Application WB(1 100-500), ELISA(1 500-1000) | Bioss | 100ug Lyophilized | 530€ | | Pub |
| bs-2007R-A647 | Rabbit Anti-PCNA [Proliferation Marker] Polyclonal Antibody, Alexa Fluor 647 conjugated,Isotype: IgG | Sepax | 100ug Lyophilized | 323€ | | Pub |
| MD-14-0792 | Mouse Anti-Human CD41 Platelet gpIIb IIIa ITGA2B Antibodies | Ray Biotech | 200 | 535€ | | Pub |
| bs-2007R-HRP | Rabbit Anti-PCNA [Proliferation Marker] Polyclonal Antibody, HRP Conjugated | Bioss | 100ug | 369€ | | Pub |
| M40646156 | 2 (3,4 Dihydro 4 oxo benzotriazin 3 yl)tetramethyluronium tetrafluoroborate (TDBTU) CAS Number [125700 69 8] | Molekula | 25 G | 445€ | | Pub |
| DS-MB-03301 | Mouse Anti-Human HSP40 DnaJ Antibodies | Ray Biotech | 0.1 mg | 452€ | | Pub |
| A00090.0025 | CD5 (Mantel Cell Lymphoma Marker); 4C7 | Scy tek | 25 ml Ready-to-use | 790€ | | Pub |
| M37023653 | 5 Deoxy D ribose CAS Number [13039 75 3] | Molekula | 5 G | 197€ | | Pub |
| bs-0016R-PE-Cy5 | Rabbit Anti-Tyrosine Hydroxylase(Neuronal Marker) Tyk2 TYH Polyclonal Antibody, PE-Cy5 Conjugated | Bioss | 100ug | 402€ | | Pub |
| bs-7653R-Cy5.5 | Rabbit Anti-DNase gamma Polyclonal Antibody, Cy5.5 conjugated, Isotype: IgG | Sepax | 100ug Lyophilized | 268€ | | Pub |
| D1109-100 | 1Kb PCR Ranger DNA Marker, 750bp To 20Kb | GenDepot | 1ml | 121.8€ | | Pub |
| M0794 | MarkerGeneTM Hydrophobic Protein Analysis Kit, Allows fast and easy measurement of proteins in complex mixtures, 1 kit | MarkerGene | | 332€ | | Pub |
| 228-10332-1 | Recombinant Human HSP70 DnaK Proteins | Ray Biotech | 10 | 147€ | | Pub |
| 201-11-0620 | Rat Gastrointestinalcancer Marker-CA199 ELISA Kit | SunBT | 96T | 490€ | | Pub |
| 228-11050-2 | Native Human Lambda Light Chain | Ray Biotech | 1 mg | 717€ | | Pub |
| BAH67-0500 | Protease, DNASE free heat shock BSA powder, 500gm | Equitech | | 440€ | | Pub |
| CYT-LAC750 | Antibody Lambda-APC-C750 ; Clone Polyclonal | Cytognos | 0,25ml / 50 test | 256€ | | Pub |
| bs-7554R-PE | Rabbit Anti-phospho-Eph receptor A2+A3+A4 (Tyr588 + Tyr596) Polyclonal Antibody, PE Conjugated , 105-125kDa; Isotype IgG; Reactivity Mouse , Human; Application Flow-Cyt(1 20-100), IF(1 50-200) | Bioss | 100ug Lyophilized | 550€ | | Pub |
| bs-1276R-A647 | Rabbit Anti-ERdj5 DNAJC10 Polyclonal Antibody, Alexa Fluor 647 conjugated,Isotype: IgG | Sepax | 100ug Lyophilized | 323€ | | Pub |
| SAM125 | SensiTek Alk-Phos Anti-Mouse Lab Pack | Scy tek | 1250 Slides | 322€ | | Pub |
| M57066017 | Dichloromalononitrile CAS Number [13063 43 9] | Molekula | 1 G | 73€ | | Pub |
| bs-1322R-Cy3 | Rabbit Anti-gamma tubulin(Centrosome Marker ) Polyclonal Antibody, Cy3 conjugated, Isotype: IgG | Sepax | 100ug Lyophilized | 268€ | | Pub |
| bs-7653R-PE-Cy7 | Rabbit Anti-DNase gamma Polyclonal Antibody, PE-Cy7 conjugated Isotype: IgG | Sepax | 100ug Lyophilized | 300€ | | Pub |
| DS-PB-02295 | Goat Anti-Human Lambda Light Chain (+TRITC) Antibodies | Ray Biotech | 1 mg | 502€ | | Pub |
| M1193 | MarkerGeneTM Gaussia Luciferase Cellular Assay Kit, Utilizes a new luciferase which does not require ATP and can be expressed in mammalian cells using commercially available reporter plasmids, 1 kit | MarkerGene | | 140€ | | Pub |
| 228-10335-1 | Recombinant E. coli HSP70 DnaK SBD Proteins | Ray Biotech | 20 | 147€ | | Pub |
| 1M01S4 | Fecal Occult Blood test strip, Cancer markers | Bosbio | 500 tests | 439€ | | Pub |
| IRKTAH2548 | Human GPIIb IIIa ELISA Kit | Innovative Research INC | 1 kit(96 Wells) | 542€ | | Pub |
| bs-0016R | Rabbit Anti-Tyrosine Hydroxylase(Neuronal Marker) Tyk2 TYH Polyclonal Antibody, Unconjugated | Bioss | 100ug | 330€ | | Pub |
| 24046 | Primary antibody DNase II Antibody, Source Rabbit | SignalWay Antibody S.A.B | 100ug | 364€ | | Pub |
| D-1030-1 | AccuLadder 100 bp DNA Size Marker 100 2,000 bp | Bioneer | 315 ul x 2 tubes (54 ng/ul) | 227€ | | Pub |
| M1352 | MarkerGene™ â Galactosidase Staining Kit, used to monitor and detect enzyme activity in stably or transiently transfected cells or transgenic tissues using X Gal, 1 kit | MarkerGene | | 240€ | | Pub |
| bs-1276R-PE-Cy3 | Rabbit Anti-ERdj5 DNAJC10 Polyclonal Antibody, PE-Cy3 Conjugated | Bioss | 100ug | 401€ | | Pub |
| UHM125 | UltraTek HRP Anti-Mouse Lab Pack | Scy tek | 1250 Slides | 339€ | | Pub |
| A158280 | N-[2-(Acetylamino)-2-deoxy-6-O-(α-L-fucopyranosyl)-β-D-glucopyranosyl]-N2-Fmoc-L-asparagine C33H41N3O14 CAS: 1308872-02-7 | TRC | 50 mg | 16300€ | | Pub |
| bs-1322R-PE-Cy5.5 | Rabbit Anti-gamma tubulin(Centrosome Marker ) Polyclonal Antibody, PE-Cy5.5 conjugated Isotype: IgG | Sepax | 100ug Lyophilized | 300€ | | Pub |
| A678425 | 9-Anthraceneacetic Acid 2,5-Dioxo-1-pyrrolidinyl Ester C20H15NO4 CAS: 1253107-42-4 | TRC | 10 mg | 245€ | | Pub |
| ER-14-0571 | Goat Anti-Human FOXL2 BPES, (C Terminus) Antibodies | Ray Biotech | 100 μg | 353€ | | Pub |
| A866500 | (2S,3S,4R)-2-Azido-1,3,4-tri-O-[(tert-butyldimethylsilyl)oxy]octadecane C36H79N3O3Si3 CAS: 1256376-20-1 | TRC | 2.5 mg | 212€ | | Pub |
| 228-10327-2 | Recombinant E. coli HSP40 DnaJ Proteins | Ray Biotech | 100 | 205€ | | Pub |
| UNC241 | Universal control tissue array, used for screening of more than 90% routine IHC markers, 12 cases 24 cores | US Biomax | | 77€ | | Pub |
| M48114139 | Icatibant CAS: [130308-48-4] | Molekula | 100 mg | 128€ | | Pub |
| bs-0016R-Cy7 | Rabbit Anti-Tyrosine Hydroxylase(Neuronal Marker) Tyk2 TYH Polyclonal Antibody, Cy7 Conjugated | Bioss | 100ug | 369€ | | Pub |
| bs-7653R-A555 | Rabbit Anti-DNase gamma Polyclonal Antibody, Alexa Fluor 555 conjugated,Isotype: IgG | Sepax | 100ug Lyophilized | 323€ | | Pub |
| D-2020 | AccuLadder Protein Size Marker (Low range) 650 66,000 bp | Bioneer | 500 ul | 191€ | | Pub |
| M0271 | MarkerGeneTM Membrane Fluidity Kit, Allows quantitative monitoring of membrane fluidity in cell membranes, micelles and vesicles using a lipophilic pyrene probe, 1 kit | MarkerGene | | 197€ | | Pub |
| 228-10330-2 | Recombinant E. coli HSP70 DnaK Proteins | Ray Biotech | 50 | 205€ | | Pub |
| 0810051 | BACTERIOPHAGE LAMBDA, DNA | Zeptometrix | 25 µg | 0€ | | Pub |
| MD-11-0074 | MAb to CD41 gpIIb IIIa Antibodies | Ray Biotech | 200 | 510€ | | Pub |
| bs-2007R-Cy5 | Rabbit Anti-PCNA [Proliferation Marker] Polyclonal Antibody, Cy5 Conjugated | Bioss | 100ug | 369€ | | Pub |
| orb81492 | Human Dnak (HSP70) His tag protein HSP 70kD produced in E.coli is a single,non-glycosylated polypeptide chain containing 661 amino acids fused to His-tag at N-terminus and having total Mw of 72.2 kDa. | Biorb | 10 | 154€ | | Pub |
| bs-2007R-PE-Cy5.5 | Rabbit Anti-PCNA [Proliferation Marker] Polyclonal Antibody, PE-Cy5.5 conjugated Isotype: IgG | Sepax | 100ug Lyophilized | 300€ | | Pub |
| A608955 | (4R,cis)-6-(2-Aminoethyl)-2,2-dimethyl-1,3-dioxane-4-acetic Acid C10H19NO4 CAS: 125995-17-7 | TRC | 50 mg | 245€ | | Pub |
| ER-14-0857 | Goat Anti-Human MDG1 DNAJB9, (C Terminus) Antibodies | Ray Biotech | 100 μg | 353€ | | Pub |
| CPP125 | CRF Anti-Polyvalent HRP Polymer (DAB) Lab Pack | Scy tek | 1250 Slides | 1165€ | | Pub |
| A603280 | Aminocatechol C6H7NO2 CAS: 13047-04-6 | TRC | 25 mg | 245€ | | Pub |
| bs-1322R-A350 | Rabbit Anti-gamma tubulin(Centrosome Marker ) Polyclonal Antibody, Alexa Fluor 350 conjugated,Isotype: IgG | Sepax | 100ug Lyophilized | 323€ | | Pub |
| bs-7653R-HRP | Rabbit Anti-DNase gamma Polyclonal Antibody, HRP Conjugated, 36kDa, Isotype IgG, Application WB(1 100-500), ELISA(1 500-1000) | Bioss | 100ug Lyophilized | 530€ | | Pub |
| DS-PB-02290 | Goat Anti-Human Lambda Light Chain [+Biotin] Antibodies | Ray Biotech | 1 mg | 502€ | | Pub |
| M0955 | MarkerGeneTM FITC Antibody Labeling Kit , Allows labeling of antibodies and other proteins with the brilliant green dye fluorescein, 1 kit | MarkerGene | | 277€ | | Pub |
| 228-10333-2 | Recombinant E. coli HSP70 DnaK LCS Proteins | Ray Biotech | 100 | 205€ | | Pub |
| M0255 | MarkerGeneTMFACS Blue lacZ beta Galactosidase Detection Kit | MarkerGene | | 298€ | | Pub |
| gAP-0066 | Rat anti mouse CD205 (a dendritic cell marker) | AngoiPro | 1.00 mg | 460€ | | Pub |
| A187415 | 21-Acetoxy-9α-fluoro-11β-hydroxypregna-1,4,16-triene-3,20-dione C23H27FO5 CAS: 1250-85-7 | TRC | 5 mg | 310€ | | Pub |
| 228-10336-2 | Native Bacterial DNase Proteins | Ray Biotech | 100mg | 205€ | | Pub |
| CYT-LF-19PE5 | LAMBDA-FITC CD19-PE, Clone Polyclonal HD37, IsotypePolyclonal IgG1 | Cytognos | 0,5ml / 50test | 318€ | | Pub |
| MD-14-0505 | Mouse Anti-Rhodopsin (opsin) Antibodies | Ray Biotech | 125ug | 386€ | | Pub |
| bs-1276R-Cy5.5 | Rabbit Anti-ERdj5 DNAJC10 Polyclonal Antibody, Cy5.5 Conjugated | Bioss | 100ug | 369€ | | Pub |
| SHP125 | SensiTek HRP Anti-Polyvalent Lab Pack | Scy tek | 1250 Slides | 269€ | | Pub |
| A637175 | (R,S)-Anabasine C10H14N2 CAS: 13078-04-1 | TRC | 100 mg | 206€ | | Pub |
| bs-1322R-FITC | Rabbit Anti-gamma tubulin(Centrosome Marker ) Polyclonal Antibody, FITC conjugated,Isotype: IgG | Sepax | 100ug Lyophilized | 304€ | | Pub |
| 22989 | DNASE1L3 antibody Source Rabbit Polyconal Ab Species Human Application WB | SignalWay Antibody S.A.B | 100ul | 329€ | | Pub |
| E-1142 | Apa I | Bioneer | 12500 unit | 234€ | | Pub |
| A603405 | (S)-Amino Carnitine C7H16N2O2 CAS: 125377-87-9 | TRC | 5 mg | 206€ | | Pub |
| G017 | 500bp DNA Marker | ABM Goods | 100 lanes (6ul/lane) | 77.7€ | | Pub |
| BQ015C | Cardiac markers: Troponin I,ELISA kit | Bioquant | 96 tests | 508€ | | Pub |
| M47056526 | 3 Hydroxybenzophenone CAS Number [13020 57 0] | Molekula | 5 G | 259€ | | Pub |
| bs-0016R-A647 | Rabbit Anti-Tyrosine Hydroxylase(Neuronal Marker) Tyk2 TYH Polyclonal Antibody, Alexa Fluor 647 conjugated,Isotype: IgG | Sepax | 100ug Lyophilized | 323€ | | Pub |
| BAH67-0500 | Protease, DNASE free heat shock BSA powder, 500gm | Equitech | 500gm | 557.55€ | | Pub |
| M1405 | MarkerGene™ Cellular Senescence Microtiterplate Assay Kit, This kit uses the high sensitivity substrate fluorescein di â D galactopyranoside (FDG) to quantify senescent cells, 1 kit | MarkerGene | | 316€ | | Pub |
| 22078 | DNAJC7 antibody Source Rabbit Polyconal Ab Species Human Application WB IHC IF | SignalWay Antibody S.A.B | 100ul | 329€ | | Pub |
| 02-300 | Lambda Protein Phosphatase Lambda Protein Phosphatase | B-Bridge | 20000 U | 100.8€ | | Pub |
| A178880 | 21-O-Acetyl 6β-Hydroxy Cortisol C23H32O7 CAS: 13096-53-2 | TRC | 1 mg | 232€ | | Pub |
| bs-2007R-A555 | Rabbit Anti-PCNA [Proliferation Marker] Polyclonal Antibody, Alexa Fluor 555 conjugated,Isotype: IgG | Sepax | 100ug Lyophilized | 323€ | | Pub |
| MD-14-0791 | Mouse Anti-Human CD41 Platelet gpIIb IIIa ITGA2B Antibodies | Ray Biotech | 100 | 292€ | | Pub |
| bs-2007R-Gold | Rabbit Anti-PCNA [Proliferation Marker] Polyclonal Antibody, Gold Conjugated | Bioss | 100ug | 369€ | | Pub |
| M10887351 | O (5 Norbornene 2,3 dicarboximido) tetramethyluronium tetrafluoroborate (TNTU) CAS Number [125700 73 4] | Molekula | 5 G | 166€ | | Pub |
| 228-10328-3 | Recombinant Human HSP40 DnaJ Proteins | Ray Biotech | 1mg | 2426€ | | Pub |
| A00090 | CD5 (Mantel Cell Lymphoma Marker); 4C7 | Scy tek | 6 ml Ready-to-use | 262€ | | Pub |
| M44968866 | 1,2,3,5 Tetra O acetyl beta D ribofuranose CAS Number [13035 61 5] | Molekula | 100 G | 182€ | | Pub |
| bs-0016R-PE-Cy3 | Rabbit Anti-Tyrosine Hydroxylase(Neuronal Marker) Tyk2 TYH Polyclonal Antibody, PE-Cy3 Conjugated | Bioss | 100ug | 401€ | | Pub |
| bs-7653R-Cy5 | Rabbit Anti-DNase gamma Polyclonal Antibody, Cy5 conjugated, Isotype: IgG | Sepax | 100ug Lyophilized | 268€ | | Pub |
| D1108-100 | 100bp PCR Ranger DNA Marker, 100bp To 3Kb | GenDepot | 1ml | 140.7€ | | Pub |
| M0626 | MarkerGeneTM Live Cell Luciferase Assay Kit, Contains synthetic D Luciferin, the primary substrate of the firefly luciferase light producing system, as well as a luciferase assay buffer, 1 kit | MarkerGene | | 183€ | | Pub |
| 228-10331-3 | Recombinant E. coli HSP70 DnaK ATPase BD Proteins | Ray Biotech | 1mg | 1658€ | | Pub |
| 201-11-0533 | Rat mammary carcinoma Marker-CA153)ELISA Kit | SunBT | 96T | 620€ | | Pub |
| BAH67-0100 | Protease, DNASE free heat shock BSA powder, 100gm | Equitech | | 310€ | | Pub |
| CYT-KF2-LPE-19C2 | Kappa FITC Lambda PE CD19 PECy5 | Cytognos | 25 test | 289€ | | Pub |
| bs-7553R-PE-Cy3 | Rabbit Anti-Eph receptor A2+A3+A4 Polyclonal Antibody, PE-Cy3 Conjugated , 125kDa; Isotype IgG; Reactivity Human , Mouse; Application Flow-Cyt(1 20-100), IF(1 50-200) | Bioss | 100ug Lyophilized | 530€ | | Pub |
| bs-1276R-A555 | Rabbit Anti-ERdj5 DNAJC10 Polyclonal Antibody, Alexa Fluor 555 conjugated,Isotype: IgG | Sepax | 100ug Lyophilized | 323€ | | Pub |
| Rlp125 | Retrieval HRP Anti-Polyvalent Lab Pack | Scy tek | 1250 Slides | 504€ | | Pub |
| A795275 | (1R,3S,5R)-2-Azabicyclo[3.3.0]octane-3-carboxylic Acid, Benzyl Ester C15H19NO2 CAS: 130609-48-2 | TRC | 10 mg | 232€ | | Pub |
| bs-1322R-Biotin | Rabbit Anti-gamma tubulin(Centrosome Marker ) Polyclonal Antibody, Biotin Conjugated | Bioss | 100ug | 369€ | | Pub |
| bs-7653R-PE-Cy5.5 | Rabbit Anti-DNase gamma Polyclonal Antibody, PE-Cy5.5 conjugated Isotype: IgG | Sepax | 100ug Lyophilized | 300€ | | Pub |
| DS-PB-02294 | Goat Anti-Human Lambda Light Chain [+Texas Red | Ray Biotech | 1 mg | 502€ | | Pub |
| M1138 | MarkerGeneTM Biotin X Antibody Protein Labeling Kit, For efficient biotinylation of antibodies and other proteins, 1kit | MarkerGene | | 339€ | | Pub |
| 228-10334-3 | Recombinant E. coli HSP70 DnaK SBD Proteins | Ray Biotech | 1mg | 1031€ | | Pub |
| 228-11050-1 | Native Human Lambda Light Chain | Ray Biotech | 200 | 422€ | | Pub |
| 1J03C1 | Myoglobin test card, serum, Cardiac markers | Bosbio | 500 tests | 718€ | | Pub |
| IRKTAH1138 | Human Lambda ELISA Kit | Innovative Research INC | 1 kit(96 Wells) | 597€ | | Pub |
| BRC51 | Breast cancer tissue array BLOCK, Her-2 IHC marker; ihc Anti-Cytokeratin (CK) confirmed | US Biomax | | 4878€ | | Pub |
| 228-10337-3 | Recombinant Human DNase Proteins | Ray Biotech | 10,000IU | 601€ | | Pub |
| CYT-LF-KPE-19C2-50 | Lambda FITC Kappa PE CD19 PECy5, Clon Polycl Polycl J4.119 | Cytognos | 50 test | 622.912€ | | Pub |
| Y090752 | Anti basement membrane marker Monoclonal | ABM Goods | 100ul | 299.25€ | | Pub |
| bs-1276R-PE | Rabbit Anti-ERdj5 DNAJC10 Polyclonal Antibody, PE Conjugated | Bioss | 100ug | 369€ | | Pub |
| UAR125 | UltraTek Alk-Phos Anti-Rabbit Lab Pack | Scy tek | 1250 Slides | 399€ | | Pub |
| M17679872 | 4 Bromo 2,5 dimethylboronic acid CAS Number [130870 00 7] | Molekula | 1 G | 352€ | | Pub |
| bs-1322R-PE-Cy5 | Rabbit Anti-gamma tubulin(Centrosome Marker ) Polyclonal Antibody, PE-Cy5 Conjugated | Bioss | 100ug | 402€ | | Pub |
| M31871048 | 5 Bromo 4 chloro 3 indolyl alpha D mannopyranoside CAS Number [125229 64 3] | Molekula | 25 MG | 290€ | | Pub |
| E-1722 | Hind III | Bioneer | 50000 unit | 382€ | | Pub |
| A822400 | (2S,3S,4R)-2-Azido-3,4-bis[(tert-butyldimethylsilyl)oxy]-1-octadecanol C30H65N3O3Si2 CAS: 1256376-21-2 | TRC | 2.5 mg | 245€ | | Pub |
| 228-10327-1 | Recombinant E. coli HSP40 DnaJ Proteins | Ray Biotech | 20 | 147€ | | Pub |
| NXA05160 | RunBlue Prestain Markers 600ul | Expedeon | | 225€ | | Pub |
| M26416941 | Sodium tetraborate decahydrate (Borax decahydrate) CAS: [1303-96-4] | Molekula | 1 kg | 55€ | | Pub |
| bs-0016R-Cy5.5 | Rabbit Anti-Tyrosine Hydroxylase(Neuronal Marker) Tyk2 TYH Polyclonal Antibody, Cy5.5 Conjugated | Bioss | 100ug | 369€ | | Pub |
| bs-7653R-A488 | Rabbit Anti-DNase gamma Polyclonal Antibody, Alexa Fluor 488 conjugated,Isotype: IgG | Sepax | 100ug Lyophilized | 323€ | | Pub |
| D-2010 | AccuLadder Protein Size Marker (Broad range) 650 116,000 bp | Bioneer | 500 ul | 256€ | | Pub |
| M0259 | MarkerGeneTM in vivo lacZ beta Galactosidase Intracellular Detection Kit, Allows ultra sensitive detection of ß galactosidase activity in live mammalian, yeast, bacterial, or plant cells. Especially u | MarkerGene | | 315€ | | Pub |
| 228-10330-1 | Recombinant E. coli HSP70 DnaK Proteins | Ray Biotech | 10 | 147€ | | Pub |
| 0810051 | BACTERIOLOGY BACTERIOPHAGE LAMBDA, DNA 25ug | Zeptometrix | 1 | 0€ | | Pub |
| mAP-0061 | Rat anti mouse Pan Endothelial Cell Marker Anti-Mouse antibodies | AngoiPro | 100.00 ug | 310€ | | Pub |
| bs-2007R-Cy3 | Rabbit Anti-PCNA [Proliferation Marker] Polyclonal Antibody, Cy3 Conjugated | Bioss | 100ug | 369€ | | Pub |
| MD-14-0862 | Mouse Anti-Lambda Light Chain, free Antibodies | Ray Biotech | 1 mg | 568€ | | Pub |
| bs-2007R-PE-Cy5 | Rabbit Anti-PCNA [Proliferation Marker] Polyclonal Antibody, PE-Cy5 Conjugated | Bioss | 100ug | 402€ | | Pub |
| A791745 | Atorvastatin Acetonide tert-Butyl Ester C40H47FN2O5 CAS: 125971-95-1 | TRC | 10 mg | 212€ | | Pub |
| 22547 | DNAJB6 antibody Source Rabbit Polyconal Ab Species Human Application WB IF | SignalWay Antibody S.A.B | 100ul | 329€ | | Pub |
| A20090 | CD5 (Mantel Cell Lymphoma Marker); 4C7 | Scy tek | 2 ml | 157€ | | Pub |
| M57726753 | Barium peroxide CAS Number [1304 29 6] | Molekula | 1KG | 228€ | | Pub |
| bs-1322R | Rabbit Anti-gamma tubulin(Centrosome Marker ) Polyclonal Antibody | Sepax | 100ug Lyophilized | 222€ | | Pub |
| bs-7653R-Gold | Rabbit Anti-DNase gamma Polyclonal Antibody, Gold conjugated Isotype: IgG | Sepax | 100ug Lyophilized | 284€ | | Pub |
| DS-MB-03379 | Mouse Anti-Human Lambda Light Chain, RPE-labeled | Ray Biotech | 100 Tests | 566€ | | Pub |
| M0877 | MarkerGeneTM beta Glucuronidase (GUS) Reporter Gene Activity Detection Kit, Allows for quantitative measurement of GUS enzyme activity in transformed plants though the use of a fluorogenic substrate, | MarkerGene | | 350€ | | Pub |
| 228-10333-1 | Recombinant E. coli HSP70 DnaK LCS Proteins | Ray Biotech | 20 | 147€ | | Pub |
| 228-10913-2 | Recombinant Human IIL-28A IFN-lambda 2 Proteins | Ray Biotech | 20 | 205€ | | Pub |
| M1319 | MarkerGeneTM Fluorescent Protease Assay Kit, Allows quick and simple measurement of general protease activity in biological samples. | MarkerGene | | 261€ | | Pub |
| gAP-0062 | Rat anti mouse 33D1 (a dendritic cell marker) | AngoiPro | 1.00 mg | 460€ | | Pub |
| 4360-MC-100 | Anti BPDE Monoclonal Antibody (Clone 8E11) | Trevigen | 100 ug | 449.4€ | | Pub |
| 228-10336-1 | Native Bacterial DNase Proteins | Ray Biotech | 20mg | 147€ | | Pub |
| CYT-LAMBPE | Lambda PE | Cytognos | 0,5ml / 100 test | 366€ | | Pub |
| MD-14-0471 | Mouse Anti-Human Oligodendrocytes and Myelin (CNS) Antibodies | Ray Biotech | 125ug | 411€ | | Pub |
| bs-1276R-Cy5 | Rabbit Anti-ERdj5 DNAJC10 Polyclonal Antibody, Cy5 Conjugated | Bioss | 100ug | 369€ | | Pub |
| SHM125 | SensiTek HRP Anti-Mouse Lab Pack | Scy tek | 1250 Slides | 262€ | | Pub |
| M46094233 | 3 Bromo 5 fluorobenzotrifluoride CAS Number [130723 13 6] | Molekula | 1 G | 135€ | | Pub |
| bs-1322R-Cy7 | Rabbit Anti-gamma tubulin(Centrosome Marker ) Polyclonal Antibody, Cy7 conjugated Isotype: IgG | Sepax | 100ug Lyophilized | 268€ | | Pub |
| LF-PA0057 | anti-CAD (caspase-activated Dnase, DFF40) , Rabbit polyclonal to CAD (caspase-activated Dnase, DFF40) , Isotype IgG, Host Rabbit | Abfrontier | 100 ul | 355€ | | Pub |
| DS-PB-02668 | Rabbit Anti-Human Lambda Light Chain Antibodies | Ray Biotech | 1 ml | 188€ | | Pub |
| A845000 | 2-Azido-3,4-dimethylimidazo[4,5-f]quinoline C12H10N6 CAS: 125372-29-4 | TRC | 5 mg | 667€ | | Pub |
| G016 | 100bp DNA Marker | ABM Goods | 100 lanes (5ul/lane) | 87.15€ | | Pub |
| 3925-300A | Cancer Markers CA 19 9 96 wells AccuBind™ ELISA Microwells | Monobind | | 136€ | | Pub |
| M1475 | Marker Gene™ Non-Radioactive Cell Proliferation Assay Kit (MTT Assay Kit), Quickly and accurately measures cell viability, 1 kit | MarkerGene | | 341€ | | Pub |
| bs-0016R-A555 | Rabbit Anti-Tyrosine Hydroxylase(Neuronal Marker) Tyk2 TYH Polyclonal Antibody, Alexa Fluor 555 conjugated,Isotype: IgG | Sepax | 100ug Lyophilized | 323€ | | Pub |
| BAH67-0100 | Protease, DNASE free heat shock BSA powder, 100gm | Equitech | 100gm | 403.2€ | | Pub |
| M1389 | MarkerGene™ Cellular Senescence Assay Kit, Can be used to monitor and detect â galactosidase activity in senescent cells at pH 6.0 using X Gal, 1 kit | MarkerGene | | 317€ | | Pub |
| bs-1276R-PE-Cy7 | Rabbit Anti-ERdj5 DNAJC10 Polyclonal Antibody, PE-Cy7 Conjugated | Bioss | 100ug | 401€ | | Pub |
| 02-300 | Lambda Protein Phosphatase | B-Bridge | 20000 U | 154.875€ | | Pub |
| M43259756 | 4 Chloro 3 nitropyridine CAS Number [13091 23 1] | Molekula | 5 G | 352€ | | Pub |
| bs-2007R-A350 | Rabbit Anti-PCNA [Proliferation Marker] Polyclonal Antibody, Alexa Fluor 350 conjugated,Isotype: IgG | Sepax | 100ug Lyophilized | 323€ | | Pub |
| M10255546 | TBTU (o Benzotriazol 1 yl N,N,N',N' tetramethyluronium tetrafluoroborate) CAS Number [125700 67 6] | Molekula | 25 G | 275€ | | Pub |
| 228-10328-2 | Recombinant Human HSP40 DnaJ Proteins | Ray Biotech | 25 | 205€ | | Pub |
| A00065.0025 | Lambda Light Chain | Scy tek | 25 ml Ready-to-use | 189€ | | Pub |
| A609650 | 4-Amino-5-formylamino-3-isobutyl-1-methylpyrimidine-2,6-dione C10H16N4O3 CAS: 130332-59-1 | TRC | 1 g | 193€ | | Pub |
| bs-0016R-PE | Rabbit Anti-Tyrosine Hydroxylase(Neuronal Marker) Tyk2 TYH Polyclonal Antibody, PE Conjugated | Bioss | 100ug | 369€ | | Pub |
| bs-7653R-Cy3 | Rabbit Anti-DNase gamma Polyclonal Antibody, Cy3 conjugated, Isotype: IgG | Sepax | 100ug Lyophilized | 268€ | | Pub |
| D0003 | DNA Marker Middle | Abnova | 1 mL | 258€ | | Pub |
| M0612 | MarkerGeneTM Fluorescent Lipase Assay Kit, Allows fast and easy measurement of lipase activity in vitro, in cell preparations or in vivo, 1 kit | MarkerGene | | 380€ | | Pub |
| 228-10331-2 | Recombinant E. coli HSP70 DnaK ATPase BD Proteins | Ray Biotech | 50 | 205€ | | Pub |
| 201-11-0448 | Rat ovarian cancer marker-CA125 ELISA Kit | SunBT | 96T | 490€ | | Pub |
| MD-12-0090 | Mouse Anti-Lambda Light Chain Antibodies | Ray Biotech | 1 mg | 518€ | | Pub |
| bs-2007R-FITC | Rabbit Anti-PCNA [Proliferation Marker] Polyclonal Antibody, FITC conjugated,Isotype: IgG | Sepax | 100ug Lyophilized | 304€ | | Pub |
| BAH67-0050 | Protease, DNASE free heat shock BSA powder, 50gm | Equitech | | 232€ | | Pub |
| CYT-KF2-LPE | KAPPA FITC LAMBDA PE, Clon Polyclonal | Cytognos | 0,5ml/ 50test | 436.8€ | | Pub |
| bs-7553R-PE | Rabbit Anti-Eph receptor A2+A3+A4 Polyclonal Antibody, PE Conjugated , 125kDa; Isotype IgG; Reactivity Human , Mouse; Application Flow-Cyt(1 20-100), IF(1 50-200) | Bioss | 100ug Lyophilized | 502€ | | Pub |
| bs-1276R-A488 | Rabbit Anti-ERdj5 DNAJC10 Polyclonal Antibody, Alexa Fluor 488 conjugated,Isotype: IgG | Sepax | 100ug Lyophilized | 323€ | | Pub |
| KPM-1 | KP Marker Plus | Scy tek | 12 Pen(s) | 107€ | | Pub |
| A790045 | AST-1306 C24H18ClFN4O2 CAS: 897383-62-9 | TRC | 5 mg | 342€ | | Pub |
| bs-1322R-Alexa488 | Rabbit Anti-gamma tubulin(Centrosome Marker ) Polyclonal Antibody, Alexa 488 Conjugated | Bioss | 100ug | 369€ | | Pub |
| bs-7653R-PE-Cy5 | Rabbit Anti-DNase gamma Polyclonal Antibody, PE-Cy5 conjugated Isotype: IgG | Sepax | 100ug Lyophilized | 300€ | | Pub |
| DS-PB-02293 | Goat Anti-Human Lambda Light Chain [+RPE] Antibodies | Ray Biotech | 0.5 mg | 601€ | | Pub |
| M1049 | MarkerGeneTM Live Cell Fluorescent Reactive Oxygen Species Detection Kit, for the detection of Reacive Oxygen Species (ROS, peroxidase activity) in live cells, 1 kit | MarkerGene | | 299€ | | Pub |
| 228-10334-2 | Recombinant E. coli HSP70 DnaK SBD Proteins | Ray Biotech | 100 | 205€ | | Pub |
| 228-10914-3 | Recombinant HumanIL-29 IFN-lambda 1 Proteins | Ray Biotech | 1mg | 2426€ | | Pub |
| 1J02C2 | Troponin I test card, serum and whole blood, Cardiac markers | Bosbio | 500 tests | 815€ | | Pub |
| HER2 | Her-2 IHC Bio-marker control TMA, for CAP proficiency test survey, with breast invasive ductal carcinoma, 10 cases 10 cores; ihc Anti-Actin confirmed | US Biomax | | 114€ | | Pub |
| 000807A | SIVgag251 (1065 1302 n.t.) | ABM Goods | 250ul | 1184€ | | Pub |
| 228-10337-2 | Recombinant Human DNase Proteins | Ray Biotech | 1500IU | 205€ | | Pub |
| CYT-LF-KPE-19C2-50 | Lambda FITC Kappa PE CD19 PECy5 | Cytognos | 50 test | 567.147€ | | Pub |
| Y090752 | Anti-basement membrane marker Monoclonal Antibody | ABM Goods | 100ul | 265.65€ | | Pub |
| bs-1276R-HRP | Rabbit Anti-ERdj5 DNAJC10 Polyclonal Antibody, HRP Conjugated | Bioss | 100ug | 369€ | | Pub |
| UAP125 | UltraTek Alk-Phos Anti-Polyvalent Lab Pack | Scy tek | 1250 Slides | 594€ | | Pub |
| A629940 | 4-Amino-5,6,7,8-tetrahydro Isoquinoline C9H12N2 CAS: 130831-67-3 | TRC | 50 mg | 245€ | | Pub |
| bs-1322R-PE-Cy3 | Rabbit Anti-gamma tubulin(Centrosome Marker ) Polyclonal Antibody, PE-Cy3 Conjugated | Bioss | 100ug | 401€ | | Pub |
| Y050919 | Anti-Human G-CSFR [S-1252] Antibody | ABM Goods | 100μg | 550€ | | Pub |
| E-1721 | Hind III | Bioneer | 10000 unit | 95€ | | Pub |
| A628870 | P-[[(1S)-2-(6-Amino-9H-purin-9-yl)-1-methylethoxy]methyl]-phosphonic Acid Monoethyl Ester C11H18N5O4P CAS: 1255525-18-8 | TRC | 2.5 mg | 245€ | | Pub |
| 22027 | DNAI2 antibody Source Rabbit Polyconal Ab Species Human Application WB | SignalWay Antibody S.A.B | 100ul | 329€ | | Pub |
| Cat.1029 |   Adar's Biotinilated  Protein Size Markers | Adar Biotech | 0,2 ml | 97€ | | Pub |
| M30118989 | Butyltriethylammonium bromide CAS Number [13028 69 8] | Molekula | 100 G | 166€ | | Pub |
| bs-0016R-Cy5 | Rabbit Anti-Tyrosine Hydroxylase(Neuronal Marker) Tyk2 TYH Polyclonal Antibody, Cy5 Conjugated | Bioss | 100ug | 369€ | | Pub |
| bs-7653R-A350 | Rabbit Anti-DNase gamma Polyclonal Antibody, Alexa Fluor 350 conjugated,Isotype: IgG | Sepax | 100ug Lyophilized | 323€ | | Pub |
| M1585 | MarkerGene™ Total Protein Determination Kit. Utilizes the principles of the Bradford Assay for protein quantification, 1 kit | MarkerGene | | 156€ | | Pub |
| 228-10329-3 | Recombinant M. tuberculosis HSP70 DnaK Proteins | Ray Biotech | 100 | 1312€ | | Pub |
| 079-A | Signal Transduction Antibodies, anti-p53, clone BP53-12, Clone IPO-38 | Virogen | 100ug/vial | 216€ | | Pub |
| DS-MB-01503 | Mouse Anti-HSV-2 130kDa Antibodies | Ray Biotech | 1 mg | 452€ | | Pub |
| bs-2007R-Biotin | Rabbit Anti-PCNA [Proliferation Marker] Polyclonal Antibody, Biotin Conjugated | Bioss | 100ug | 369€ | | Pub |
| MD-14-0288P | HIV-1 Antigen Strain IIIB Proteins | Ray Biotech | 1 mg | 2591€ | | Pub |
| bs-2007R-PE-Cy3 | Rabbit Anti-PCNA [Proliferation Marker] Polyclonal Antibody, PE-Cy3 Conjugated | Bioss | 100ug | 401€ | | Pub |
| B203903 | Benzoic Acid-13C6 C13C6H6O2 CAS: 125945-98-4 | TRC | 5 mg | 245€ | | Pub |
| 22071 | DNAJB2 antibody Source Rabbit Polyconal Ab Species Human Application WB | SignalWay Antibody S.A.B | 100ul | 329€ | | Pub |
| A20065 | Lambda Light Chain | Scy tek | 2 ml Ready-to-use | 75€ | | Pub |
| M14036089 | Bismuth (III) oxide CAS Number [1304 76 3] | Molekula | 500 G | 166€ | | Pub |
| bs-0016R-PE-Cy7 | Rabbit Anti-Tyrosine Hydroxylase(Neuronal Marker) Tyk2 TYH Polyclonal Antibody, PE-Cy7 Conjugated | Bioss | 100ug | 401€ | | Pub |
| bs-7653R-FITC | Rabbit Anti-DNase gamma Polyclonal Antibody, FITC conjugated,Isotype: IgG | Sepax | 100ug Lyophilized | 304€ | | Pub |
| DS-MB-03378 | Mouse Anti-Human Lambda Light Chain, FITC-labeled | Ray Biotech | 100 | 541€ | | Pub |
| M0855 | MarkerGeneTM Chemiluminescent lacZ beta Galactosidase Detection Kit, Allows for quantitaive measure of b galactosidase enzyme activity in mammalian, yeast, and bacterial cells through the use of a che | MarkerGene | | 347€ | | Pub |
| 228-10332-3 | Recombinant Human HSP70 DnaK Proteins | Ray Biotech | 1mg | 1782€ | | Pub |
| 228-10913-1 | Recombinant Human IIL-28A IFN-lambda 2 Proteins | Ray Biotech | 5 | 147€ | | Pub |
| M1245 | MarkerGeneTM Fluorescent Cellulase Assay Kit, Allows fast and easy detection of most cellulases in a microtiter plate based assay format, 1 kit | MarkerGene | | 367.815€ | | Pub |
| 228-10335-3 | Recombinant E. coli HSP70 DnaK SBD Proteins | Ray Biotech | 1mg | 1031€ | | Pub |
| 4360-MC-100 | Anti-BPDE Monoclonal Antibody (Clone 8E11) | Trevigen | 100 | 382€ | | Pub |
| 22663 | DNase I antibody Source Rabbit Polyconal Ab Species Human Application WB IF | SignalWay Antibody S.A.B | 100ul | 329€ | | Pub |
| CYT-LAMBF | Lambda FITC | Cytognos | 0,5ml / 100 test | 366€ | | Pub |
| MD-14-0034 | Mouse Anti-Astrocytes Antibodies | Ray Biotech | 125ug | 452€ | | Pub |
| bs-1276R-Cy3 | Rabbit Anti-ERdj5 DNAJC10 Polyclonal Antibody, Cy3 Conjugated | Bioss | 100ug | 369€ | | Pub |
| SAR125 | SensiTek Alk-Phos Anti-Rabbit Lab Pack | Scy tek | 1250 Slides | 322€ | | Pub |
| M24718303 | Dorzolomide hydrochloride CAS: [130693-82-2] | Molekula | 1 g | 336€ | | Pub |
| bs-1322R-Cy5.5 | Rabbit Anti-gamma tubulin(Centrosome Marker ) Polyclonal Antibody, Cy5.5 conjugated, Isotype: IgG | Sepax | 100ug Lyophilized | 268€ | | Pub |
| G028 | DNase I | ABM Goods | 1ml / 2000U | 71.4€ | | Pub |
| DS-PB-02667 | Rabbit Anti-Human Lambda Light Chain Antibodies | Ray Biotech | 6 ml | 240€ | | Pub |
| Cat_Number | Product name | Supplier | Quantity | Price | PDF | Pub |