Product name :AccuRapid™ Cell Free Protein Expression Kit
Catalog Number :K-7250
Quantity :24 reactions
Price :694 Eur
Pay now with :
Supplier :Bioneer
AccuRapid™ Cell-Free Protein Expression Kit contains an optimized E. coli extract containing T7 RNA polymerase for transcription and all necessary components for translation. When combined with the AccuRapid™ Master mix supplied in the kit, all other required components including amino acids, rNTPs, and appropriate salts are provided enabling the expression of high levels of recombinant proteins. This kit contains reagents for 24 reactions, and each 45 ul reaction can express up to 20 ug of protein in only 3 hours directly from a variety of DNA templates which contain T7 promoter, T7 terminator and RBS (ribosomal binding site).
Principle of Cell-Free Protein expression system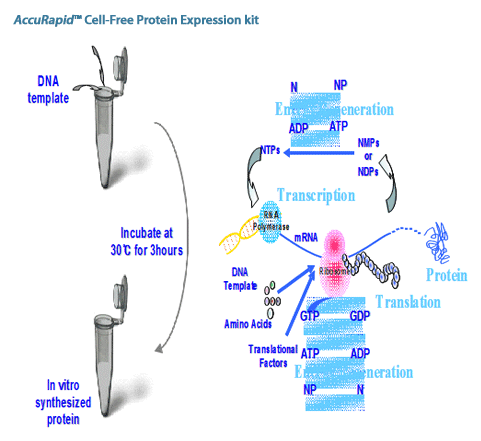 Template DNA
The template DNA for expression by AccuRapid™ Cell-Free Protein Expression Kit must have a "T7 promoter – ribosomal biding site (RBS) – target gene – T7 terminator" structure, and target gene must contain a histidine tag coding sequence at N-terminus or C-terminus for the protein purification.
Note 1) We recommend cloning the template DNA into our in vitro transcription/translation optimized pBIVT vector set (sold separately).
Note 2) Sometimes pET vector series such as pET15b, 22b, 23a, and 28b can also be used for the kit, though this should be tested. In addition PCR products containing T7promoter, ribosomal binding site, T7 terminator, and His-tag encoding sequences at N- or C-terminus can be used for proteins synthesis as a template DNA. The ExiProgen™ ProXpress PCR Template Kit can generate PCR templates for this purpose.
Note 3) It is recommended to use E.coli codon-optimized gene constructs, which will improve protein expression.
Note 4) The DNA template for protein expression can be synthesized through our Gene Synthesis Service, which optimizes the codons for E.coli protein expression. The synthesized gene can be cloned into our in vitrotranscription/translation vector by request. Please refer to our homepage (www.bioneer.com) for additional information.
Kit Contents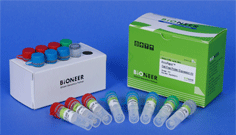 AccuRapid™ Cell-Free Protein Expression kit
(Cat. No. K-7250)
AccuRapid™ Master mix
170㎕×3 tube(Red Cap)
AccuRapid™ E.coli extract
100㎕×3 tube(Blue Cap)
DNA template
24㎕×1 tube(Green Cap)
DEPC-DW
1㎖×1 tube(White Cap)
Storage conditions
-20°C (E.coli extract ; -70°C)
Experimental Data
1. Protein Expression using AccuRapid™ Cell-Free Protein Expression Kit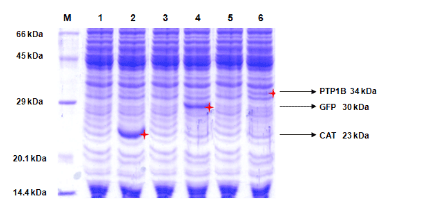 Figure 1. Protein expression Data of AccuRapid™ Cell-Free Protein Expression kit (SDS-PAGE and Coomassie Brilliant Blue staining)
Lane M; AccuLadder™ Protein Size Marker (Low),
Lane 1,3,5; Negative control (No-DNA),
Lane 2; CAT (Chloramphenicol acetyl transferase),
Lane 4; GFP (Green fluorescence protein),
Lane 6; PTP1B(Protein tyrosine phosphatase 1B)
2. AccuRapid™ Cell-Free Protein Expression Kit expresses proteins efficiently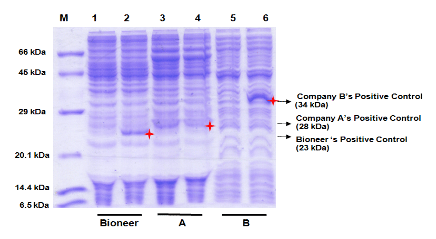 Figure 2. Comparison of protein expression between AccuRapid™ Cell-Free Protein Expression Kit and protein expression kits from other companies (SDS-PAGE and Coomassie Brilliant Blue staining).
Lane M; AccuLadder™ Protein Size Marker (Low),
Lane 1,3,5 ; Negative control (No-DNA),
Lane 2; Bioneer's Kit and control DNA,
Lane 4; Company A's Kit and control DNA,
Lane 6; Company B's Kit and control DNA
3. Determination of the optimal amount of template DNA for cell-free protein synthesis usingAccuRapid™ Cell-Free Protein Expression Kit
3.1. pBIVT vector construct: GFP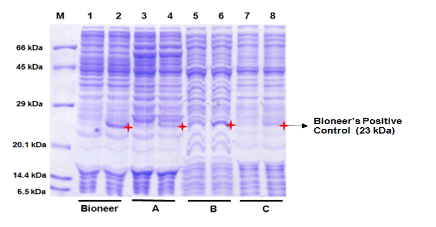 Figure 3. Determination of the optimal amount of template DNA for the expression of GFP using AccuRapid™ Cell- Free Protein Expression Kit . GFP was maximally expressed with the AccuRapid™ Cell-Free Protein Expression Kit when 200 ng of pBIVT-GFP was used.
Lane M; AccuLadder™ Protein Size Marker (Low),
Lane 1; Negative Control (No-DNA),
Lane 2; CAT (Chloramphenicol acetyl transferase),
Lane 3 ~9; pBIVT-GFP (50, 100, 200, 400, 600, 800, 1000 (ng))
3.2. pET vector construct: MMLV RTase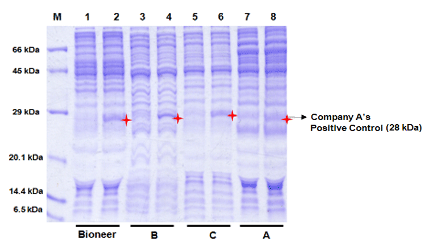 Figure 4. Determination of the optimal amount of template DNA for the expression of MMLV RTase usingAccuRapid™ Cell-Free Protein Expression Kit. MMLV RTase was maximally expressed with the AccuRapid™ Cell-Free Protein Expression Kit when 600 ng of pET22b-MMLV RTase was used.
Lane M; AccuLadder™ Protein Size Marker (Broad),
Lane 1; Negative Control (No-DNA),
Lane 2; CAT (Chloramphenicol acetyl transferase),
Lane 3 ~9; pET22b-MMLV RTase (50, 100, 200, 400, 600, 800, 1000 (ng))
AccuRapid™ Cell-Free Protein Expression Kit's positive control DNA expression test
Figure 3. AccuRapid™ Cell-Free Protein Expression Kit's Positive control DNA expression test (SDS-PAGE and Coomassie Brilliant Blue staining)
Lane M; AccuLadder™ Protein Size Marker (Low)
Lane 1,3,5,7 ; Negative control (No-DNA)
Lane 2; Bionee's Kit
Lane 4; Company A's kit
Lane 6; Company B's kit
Lane 8; Company C's kit
Company A's kit positive control DNA expression test
Figure 4. Company A's kit positive control DNA expression test (SDS-PAGE and Coomassie Brilliant Blue staining)
Lane M; AccuLadder™ Protein Size Marker (Low)
Lane 1,3,5,7 ; Negative control (No-DNA)
Lane 2; Bioneer's Kit
Lane 4; Company B's kit
Lane 6; Company C's kit
Lane 8; Company A's kit
Company B's kit positive control DNA expression test
Figure 5. Company B's kit positive control DNA expression test (SDS-PAGE and Coomassie Brilliant Blue staining)
Lane M; AccuLadder™ Protein size marker (Low)
Lane 1,3,5,7; Negative control (No-DNA)
Lane 2; Bioneer's Kit
Lane 4; Company B's kit
Lane 6; Company C's kit
Lane 8; Company A's kit
[Related Products]AccuRapid™ Cell Free Protein Expression Kit
Filter:
(Type enter to validate)
| Cat_Number | Product name | Supplier | Quantity | Price | Tech | More |
| --- | --- | --- | --- | --- | --- | --- |
| K-7250 | AccuRapid™ Cell Free Protein Expression Kit | Bioneer | 24 reactions | 694€ | | Pub |
| M1395 | pDC99 Mammalian Luciferase Expression Vector, This vector is very useful for transfection of mammalian cells in culture and may also be used in other species, 20 micrograms | MarkerGene | | 361€ | | Pub |
| 228-10986-2 | Recombinant Canine ApoJ Clusterin [from HEK cells] Proteins | Ray Biotech | 10 | 292€ | | Pub |
| Y050787 | Anti-BTG1(B-cell translocation gene 1 protein) Antibody | ABM Goods | 100ug | 386€ | | Pub |
| 228-11412-3 | Recombinant Human SCF KITLG Proteins | Ray Biotech | 1mg | 2426€ | | Pub |
| MD-14-0255P | Recombinant Human SDF-1a KITLG Proteins | Ray Biotech | 10 | 309€ | | Pub |
| bs-7605R-A350 | Rabbit Anti-Cell death inducing protein C16orf5 Polyclonal Antibody, Alexa Fluor 350 conjugated,Isotype: IgG | Sepax | 100ug Lyophilized | 323€ | | Pub |
| M0972 | MarkerGeneTM TAMRA Antibody Protein Cell Labeling Kit, Provides reagents and methods to simply and quickly label antibodies or other proteins with the amine reactive dye 5(6) carboxytetramethylrhodami | MarkerGene | | 299€ | | Pub |
| 228-11354-3 | Recombinant Human RAGE AGER [from HEK cells] Proteins | Ray Biotech | 100 | 1031€ | | Pub |
| 228-10704-3 | Recombinant Human HGF [from CHO cells] Proteins | Ray Biotech | 1mg | 0€ | | Pub |
| bs-7605R-FITC | Rabbit Anti-Cell death inducing protein C16orf5 Polyclonal Antibody, FITC conjugated,Isotype: IgG | Sepax | 100ug Lyophilized | 304€ | | Pub |
| RD172022100 | Human, Clara Cell Protein, E.coli , Rec. Prot. | Biovendor | 0.1 mg | 352€ | | Pub |
| CQMT-500 | CellQuanti MTT™ Cell Viability Assay Kits | Bioassays | 500 | 174.794€ | | Pub |
| 228-11411-1 | Recombinant Rat SCF KITLG Proteins | Ray Biotech | 2 | 147€ | | Pub |
| K270-50 | FractionPREP Cell Fractionation Kit50 assays | Biovision | 50 assays | 400.68€ | | Pub |
| bs-7605R-Biotin | Rabbit Anti-Cell death inducing protein C16orf5 Polyclonal Antibody, Biotin conjugated, Isotype: IgG | Sepax | 100ug Lyophilized | 268€ | | Pub |
| CQBL-10K | CellQuanti Blue™ Cell Viability Assay Kits | Bioassays | 10000 | 283.185€ | | Pub |
| 228-10612-2 | Recombinant HBsAg adr [from CHO cells] Proteins | Ray Biotech | 100 | 205€ | | Pub |
| 228-11623-3 | Recombinant Human VEGF VEGFA [from CHO cells] Proteins | Ray Biotech | 1mg | 0€ | | Pub |
| bs-7605R-PE-Cy3 | Rabbit Anti-Cell death inducing protein C16orf5 Polyclonal Antibody, PE-Cy3 Conjugated , 22kDa; Isotype IgG; Reactivity Human , Mouse; Application Flow-Cyt(1 20-100), IF(1 50-200) | Bioss | 100ug Lyophilized | 530€ | | Pub |
| 228-11222-1 | Recombinant Human PEDF [from HEK cells] Proteins | Ray Biotech | 2 | 147€ | | Pub |
| MD-17-0049 | Native Human Plasma, BNP-free Proteins | Ray Biotech | 1 mg | 510€ | | Pub |
| M1394 | pDC57 Mammalian Luciferase Expression Vector, This vector is very useful for transfection of mammalian cells in culture and may also be used in other species, 20 micrograms | MarkerGene | | 361€ | | Pub |
| 228-10986-1 | Recombinant Canine ApoJ Clusterin [from HEK cells] Proteins | Ray Biotech | 2 | 205€ | | Pub |
| 228-11412-2 | Recombinant Human SCF KITLG Proteins | Ray Biotech | 10 | 205€ | | Pub |
| MD-14-0253P | Recombinant Mouse SCF KITLG Proteins | Ray Biotech | 10 | 309€ | | Pub |
| bs-7605R | Rabbit Anti-Cell death inducing protein C16orf5 Polyclonal Antibody | Sepax | 100ug Lyophilized | 222€ | | Pub |
| 228-11354-2 | Recombinant Human RAGE AGER [from HEK cells] Proteins | Ray Biotech | 10 | 205€ | | Pub |
| 228-10704-2 | Recombinant Human HGF [from CHO cells] Proteins | Ray Biotech | 10 | 205€ | | Pub |
| 22248 | cell cycle progression 2 protein isoform 2 antibody Source Rabbit Polyconal Ab Species Human Application WB IHC IF | SignalWay Antibody S.A.B | 100ul | 329€ | | Pub |
| ER-14-1424 | Goat Anti- T-cell differentiation protein, (internal region) Antibodies | Ray Biotech | 100 μg | 257€ | | Pub |
| bs-7605R-Cy7 | Rabbit Anti-Cell death inducing protein C16orf5 Polyclonal Antibody, Cy7 conjugated Isotype: IgG | Sepax | 100ug Lyophilized | 268€ | | Pub |
| CQMT-500 | CellQuanti-MTT™ Cell Viability Assay Kits | Bioassays | 500 tests | 133€ | | Pub |
| 228-11410-3 | Recombinant Mouse SCF KITLG Proteins | Ray Biotech | 1mg | 2426€ | | Pub |
| Y108141 | BCMA (B cell maturation protein) Antibody | ABM Goods | 100 ug | 1015.35€ | | Pub |
| K269-500 | Mammalian Cell Extraction Kit500 assays | Biovision | 500 assays | 221.13€ | | Pub |
| 228-11413-3 | Recombinant Human SCF KITLG [from Sf9] Proteins | Ray Biotech | 1mg | 0€ | | Pub |
| bs-7605R-A647 | Rabbit Anti-Cell death inducing protein C16orf5 Polyclonal Antibody, Alexa Fluor 647 conjugated,Isotype: IgG | Sepax | 100ug Lyophilized | 323€ | | Pub |
| CQBL-10K | CellQuanti-Blue™ Cell Viability Assay Kits | Bioassays | 10000 tests | 229€ | | Pub |
| 228-10612-1 | Recombinant HBsAg adr [from CHO cells] Proteins | Ray Biotech | 20 | 147€ | | Pub |
| 228-11623-2 | Recombinant Human VEGF VEGFA [from CHO cells] Proteins | Ray Biotech | 10 | 205€ | | Pub |
| bs-7605R-PE | Rabbit Anti-Cell death inducing protein C16orf5 Polyclonal Antibody, PE Conjugated , 22kDa; Isotype IgG; Reactivity Human , Mouse; Application Flow-Cyt(1 20-100), IF(1 50-200) | Bioss | 100ug Lyophilized | 502€ | | Pub |
| 228-10933-3 | Recombinant Human IL-4 [from CHO cells] Proteins | Ray Biotech | 1mg | 0€ | | Pub |
| 228-11412-1 | Recombinant Human SCF KITLG Proteins | Ray Biotech | 2 | 147€ | | Pub |
| MD-14-0252P | Recombinant Human SCF KITLG Proteins | Ray Biotech | 10 | 309€ | | Pub |
| MD-17-0016P | Native Human MPO, Serum-free Proteins | Ray Biotech | 200 | 318€ | | Pub |
| DI0207 | KITLG & FLT3LG Protein Protein Interaction Antibody Pair | Abnova | 1 Set | 765€ | | Pub |
| 228-11354-1 | Recombinant Human RAGE AGER [from HEK cells] Proteins | Ray Biotech | 2 | 147€ | | Pub |
| CM015 | CHO-CM ELISA Kit ;Host cell protein assay, 96 tests | Cyg Tech | | 905€ | | Pub |
| MD-14-0370P | Native Human Serum (Cystatin-C Free) Proteins | Ray Biotech | 50 mL | 667€ | | Pub |
| 228-10704-1 | Recombinant Human HGF [from CHO cells] Proteins | Ray Biotech | 2 | 147€ | | Pub |
| bs-7605R-Cy5.5 | Rabbit Anti-Cell death inducing protein C16orf5 Polyclonal Antibody, Cy5.5 conjugated, Isotype: IgG | Sepax | 100ug Lyophilized | 268€ | | Pub |
| CQMT-01K | CellQuanti MTT™ Cell Viability Assay Kits | Bioassays | 1000 | 230.454€ | | Pub |
| 228-11410-2 | Recombinant Mouse SCF KITLG Proteins | Ray Biotech | 10 | 205€ | | Pub |
| Y108141 | BCMA (B cell maturation protein) | ABM Goods | 100 ug | 1146.6€ | | Pub |
| RD191022200 | ELISA Human , Clara Cell Protein | Biovendor | 96 wells (1 kit) | 552€ | | Pub |
| bs-7605R-PE-Cy7 | Rabbit Anti-Cell death inducing protein C16orf5 Polyclonal Antibody, PE-Cy7 conjugated Isotype: IgG | Sepax | 100ug Lyophilized | 300€ | | Pub |
| CSB-E08680h | Human Clara cell protein,CC16 ELISA Kit | Cusabio | 96tests | 796.95€ | | Pub |
| 228-11413-2 | Recombinant Human SCF KITLG [from Sf9] Proteins | Ray Biotech | 10 | 205€ | | Pub |
| 228-11547-3 | Recombinant Human THPO [from CHO cells] Proteins | Ray Biotech | 1mg | 0€ | | Pub |
| bs-7605R-A555 | Rabbit Anti-Cell death inducing protein C16orf5 Polyclonal Antibody, Alexa Fluor 555 conjugated,Isotype: IgG | Sepax | 100ug Lyophilized | 323€ | | Pub |
| SPR-131C | Recombinant Mn SOD (Human) Protein, his tagged Species Human Expression system E. coli | Stressmarq | 2x 100ug | 1278€ | | Pub |
| CQBL-05K | CellQuanti Blue™ Cell Viability Assay Kits | Bioassays | 5000 | 170.887€ | | Pub |
| 010-14531 | Anti C Reactive Protein Anti Human C Reactive Protein (CRP) monoclonal antibody is produced by hybridoma clone 409 being established by fusing myeloma cells NS 1 and spleen cells of BALB c mice which | B-Bridge | 1mg | 800.1€ | | Pub |
| 228-11623-1 | Recombinant Human VEGF VEGFA [from CHO cells] Proteins | Ray Biotech | 2 | 147€ | | Pub |
| bs-7605R-HRP | Rabbit Anti-Cell death inducing protein C16orf5 Polyclonal Antibody, HRP conjugated Isotype: IgG | Sepax | 100ug Lyophilized | 284€ | | Pub |
| 228-11175-3 | Recombinant Human OPG TNFRSF11b [from Hi-5 cells] Proteins | Ray Biotech | 100 | 1244€ | | Pub |
| 228-11411-3 | Recombinant Rat SCF KITLG Proteins | Ray Biotech | 1mg | 2426€ | | Pub |
| 22943 | B-cell linker protein antibody Source Rabbit Polyconal Ab Species Human Application WB IF | SignalWay Antibody S.A.B | 100ul | 329€ | | Pub |
| 400100 | baculoCOMPLETE protein expression kit | OET | 5 reactions | 731.509€ | | Pub |
| bs-7605R-Cy5 | Rabbit Anti-Cell death inducing protein C16orf5 Polyclonal Antibody, Cy5 conjugated, Isotype: IgG | Sepax | 100ug Lyophilized | 268€ | | Pub |
| CQMT-01K | CellQuanti-MTT™ Cell Viability Assay Kits | Bioassays | 1000 tests | 173€ | | Pub |
| 228-11410-1 | Recombinant Mouse SCF KITLG Proteins | Ray Biotech | 2 | 147€ | | Pub |
| bs-7605R-PE-Cy5.5 | Rabbit Anti-Cell death inducing protein C16orf5 Polyclonal Antibody, PE-Cy5.5 conjugated Isotype: IgG | Sepax | 100ug Lyophilized | 300€ | | Pub |
| K268-50 | Membrane Protein Extraction Kit50 assays | Biovision | 50 assays | 314.685€ | | Pub |
| 228-11222-3 | Recombinant Human PEDF [from HEK cells] Proteins | Ray Biotech | 100 | 1172€ | | Pub |
| 228-10986-3 | Recombinant Canine ApoJ Clusterin [from HEK cells] Proteins | Ray Biotech | 1mg | 0€ | | Pub |
| SL100489-CaS | Transfection Reagents and Kits, GenJet™ DNA In Vitro Tranfection Reagent for Ca Ski was pre optimized for most efficiently transfecting Ca Ski cells. | Signagen | 1 ml | 231.368€ | | Pub |
| Y050787 | Anti BTG1(B cell translocation gene 1 protein) | ABM Goods | 100ug | 437€ | | Pub |
| 228-11413-1 | Recombinant Human SCF KITLG [from Sf9] Proteins | Ray Biotech | 2 | 147€ | | Pub |
| BIO-37042 | DNA kits, Column-free Isolation: SureClean | Bioline | 1 x 5ml | 62€ | | Pub |
| bs-7605R-A488 | Rabbit Anti-Cell death inducing protein C16orf5 Polyclonal Antibody, Alexa Fluor 488 conjugated,Isotype: IgG | Sepax | 100ug Lyophilized | 323€ | | Pub |
| M1228 | Octyl â D 1 thioglucopyranoside, A non ionic detergent for purification of soluble proteins from cells, including bacteria, and for solubilization and reconstitution of membrane proteins, 500mg | MarkerGene | | 103€ | | Pub |
| IRAPKT158 | Human Protein C ELSIA Kit (Urine & Cell Culture Samples) | Innovative Research INC | 1 kit(96 Wells) | 597€ | | Pub |
| bs-7605R-Gold | Rabbit Anti-Cell death inducing protein C16orf5 Polyclonal Antibody, Gold conjugated Isotype: IgG | Sepax | 100ug Lyophilized | 284€ | | Pub |
| 228-11175-2 | Recombinant Human OPG TNFRSF11b [from Hi-5 cells] Proteins | Ray Biotech | 10 | 205€ | | Pub |
| 228-11411-2 | Recombinant Rat SCF KITLG Proteins | Ray Biotech | 10 | 205€ | | Pub |
| RD181022220 | Anti-Human, Rabbit Polyclonal Antibody ; Clara Cell Protein | Biovendor | 0.1 mg | 270€ | | Pub |
| bs-7605R-Cy3 | Rabbit Anti-Cell death inducing protein C16orf5 Polyclonal Antibody, Cy3 conjugated, Isotype: IgG | Sepax | 100ug Lyophilized | 268€ | | Pub |
| M1036 | Fluorescein 5 thiosemicarbazide, Cell impermeant fluorescent probe for determining cell surface protein and peptide topology, 50 mg | MarkerGene | | 141€ | | Pub |
| 228-10941-3 | Recombinant Human IL-6 (IL-6) [from CHO cells] Proteins | Ray Biotech | 1mg | 0€ | | Pub |
| 228-10612-3 | Recombinant HBsAg adr [from CHO cells] Proteins | Ray Biotech | 1mg | 865€ | | Pub |
| MD-14-0039 | Rabbit Anti-Human B-cell Receptor Associated Protein 31 (BAP31) Antibodies | Ray Biotech | 100 | 502€ | | Pub |
| bs-7605R-PE-Cy5 | Rabbit Anti-Cell death inducing protein C16orf5 Polyclonal Antibody, PE-Cy5 conjugated Isotype: IgG | Sepax | 100ug Lyophilized | 300€ | | Pub |
| 228-11222-2 | Recombinant Human PEDF [from HEK cells] Proteins | Ray Biotech | 10 | 205€ | | Pub |
| 10-001 | Rad51 Protein (Human) | B-Bridge | 20 ug | 424.777€ | | Pub |
| Y050491 | Anti-ARFRP1(ARF-related protein 1) Antibody | ABM Goods | 100ug | 386.4€ | | Pub |
| MD10011 | MagSi protein A 600 | MagnaMedics | 1 ml | 170.1€ | | Pub |
| K272-1ML | EZBlock™ Protease Inhibitor Cocktail, EDTA Free | Biovision | 1 ml | 98€ | | Pub |
| 230-00053-50 | Recombinant Human Transthyretin [from E. coli] Proteins | Ray Biotech | 50 | 229€ | | Pub |
| 20402 | Cellufine MAX S-h Media | AGTC Bioproducts Ltd | 5 lt | 0€ | | Pub |
| EFFA-100 | EnzyChrom™ Free Fatty Acid Assay Kit, Quantitative determination of free fatty acid by colorimetric (570nm) or fluorimetric (530 590nm) method. Procedure 30 min. Kit size 100 tests. Detection limit | Bioassays | 100tests | 355€ | | Pub |
| 228-11616-2 | Recombinant Mouse VEGF-121 VEGFA Proteins | Ray Biotech | 10 | 205€ | | Pub |
| IC100-0110-100ml | Horse Red Blood Cells, Packed 100% 100ml | Innovative Research INC | 100ml | 257€ | | Pub |
| DP0231 | PRKCD(phospho S645) & PRKCD Protein Phosphorylation Antibody Pair | Abnova | 1 Set | 834€ | | Pub |
| 228-11528-2 | Recombinant Human TNFR2 Proteins | Ray Biotech | 20 | 205€ | | Pub |
|   OP-0004-3 |  CytoX Red Cell Proliferation Cytotoxicity Assay Kit (10x96 assays) | EpigenTek | | 319€ | | Pub |
| DP0057 | CDKN1A(phospho S130) & CDKN1A Protein Phosphorylation Antibody Pair | Abnova | 1 Set | 834€ | | Pub |
| 228-10786-2 | Recombinant Human HSP105 Proteins | Ray Biotech | 25 | 205€ | | Pub |
| 228-11451-3 | Recombinant Human SPARC Proteins | Ray Biotech | 1mg | 1370€ | | Pub |
| rAP-0084-10 | GRO-b (Human) recombinant proteins | AngoiPro | 10.00 ug | 279€ | | Pub |
| DI0505 | AKT1 & RPS6KB1 Protein Protein Interaction Antibody Pair | Abnova | 1 Set | 765€ | | Pub |
| DI0232 | CAPN1 & GRIN2B Protein Protein Interaction Antibody Pair | Abnova | 1 Set | 765€ | | Pub |
| 228-10723-2 | Recombinant HIV-1 gp41 Proteins | Ray Biotech | 500 | 601€ | | Pub |
| 228-11367-3 | Recombinant Human RCVRN Proteins | Ray Biotech | 1mg | 1906€ | | Pub |
| rAP-0003-1 | VEGF His (Human) recombinant proteins | AngoiPro | 1.00 ug | 133€ | | Pub |
| DI0341 | LAMA5 & LAMC1 Protein Protein Interaction Antibody Pair | Abnova | 1 Set | 765€ | | Pub |
| DI0068 | BCL2L1 & BAX Protein Protein Interaction Antibody Pair | Abnova | 1 Set | 765€ | | Pub |
| 228-10662-3 | Recombinant HCV NS3 Proteins | Ray Biotech | 1000 | 1452€ | | Pub |
| 228-11294-3 | Recombinant Human PPM1A Proteins | Ray Biotech | 1mg | 1658€ | | Pub |
| MD-14-0205P | Recombinant HSP65 Proteins | Ray Biotech | 100 | 700€ | | Pub |
| Cat.1017-1 | Adar's protein G Sepharose Beads | Adar Biotech | 1 ml | 144€ | | Pub |
| 228-10590-1 | Recombinant Human GSTP1 Proteins | Ray Biotech | 5 | 147€ | | Pub |
| 228-11228-1 | Recombinant Mouse PF-4 CXCL4 Proteins | Ray Biotech | 5 | 147€ | | Pub |
| IHBT | Plasma Proteins: Human beta-thrombin | Innovative Research INC | 1.0mg | 1103€ | | Pub |
| bs-6983R-PE-Cy7 | Rabbit Anti-WT-1 Wilms Tumor Protein Polyclonal Antibody, PE-Cy7 conjugated Isotype: IgG | Sepax | 100ug Lyophilized | 300€ | | Pub |
| 228-10518-1 | Recombinant Human GCK Proteins | Ray Biotech | 2 | 188€ | | Pub |
| 228-11148-2 | Recombinant Human NAP-2 CXCL7 Proteins | Ray Biotech | 10 | 275€ | | Pub |
| 230-00510-50 | Proteins | Ray Biotech | 50 | 229€ | | Pub |
| bs-3389R | Rabbit Anti-Phospho-S6 Ribosomal Protein (Ser240 244) Polyclonal Antibody, Unconjugated | Bioss | 100ug | 369€ | | Pub |
| 228-10445-3 | Native Bovine FGF1 FGF acidic Proteins | Ray Biotech | 100 | 1906€ | | Pub |
| 228-11046-2 | Recombinant Human LHRH Proteins | Ray Biotech | 75IU | 205€ | | Pub |
| bs-0419R-FITC | Rabbit Anti-Tau protein Polyclonal Antibody, FITC conjugated,Isotype: IgG | Sepax | 100ug Lyophilized | 304€ | | Pub |
| 228-10357-3 | Recombinant EBV p23 [+His] Proteins | Ray Biotech | 1000 | 1452€ | | Pub |
| 228-10953-2 | Recombinant Human IL-9 Proteins | Ray Biotech | 10 | 205€ | | Pub |
| 7770-1104 | NATIVE HUMAN PROLACTIN, Product Type Purified Protein, Specificity PROLACTIN, Target Species Human, Host N A, Format Purified, Isotypes , Applications FN, Clone | AbD Serotec | 0.1 mg | 444.15€ | | Pub |
| 228-10280-1 | Recombinant Human CRYAA Proteins | Ray Biotech | 20 | 147€ | | Pub |
| 228-10868-1 | Recombinant Human IL-13 [+His] Proteins | Ray Biotech | 2 | 147€ | | Pub |
| 3471-096-K | Cultrex In Vitro Angiogenesis Assay Endothelial Cell Invasion Kit | Trevigen | 96 tests | 401.1€ | | Pub |
| 228-10211-1 | Recombinant Human CDK4 Proteins | Ray Biotech | 2 | 147€ | | Pub |
| 228-10040-3 | Recombinant Human AKR1B10 Proteins | Ray Biotech | 1mg | 2673€ | | Pub |
| 22673 | Cell Navigator™ Mitochondrial Staining Kit *Orange Fluorescence with 405 nm Excitation* | AAT Bioquest | 1 kit | 171€ | | Pub |
| 228-10109-2 | Recombinant Human DEFB2 Proteins | Ray Biotech | 20 | 205€ | | Pub |
| Y105165 | G Protein Coupled Receptor GPR160 GPCR150, Human | ABM Goods | 50ug | 1174€ | | Pub |
| 1111 | ReadiLink™ mFluor™ Violet 510 Protein Labeling Kit *Production Scale Optimized for Labeling 1 mg Antibody Per Reaction* | AAT Bioquest | 1 kit | 212€ | | Pub |
| y056126 | Mouse Anti-Pig B Cell Subset-UNLB Antibody | ABM Goods | 100ug | 320.25€ | | Pub |
| BAH65-0500 | Protease free heat shock BSA powder, 500gm | Equitech | | 336€ | | Pub |
| RD172073100-HEK | Human, Angiopoietin-like Protein 4 HEK293 , Rec. Prot. | Biovendor | 0.1 mg | 428€ | | Pub |
| MD-05-0254 | Mouse Anti-HPV-11 E7 Protein Antibodies | Ray Biotech | 1 mg | 485€ | | Pub |
| LC241 | Non small cell lung carcinoma (NSCLC) test tissue array, with self matching normal adjacent tissue, 6 cases 24 cores | US Biomax | | 88€ | | Pub |
| 230-00232-10 | Recombinant Human PDGFA [from E. coli] Proteins | Ray Biotech | 10 | 138€ | | Pub |
| 675983327 | Cellufine C 500 , 100 ml | Chisso | 100 ml | 234.15€ | | Pub |
| IHR-8121-50 | Protein Blocking Solution, ready to use for IHC | ImmunoBioscience | 50 ml | 161€ | | Pub |
| 228-11640-3 | Recombinant Human Visfatin [+His] Proteins | Ray Biotech | 1mg | 0€ | | Pub |
| 19711-55 | MC Cellufine GH-25 Media | AGTC Bioproducts Ltd | 5 x 5 ml | 348€ | | Pub |
| DS-MB-00325 | Mouse Anti-Rat CD134, azide-free | Ray Biotech | 1 mg | 1146€ | | Pub |
| 228-11559-3 | Recombinant T. pallidum p47 Proteins | Ray Biotech | 1000 | 1244€ | | Pub |
| cAP-0003 | Human Dermal Lymphatic Microvascular Endothelial Cells | AngoiPro | 1.00 flask | 570€ | | Pub |
| DP0124 | LLGL1(phospho S650) & LLGL1 Protein Phosphorylation Antibody Pair | Abnova | 1 Set | 834€ | | Pub |
| 228-10808-3 | Native Bovine Hyaluronidase Proteins | Ray Biotech | 15,000IU | 386€ | | Pub |
| 228-11480-3 | Recombinant Human TAC3 Proteins | Ray Biotech | 1mg | 2426€ | | Pub |
| rAP-0168-10 | TRAIL 114-281aa (Human) recombinant proteins | AngoiPro | 10.00 ug | 279€ | | Pub |
| DI0573 | DVL1 & CTNNB1 Protein Protein Interaction Antibody Pair | Abnova | 1 Set | 765€ | | Pub |
| 228-10744-3 | Recombinant HIV-1 p24 Core [from Sf9] Proteins | Ray Biotech | 100 | 1658€ | | Pub |
| 228-11406-2 | Recombinant SARS Virus S(C) Proteins | Ray Biotech | 500 | 601€ | | Pub |
| rAP-0035-10 | FGF-23 (Human) recombinant proteins | AngoiPro | 10.00 ug | 279€ | | Pub |
| DI0408 | CDK2 & SMAD3 Protein Protein Interaction Antibody Pair | Abnova | 1 Set | 765€ | | Pub |
| DI0135 | BID & CSNK1E Protein Protein Interaction Antibody Pair | Abnova | 1 Set | 765€ | | Pub |
| 228-10685-1 | Recombinant HCV NS5 Genotype-3b Proteins | Ray Biotech | 100 | 240€ | | Pub |
| 228-11323-3 | Recombinant Sheep Prolactin Antagonist Proteins | Ray Biotech | 1mg | 1370€ | | Pub |
| MD-14-0372P | Recombinant HCV Core Ag Genotype 6 Proteins | Ray Biotech | 1 mg | 1172€ | | Pub |
| CSB-E07988h | Human soluble vascular cell adhesion molecule 1,sVCAM 1 ELISA Kit | Cusabio | 96tests | 797€ | | Pub |
| 228-10617-3 | Recombinant HBsAg preS1 Proteins | Ray Biotech | 1mg | 1658€ | | Pub |
| 228-11252-2 | Recombinant Human PKAkt1 PKBa Proteins | Ray Biotech | 20 | 961€ | | Pub |
| MD-05-0053P | Native EBV Antigen Proteins | Ray Biotech | 1 mL | 411€ | | Pub |
| bs-7575R-Cy7 | Rabbit Anti-SEC14 like protein 2 Squalene transfer protein Polyclonal Antibody, Cy7 conjugated Isotype: IgG | Sepax | 100ug Lyophilized | 268€ | | Pub |
| 228-10541-2 | Recombinant Sheep GH Placental Proteins | Ray Biotech | 100 | 205€ | | Pub |
| 228-11176-3 | Recombinant Human OPG TNFRSF11b [+His] Proteins | Ray Biotech | 1mg | 2112€ | | Pub |
| DS-01-0277 | Native Human Laminin Proteins | Ray Biotech | 0.1 mg | 353€ | | Pub |
| bs-6789R-FITC | Rabbit Anti-SRGN Chondroitin sulfate proteoglycan core protein Polyclonal Antibody, FITC conjugated,Isotype: IgG | Sepax | 100ug Lyophilized | 304€ | | Pub |
| 228-10469-1 | Recombinant Human FGFR2 Proteins | Ray Biotech | 2 | 147€ | | Pub |
| 228-11088-3 | Recombinant Measles Virus Antigen (aa 1-51) Proteins | Ray Biotech | 1000 | 1244€ | | Pub |
| bs-0759R-Cy3 | Rabbit Anti-Lpin1 protein Polyclonal Antibody, Cy3 Conjugated | Bioss | 100ug | 369€ | | Pub |
| 228-10394-2 | Recombinant Bovine Enterokinase Proteins | Ray Biotech | 100IU | 452€ | | Pub |
| B0005-10 | Protein Purification Beads Rabbit Anti-Human IgG Beads (1-1.5mg ml) | Boster biotechnology | 10ml | 701.4€ | | Pub |
| 228-10314-3 | Recombinant Dengue Virus NS1 Proteins | Ray Biotech | 1000 | 1244€ | | Pub |
| 228-10906-3 | Recombinant Human IL-20 Proteins | Ray Biotech | 1mg | 0€ | | Pub |
| 60409 | Gli Reporter – NIH3T3 Cell line (Hedgehog Pathway) | BPS Bioscience | 500 reactions | 6420€ | | Pub |
| 228-10240-3 | Recombinant Human CK2b Active Proteins | Ray Biotech | 20 | 1452€ | | Pub |
| 22802 | Cell Meter™ NIR Mitochondria Membrane Potential Assay Kit *Optimized for Flow Cytometry* | AAT Bioquest | 1 kit | 231€ | | Pub |
| 228-10136-1 | Recombinant Human BMP-7 Proteins | Ray Biotech | 10 | 147€ | | Pub |
| Y051522 | Anti-ADAMTS-2 (A Disintigrin And Metalloproteinase with ThromboSpondin-2 motif, Procollagen I N-Proteinase, E.C. 3.4.24.14); Carboxyterminal end Antibody | ABM Goods | 100μg | 811.65€ | | Pub |
| 20012 | ReadiUse™ mammalian cell lysis buffer *5X* | AAT Bioquest | 10 mL | 124€ | | Pub |
| 228-10062-3 | Recombinant Human AP3S2 Proteins | Ray Biotech | 1mg | 0€ | | Pub |
| Y075103 | Anti-human C-reactive protein Antibody | ABM Goods | 100 ul | 374€ | | Pub |
| 018-A | anti HCV NS4 IgG2a (monoclonal) Produced against a recombinant protein. | Virogen | 100 µg | 280€ | | Pub |
| SL.FSOLV.05 | 5 L F-Solv 100% Formaldehyde free Buffered pH Neutral (Replaces the known fixator formaldehyde 40%) | Yvsolab | 5L | 75€ | | Pub |
| MD-14-0742 | Mouse Anti-Astrovirus Capsid Protein Antibodies | Ray Biotech | 1 mg | 361€ | | Pub |
| M0612 | MarkerGeneTM Fluorescent Lipase Assay Kit, Allows fast and easy measurement of lipase activity in vitro, in cell preparations or in vivo, 1 kit | MarkerGene | | 380€ | | Pub |
| bs-2222R-Gold | Rabbit Anti-cellulase Polyclonal Antibody, Gold Conjugated | Bioss | 100ug | 369€ | | Pub |
| ISASMPC-10ml | Sheep Anti Mouse Protein C Antiserum 10ml | Innovative Research INC | 10ml | 6041€ | | Pub |
| 230-00033-50 | Recombinant Human IL1F10 [from E. coli] Proteins | Ray Biotech | 50 | 229€ | | Pub |
| 19876 | Cellufine Chelate , 500 ml | Chisso | 500 ml | 2492.7€ | | Pub |
| DS-MB-03207 | Mouse Anti-Human CD8, azide-free Antibodies | Ray Biotech | 1 mg | 832€ | | Pub |
| 228-11604-1 | Recombinant Human VAMP1 Proteins | Ray Biotech | 20 | 147€ | | Pub |
| IC05-0910-10ml | Guinea Pig Red Blood Cells 10ml | Innovative Research INC | 10ml | 158€ | | Pub |
| DP0195 | ICAM1(phospho Y512) & ICAM1 Protein Phosphorylation Antibody Pair | Abnova | 1 Set | 834€ | | Pub |
| 228-11517-3 | Recombinant Human Tissue Factor F3 Proteins | Ray Biotech | 1mg | 0€ | | Pub |
| RB-01-0007P-100 | Recombinant Human G-CSF CSF3 Proteins | Ray Biotech | 100 | 318€ | | Pub |
| DP0015 | TP53(phospho S37) & TP53 Protein Phosphorylation Antibody Pair | Abnova | 1 Set | 834€ | | Pub |
| 228-10767-2 | Recombinant Human HMGB1 Proteins | Ray Biotech | 50 | 205€ | | Pub |
| 228-11437-1 | Recombinant Human SMAD4 Proteins | Ray Biotech | 10 | 147€ | | Pub |
| rAP-0067-10 | G-CSF (Mouse) recombinant proteins | AngoiPro | 10.00 ug | 279€ | | Pub |
| DI0472 | BID & RHOA Protein Protein Interaction Antibody Pair | Abnova | 1 Set | 765€ | | Pub |
| DI0200 | FGFR2 & FGF8 Protein Protein Interaction Antibody Pair | Abnova | 1 Set | 765€ | | Pub |
| 228-10709-2 | Recombinant Human HINT1 Proteins | Ray Biotech | 20 | 205€ | | Pub |
| 228-11351-3 | Recombinant Human RAC2 Proteins | Ray Biotech | 1mg | 0€ | | Pub |
| MD-26-0014P | Native Human APOE Proteins | Ray Biotech | 50 | 275€ | | Pub |
| DI0309 | CRK & MAPK8 Protein Protein Interaction Antibody Pair | Abnova | 1 Set | 765€ | | Pub |
| DI0035 | IL1B & A2M Protein Protein Interaction Antibody Pair | Abnova | 1 Set | 765€ | | Pub |
| 228-10651-1 | Recombinant HCV NS3 Genotype-2b Proteins | Ray Biotech | 100 | 240€ | | Pub |
| 228-11280-3 | Recombinant Human PLGF2 Proteins | Ray Biotech | 1mg | 0€ | | Pub |
| MD-14-0028P | Cotinine-3-HRP Conjugate Proteins | Ray Biotech | 1 mL | 584€ | | Pub |
| BS04041 | Lung squamous cell carcinoma (grade II) tissue array, 21 cases 63 cores | US Biomax | | 160€ | | Pub |
| 228-10571-1 | Recombinant Human GRO-alpha CXCL1 Proteins | Ray Biotech | 10 | 147€ | | Pub |
| 228-11212-2 | Recombinant Human PDGF-AB Proteins | Ray Biotech | 10 | 205€ | | Pub |
| IASMFBN-GF-HRP | Proteins and Antibodies Human and Animal Rabbit anti mouse fibronectin IgG fraction, HRP labeled | Innovative Research INC | 1mg | 543€ | | Pub |
| bs-6848R | Rabbit Anti-Fascin Actin bundling protein Polyclonal Antibody | Sepax | 100ug Lyophilized | 222€ | | Pub |
| 228-10498-1 | Recombinant Human FST Proteins | Ray Biotech | 5 | 147€ | | Pub |
| 228-11127-3 | Recombinant MMLV RT Proteins | Ray Biotech | 50,000U | 601€ | | Pub |
| 230-00273-50 | Proteins | Ray Biotech | 50 | 229€ | | Pub |
| bs-1945R-Biotin | Rabbit Anti-WNK3 protein Polyclonal Antibody, Biotin Conjugated | Bioss | 100ug | 369€ | | Pub |
| 228-10430-2 | Recombinant Human FABP6 Proteins | Ray Biotech | 25 | 205€ | | Pub |
| 228-11030-2 | Recombinant Human Leptin (quad antagonist) Proteins | Ray Biotech | 50 | 205€ | | Pub |
| bs-0033R-PE-Cy5 | Rabbit Anti-P53 protein(wt-p53) Polyclonal Antibody, PE-Cy5 Conjugated | Bioss | 100ug | 402€ | | Pub |
| 228-10347-1 | Recombinant M. tuberculosis EAST6 Proteins | Ray Biotech | 10 | 147€ | | Pub |
| 228-10934-2 | Recombinant Human IL-4 [+His] Proteins | Ray Biotech | 20 | 205€ | | Pub |
| 6530-5 | Protein L5 mg | Biovision | 5 mg | 353€ | | Pub |
| 228-10268-1 | Native Human C1q Proteins | Ray Biotech | 200 | 147€ | | Pub |
| 228-10846-1 | Recombinant Human IL-1 alpha [+His] Proteins | Ray Biotech | 5 | 205€ | | Pub |
| 2402-100 | Jurkat cell Lysate (Camptothecin treated) | Biovision | 100 ug | 174.825€ | | Pub |
| 228-10164-2 | Recombinant Influenza HA (A Caledonia 20 99) Proteins | Ray Biotech | 10 | 292€ | | Pub |
| 228-10029-1 | Native Human AFP Proteins | Ray Biotech | 2 | 147€ | | Pub |
| 22544 | ribosomal protein S3a antibody Source Rabbit Polyconal Ab Species Human Application WB IF | SignalWay Antibody S.A.B | 100ul | 329€ | | Pub |
| 228-10097-3 | Recombinant Human Bcl-2 Proteins | Ray Biotech | 1mg | 0€ | | Pub |
| Y104913 | G Protein Coupled Receptor L1 G10D (ADMR), Human | ABM Goods | 50ug | 1174€ | | Pub |
| 1052 | TCBI T cell proliferation grade bovine type I collagen, 0.5 mg | Chondrex | | 153.3€ | | Pub |
| A00043.0025 | nm23 (NDPK-A Protein); Clone 37.6 | Scy tek | 25 ml Ready-to-use | 256€ | | Pub |
| P1235218A | Total Protein Human Tumor Tissue Melanoma | Biochain | 1 mg | 386€ | | Pub |
| M1705 | pCAMBIA1391Xa Vector (Fusible gusA (ORFa)Hygromycin B Kanamycin Resistant pUC9 Plant Expression Vector), pUC9 poly-linker, kanamycin and hygromycin B resistance, gusA with no start codon to allow fusi | MarkerGene | | 186€ | | Pub |
| 230-00217-10 | Recombinant Human AACT SERPINA3 [from E. coli] Proteins | Ray Biotech | 10 | 138€ | | Pub |
| 201-51 | MC Cellufine Etclean S Media | AGTC Bioproducts Ltd | 5 x 1 ml | 276€ | | Pub |
| FM-130CY-5 | Anti-Infectious Pancreatic Necrosis Virus (IPNV) VP2 protein. IgG fraction monoclonal antibody (clone 1B3 E10) | AustralBiologicals | 100 | 235€ | | Pub |
| 228-11627-1 | Recombinant Human VEGF VEGFA [from Sf9] Proteins | Ray Biotech | 2 | 147€ | | Pub |
| MD-14-0490 | Rabbit Anti-Human Red Blood Cells Antibodies | Ray Biotech | 50 mg | 650€ | | Pub |
| DP0275 | RAF1(phospho S494) & RAF1 Protein Phosphorylation Antibody Pair | Abnova | 1 Set | 834€ | | Pub |
| 228-11545-3 | Recombinant Human TPO Proteins | Ray Biotech | 1mg | 0€ | | Pub |
| 42-651 | Competent Cells for CloningGC5 Competent Cells, pUC19 | Genesee | 10 x 50ul/Unit | 134€ | | Pub |
| DP0090 | TP53(phospho T18) & TP53 Protein Phosphorylation Antibody Pair | Abnova | 1 Set | 834€ | | Pub |
| 228-10797-1 | Recombinant HSV-1gG Proteins | Ray Biotech | 100 | 223€ | | Pub |
| 228-11469-3 | Streptavidin Proteins | Ray Biotech | 100mg | 1031€ | | Pub |
| rAP-0098-10 | MCP-1 (Mouse) recombinant proteins | AngoiPro | 10.00 lb | 279€ | | Pub |
| DI0539 | PIK3R1 & PIK3CB Protein Protein Interaction Antibody Pair | Abnova | 1 Set | 765€ | | Pub |
| DI0264 | EGFR & CDH1 Protein Protein Interaction Antibody Pair | Abnova | 1 Set | 765€ | | Pub |
| 228-10734-1 | Recombinant HIV-1 nef, Clade B Proteins | Ray Biotech | 2 | 205€ | | Pub |
| 228-11387-2 | Recombinant Rubella Viral Antigen Mosaic Proteins | Ray Biotech | 500 | 601€ | | Pub |
| rAP-0019-10 | FGF-1 (Mouse) recombinant proteins | AngoiPro | 10.00 ug | 133€ | | Pub |
| DI0375 | TGFB1 & MMP9 Protein Protein Interaction Antibody Pair | Abnova | 1 Set | 765€ | | Pub |
| DI0102 | HIP1 & CLTC Protein Protein Interaction Antibody Pair | Abnova | 1 Set | 765€ | | Pub |
| 228-10673-2 | Recombinant HCV NS4 Proteins | Ray Biotech | 500 | 601€ | | Pub |
| 228-11308-1 | Recombinant Sheep Prl R Proteins | Ray Biotech | 5 | 147€ | | Pub |
| MD-14-0273P | Recombinant HEV ORF2 Proteins | Ray Biotech | 100 | 386€ | | Pub |
| CBEL-EGFR-1 | Human Phospho-EGFR (Activated) Cell-Based ELISA (1) ELISA | Ray Biotech | One 96-Well Microplate Kit | 347€ | | Pub |
| 228-10604-1 | Recombinant HAV VP3 Proteins | Ray Biotech | 100 | 240€ | | Pub |
| 228-11240-3 | Recombinant Bovine PI3K alpha Proteins | Ray Biotech | 5 | 510€ | | Pub |
| ISASMZPI | Proteins and Antibodies Human and Animal Sheep anti mouse ZPI antiserum | Innovative Research INC | 1ml | 543€ | | Pub |
| bs-7563R-PE | Rabbit Anti-TNIP2 ABIN2 TNFAIP3 interacting protein 2 Polyclonal Antibody, PE Conjugated , 50-66kDa; Isotype IgG; Reactivity Mouse , Human; Application Flow-Cyt(1 20-100), IF(1 50-200) | Bioss | 100ug Lyophilized | 502€ | | Pub |
| 228-10530-3 | Recombinant Denis GH Proteins | Ray Biotech | 1mg | 1906€ | | Pub |
| 228-11162-3 | Recombinant Human Noggin Proteins | Ray Biotech | 1mg | 0€ | | Pub |
| DS-01-0049 | Recombinant Human CD71 Proteins | Ray Biotech | 0.2 mg | 1101€ | | Pub |
| bs-4626R-PE-Cy3 | Rabbit Anti-HE4 Epididymal secretory protein E4 Polyclonal Antibody, PE-Cy3 Conjugated , 25kDa; Isotype IgG; Reactivity Mouse , Rat; Application Flow-Cyt(1 20-100), IF(1 50-200) | Bioss | 100ug Lyophilized | 530€ | | Pub |
| 228-10458-2 | Recombinant Mouse FGF21 Proteins | Ray Biotech | 10 | 205€ | | Pub |
| 228-11072-1 | Recombinant Influenza HA (B Malaysia 2506 04) Proteins | Ray Biotech | 2 | 147€ | | Pub |
| bs-0437R-Cy5.5 | Rabbit Anti-Streptavidin SA protein Polyclonal Antibody, Cy5.5 conjugated, Isotype: IgG | Sepax | 100ug Lyophilized | 268€ | | Pub |
| 228-10368-2 | Recombinant Human EGFR ErbB1 Proteins | Ray Biotech | 5 | 205€ | | Pub |
| 228-10972-3 | Recombinant Human IP-10 CXCL10 [+His] Proteins | Ray Biotech | 1mg | 0€ | | Pub |
| AK8909-1000 | BSA, Fatty Acid-Free(Assay Stabilizing) | Akron | 1kg | 925€ | | Pub |
| 228-10291-2 | Recombinant Human CTLA4 CD152 Proteins | Ray Biotech | 25 | 292€ | | Pub |
| 228-10889-2 | Recombinant Mouse IL-17F Proteins | Ray Biotech | 25 | 205€ | | Pub |
| 4993-1000 | mCherry Fluorescent Protein | Biovision | 1 mg | 1895€ | | Pub |
| 228-10224-3 | Recombinant Human CHGA Proteins | Ray Biotech | 1mg | 0€ | | Pub |
| 228-11194-1 | Recombinant Bee Venom Protein Proteins | Ray Biotech | 100 | 353€ | | Pub |
| 228-10122-1 | Recombinant Mouse BID Proteins | Ray Biotech | 2 | 147€ | | Pub |
| Y108218 | BAFF (B cell activating factor) Antibody | ABM Goods | 100ug | 824.25€ | | Pub |
| 15-1100 | Cell Strainers 100ìm Cell Strainer, Sterile, nylon mesh, PP frame, Green | Biologix | 50 Pieces/case | 121€ | | Pub |
| 228-10046-2 | Native Bovine ALPI CIAP Proteins | Ray Biotech | 5mg | 292€ | | Pub |
| Y061655 | Anti C Reactive Protein produced in rabbit | ABM Goods | 100ul | 1120€ | | Pub |
| 00900-V | Allergens, Phospholipase A2 P00630 Bee Venom Recombinant Protein | Virogen | 100ug/vial | 216€ | | Pub |
| RD463163100 | Uromodulin (Tamm-Horsfall urinary glycoprotein, THP), Canine Native protein | Biovendor | 0.1 mg | 408€ | | Pub |
| LF-P0036 | Thioredoxin 1, Yeast, Protein | Abfrontier | 0.5 mg | 298€ | | Pub |
| 683986324 | Cellufine PB , 10 ml | Chisso | 10 ml | 213.15€ | | Pub |
| IR-RB-GF-500mg | Rabbit IgG Protein A Purified 500mg | Innovative Research INC | 500mg | 411€ | | Pub |
| 228-11658-3 | Recombinant Human YWHAZ Proteins | Ray Biotech | 1mg | 0€ | | Pub |
| 195-51 | MC Cellufine Phosphate , 5x1 ml | Chisso | 5x1 ml | 265.65€ | | Pub |
| DS-MB-01640 | Mouse Anti-Chicken Interleukin-2 (IL-2), azide-free | Ray Biotech | 250 | 604€ | | Pub |
| 228-11583-2 | Recombinant Human UBE2I Proteins | Ray Biotech | 50 | 205€ | | Pub |
| cAP-0024 | Human Cord Blood CD34+ Cells Derived Endothelial Cells | AngoiPro | 1.00 flask | 570€ | | Pub |
| DP0160 | ERBB2(phospho Y877) & ERBB2 Protein Phosphorylation Antibody Pair | Abnova | 1 Set | 834€ | | Pub |
| 228-10827-1 | Recombinant Rat IFN-gamma Proteins | Ray Biotech | 20 | 147€ | | Pub |
| 228-11497-1 | Recombinant Human TGF-beta 3 Proteins | Ray Biotech | 2 | 205€ | | Pub |
| rAP-0282-10 | sVEGFR-2 KDR -Fc (rHuman) recombinant proteins | AngoiPro | 10.00 ug | 279€ | | Pub |
| DI0606 | FASLG & FN1 Protein Protein Interaction Antibody Pair | Abnova | 1 Set | 765€ | | Pub |
| 228-10755-2 | Recombinant HIV-2 Envelope Proteins | Ray Biotech | 500 | 601€ | | Pub |
| 228-11421-2 | Recombinant Rat SDF-1 beta CXCL12 (aa 3-72) Proteins | Ray Biotech | 10 | 205€ | | Pub |
| rAP-0051-20 | IGFBP-6 (Human) recombinant proteins | AngoiPro | 20.00 ug | 279€ | | Pub |
| DI0440 | APPL1 & TRAF2 Protein Protein Interaction Antibody Pair | Abnova | 1 Set | 765€ | | Pub |
| DI0168 | TRAF2 & ERN1 Protein Protein Interaction Antibody Pair | Abnova | 1 Set | 765€ | | Pub |
| 228-10697-3 | Recombinant HEV ORF2 (aa 633-659) Proteins | Ray Biotech | 1000 | 1244€ | | Pub |
| 228-11339-2 | Recombinant Human PTEN [+His] Proteins | Ray Biotech | 5 | 205€ | | Pub |
| MD-16-0002P | Mouse Anti-alpha-Fetoprotein AFP Proteins | Ray Biotech | 50 KU | 452€ | | Pub |
| DF2XPS | 2X Happy Cell, DMEM-F12 | Biocroi | 25ml | 175€ | | Pub |
| 228-10630-2 | Recombinant HCV Core Proteins | Ray Biotech | 500 | 961€ | | Pub |
| 228-11265-1 | Recombinant Human PLA2G10 Proteins | Ray Biotech | 2 | 147€ | | Pub |
| MD-05-0163P | Recombinant VZV ORF9, Dumas strain Proteins | Ray Biotech | 1 mg | 1031€ | | Pub |
| bs-9879R-A647 | Rabbit Anti-EPB42 protein 4.2 Polyclonal Antibody, Alexa Fluor 647 conjugated,Isotype: IgG | Sepax | 100ug Lyophilized | 323€ | | Pub |
| 228-10556-1 | Recombinant Human GM-CSF CSF2 Proteins | Ray Biotech | 2 | 147€ | | Pub |
| 228-11196-2 | Native Human PAI1 SERPINE1 Proteins | Ray Biotech | 10 | 205€ | | Pub |
| DS-01-0418 | Native Bovine Thyroglobulin Proteins | Ray Biotech | 100 mg | 353€ | | Pub |
| bs-6794R-Cy3 | Rabbit Anti-ANT-1 ATP carrier protein 1 Adenine Nucleotide Tra Polyclonal Antibody, Cy3 conjugated, Isotype: IgG | Sepax | 100ug Lyophilized | 268€ | | Pub |
| 228-10483-3 | Recombinant Human FLT1 VEGF R1D3 Proteins | Ray Biotech | 1mg | 0€ | | Pub |
| 228-11115-3 | Recombinant Human MIP-1 alpha CCL3 Proteins | Ray Biotech | 1mg | 2756€ | | Pub |
| 230-00245-50 | Proteins | Ray Biotech | 50 | 229€ | | Pub |
| bs-0760R-PE-Cy7 | Rabbit Anti-Lpin1 protein Polyclonal Antibody, PE-Cy7 Conjugated | Bioss | 100ug | 401€ | | Pub |
| 228-10414-1 | Recombinant Human ERK2 MAPK1 Proteins | Ray Biotech | 2 | 147€ | | Pub |
| 228-10999-1 | Recombinant Human KRT18 [+His] Proteins | Ray Biotech | 2 | 147€ | | Pub |
| BC02023 | Esophagus squamous cell carcinoma (combination of adjacent and normal) tissue array, 18 cases 54cores, replaced by ES722 | US Biomax | | 160€ | | Pub |
| 228-10332-2 | Recombinant Human HSP70 DnaK Proteins | Ray Biotech | 50 | 205€ | | Pub |
| 228-10921-1 | Recombinant Human IL-3 [from Sf9] Proteins | Ray Biotech | 2 | 147€ | | Pub |
| 6505-100 | Isorbin (Fixed and killed S. aureus Protein A positive strain)100 ml | Biovision | 100 ml | 250€ | | Pub |
| 228-10252-1 | Recombinant Mouse CLU ApoJ Proteins | Ray Biotech | 5 | 205€ | | Pub |
| 22844 | Cell Meter™ TUNEL Apoptosis Assay Kit | AAT Bioquest | 1 kit | 280€ | | Pub |
| 228-10151-1 | Recombinant Human C1QTNF1 Proteins | Ray Biotech | 2 | 147€ | | Pub |
| 228-10010-3 | Recombinant Human ACP1 Proteins | Ray Biotech | 1mg | 0€ | | Pub |
| 2027 | TCMkII T cell proliferation grade monkey type II collagen | Chondrex | 0.5 mg | 244.65€ | | Pub |
| 228-10083-3 | Native Chicken Avidin Proteins | Ray Biotech | 100mg | 1031€ | | Pub |
| Y102217 | C Reactive Protein (CRP) | ABM Goods | 1 mg | 405€ | | Pub |
| LF-P0071 | Glutathione Reductase, Yeast, Protein | Abfrontier | 0.5 mg | 218€ | | Pub |
| 684987324 | Cellufine Phosphate Media | AGTC Bioproducts Ltd | 10 ml | 348€ | | Pub |
| IR-SH-GF-50mg | Sheep IgG Protein G Purified 50mg | Innovative Research INC | 50mg | 227€ | | Pub |
| 230-00004-WBC | Recombinant Human TIMP-2 [from E. coli] Proteins | Ray Biotech | 100 | 111€ | | Pub |
| 19791 | Cellufine GCL 2000 , 500 ml | Chisso | 500 ml | 383.25€ | | Pub |
| DS-MB-02217 | Mouse Anti-RSV Fusion Protein Antibodies | Ray Biotech | 0.2 mg | 361€ | | Pub |
| 228-11586-2 | Recombinant Human UBE2L3 Proteins | Ray Biotech | 50 | 205€ | | Pub |
| DS-MB-01205 | Mouse Anti-Pig Endothelial Cells Antibodies | Ray Biotech | 2 ml | 452€ | | Pub |
| DP0170 | ATM(phospho S1981) & ATM Protein Phosphorylation Antibody Pair | Abnova | 1 Set | 834€ | | Pub |
| 228-10831-3 | Recombinant Human IGF1 Proteins | Ray Biotech | 1mg | 361€ | | Pub |
| 228-11500-1 | Recombinant Human TGFBI (aa 502-683) Proteins | Ray Biotech | 10 | 147€ | | Pub |
| rAP-0286-2 | sFGFR-2-Fc (rHuman) recombinant proteins | AngoiPro | 2.00 ug | 133€ | | Pub |
| DI0615 | CDC42 & MAP3K11 Protein Protein Interaction Antibody Pair | Abnova | 1 Set | 765€ | | Pub |
| 228-10758-2 | Recombinant HIV-2 gp32 [+HRP] Proteins | Ray Biotech | 500 | 961€ | | Pub |
| 228-11426-1 | Recombinant Human SERPINB5 Proteins | Ray Biotech | 5 | 147€ | | Pub |
| rAP-0055-2 | BMP-6 (Human) recombinant proteins | AngoiPro | 2.00 ug | 133€ | | Pub |
| DI0449 | APC & CSNK2A1 Protein Protein Interaction Antibody Pair | Abnova | 1 Set | 765€ | | Pub |
| DI0177 | CAPN1 & F2R Protein Protein Interaction Antibody Pair | Abnova | 1 Set | 765€ | | Pub |
| 228-10700-3 | Recombinant HEV ORF3 Proteins | Ray Biotech | 1000 | 1031€ | | Pub |
| 228-11342-3 | Recombinant Human PTH (aa 1-84) Proteins | Ray Biotech | 1mg | 832€ | | Pub |
| MD-17-0047 | Native Human MPO Proteins | Ray Biotech | 1 mg | 535€ | | Pub |
| DI0009 | HCK & SOS1 Protein Protein Interaction Antibody Pair | Abnova | 1 Set | 765€ | | Pub |
| 228-10637-2 | Recombinant HCV Genotype-3 10 Proteins | Ray Biotech | 500 | 601€ | | Pub |
| 228-11268-2 | Recombinant Human PLA2G2A Proteins | Ray Biotech | 10 | 205€ | | Pub |
| MD-12-0013P | Native Human IgM, mu Proteins | Ray Biotech | 1 mg | 188€ | | Pub |
| bs-9879R-PE-Cy5 | Rabbit Anti-EPB42 protein 4.2 Polyclonal Antibody, PE-Cy5 conjugated Isotype: IgG | Sepax | 100ug Lyophilized | 300€ | | Pub |
| 228-10559-1 | Recombinant Human GMFG Proteins | Ray Biotech | 5 | 147€ | | Pub |
| 228-11199-3 | Recombinant Human PAPP-A Proteins | Ray Biotech | 1mg | 0€ | | Pub |
| DS-01-0499 | Recombinant Human BTC Proteins | Ray Biotech | 20 | 452€ | | Pub |
| bs-6794R-PE-Cy5 | Rabbit Anti-ANT-1 ATP carrier protein 1 Adenine Nucleotide Tra Polyclonal Antibody, PE-Cy5 conjugated Isotype: IgG | Sepax | 100ug Lyophilized | 300€ | | Pub |
| 228-10486-3 | Recombinant Human FLT1 VEGF R1 D7 Proteins | Ray Biotech | 1mg | 0€ | | Pub |
| 228-11118-3 | Recombinant Human MIP-3 alpha CCL20 Proteins | Ray Biotech | 1mg | 2426€ | | Pub |
| 230-00249-10 | Proteins | Ray Biotech | 10 | 138€ | | Pub |
| bs-0761R-Cy5.5 | Rabbit Anti-Midnolin isoform Protein 1 Polyclonal Antibody, Cy5.5 Conjugated | Bioss | 100ug | 369€ | | Pub |
| 228-10420-3 | Recombinant Human CCL21 Proteins | Ray Biotech | 1mg | 2426€ | | Pub |
| 228-11011-3 | Recombinant Human LBP Proteins | Ray Biotech | 10 | 584€ | | Pub |
| BC34111 | Multiple head and neck squamous cell carcinoma tissue array with normal tissue, 36 cases 72 cores, replaced by HN811 | US Biomax | | 160€ | | Pub |
| 228-10335-2 | Recombinant E. coli HSP70 DnaK SBD Proteins | Ray Biotech | 100 | 205€ | | Pub |
| 228-10925-1 | Recombinant Human IL-33 Proteins | Ray Biotech | 2 | 147€ | | Pub |
| 6510-1 | Protein G | Biovision | 1 mg | 119€ | | Pub |
| 228-10256-2 | Recombinant CMV pp28 Proteins | Ray Biotech | 500 | 601€ | | Pub |
| 23056 | Protein C antibody Source Rabbit Polyconal Ab Species Human Application WB | SignalWay Antibody S.A.B | 100ul | 329€ | | Pub |
| 228-10154-1 | Recombinant Human C1QTNF7 Proteins | Ray Biotech | 2 | 147€ | | Pub |
| 228-10018-3 | Native Human SERPINA3 Proteins | Ray Biotech | 1mg | 510€ | | Pub |
| 21640 | MBP(myelin basic protein) Antibody Source Rabbit Polyconal Ab Species Human Mouse Rat Application WB | SignalWay Antibody S.A.B | 50ul | 195€ | | Pub |
| 228-10086-3 | Native Human B2M Proteins | Ray Biotech | 10mg | 1370€ | | Pub |
| Y102958 | Bone Morphogenetic Protein 4 (BMP-4) Antibody | ABM Goods | 100 ug | 1220€ | | Pub |
| 10-201 | DNA (cytosine 5) methyltransferase 1 (Dnmt1), Active DNA methylation is significant for epigenetic regulation of gene expression, X chromosome inactivation, genomic imprinting, and development. Abber | B-Bridge | 300 units | 363.3€ | | Pub |
| Y050496 | Anti ARL6(ADP ribosylation factor like protein 6) | ABM Goods | 100ug | 436.8€ | | Pub |
| OP-0022-100 | EpiQuik Nuclear Extraction Kit II Nucleic Acid Free | EpigenTek | 100 extractions | 239.4€ | | Pub |
| M1583 | pCAMBIA0380 Vector (No Reporter, No Bacterial Selection Kanamycin Resistant pUC8 Plant Expression Vector), pUC8 poly-linker, no plant selection gene, kanamycin resistance gene, no reporter gene, 20UG | MarkerGene | | 186€ | | Pub |
| K303-500 | VisionBlue™ Quick Cell Viability Assay | Biovision | 500 assays | 244€ | | Pub |
| 230-00203-50 | Recombinant Human BMP10 [from E. coli] Proteins | Ray Biotech | 50 | 229€ | | Pub |
| 20501 | Cellufine MAX Q r , 500 ml | Chisso | 500 ml | 945€ | | Pub |
| ER-14-0409 | Goat Anti-Human DEAD-box protein 6, (C Terminus) Antibodies | Ray Biotech | 100 μg | 353€ | | Pub |
| 228-11619-2 | Recombinant Human VEGF-121 VEGFA [from Sf9] Proteins | Ray Biotech | 10 | 205€ | | Pub |
| IPLA-WB3-Unit | Human Red Blood Cells Unit | Innovative Research INC | 1 Unit | 462€ | | Pub |
| DP0245 | AKT1(phospho Y315) & AKT1 Protein Phosphorylation Antibody Pair | Abnova | 1 Set | 834€ | | Pub |
| 228-11531-2 | Native Influenza HA (A Tokio 53 99) Proteins | Ray Biotech | 50 | 205€ | | Pub |
| 0801101 | CELLKINES PLATELET DERIVED GROWTH FACTOR (PDGF) 100UG | Zeptometrix | 1 | 0€ | | Pub |
| DP0067 | ESPL1(phospho S1176) & ESPL1 Protein Phosphorylation Antibody Pair | Abnova | 1 Set | 834€ | | Pub |
| 228-10789-2 | Recombinant Human HSP27 Proteins | Ray Biotech | 50 | 205€ | | Pub |
| 228-11456-3 | Recombinant Mouse RANKL Proteins | Ray Biotech | 1mg | 0€ | | Pub |
| rAP-0088-5 | MIP-1a (Human) recombinant proteins | AngoiPro | 5.00 ug | 133€ | | Pub |
| DI0515 | MAP2K6 & TAOK2 Protein Protein Interaction Antibody Pair | Abnova | 1 Set | 765€ | | Pub |
| DI0241 | ARAF & BRAF Protein Protein Interaction Antibody Pair | Abnova | 1 Set | 765€ | | Pub |
| 228-10726-2 | Recombinant HIV-1 gp41 [+HRP] Proteins | Ray Biotech | 500 | 961€ | | Pub |
| 228-11371-2 | Recombinant Human REG3A Proteins | Ray Biotech | 10 | 205€ | | Pub |
| rAP-0007-2 | VEGF (Mouse) Sf9 recombinant proteins | AngoiPro | 2.00 ug | 133€ | | Pub |
| DI0350 | CRK & FGFR1 Protein Protein Interaction Antibody Pair | Abnova | 1 Set | 765€ | | Pub |
| DI0078 | CFLAR & CASP10 Protein Protein Interaction Antibody Pair | Abnova | 1 Set | 765€ | | Pub |
| 228-10665-3 | Recombinant HCV NS4 a+b Proteins | Ray Biotech | 1000 | 1452€ | | Pub |
| 228-11297-3 | Recombinant Human PPP1R1A Proteins | Ray Biotech | 1mg | 0€ | | Pub |
| MD-14-0228P | Recombinant HBV HBeAg Proteins | Ray Biotech | 100 | 790€ | | Pub |
| Cat.1017-200(200ml) | Antibodies Purification Adar's protein G Sepharose Beads | Adar Biotech | 200ml | 6754€ | | Pub |
| 228-10594-2 | Recombinant Human GYG1 Proteins | Ray Biotech | 20 | 205€ | | Pub |
| 228-11231-1 | Recombinant Human PF-4 CXCL4, Variant-1 Proteins | Ray Biotech | 1 | 147€ | | Pub |
| IMA-7F1-FITC | Proteins and Antibodies Human and Animal Mouse Monoclonal to Human RAP, Fluorescein Labeled | Innovative Research INC | 1mg | 3123€ | | Pub |
| bs-7556R-Cy5.5 | Rabbit Anti-FLAP 5-lipoxygenase activating protein Polyclonal Antibody, Cy5.5 conjugated, Isotype: IgG | Sepax | 100ug Lyophilized | 268€ | | Pub |
| 228-10522-1 | Recombinant Human GDF5 Proteins | Ray Biotech | 5 | 147€ | | Pub |
| 228-11152-2 | Recombinant Human NEDD8 Proteins | Ray Biotech | 25 | 205€ | | Pub |
| AA0023 | EGF Phospho-Specific Array includes 214 highly specific and well-characterized phosphorylation antibodies related to the EGF family of proteins. | Abnova | 2 Pieces/Box | 822€ | | Pub |
| bs-4507R-Cy5.5 | Rabbit Anti-PRRSV M protein Polyclonal Antibody, Cy5.5 conjugated, Isotype: IgG | Sepax | 100ug Lyophilized | 268€ | | Pub |
| 228-10448-3 | Recombinant Human FGF1 FGF acidic Proteins | Ray Biotech | 1mg | 0€ | | Pub |
| 228-11061-1 | Recombinant Human LYVE1 Proteins | Ray Biotech | 2 | 147€ | | Pub |
| bs-0427R-A555 | Rabbit Anti-P311 protein Polyclonal Antibody, Alexa Fluor 555 conjugated,Isotype: IgG | Sepax | 100ug Lyophilized | 323€ | | Pub |
| 228-10360-3 | Recombinant Human EGF Proteins | Ray Biotech | 1mg | 318€ | | Pub |
| 228-10956-2 | Recombinant Human ILK1 Proteins | Ray Biotech | 10 | 205€ | | Pub |
| 90900-1 | TGFâ1 Active Human Recombinant Protein | BPS Bioscience | 1 µg | 113€ | | Pub |
| 228-10283-1 | Recombinant Human CSNK2A1 Proteins | Ray Biotech | 3 | 147€ | | Pub |
| 228-10873-1 | Recombinant Human IL-15 [+His] Proteins | Ray Biotech | 2 | 147€ | | Pub |
| 36382 | Screen Quest™ Live Cell cAMP Assay Service Pack | AAT Bioquest | Each | 0€ | | Pub |
| 228-10214-1 | Recombinant Human CEBPA Proteins | Ray Biotech | 10 | 147€ | | Pub |
| 22789 | Tubby-related protein 1 antibody Source Rabbit Polyconal Ab Species Human Application WB IHC IF | SignalWay Antibody S.A.B | 100ul | 329€ | | Pub |
| 228-10113-2 | Native Mouse NGF beta-NGF Proteins | Ray Biotech | 20 | 205€ | | Pub |
| Y105706 | C-Reactive Protein (CRP) Control Calibrator Antibody | ABM Goods | 20 ml | 867€ | | Pub |
| 1230 | ReadiLink™ iFluor™ 594 Protein Labeling Kit *Microscale Optimized for Labeling 100 µg Antibody Per Reaction* | AAT Bioquest | 1 kit | 202€ | | Pub |
| Y059020 | Anti mouse adenomatous polyposis coli protein (APC) | ABM Goods | 100ug | 299.25€ | | Pub |
| CEM-1 | Eosinophil - Mast Cell Stain Kit | Scy tek | 1 kit(s) | 165€ | | Pub |
| RD172163100 | Uromodulin (Tamm-Horsfall urinary glycoprotein, THP), Human Native protein | Biovendor | 0.1 mg | 299€ | | Pub |
| MD-05-0393 | Mouse Anti-RSV Fusion Protein Antibodies | Ray Biotech | 1 mg | 667€ | | Pub |
| LC808 | Lung squamous cell carcinoma tissue array, with TNM, stage and grade, 80 cases 80 cores, replacing BS04011 | US Biomax | | 231€ | | Pub |
| 230-00235-10 | Recombinant Human ETS1 [from E. coli] Proteins | Ray Biotech | 10 | 138€ | | Pub |
| 676980327 | Cellufine A 200 , 100 ml | Chisso | 100 ml | 234.15€ | | Pub |
| IMZPI | Mouse Protein Z-Dependent Protease Inhibitor, native recombinant | Innovative Research INC | 0.1mg | 805€ | | Pub |
| 228-11650-1 | Recombinant Human WWOX Proteins | Ray Biotech | 2 | 147€ | | Pub |
| 19805-55 | MC Cellufine A 500 , 5x5 ml | Chisso | 5x5 ml | 257.25€ | | Pub |
| DS-MB-00445 | Rat Anti-Human CD195, azide-free | Ray Biotech | 1 mg | 1183€ | | Pub |
| 228-11566-2 | Recombinant Troponin I-C (cardiac) Proteins | Ray Biotech | 10 | 205€ | | Pub |
| cAP-0007GFP | GFP Expressing Human Coronary Artery Endothelial Cells | AngoiPro | 1.00 flask | 830€ | | Pub |
| DP0136 | NFKB1(phospho S907) & NFKB1 Protein Phosphorylation Antibody Pair | Abnova | 1 Set | 834€ | | Pub |
| 228-10815-1 | Recombinant Human IFN-alpha Proteins | Ray Biotech | 20 | 147€ | | Pub |
| 228-11483-3 | Recombinant Human TBCA Proteins | Ray Biotech | 1mg | 2426€ | | Pub |
| rAP-0270-2 | ANGPTL-4 (rHuman) recombinant proteins | AngoiPro | 2.00 ug | 133€ | | Pub |
| DI0582 | PRKCB & GSK3B Protein Protein Interaction Antibody Pair | Abnova | 1 Set | 765€ | | Pub |
| 228-10747-3 | Recombinant HIV-1 TAT [+Biotin] Proteins | Ray Biotech | 50 | 1031€ | | Pub |
| 228-11409-2 | Recombinant Human SAT1 Proteins | Ray Biotech | 20 | 205€ | | Pub |
| rAP-0039-2 | PDGF-BB (Human) recombinant proteins | AngoiPro | 2.00 ug | 133€ | | Pub |
| DI0417 | DUSP4 & MAPK9 Protein Protein Interaction Antibody Pair | Abnova | 1 Set | 765€ | | Pub |
| DI0144 | PXN & CTTN Protein Protein Interaction Antibody Pair | Abnova | 1 Set | 765€ | | Pub |
| 228-10688-1 | Recombinant HCV NS5 Genotype-6 Proteins | Ray Biotech | 100 | 240€ | | Pub |
| 228-11327-1 | Recombinant Human Pro-NGF Proteins | Ray Biotech | 2 | 147€ | | Pub |
| MD-14-0394 | Mouse Anti-Lamin Proteins | Ray Biotech | 5 mL | 370€ | | Pub |
| CSB-EL002712CA | Cat Bladder cancer-associated protein(BLCAP) ELISA kit SpeciesCat | Cusabio | 96T | 913€ | | Pub |
| 228-10620-3 | Recombinant HBx Proteins | Ray Biotech | 1000 | 0€ | | Pub |
| 228-11255-2 | Recombinant Human PKC beta 1 [+His] [from Sf9] Proteins | Ray Biotech | 10 | 205€ | | Pub |
| MD-05-0083P | Recombinant HBV HBs Antigen, ayw Proteins | Ray Biotech | 500 | 700€ | | Pub |
| 228-10544-2 | Recombinant Sheep GHBP Proteins | Ray Biotech | 20 | 205€ | | Pub |
| 228-11183-2 | Recombinant Human OTUB1 Proteins | Ray Biotech | 25 | 205€ | | Pub |
| DS-01-0307 | Recombinant Mouse MCP-5 CCL12 Proteins | Ray Biotech | 20 | 452€ | | Pub |
| bs-6792R-A350 | Rabbit Anti-APIP Apaf1 Interacting Protein Polyclonal Antibody, Alexa Fluor 350 conjugated,Isotype: IgG | Sepax | 100ug Lyophilized | 323€ | | Pub |
| 228-10475-1 | Native Chicken Filamin Proteins | Ray Biotech | 10 | 147€ | | Pub |
| 228-11096-3 | Recombinant Human MEK1 Proteins | Ray Biotech | 10 | 961€ | | Pub |
| 230-00236-50 | Recombinant Human CD57 B3GAT1 [from E. coli] Proteins | Ray Biotech | 50 | 229€ | | Pub |
| bs-0759R-PE-Cy5 | Rabbit Anti-Lpin1 protein Polyclonal Antibody, PE-Cy5 Conjugated | Bioss | 100ug | 402€ | | Pub |
| 228-10405-1 | Recombinant Human EPO alpha Proteins | Ray Biotech | 5 | 147€ | | Pub |
| 228-10991-1 | Recombinant Human KIR2DL1 Proteins | Ray Biotech | 5 | 147€ | | Pub |
| B0008-10 | Protein Purification Beads Mouse Anti-Human IgG Beads (1-1.5mg ml) | Boster biotechnology | 10ml | 701.4€ | | Pub |
| 228-10323-3 | Recombinant Human DFFA Proteins | Ray Biotech | 1mg | 2673€ | | Pub |
| 228-10909-3 | Recombinant Human IL-22 Proteins | Ray Biotech | 1mg | 0€ | | Pub |
| 6500-10 | Protein A (Liquid form) | Biovision | 10 mg | 134€ | | Pub |
| 228-10243-3 | Recombinant Human CKMB Type-1 Proteins | Ray Biotech | 1mg | 997€ | | Pub |
| 22820 | Cell Meter™ Caspase 3 7, 8 and 9 Activity Multiplexing Assay Kit *Tricolor Fluorescence* | AAT Bioquest | 100 Tests | 280€ | | Pub |
| 228-10140-1 | Recombinant Human BNP NPPB Proteins | Ray Biotech | 2 | 205€ | | Pub |
| 228-10001-1 | Recombinant Human YWHAB Proteins | Ray Biotech | 5 | 147€ | | Pub |
| 20115 | Cell Meter™ Live Cell Caspase 8 Binding Assay Kit *Green Fluorescence* | AAT Bioquest | 25 Tests | 280€ | | Pub |
| 228-10067-1 | Recombinant Human APOD Proteins | Ray Biotech | 2 | 353€ | | Pub |
| Y090095 | Anti adducin related protein | ABM Goods | 100ul | 299.25€ | | Pub |
| 02-042-5 | E. coli SSB (Single Stranded DNA Binding) protein E. coli SSB (Single Stranded DNA Binding) protein | B-Bridge | 5 x 200 ug | 353.85€ | | Pub |
| SPR-131B | Recombinant Mn SOD (Human) Protein, his tagged | Stressmarq | 100ug | 732€ | | Pub |
| MD-14-0910 | Mouse Anti-Heat Shock Protein 65 (Hsp65) Antibodies | Ray Biotech | 100 | 452€ | | Pub |
| M0554 | 4 Methylumbelliferyl beta D lactoside, Fluorescent Substrate for Cellulases, 25mg | MarkerGene | | 154€ | | Pub |
| K-7210 | ExiPrep His tagged Protein Purification Kit | Bioneer | 96 purifications | 771€ | | Pub |
| 230-00039-50 | Recombinant Human CKB [from E. coli] Proteins | Ray Biotech | 50 | 229€ | | Pub |
| Cat_Number | Product name | Supplier | Quantity | Price | PDF | Pub |